winter ice floe/stacking
---
Here is a question for the weather gurus:
What causes ice to stack up and "flow" Attached are some pictures of an rather extreme event from 2007 where there was a major ice flow/stacking. And another picture of the same dock today for reference. there was a minor event of ice flow/stacking and it dislodged a few poles early last month.
I am just curious as to what causes this. My first thought is that as the ice melts and is no longer a larger solid piece but rather smaller pieces the wind causes it to do so. It would take a moderate wind that lasts for a good duration from a similar direction to cause this.
Can any one tell me if this thought is true or what the cause of the ice flow/stacking is?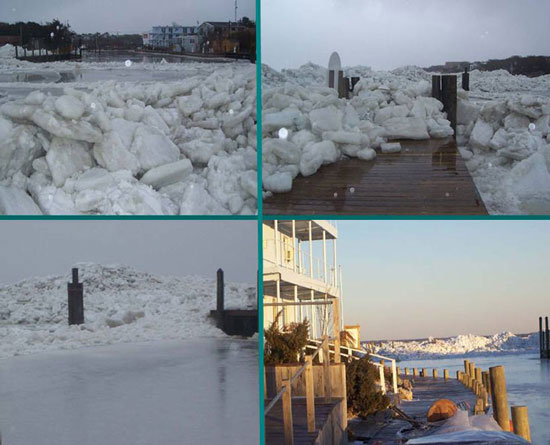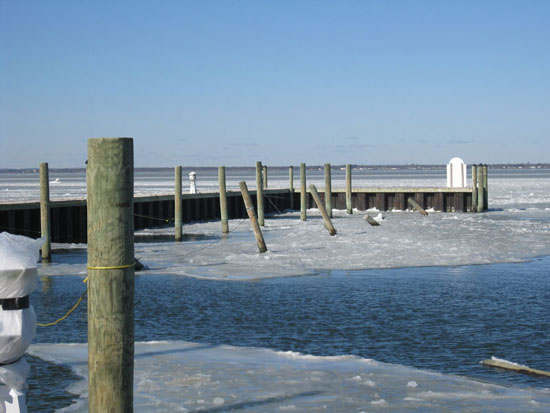 Senior Member
Join Date: Mar 2008
Posts: 536
Thanks: 0
Thanked 0 Times in 0 Posts
Rep Power:
10
It is as complex or as simple as we want it to be. I suspect you are correct for your area. Other areas will have more effects from current and waves. In tidal areas the ice can build up to incredible heights.

When ski-dooing on Hudson Bay the ice would stack up very high near the shore. On more than one occasion I would ride up a huge chunk of ice, hook my skis over the edge and look down before going on. Once I looked down and saw it was a 20' straight drop. The ice had stacked up in such a way that it looked like it was floating but had actually run aground.

Needless to say anything in the way of that ice was completely wiped out, even rock formations.
Indeed, I forgot to mention that this is in the "Great South Bay" Along the south shore of long island and a barrier island (Fire Island). So currents are not really an issue as this is almost right inbetween the 2 closes inlets. I do also suspect that the rise and fall of the tides aid in the overlaping/stacking of the ice.
Broad Reachin'
Join Date: Aug 2006
Location: Grand Rapids, Michigan
Posts: 2,031
Thanks: 1
Thanked 26 Times in 26 Posts
Rep Power:
11
Wind, waves, currents, and temperature changes.
---
Catalina 34

To view links or images in signatures your post count must be 10 or greater. You currently have 0 posts.

Tartan 27' owner
Join Date: Jan 2008
Location: NYC
Posts: 5,117
Thanks: 9
Thanked 144 Times in 136 Posts
Rep Power:
10
You have about a 3' tidal difference on the Great South Bay. Add wind and waves and it will stack up.
---
"The cure for anything is salt water~ sweat, tears, or the sea." ~Isak Denesen

Everybody has one:

To view links or images in signatures your post count must be 10 or greater. You currently have 0 posts.

obviously it is a product of the natural forces of weather/nature.

I was looking for a better explination of the process. Is it the ice breaking into smaller pieces and the wind pushing pieces over top others? Does the tide help wiht the stacking once the ice is pushed against a stationary object? In effect these are slow moving "waves" of ice. where as liquid water begins to form waves from the wind and as the waves increase there is more surface area for the wind to push (as in a developed sea state) and the wave size increases more quickly assuming the duration and fetch persist. is this the case with the ice? If the bay is frozen over then the wind can blow but there is not much that can be done untill the ice begins to breaks up a little. Once this happens i am assuming that the wind pushes pieces upon others and as they rise there is more for the wind to push against and they form from there like waves. I have seen the piles of ice in the middle of the bay as well as against/along the shore. it has the ability to move jetties, dolphin, and pretty much anything in its way. I am just tring to understand that process that allows the ice to go from floating pieces once it breaks up into large piles of destruction.
When i lived on the Patchogue River which is about the middle of the bay its only about a 1' to 18" change without a storm

When it froze over REALLY solid about 1981/2 we did not get much of what your seeing because it never thawed it just got drive you car around thick
---
1970 Cal 29 Sea Fever

To view links or images in signatures your post count must be 10 or greater. You currently have 0 posts.

1981 J24 Tangent 2930
Tommays
Northport NY


If a dirty bottom slows you down what do you think it does to your boat
To view links or images in signatures your post count must be 10 or greater. You currently have 0 posts.

thaty is the part of the bay I am taking about, I agree the tide range is usually only about 2' on average but with spring tides and storms it can be more. The tide range is more closer to the inlets for obvious reasons. As I was just born when the bay was able to be driven on I do not remember that but I have seen pictures/heard stories. I myself have walked across the bay when frozen and been able to ice boat at times during more severe winters.
Currently Active Users Viewing This Thread: 1

(0 members and 1 guests)