Best way to rig a hammock
---
Any tips on rigging a hammock on a 27' Catalina? Or is my boat too small?
After many attempts... the best I could come up with at the dock was this:
But when I'm on the hook that obviously won't work.
The girlfriend liked it though... she's topless in that pic... got lots of cheers from the other dock parties that day when I ran her top up the mast.
---
Caribbean 50 Ketch
Just another Moderator
Join Date: Sep 2005
Location: New Westminster, BC
Posts: 19,012
Thanks: 152
Thanked 526 Times in 500 Posts
Rep Power:
10
You COULD rig a preventer and do the same thing at anchor... or swing the boom out of the way and rig the hammock to the backstay instead..
Or get one of these.. they fit better in smaller foretriangles, and don't require the 'stretch' a regular hammock does. (less protective of topless sunbathers, though!
)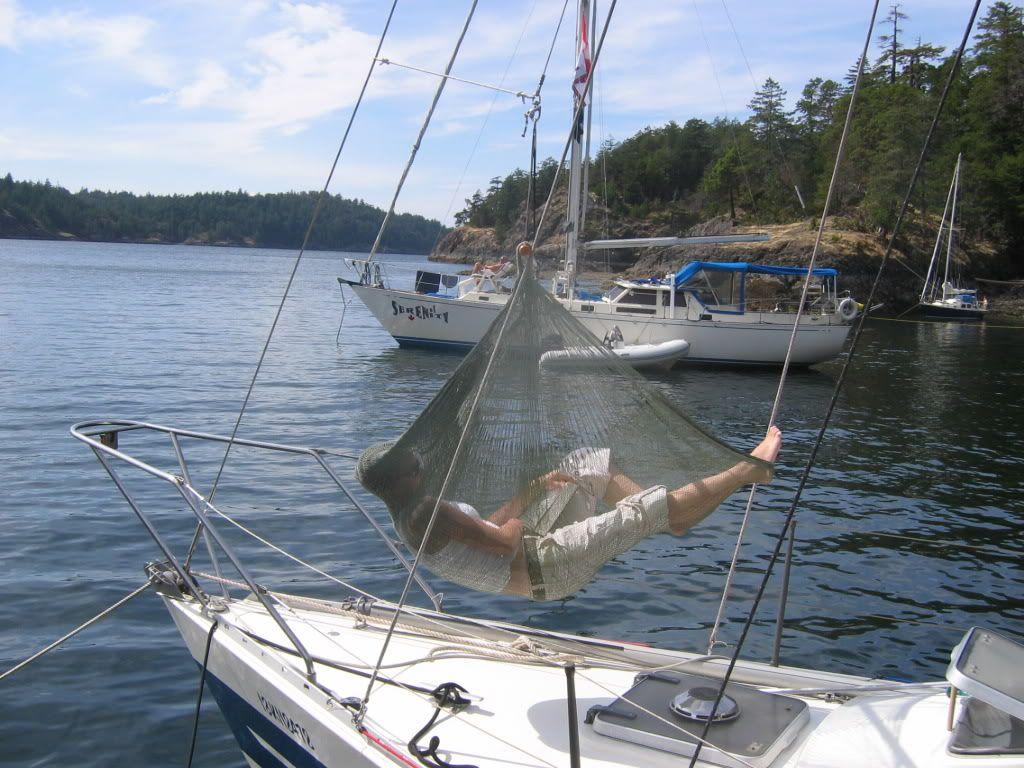 ---
Ron

1984 Fast/Nicholson 345 "FastForward"

".. there is much you could do at sea with common sense.. and very little you could do without it.."
Capt G E Ericson (from "The Cruel Sea" by Nicholas Monsarrat)
Banned
Join Date: Aug 2008
Posts: 16,207
Thanks: 193
Thanked 192 Times in 184 Posts
Rep Power:
0
I think we need a little higher angle on that first pic so we can see the set up a little more clearly.
Senior Member
Join Date: Oct 2009
Location: Gloucester, MA
Posts: 586
Thanks: 0
Thanked 0 Times in 0 Posts
Rep Power:
8
If your foredeck is long enough, you can rig it between your forestay and your mast. On the forestay end, tie the end of the hammock to the wire and use a halyard to raise it up.
I've got a rolling furler and the only halyard I have is for the main... if I bring it around to the bow it wraps around the sidestays and I worry about chafing.

Is it safe to wrap something around the rolling furler to hang the hammock from?

Maybe swinging the boom out of the way and rigging off the backstay is the best way so far.
---
Caribbean 50 Ketch
Senior Member
Join Date: Oct 2006
Location: Maryland USA
Posts: 4,910
Thanks: 92
Thanked 66 Times in 46 Posts
Rep Power:
11
I use a chafe guard around the furled sail and the other end around the mast, no need to use a halyard.
Maybe you could get a smaller hammock, we use a "camping" hammock
As for only having one halyard available, that may be something you want to consider adding.
---
Shawn


To view links or images in signatures your post count must be 10 or greater. You currently have 0 posts.

Senior Member
Join Date: Aug 2007
Location: NY
Posts: 2,249
Thanks: 1
Thanked 2 Times in 2 Posts
Rep Power:
10
check these out - we have one and it works pretty well. We use wide webbing around the furled genoa and hold it up with the spinnaker halyard when we rig it in the foretriangle. But as you can see at the link there are other ways to do it
COOLNET HAMMOCKS
---
Last edited by sck5; 04-30-2010 at

11:34 AM

.
I always rig mine under the boom and leave the sliding hatch open, seems to work okay for me.
Currently Active Users Viewing This Thread: 1

(0 members and 1 guests)