Member
Join Date: Dec 2009
Posts: 58
Thanks: 0
Thanked 0 Times in 0 Posts
Rep Power:
8
canvas colour
---
Hello,

I am about to get a new bimini, spray hood and various covers made up for a new yacht. does anyone have any advice on canvas colour in regards to fading, showing dirt and temperature issues?

I am considering:

Black (I think this looks the best)
Dark Blue (I suspect this could be the most practical)
Off white (maybe less fade)

thanks in advance.

Dean
I have had blue & it fades & is hot.Now have oyster(looks off wh) & like it.Less fadeing & cooler.Ex wife talked me into it wanted green but probably better ff with oyster.marc
Warm Weather Sailor
Join Date: Sep 2006
Location: Toronto
Posts: 1,032
Thanks: 0
Thanked 11 Times in 10 Posts
Rep Power:
11
Thinking a lighter colour would be better I chose "linen", a light tan colour for all my canvas (dodger, bimini, connector and full enclosure) when I got a new boat in 2004. In six seasons in the Bahamas it has lost most of its coulour. Also light colours do not work as well for protection from the sun. If I could do it over I would choose Flag Blue, a very dark navy blue, nearly black. It fades a lot less than the light coulours and when it gets dirty (which it will) it doesn't show it. And it's not hotter than a light colour.
---
Rick I
Toronto in summer, Bahamas in winter.

To view links or images in signatures your post count must be 10 or greater. You currently have 0 posts.

October Moon B43
Join Date: Apr 2009
Location: SE Pennsylvania
Posts: 400
Thanks: 0
Thanked 0 Times in 0 Posts
Rep Power:
8
We have cadet grey and it looks great, blocks the sun but it shows the dirt.
Senior Member
Join Date: Jan 2010
Location: Florida/Bahamas
Posts: 831
Thanks: 3
Thanked 24 Times in 24 Posts
Rep Power:
8
In the Sunbrella type fabrics red and yellow are usually the most fade prone. Counter-intuitively, the darker colors are more comfortable in glaring sun. As mentioned, lighter colors are more prone to showing dirt.
---
Sail Fast Live Slow
36' Solaris Sunstar catamaran
Just another Moderator
Join Date: Sep 2005
Location: New Westminster, BC
Posts: 18,713
Thanks: 141
Thanked 490 Times in 464 Posts
Rep Power:
10
Sunbrella added a new blue a couple of years ago... I think it's called "Ocean Blue" We like it a lot. Not real dark, seems to be holding its colour, but we're in a different climate than Oz.
---
Ron

1984 Fast/Nicholson 345 "FastForward"

".. there is much you could do at sea with common sense.. and very little you could do without it.."
Capt G E Ericson (from "The Cruel Sea" by Nicholas Monsarrat)
Senior Member
Join Date: Dec 2008
Location: Washington, NC
Posts: 527
Thanks: 3
Thanked 8 Times in 5 Posts
Rep Power:
9
I don't know the name, but there's a slate blue color that's on a couple of boats in this area that I think looks great. Something a little different that's not too "out there".
Second boat back (not counting the tan canvas in the foreground), mainsail cover, handrail covers, headsail wrap.
---

To view links or images in signatures your post count must be 10 or greater. You currently have 0 posts.


Who is staring at the sea is already sailing a little.
Senior Member
Join Date: Aug 2002
Location: Houston, TX
Posts: 652
Thanks: 0
Thanked 1 Time in 1 Post
Rep Power:
15
The SunBrella dark blue looks the best and lasts forever - it has black UV threads woven in with it. We last put the dark blue on Paloma about 10-years ago and it still looks like new - and down here on the Texas coast, boats stay in the water and the brutal subtropic sun 365 days a year.
---
s/v Paloma, Bristol 29.9, #141
Slipped in Bahia Marina, easy access to Corpus Christi Bay and the Gulf of Mexico.
Senior Member
Join Date: Jan 2006
Location: living aboard since 1972
Posts: 1,717
Thanks: 0
Thanked 12 Times in 12 Posts
Rep Power:
12
We've had this Sunbrella green (maybe "forest green"), with the black threads too, for about 7 years mostly in Florida & Bahamas with no significant fading.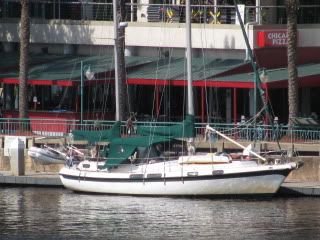 Take care and joy, Aythya crew
Senior Member
Join Date: Nov 2009
Posts: 529
Thanks: 0
Thanked 17 Times in 16 Posts
Rep Power:
8
Do what YOU think looks best. You, or your admiral, will have to look at it each time you approach the boat. "I told you so" is not the way you want to start your day!
Really depends on the color of your boat, or boot stripe, or whatever. Black is not going to be any hotter or fade more than navy. Lighter colors can look very good, but will be a little harder to clean when the birds leave you gifts from the rigging. Whatever you do make certain that you seal it a couple of times a year and you won't have to replace for 7-10 years if it is a quality product.
Currently Active Users Viewing This Thread: 1

(0 members and 1 guests)