Banned
Join Date: Aug 2008
Posts: 16,207
Thanks: 193
Thanked 192 Times in 184 Posts
Rep Power:
0
Here's to scalded cats puddin! (PS - any tips on getting cleaner tacks with a cutter. That baby stay sure likes to hang on to the jib.)
Senior Member
Join Date: Jul 2006
Posts: 1,370
Thanks: 0
Thanked 2 Times in 2 Posts
Rep Power:
11
Yeah! Don't sail a cutter! Just kidding. What's catching? The sheet knots? The quickest fix is to have someone walk the tack around and clear things. Look at the bright side. At least you don't have to furl up a genoa to clear a solent stay, then roll it all out again. I've done it racing a cruising boat, and well, it just sucks. And check out the arse on the 3/4 tonner:
Pressure Drop - And a Fiasco it Was!
(first pict)
---
Last edited by puddinlegs; 05-16-2011 at

12:35 PM

.
I knew I could do it, just never did. like sailing the 8' pram I learned on 30 yrs ago........ehehehe........look Smack, NO motor! main sail only! soooo much fun! Oh yeah, got the smoke again, 2nd week in a row for my class, now to wait the 24 hrs for results to be posted, will probably lose first into 2nd again like last week......grrrrrrrrrrrrr
Marty
---
She drives me boat,
I drives me dinghy!
---
Last edited by blt2ski; 05-19-2011 at

01:49 AM

.
Banned
Join Date: Aug 2008
Posts: 16,207
Thanks: 193
Thanked 192 Times in 184 Posts
Rep Power:
0
Bluto! Dude! That was smooth! Very nice.

And puddin, that was great write up on the Fiasco. What make is that 3/4 tonner?
Lake Sailor
Join Date: Oct 2009
Location: Minneapolis, MN
Posts: 931
Thanks: 0
Thanked 11 Times in 11 Posts
Rep Power:
8
Sailed last evening with my girl, Kris. Was the first time the two of us have been out, just us. She had a great time and did a great job with the jib sheets on tacks/gybes.

More in the blog.....
---
Umquam Porro
Seeker 1992 Beneteau First 235
To view links or images in signatures your post count must be 10 or greater. You currently have 0 posts.
Blue Horizons
Join Date: Nov 2010
Location: Jacksonville, Fl
Posts: 1,052
Thanks: 4
Thanked 21 Times in 16 Posts
Rep Power:
7
Went out with a guy never been sailing in a Behea a few days ago when the wind was breezy. Even with a reefed main we were still honkin through with both of us leaned so far over the side are hair was dragging water. Was not the best day to try and teach some one to sail, that did not work out so well the one attempt I have him.. Great day to be on the water none the less.
Senior Member
Join Date: Jul 2006
Posts: 1,370
Thanks: 0
Thanked 2 Times in 2 Posts
Rep Power:
11
Quote:
Bluto! Dude! That was smooth! Very nice.

And puddin, that was great write up on the Fiasco. What make is that 3/4 tonner?
Ron Holland designed custom one off.
Junior Member
Join Date: Sep 2010
Posts: 15
Thanks: 0
Thanked 0 Times in 0 Posts
Rep Power:
0
first night sail
---
I went out with another club member on the lake on Tuesday night to get my night checkout done finally in the club catalina 22s. My mentor wanted to show me how to sail out without the engine as the wind was right for it. We pushed back from the slip and he had me hold the sail out on the other side of the boat to backwind the sail and we slipped quietly out of the slip. Letting it go to the other side we reversed course and headed out of the marina.

We sailed a bit before sunset, talking quietly together about what things will look like, how he does this or that. We sat and watched the sun set. Just as the last sliver of a blood red sun was dipping below the horizon another sailboat on the lake traversed the disc. Amazingly beautiful in a way I don't know how to put into words. My quick camera shot was late and never do justice to the real life. The wind picked up as the sun was going down, staying smooth, strong, we sailed out and back on the main alone that night to ease our put away time when we were done. But honestly, it was enough. We sailed strong, flat, comfortable on the boat as he and I talked a bit and watched the sun go down.

Then we watched the stars come out as we waited on the moon to rise. A partly cloudy sky and our stars were flitting between the gaps. The marina lights on the lake came up, the blinking lights on the wavebreaks, the blue lights at the Glass Cactus restaurant shone from the shore. It was quiet on the water. Slicing through the waves, the occasional slap in the water of a startled fish as we slipped past them. It grew chillier, sweatshirts and wildbreakers were shrugged on from the bags.

The moon rose giant and green above the horizon casting broken reflections on the water as we headed towards the docks. Slipping into our cove, past the wavebreaks on the mainsail alone I was determined to see if I could follow his example, see how far I could get back to my slip without having to break the silence with our motor. The wind grew slack as I started to round the end of the covered pier, my sail fluttered uselessly on the mast and I put the little outboard motor down. Prime, a sharp pull, and it stuttered to life, muted in the quiet, as if it too wanted to keep the peace. An easy dock in the slip and we were soon tied up, sail put away and ready to go.

Over our shoulders the moon rose bright and shone as the clouds scurried across its face and the stars winked at us in the quiet.

I stood on the bridge of the marina looking at the little catalina 22 in her slip, looking at the moon above and wondering why it took so long to finally find my way to the water. Has it only been a year since my first sailing lessons?

Fair winds my friends..
---
Last edited by Mitch817; 05-20-2011 at

02:44 PM

.
Just another Moderator
Join Date: Sep 2005
Location: New Westminster, BC
Posts: 19,008
Thanks: 152
Thanked 525 Times in 499 Posts
Rep Power:
10
Summer weather arrived (finally) this weekend, we got off after my wife's Dragon boat session (she paddles with a crew of breast cancer survivors throughout the spring) and enjoyed a terrific beat in 15-18 knots and relatively calm seas. 16 miles to Plumper Cove, on Keats Is just off Gibsons. Wrapped up the day listening to the Vancouver Canucks go up 2-0 in the Stanley Cup finals vs the Boston Bruins... Go Canucks!
Awoke to a pristinely clear and beautiful morning...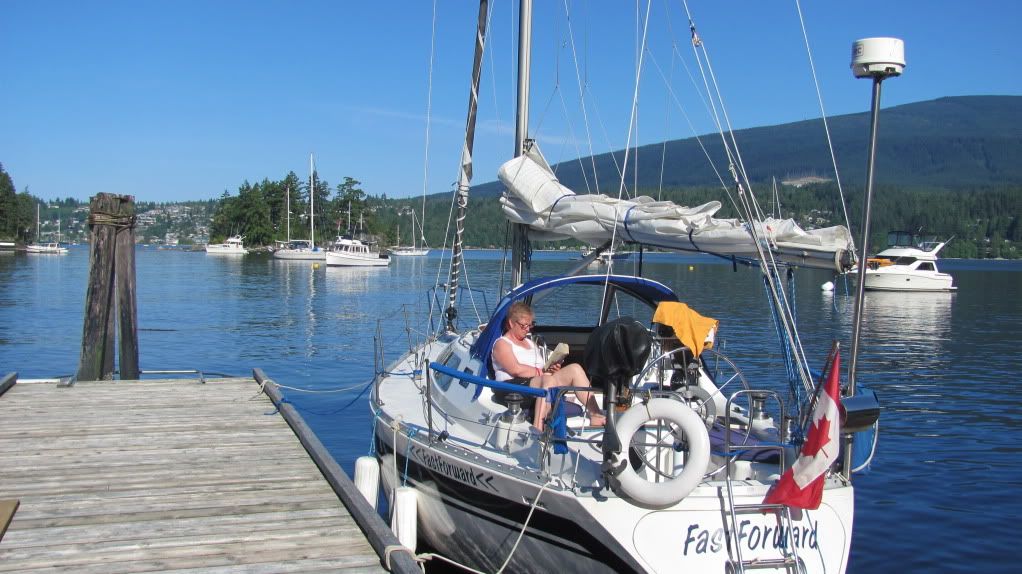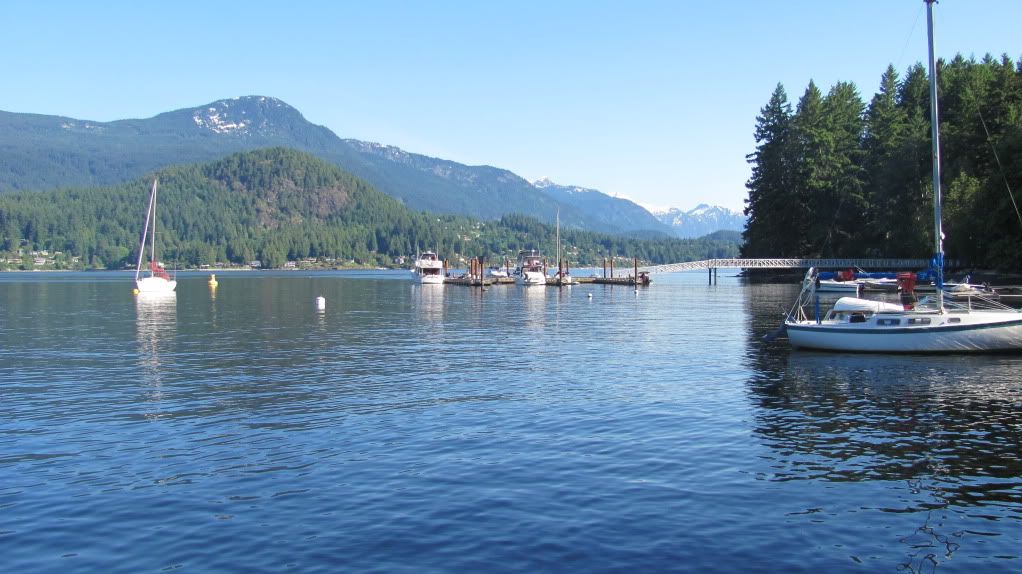 After a walk through the nearby marine park (docks in 2nd pic) we head out into a nicely building NW wind for a quick run back home. A big ebb tide and heavily outflowing Fraser River combined for some very confused seas along the way.
We entered the river water about 8 miles from home.. below you can clearly see the transition.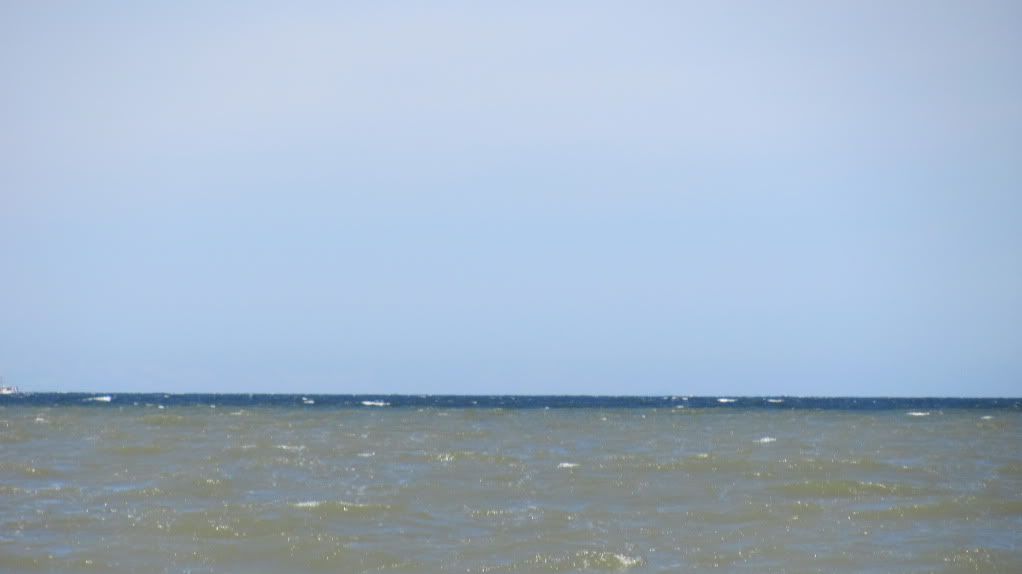 And we arrived at the Pt Grey Bell buoy finish line just in time to see our son finish the RNSA singlehanded Nanaimo race. He's flying kite and genny because the main ripped luff-to-leech on a prestart gybe with less than a minute to go.... I think SNer Adamlein took part too - great conditions for this two day event.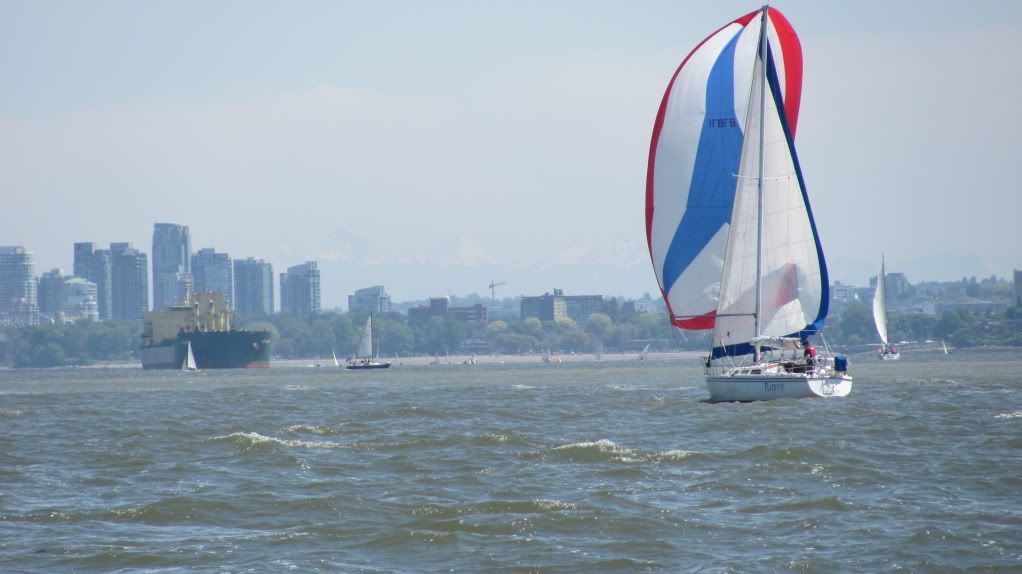 All in all an excellent weekend, after the cold and rain we've been having...
---
Ron

1984 Fast/Nicholson 345 "FastForward"

".. there is much you could do at sea with common sense.. and very little you could do without it.."
Capt G E Ericson (from "The Cruel Sea" by Nicholas Monsarrat)
Hmmm
Join Date: Jul 2008
Location: Campbell River, British Columbia
Posts: 514
Thanks: 0
Thanked 0 Times in 0 Posts
Rep Power:
9
Good post Ron...go Canuks go. That Fraser River colour transition is always so dramatic at this time of year. Nce photos, you must be so proud of your son.
Steve
---

To view links or images in signatures your post count must be 10 or greater. You currently have 0 posts.

Impulse III
Truant Pilothouse
Currently Active Users Viewing This Thread: 1

(0 members and 1 guests)