09-25-2010
| | | | |
| --- | --- | --- | --- |
| | Proud "picnic sailor" | | |
Quote:
Originally Posted by
RhythmDoctor
...I would be up for something in November, though only by car, since my boat will be hauled by then. One possibility might be the new Riverwinds Restaurant in New Jersey - it would give us a chance to scout out their cove for a possible anchorage rendezvous next year on the Delaware:
Fine Dining - ..::The River Winds Restaurant::..
We got in an unexpected sail today. With one forecast showing 35 mph gusts, I woke up assuming we would be landlocked. We headed down to the boat expecting things to be more than we'd want to handle, but found a pleasantly gentle breeze. So we grabbed hoagies at Wawa and headed out.
I finally got up the nerve to pull into the cove at Riverwinds. It might be a nice point for a Delaware River rendezvous. Colin and Denise - what are your drafts again? We went in at about MLLW+3', and found a minimum of about 8 feet at the entrance. So it might be a little tough for Denise getting in at low tide - hopefully she could time it for more water. Once inside we had about 11-12 feet at our mooring ball. (Note that my transducer is about 1' below the waterline.) It was a nice day, and there were about 4 boats when we entered, and about 12 boats - most of them rafted - when we left. One catch is that there is no marina or dock - you need to dinghy in to use their nice restaurant, beach, and walking paths. There were several people swimming, though I would not do that. It's an easy 1 hour sail from Essington, and could be easily reached from Bristol in a day. A bunch of powerboaters in my marina head over there for overnight anchorages.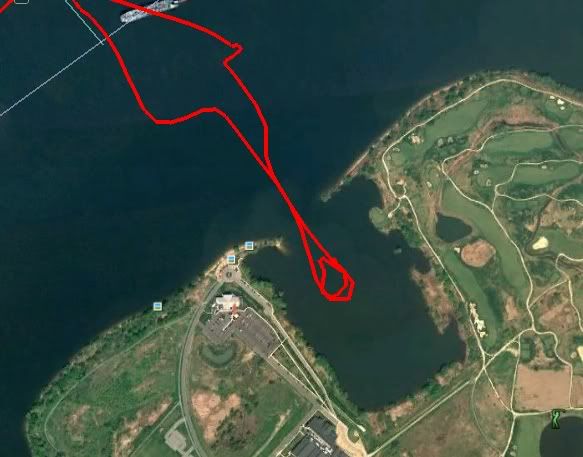 __________________

To view links or images in signatures your post count must be 10 or greater. You currently have 0 posts.

Formerly posted as "RhythmDoctor"
1998 Catalina 250WK Take Five (at Anchorage Marina, Essington, on the Delaware River)
1991 15' Trophy (Lake Wallenpaupack)
1985 14' Phantom (Lake Wallenpaupack)
---
Last edited by TakeFive; 09-27-2010 at

07:09 AM

.