Aussie Yachties
Join Date: Nov 2009
Posts: 4
Thanks: 0
Thanked 0 Times in 0 Posts
Rep Power:
0
Asymetrical winches for right handed users.
---
We have owned a C & C 36' built in 1984 for 12 months.

Does anyone know if it is common for yachts to be specifically built for right handed people??? Strange question? Read on.

Until we started to do measurements for a new dodger, we had never noticed that Qualita appears to have been built specifically for a right handed person!! Really facinating. When operating the winches, it feels comfortable. Everything in the right place - plenty of elbow room etc. We found that the Port side winch is located approx 150 mm further astern than the stbd one. (We decided that this was to save whacking your elbows on the coach house rear, or falling backwards into the saloon when operating the Port winch). The Stbd one is able to be located further forward on the gunwhales as there is plenty of room in the cockpit to operate it. Very logical. Weird we had never noticed that they are not symetrically placed on the gunwhale. (Try pulling a few imaginary sheets to see what I mean - which way your body faces & where your elbows are depending whether operating Port or Stbd winch).

I would love to know if this winch set up is common with other yachts or just Qualita. (I am thick skinned so you can tell me I am an idiot & all yachts are like that!)

Does anyone out there know if this is common>?

Cathy & Ross McDonald
Just another Moderator
Join Date: Sep 2005
Location: New Westminster, BC
Posts: 19,008
Thanks: 152
Thanked 525 Times in 499 Posts
Rep Power:
10
According to this factory image, these boats were produced with the winches aligned side-to-side. I have to say that any boat we've owned has been the same.
Could it have been done avoid chafe on the coaming edge near the port winch (which leads to the inboard side of the drum)? This is a issue on a lot of boats.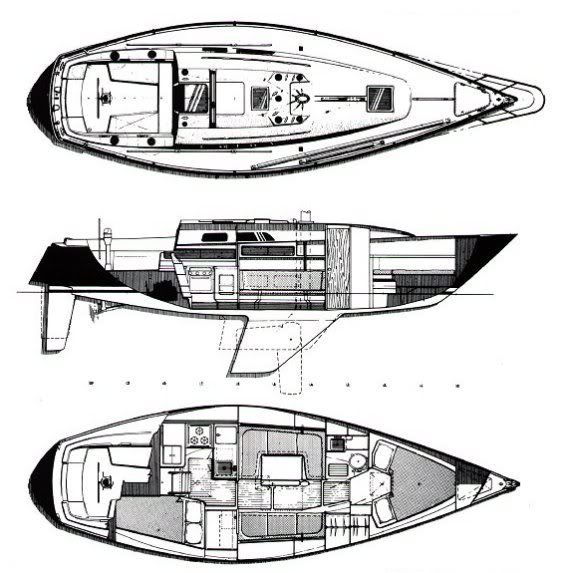 ---
Ron

1984 Fast/Nicholson 345 "FastForward"

".. there is much you could do at sea with common sense.. and very little you could do without it.."
Capt G E Ericson (from "The Cruel Sea" by Nicholas Monsarrat)
Senior Member
Join Date: Jan 2006
Location: living aboard since 1972
Posts: 1,719
Thanks: 0
Thanked 12 Times in 12 Posts
Rep Power:
12
My winches are in symmetrical allignment, but I am aware that I face forward when operating my port winch and I face aft when operating my starboard winch. I never noticed this before this post, Thanks! Take care and joy, Aythya crew
Senior Member
Join Date: Jun 2000
Location: CT/ Long Island Sound
Posts: 2,840
Thanks: 4
Thanked 45 Times in 44 Posts
Rep Power:
17
The fact that the line wraps around the winch clockwise also affects winch and cleat placement. You want to have a clear lead to & from it, and the correct angle vis-a-vis the cleat.
Member
Join Date: Feb 2006
Posts: 83
Thanks: 0
Thanked 0 Times in 0 Posts
Rep Power:
12
Wow, that's attention to detail. I've never noticed this on any boat I've sailed. I'll bet the distance that one winch is offset is equal to the diameter of the drum, so that the sheet exits the winch at the same point on each side.
I can't imagine what the benefit is. If it's to avoid some obstruction when winching, as you suggest, why not move both winches back?
---
John
Telstar 28
Join Date: Mar 2006
Location: New England
Posts: 43,290
Thanks: 0
Thanked 18 Times in 14 Posts
Rep Power:
16
It may not have anything to do with "handedness" but everything to do with the physical limitations of the winches and getting a fair lead to them. Without photos it is hard to say why the change was made.
---
Sailingdog
To view links or images in signatures your post count must be 10 or greater. You currently have 0 posts.
Telstar 28
New England

You know what the first rule of sailing is? ...Love. You can learn all the math in the 'verse, but you take
a boat to the sea you don't love, she'll shake you off just as sure as the turning of the worlds. Love keeps
her going when she oughta fall down, tells you she's hurting 'fore she keens. Makes her a home.
—Cpt. Mal Reynolds, Serenity (edited)

If you're new to the Sailnet Forums... please read this
To view links or images in signatures your post count must be 10 or greater. You currently have 0 posts.
.
Still—DON'T READ THAT POST AGAIN.
Aussie Yachties
Join Date: Nov 2009
Posts: 4
Thanks: 0
Thanked 0 Times in 0 Posts
Rep Power:
0
Asymetrical winches
---
Thanks for the replies - you have all made it more complicated! Thanks Faster for the drawings, we have none, where did you get them? Our boat appears identical to the drawings - apart from the winches. The drawings appear to show that the smaller winch is forward of the larger one, whereas our boat is the other way around. They have not been built like that to avoid chafe, there is plenty of space on the coaming. The angle to wrap the line around both winches is perfect. Also...I had a look at some photos & they show that the Port winches have the cleat forward of the winch, whilst the Stbd winches have the cleats to the rear! CaptainForce mentioned the way the body is aligned whilst operating the winches & if you can visualise it, it all makes sense.

If I can work out how to get some photos up, I will.
Ross & Cathy
---
Last edited by rossmcdonald; 01-17-2011 at

04:14 PM

. Reason: add comment
Currently Active Users Viewing This Thread: 1

(0 members and 1 guests)