Senior Member
Join Date: May 2006
Posts: 825
Thanks: 0
Thanked 1 Time in 1 Post
Rep Power:
11
This
The Propeller Handbook: The Complete ... - Google Books
suggests you need 15% prop diam clearance at the tips.
30% fore measured at the midpoint of the blades and 15% aft. It looks like there is some shaping of the skeg which may give that but it is impossible to tell from the picture. That is to allow water flow. I doubt the rudder not being rounded or well rounded which would be desirable would have much effect on the prop unless it is much thicker than the hub of the prop.
My boat also has a small aperture and similar wll but I can get 6.5 knots at cruising with a smaller motor so 5 is a bit slow.
However all that depends on gearbox reduction whether you can achieve max revs and accurate speed measurement, to work out if the prop is correct.
You may not be getting maximum thrust from the motor but to go to the original point changing to a 2 blade prop will not improve things because you then need the same blade area by either increased diameter or pitch or both.
As far as propwalk goes better thrust might get you up to the point of gainng steerage quicker but realistically you get that at 1-2 knots which you can easily achieve and you could manhandle it out of the dock at that. Sure you won't have great stopping power so slow down early.
You might check the prop size and revs etc, but rather than getting too concerned with modifying the boat you might want to start with accepting and working with its characteristics. Sure it can be a bit disconcerting at first and takes some practice but you do get a sense of control by working with the boat. Sure it would be easier if steering and braking were like a car but they ain't.
Junior Member
Join Date: Feb 2011
Location: Maryland, USA
Posts: 6
Thanks: 0
Thanked 0 Times in 0 Posts
Rep Power:
0
Chris thanks for your quick response to my morgan backing problem..I am in agreement with you in the get used to it and live with it department. However my to sailing partners are determined that it is a prop problem. I am certainly going to submit your reference and information to them to support my case. I was hoping there might be a better answer out there somewhere. My other objective is to attempt to adjust the rudders range of angle from its present approx.35 degree range to whatever additional range I can achieve. My thinking here is that we are not getting enough pressure from the rudder due to its shallow angle in order to over come the prop walk. Again thanks for your information and quick response. sherrif
Senior Member
Join Date: Dec 2010
Location: Maryland - USA
Posts: 5,422
Thanks: 1
Thanked 42 Times in 38 Posts
Rep Power:
7
Here's another photo of the prop assembly.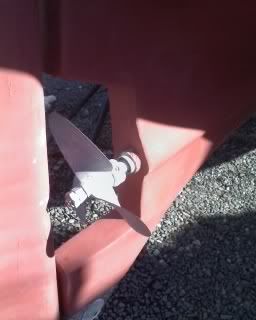 Gary
I have a Morgan Out Island 30 with a similar keel configuration. It doesn't turn on a dime, but more like turning on a mint... the US Mint to be exact. All joking aside, I will throw something out there, but please take it with a grain of salt, we've only had our boat for the last half of last summer.
Are you getting decent backing speed? We have had trouble shifting in and out of gears, a problem I haven't tracked down yet (I'm going to look into a stretched cable...). Last summer, we would shift into forward, and it would go forward, but not very quickly. The engine would be revving high, and we wouldn't be going anywhere fast. We'd have to throttle back, put it in neutral and try again.
My point is that you may not be fully engaging the prop in reverse, so you are getting spin, causing some prop walk, but aren't getting the backing speed quickly enough to get steerage. Just an idea to muddy up the waters
P.S. We have a three-blade prop as well (16 x 10) and a 2QM20. We haven't really had any trouble backing, once we can get it to engage. We can easily make 6.5 knots forward.
---
Last edited by rhsanborn; 02-16-2011 at

08:23 PM

.
Two many boats!
Join Date: Oct 2009
Location: Bowie MD
Posts: 126
Thanks: 0
Thanked 0 Times in 0 Posts
Rep Power:
8
rhsanborn....sounds like a cable adjustment...if it goes sometimes and not others...just a thought.

Prop walk....the reason for it is the blade is more effecient pushing down than up or somthing like that....just like an airplanes (single engine prop) right turning tendancy.....I pilot planes too just private rated....but you have to give a lot of rudder in a cessna to overcome that.

My experience with sailboats which is only from two boats a C-27 (horrrible prop walk) you had to plan a boat length and 20 deg opposite the intended direction with 1/2 throttle to get the boat moving fast enough to get steerage (in reverse no water flows over the prop UNTIL the boat gets moving) and then my C-30 which seems to do fairly well at staying straight when throttled up but it also has a 23hp in a 30ft boat that you can waterski behind!
---
I love to sail, coming from a Swordboat capt's loin one would think I'd of caught the bug long before now! Oh well, this ones for you Bisque...(My Father may he RIP)

Now If I could only stay away from working on the damn things I could sail more!
To view links or images in signatures your post count must be 10 or greater. You currently have 0 posts.


Current boat...
-1985 c-30 TR DONE!! after two new engines and too much labor she floats sails and steams....
Senior Member
Join Date: May 2006
Posts: 825
Thanks: 0
Thanked 1 Time in 1 Post
Rep Power:
11
Just some thoughts on trying to increase the turning of the rudder to counteract this. I claim no expertise so just my thoughts.
Generally I wonder about the appropriate range of movement for a rudder. It stalls and loses laminar flow at too high an angle of attack. That might be less of an issue at low speeds. My tiller is about a metre horizontally. I think 25" or 30deg would be the hardest I would ever turn it to make a really sharp turn.
As to whether a limit of 30-35 is isnsufficient to overcome prop walk think of it this way. It would be better to draw a diagram but I can't. If there was na backward movement and all the thrust went sideways looking astern the thrust is at 90 deg. The rudder most opposes this when directly fore and aft. That is it is at right angles to the way the stern is moving. I only encounter this when testing the anchor is set. The boat cant move astern but the high revs swing it and the force on the rudder is too strong to hold.
Now lets say the boat when reversing normally moves as much to the side as astern so the resultant angle is forty five which is a lot because it is easier to push fore and aft than sideways. The maximum resistance and force on the rudder will be when it is at forty five the other way ie at 90 deg to the motion of the boat which is the path of the water. I think the lateral resistance of a rudder say 8 ft sq would be huge ie imagine trying to pull it square on through the water and far greater than the force the prop is exerting so it would effectly stop the boat.
Alternativle if one took the two directional forces from the prop separately, you have x going astern and y going at right angles to it. To maximise the reduction in y you want the rudder to be at the maximum angle to that ie fore and aft and minimise the reduction in x also by being fore and aft. The third component comes in as you are moving and that is the normal steering of the rudder with the water flow. That angle I suspect would be quite small say 20 deg. That would still give substantial lateral resistance but only some astern resistance.
If the water flow was at 20 deg you could still get a steering effect from having the rudder fore and aft. That is you have high rotational resistance , some limited astern resistance and some water flow steering overcoming prop walk. That is unlikely to turn your stern anti clockwise but may get it going straight. On the other hand if you attempt to turn the rudder too much you reduce the resistance to rotation, increase that to going astern and in consequence through reduced speed have less steerage.
I might have it wrong but just trying to work it out suggests that increasing rudder movement may not help.
My Pearson is similar. You have to get speed and take out of gear. The prop walk can be a bear when it is windy. It will take some practice to get used to it.
---
"When in command, command." -- Admiral Nimitz

Difference between a power boater and a sailor out on the water: A power boater is going some place special, a sailor is already there.

s/v Zotz 1981 Pearson 365 Ketch Hull #375
old guy :)
Join Date: Feb 2008
Location: Fredericton, NB, Canada
Posts: 1,061
Thanks: 13
Thanked 14 Times in 12 Posts
Rep Power:
10
My friend was complaining that his "new to him" Douglas 32 was hard to back up. I told him he just needed more experience. About two weeks later we were at the lake together and he asked me to come on board and teach him how to back his Douglas up. (Boy, was I being set up).
Did not seem to matter what I did, that sucker will not steer backing up. Well, it will steer, but you have no idea where it is going to go. Get it going, turn the wheel, maybe she goes left, maybe she goes right. And once she starts turning, no matter what you do the the wheel - she keeps turning.
It has a very full keel. Here is a 31 - virtually the same boat.
A great
diagram of the hull
here:
So, I gave him the same advice that was here - "Here's a straw, suck it up!"
Rik
---
Irwin Citation 34
Mystery
My 2 cents for at the dock.

1. remove all bow lines
2. go below and open the cooling valve for your engine after grabbing the key to start your boat that you put on the valve so you don't forget to open it. You did put the key at the valve so you don't forget didn't you?
3. start engine and idle only.
4. release all stern lines
5. walk forward and grab spinaker pole or ten to twelve foot pole you keep just for this reason.
6. put one end firmly against dock or seawall.
7. PUSH in a direction opposite the sea wall or dock
8. Repeat as need every ten to twelve feet.
9. When cleared of dock put transmission into forward gear until out of port.
10. If you have to reverse in port you now have lots of room to do so.(You Hope)
Senior Member
Join Date: Jul 2000
Location: Pennsylvania
Posts: 4,391
Thanks: 42
Thanked 239 Times in 226 Posts
Rep Power:
18
I have a boat with similar backing characteristics: backs up like a drunk elephant.

Such a boat with a right-handed prop can only go to port when power is applied when backing down. One must learn to 'back and fill' techniques and USE the prop walk characteristics of hopping the stern to port by small 'bursts' of prop rotation in reverse; and, then when needing to hop the stern to stb shift briefly into fwd (while still letting the momentum carry you backward) apply a short 'burst' of fowward prop, etc. When backing and filling the ruddier is IGNORED.

Some tips for backing down into a slip using only prop-walk:
1. enter the slip at angle so that the portside stern is (much) closer to the slip entrance.
2. use the outer piling (on you portside stern) to help 'wear' the boat around ... you see-saw along the piling (using fore and aft 'bursts of thrust') until almost straight and MOVING astern; once straight let the boat 'idle' back into the slip and only using backing and filling to make 'major corrections' ... and with NO rudder motion.
3. never back into a slip with the starboard side of the boat closer than the portside .... boats with right handed props wont turn this way; they only turn to port when 'backing'. If you HAVE such a slip, first do a 180 in the fairway (via backing and filling), then back into the slip while 'kissing' the outer piling on the PORTSIDE to help 'wear' the boat in.

To learn how to turn or go astern by 'backing and filling' also called 'pivot turn' do websearch: "pivot turn" + boat OR 'backing and filling" + boat. Videos of these methods also available on the US Sailing website - USSailing.org.
---
Last edited by RichH; 02-17-2011 at

12:16 PM

.
Currently Active Users Viewing This Thread: 1

(0 members and 1 guests)