Senior Member
Join Date: Jul 2009
Posts: 192
Thanks: 0
Thanked 8 Times in 7 Posts
Rep Power:
8
Sailing Blues and The Perfectionist
---
And the story begins like this;
A few years ago I bought a Catalina 22 and thus began the sailing addiction that we all seem to know. I spent the first four or so months restoring her and making her a seaworthy craft. Her hull shined and the varnish gleamed. Shrouds were tuned, rigging was sorted and little creature comforts were added. By mid summer, she was pretty, usable and convenient. I spent many days and nights sailing her all over the local area and even taking her further offshore than a C-22 should likely be. We partied on her, swam off her and explored many a sound and river. We survived summer squalls, groundings and many comical docking attempts. At times we had outboard troubles and had to sail up narrow creeks against strong tides to get back to the dock.
Through all of this I built up a really good working relationship with the boat and her crew. Many lessons were learned and much experience gained. The sailing experience gained by having to sail to and from the docks at the marina are irreplaceable. However, the entire time, I always thought of the things I really wish she had. Things like standing headroom, an actual head, room to walk down the side decks. Plus little things like an actual anchor locker, inboard engine, electricity....
The urge was there to get a bigger boat. I think we all suffer from this at times. I think it is unavoidable. If it is not you who ponders the idea, your first mate is. So this year the plan was to restore the interior of the 22, while at the same time keeping an eye out for something a bit bigger. No rush of course, there was sailing to do. As luck would have it, as I was installing the last freshly varnished piece of interior wood, thinking the work was done for the year, I got an offer to buy a Catalina 30 for an astoundingly cheap price. I said I would think about it for a few days and went back to working. The next day, a friend offered to buy the C22.....
Now, I was familiar with this particular C-30. She had been passed around the local area many times but know one had really put any love into her. She was sound but cosmetically challenged. In addition, she needed a thorough modernization if not a full refit. Her rigging is solid, bottom recently done, new through hulls installed. Engine ran, didn't leak and all systems worked as they should. She seemed to be right on that line where if someone didn't start working on her soon, things would get expensive. But she hadn't crossed the line yet.
It took two months for me to make the decision to sell the 22 and buy the 30. But the decision was made and we went sailing on the 22 for the last time in February of this year. It was a good sail with no problems. Everything went smooth as was expected.
Now, here it is June 5th and I haven't been sailing since February. Here is why;
The first thing I did with the 30 was scrub down the entire boat, inside and out. I pulled all the junk out that had been collected over the years of being a dock queen. I then made a list of all the things that I could find wrong with the boat. The survey was slightly helpful but I had already found the issues he identified so that money could have been better spent. I then prioritized the list putting essential operating and safety issues first. None of this has been fixed yet....
Being a perfectionist, I have found that everything will take 10x longer for me to repair. Example: The winches needed to be taken apart, cleaned and lubed. Under the winches are large teak blocks. The teak has not been touched in years. While in there I noticed a handrail that was cracked and split. So...off comes all the exterior bright work. Repairs are made to the wood, and I begin applying 10 coats of Epifanes. I just couldn't stand to simply re bed all the hardware so I am now drilling out the holes, filling them with epoxy and drilling new holes. No wet decks have been found. However, what should have been a few day repair has now turned into a two month restoration procedure. The bright side is that the decks will now be forever protected, the wood will look immaculate and every piece of hardware will have a substantial, pretty, painted backing plate behind it. Good for the boat? Absolutely. Necessary for sailing? Absolutely not. Chalk up two more months of sitting at the dock watching everyone else head out.
Oh and did I mention, to install the backing plates I had to pull out the 34 year old headliner? Which was conveniently hiding 1/2" thick black mold? Mold that has eaten into the fiberglass liner. Now I have to sand the liner and paint it.....Damn perfectionism. I just can't bear to see the boat like this. But the engine cooling lines are still dry rotted, the running rigging still needs to be replaced and the starter still hangs up sometimes...
Priorities. I have found that a pretty boat will get more attention from the owner. If she looks good I won't mind scrubbing the engine and re doing all the wiring. All the little mundane but vitally important tasks seem to become less of a pain if she looks proper. Insanity.
So, to end this long rant, what I have learned so far about moving up to a bigger boat;
Bigger boats have many creature comforts, such as an actual head and shower. But the flushing toilet and hot running shower head are simply the end result of a system. These systems have many moving parts. To rebuild each of these systems to ensure that the toilet always flushes, and the shower is always hot, requires immense amounts of time and money. Time and money that the smaller, simpler boat did not require. Not to mention, when the bottom needed cleaned on the 22, I put her on the trailer and drug her to my house. Cleaned it and then put it back in. When the masthead needed attention or the rigging needed inspecting, I grabbed a friend and we lowered the mast. Now I have to pay a marina to haul the boat or pay a marina to lift the mast off the boat. The simple is no longer simple and the price is astronomically higher. Do I enjoy it more? I don't know...she hasn't left the slip. In fact, I am contemplating buying a C-14 just so I can sail something while I work on this beast...... Sacrifice.
---
SV Salinity
To view links or images in signatures your post count must be 10 or greater. You currently have 0 posts.

---
Last edited by alanr77; 06-06-2011 at

08:20 AM

.
Senior Member
Join Date: Jan 2009
Location: Marco Island Florida
Posts: 521
Thanks: 4
Thanked 3 Times in 3 Posts
Rep Power:
9
well said...
---
always in decline-never hitting bottom
Member
Join Date: Aug 2010
Location: Georgia
Posts: 39
Thanks: 1
Thanked 0 Times in 0 Posts
Rep Power:
0
Yes, well said, but on a positive note, the attention to detail and hard work will reward you when you do reach the point where you will to be able to enjoy sailing. The hard work now will result in just having to do routine maintainence and handle those little daily "adjustments". I have been there spending 100% of "boat time" working on her. If she's a good vessel, she'll reward you with good sailing and always get you to port safely.

There is always a skipper looking for crew. Get out there to get the "edge" off your need to sail.

Happy sailing and keep us posted on your progress!
Senior Member
Join Date: Oct 2009
Location: Cape Cod
Posts: 1,259
Thanks: 16
Thanked 73 Times in 71 Posts
Rep Power:
8
Great post. Every new/used boat buyer looking at a great purchase price should read this!

I've tried to take one of 2 approaches in similar situations:

1. Fix it all, cause I just cannot stand it!
2. Rolling refit. Prioritize, and fix the N highest priority items every year, and live with the rest, but all that broken stuff drives me crazy.

Approach 1 usually wins.

You'll have a great boat when your done.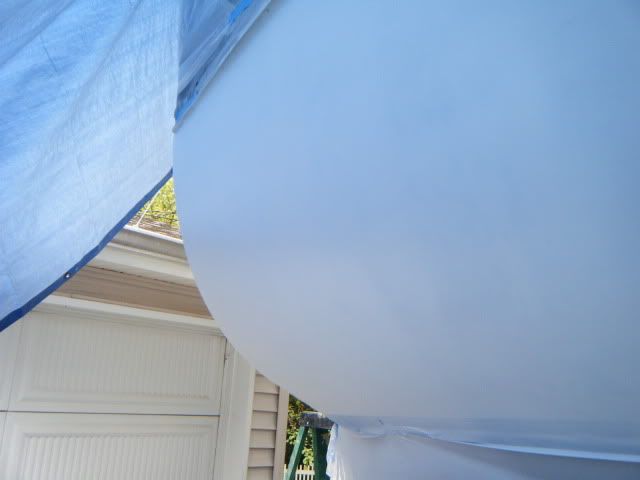 You have so much more to learn about the perfectionism disease
First and foremost you must have a friends with boats that have passed through the critical stages so you can go sailing several times a week and throw in at least one 4 day trip
---
1970 Cal 29 Sea Fever

To view links or images in signatures your post count must be 10 or greater. You currently have 0 posts.

1981 J24 Tangent 2930
Tommays
Northport NY


If a dirty bottom slows you down what do you think it does to your boat
To view links or images in signatures your post count must be 10 or greater. You currently have 0 posts.

Senior Member
Join Date: Aug 2003
Location: Long Island, NY
Posts: 2,008
Thanks: 4
Thanked 79 Times in 74 Posts
Rep Power:
14
Hello,

That's why my teak is grey, the bilge is dirty, the cabin top winches sometimes stick and the topsides could use a wax, but I'm sailing 2 times a week.

I would love a perfect (or even close to it) boat, but given the choice between working on the boat or sailing the boat, sailing wins every time. With a 25 year old boat there is ALWAYS going to be something that could be cleaner / prettier / better etc. But, as long as the rig is sound, the sails good, the engine safe, etc. , I'm going to be out on the water using the boat.

Barry
---
Barry Lenoble
Deep Blue C, 2002 C&C 110
Mt. Sinai, NY

To view links or images in signatures your post count must be 10 or greater. You currently have 0 posts.

Senior Member
Join Date: Nov 2008
Location: Long Island
Posts: 2,172
Thanks: 8
Thanked 2 Times in 2 Posts
Rep Power:
9
I'm with Barry on this (literally, because we sail from the same harbor). While I spend more time repairing than I'd like, my priorities are:
1. Safety/ Operational
2. Maintainence/ Finish
3. Cosmetic
4. Upgrade
So some of the paint is peeling. But this spring I built a new mizzen boom and stopped a long time transmission leak. I also sailed.
SERIOUS SAILOR
Join Date: Feb 2011
Location: DFW Metroplex
Posts: 483
Thanks: 0
Thanked 0 Times in 0 Posts
Rep Power:
7
I understand....really I do....but if I was to wait to sail, making every repair absolutely perfect...I'd never sail and always be working on the boat. There's always something to do.

When I bought my boat, I did what I had to do then went sailing. I did a good job of course, but I only tackled those things that were preventing me from sailing or using the boat as intended: DC system, Head, thorough cleaning, galley, lights, lines....now, I can leave the marina Saturday morning and not come back until Sunday night...just what I wanted. All the other stuff I'll fix as time goes on, and even some while I'm out sailing. I can sand some teak when I'm anchored up in a cove. I can drop the hook after a morning of sailing, have lunch, and run a new fresh water line...then go sailing again.

You get the idea. My boat will never be "perfect"...and as hard as that is for me to accept, it is what it is.
---
To view links or images in signatures your post count must be 10 or greater. You currently have 0 posts.
1982 Catalina 25 #2897
FK/SR/Traditional
Eagle Mountain Lake, Texas
Senior Member
Join Date: Aug 2008
Location: Pittsburgh, PA
Posts: 198
Thanks: 0
Thanked 0 Times in 0 Posts
Rep Power:
9
My sailboat has taught me many things, one of the most important being the defenition of "Good Enough". There is an awful lot of sailing that can be done in the time it takes to get from Good Enough to Perfect.
---
Are we there yet?
To view links or images in signatures your post count must be 10 or greater. You currently have 0 posts.

Senior Member
Join Date: Jul 2009
Posts: 192
Thanks: 0
Thanked 8 Times in 7 Posts
Rep Power:
8
As always, this is an ongoing lesson. The restoration factor is always a trap. It becomes really easy to start working on a boat and end up with a huge dissasembled project. Many boats have died in marinas this way. I think my biggest holdup is the fact that this boat has sat in a marina for years. I don't think she has sailed in at least 5. She has been owned by everything from potheads who used it as a party boat to an old guy who just couldn't work on it. I am picking her up from the floor. See, this is what I do. I fix things. I bring them back. Luckily, she isn't dead yet. Being that the bright work has already been pulled, I might as well finish it.

However, this is the motivation that I needed. I think after the wood is back on I will concentrate on the few things keeping her from going out. Unfortunalty, my marina is located in a spot where I have to motor for at least an hour and a helf before the sails can go up. The creek is to narrow and to shallow to sail the 30 up and down it like I did the 22. Therefore, the engine must be able to complete this task.

Moving on.....
---
SV Salinity
To view links or images in signatures your post count must be 10 or greater. You currently have 0 posts.

Currently Active Users Viewing This Thread: 1

(0 members and 1 guests)