Senior Member
Join Date: Jul 2007
Posts: 430
Thanks: 0
Thanked 7 Times in 5 Posts
Rep Power:
10
Whisker Pole Use/Modification/Replace
---
I have had the boat 3 years (20 year old custom boat) and just used the whisker pole for the first time in a race this past weekend. Only my 3rd race ever, so I bribed (wine and dinner) an experienced crew to help out. We all fumbled over using the whisker pole as no one was familiar with the one on my boat and knew exactly the best procedure for setting it up (and of course we did not practice, we just went to the race!). We did fine, finished second, but came back asking ourselves how to make it better next time.
First a motivational picture, our boat rounding a mark.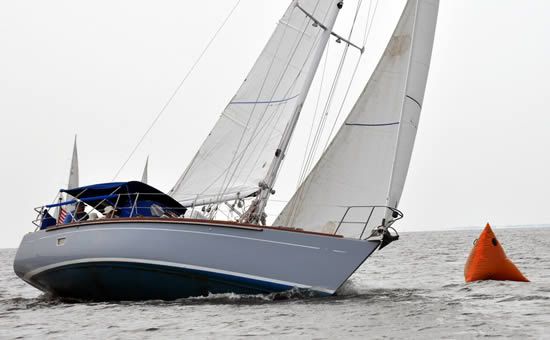 The whisker pole is all aluminum and big, 3 1/2 inch outer diameter and starts at 13'6" long and extends to 20' or more. It sits on the deck in appropriate mounting hardware.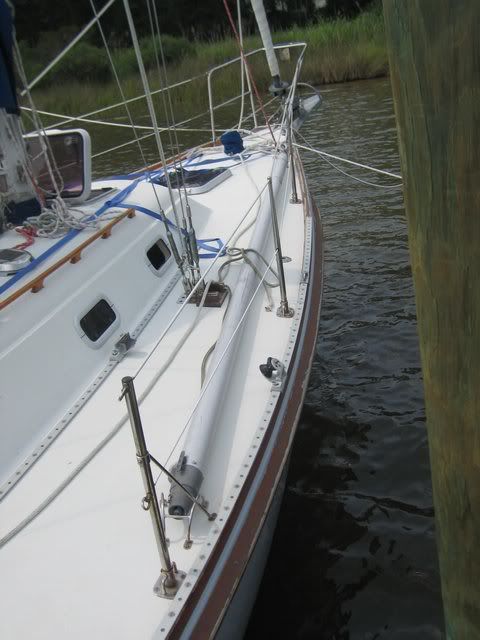 The fwd end has the jaw and a place to attach a topping lift.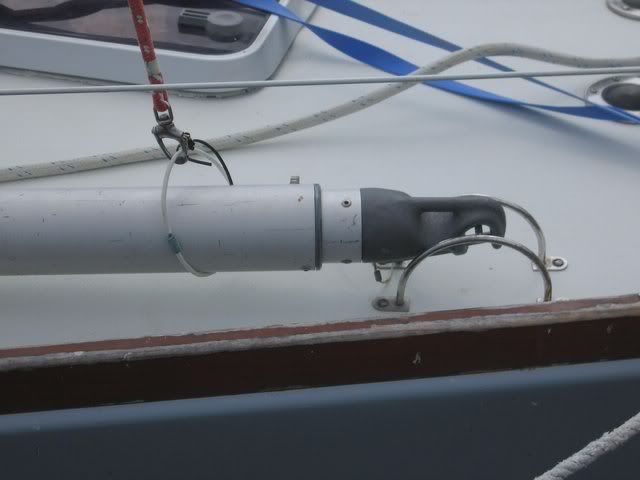 The aft end mounts onto a pin on a track on the front of the mast.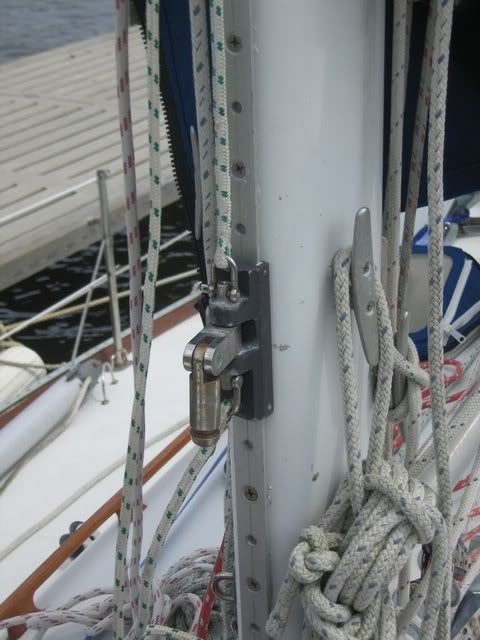 We did manage to get it all set up and use it, but it is too long to swing between the mast and the head stay, so we had to be sure we were first on the right side. The topping lift attach's too far forward as it was difficult to guide the pole out and set the pole into the mast pin. And there was no way to provide down haul on the pole. Naturally, we did not have a second set of jib sheets, so we struggled using the ones attached and did not have time to lead them thru outside track cars or reposition them.
So aside from some of the obvious improvements (another set of jib sheets) what can I do to make this easier to set up? The boat is 35' (Model Clearwater 1990 built by Holby Marine).
Does anyone have any suggestions for modifications to improve ease of set up and provide for down haul? It seems like this whisker/Spinnaker Pole is really massive, certainly better than too weak, but should I consider getting a shorter one that will swing between the mast and jib, but that also telescopes out? I do like the mast track and pin attachment, so I am reluctant to replace this setup.
Comments/suggestions?
thanks,
Ron
Senior Member
Join Date: Jan 2011
Location: ct
Posts: 689
Thanks: 1
Thanked 19 Times in 17 Posts
Rep Power:
7
Nothing wrong w/ your pole. That's a solid setup.
If you are racing canvas you can probably get away w/o a down haul or foreguy. Your pole is set up for dip jibes. To accomplish this your pitman and mast man have to work together. Mast man has to raise the inboard end and the pit drops the topping lift lowering the outboard end. Spend a little time at the dock to see how high the inboard end has to be raised so the pole can swing thru the fore triangle. Once you figure that out mark the mast w/ a piece of electrical tape for a reference point. Your bowman should be in the pulpit w/ the lazy sheet facing aft and just drops the lazy sheet into the jaw as the pole swings thru. W/ a little practice it's very easy, quick and safe.
The process is the same for a spinaker but you will need a down haul on the pole.
Jim
---
S/V Deja Vu
CS 40
Senior Member
Join Date: Dec 2010
Posts: 5,111
Thanks: 1
Thanked 227 Times in 187 Posts
Rep Power:
7
A couple of thoughts, not from a racer, but from a cruising sailor who usually uses poles shorthanded…

I presume you're just using this as a whisker pole, correct? You do NOT want to use a telescoping pole as a spinnaker pole, they are not engineered for those kind of loads, bad things can happen…

I'd suggest rigging another pole/topping lift attachment point at the outboard end of the pole, I'm really surprised Forespar locates that lift bridle where they do… When the pole is extended, any significant shock loading at the end of the pole will bend or break the inner tube at the end of the outer tube in a jiffy… No need to ask me how I know this, of course… (grin)

I'm a big believer in using both a foreguy and afterguy, even with a whisker pole… Partly because I do a lot of singlehanding, but it just makes the pole so much more stable, and easy to position more precisely… Granted, such stability is probably more important offshore or in larger seas, you can easily get away without it in lighter air and flat water… However, it's really not much more work, with a racing crew aboard it's easy to do… I have a pair of lines rigged outboard of the stanchions on each side, joined at a snap shackle, and run through a turning block clipped to the rail near the bow, and running back to the cockpit. Just affix the shackle to the pole end, and adjust the lines to suit… This setup also doubles nicely as a boom preventer, at least it works very nicely for me…

Finally, if you ever have some spare change burning a hole in your pocket, consider splurging for a carbon fiber pole, or even an aluminum/carbon combination pole... It can make a huge difference in ease of handling, especially with a pole of your size... When I broke mine years ago, I fashioned a new inner tube using a carbon blank tube... I liked it so much, I eventually replaced the outer tube, as well - it's the only way to go... (grin)

Good luck, and have fun… BTW, I'm a big fan of Craig Walters' boats, your Clearwater is a beauty…
Senior Member
Join Date: Jul 2007
Posts: 430
Thanks: 0
Thanked 7 Times in 5 Posts
Rep Power:
10
re: Whisker Pole
---
Jim, Jon,
Thanks for your thoughts. The boat came with a spinnaker, I have not used it yet. I assume this same telescoping pole is to be used with it and that is why is it so heavy duty. There is an outboard connection area on the telescoping part of the pole, opposite side and just behind the jaw, but if the jaw is up then this could NOT be used for a topping lift. The current topping lift connection (on the main pole section) is for use when it is just a jib whisker pole. If the jaw is on the 'up' side of the pole, then I could attach a block at that point and run a line back to the cockpit thru it, for a down haul. So I share your concern with supporting the pole in any extended position.

I can see the 'dip' maneuver working with the right practice and coordination, it just seems odd that if they had a pole that was 1' shorter you could jib by just bringing the pole in from any telescoped position. There is a line that retracts the pole and it can be cleated off to prevent the pole from telescoping too far out (but nothing stops the pole from retracting).

The original owner really kept the boat in beautiful shape, we knew it was the right boat the minute we set foot on it. The best part is that with the swing keel up it draws less than 2' of depth, just perfect for our NC creek. Our local sail maker used to work with Craig Walters when he had an office in Clearwater, FL. I guess that is where the model name comes from.


I guess we will just have to practice before the next race!

thanks,
Ron
Junior Member
Join Date: Jun 2011
Location: Yeppoon Australia
Posts: 14
Thanks: 0
Thanked 0 Times in 0 Posts
Rep Power:
0
Whisker Pole response
---
G'day

My yacht is similar in design to yours. Our main spinnaker is fairly large and the pole extends well beyond the fore-stay so we end-for-end the pole. Up to twenty knots this is fairly easy. Above that it can get difficult. We use a second set of sheets but that's another story. It is essential that everyone knows their job!

The skipper has to to keep the boat flat and almost sail by the lee. At this angle the spinnaker is set so both the brace (sheet through spinnaker pole beak) and the sheet are the about the same length. The cockpit man has to ready to release the downhaul. We let the uphaul take the weight of the pole during the gybe. On our boat the pole is set up with both the uphaul and downhaul attached to a ring. Each ring is attached to the pole by two lengths of wire about a metre from each end of the pole, so when pressure is put on say the uphaul the pole and the two pieces of wire make an isosceles triangle (two wire lengths equal). This is necessary if you end-for-end your spinnaker pole. If you dip gybe you can attach the downhaul close to the end of the spinnaker pole but this removes the option of end-for-end gybe in light winds which I think is a better option once you have practiced it.

The mast-man should be able to disconnect the pole from the mast and the spinnaker should stay full (as you are running dead square down wind). The mast-man now pulls the cord releasing the pole from the spinnaker sheet. If the beak points down, this makes the mast-mans job even harder as he has to lift the pole to release the sheet. With the beak pointed up, The sheet is released as soon as the cord to the beak is pulled. The mast-man (maybe with the help of someone else) attaches the end that was on the mast to the old spinnaker sheet while the old sheet end (the really hard part in a blow) is now attached to the mast. Fortunately we have a BIG Morie from NZ. We say he pulls the mast to the pole not the pole to the mast. We then gybe the main. Up till now the main has provided a small wind shadow making the difficult task of reattaching the pole to the mast just a little easier.

With a dip-gybe, if the pole is too long, try raising it well up the traveller on the mast. If you are only after an inch or so this will allow you to dip gybe.

By the way, we have what we call a Whisker Pole. It is about 2 metres long. On a shy run, our whisker pole is attached near the base of the mast at approximately a right angle to fore and aft by sheets leading for and aft and attached to small horn cleats on the deck. It extends beyond the gunwhale by a foot or so. With the brace running through the Whisker Pole the brace is keep well away from the stauchons, preventing them from bending. Does the skipper get shitty when the whisker pole is not used on a shy run. You bet he does. No matter how hard you try you can never get the stauchon straight again.

Hope this is of some use to you.

Fair winds!
Ross
Currently Active Users Viewing This Thread: 1

(0 members and 1 guests)