Re: Largest Semi-Trailerable Sailboat ???
---
Quote:
Hey Dave... Go For It...

Eagle River still alive and well and even in these times has the "very Small town" attitude and feel to it...

Been here 35 years (back to the "Barefoot Charlie" days) So maybe we ran across each other back then...

....
Nice to hear... I miss the Northwoods in many ways. I was there in the summer of 73, then 76 and 77 in ER (worked at Oneida farms in Three Lakes). Do you remember a young man that looked 15 (yet was 22) driving a Dark Green 69 Dodge Coronet 2 DR HT with slotted chromes and wide tires? If so that was me... only car in town like it. I do MISS that car! Then I went away to college in River Falls. Mom and Dad went down to Sugar Camp then and later to Rhinelander. Dad passed in 85 and Mom stayed in Rhinelander until 01 when she sold her place and moved down here. Being she was alone and 72 by then the winters were getting a little much for her. She passed in 09 and they are both buried in ER.
Dave
Member
Join Date: May 2008
Posts: 56
Thanks: 0
Thanked 1 Time in 1 Post
Rep Power:
10
Re: Largest Semi-Trailerable Sailboat ???
---
I would go for the boat referenced earlier, as it can be towed without a hitch.
"Excellent trailer, made 600-mile trip last summer without a hitch, tow her anywhere without worry."
How much boat you need for your family all depends on your family. Some families live in an igloo, some find only 1 bathroom per person inconvenient.
My wife and I just spent a month on our Seaward 25 with two Australian Shepherds.
If I had the truck for the job, I would probably do what you are planning, with a Cat 27 or similar, and plan on a full day to launch and retrieve. Would probaly do it in less.
One thing to consider with the trailer is to make the back bunks or supports adjustable. The middle of the boat is wider than the stern, and will have to pass between the back supports. If they are not adjustable, you will have to go deep enough to float over them.
Post pics when you are done with the project.
Re: Largest Semi-Trailerable Sailboat - 30 seafarer update
---
Quote:
Hello all.

Well, very interesting thread and its good to see I am not the only crazy handy type out there that has the "sure I can, watch me" attitude. I've had a 27 foot shoal draft on a custom bunker-ed triple axle trailer I built for it for 5 years. On-trailer mast raising system. But this shoal draft doesn't sail all that well... was outboard powered, tiller transom mounted rudder, and weekend only quarters. Slept 6 though. Good boat to learn on at our local lake. and like you all, it came home over the winters and on two seasons where I was working away in NM. There really no water in NM to speak of, so I left it home in the shed. It didn't eat a thing over two years. But I wanted to upgrade... started looking and thinking.

Last week I bought a full fin keeled (4'9" draft) 30 ft Seafarer. It has all the upgrade features I wanted... a pedigree hull design, wheel pedestal helm, inboard diesel, full live-aboard systems all functional (H and C pressurized water, real head, shower, 10,000 btu AC, full 110 and 12vt systems, full galley including oven) under hull rudder.

Before buying, I did some calcs and it will fit on the trailer and be less than 13'6" high. Its a 10' beam so I need a wide load permit, but since I did OTR in a semi for three years quite some time ago, I could care less. Its 8900 lb displacement, give or take a little, plus trailer comes in at 12k... so I am good to go on my 1 ton diesel 4x4 dully design limit of 21k and the hitch system's 12k. I'll be adding an exhaust brake and a 4th axle just to have a fully cold brake set in reserve as well as another set of 4500 lb springs to aid in roll stability. The main three 4500 lb axles all are e braked.

...

Later.
Dave
10-27-12 Though I'd update you all...
Nope the Seafarer 30 is STILL not home... but I'm working it...
Lots of issues to solve that were not anticipated when I bid the boat...
1) Getting the 27ft off the trailer to free it up. I had checked on this before bidding and was told it was not an issue by the two local marinas here that had traveling lifts. Turned out the marina's on the Ohio River here are not set up for narrow hull deep keeled sailboats and there are reasons... not many under powered sailboats want to play with barges and current, and neither do I... so their lift straps were are simply too long to lift the 27 to a keel height of 44 inches to transfer to my yard dolly (which was on my flatbed to haul home)... ended up building my own lift here at home... sized to also handle the 9000 lbs the new seafarer weighs... Money I hadn't planned on... ~$1600 in material plus two 3 ton chain hoists, but problem solved. Trailer freed.
2) I did decide to upgrade my axles as two were built in 1955 or so and while were the big spindles and cradled by 3" C channel and plenty strong... they appear to look like a mobile home axle derivative and to DOT it would be a hard sell that they were not. The 3rd axle was a mobile home derivative that I built and while it had brand new Dexter 2x12 7K brake system still was a mobile home derivative... still a 6k tube and spindles and I address their weak brakes, but its still a derivative. Read too many horror stories about Maryland and their outlawing of mobile home derived trailer axles... according to them if it walks like a duck and quacks like a duck... its a duck no matter what we rebuild them as. It would be red tagged at the first scale. So I elected to update to three brand new Dexter 7k drop axles with 8 bolt wheels and new tires all the way around... $2700 in all (ouch!!). I also needed to buy fenders as it had none... also a DOT requirement... another $300.
OK... pulled it out to Baltimore to load and haul home (I'd already had the boat put on the hard at a marina as leaving it in a slip was risky with me being 450 miles away)
3) While my calcs were correct for height etc... securely balancing a 9000 lb elephant on one toe is a challenge. Bunkers had to be 48" tall in the middle and 55" on the ends ... and lead to seriously large bracing requirements. While I had modified them at home as best could be without the boat present, and took the welder to secure once adjusted... I felt I did not have enough bracing and bought more angle... BUT I had not taken the torch and was not really able to fabricate properly with proper gussets etc. In addition, my 60 or 70 year old Forney did not like living under a tarp in the pickup and started acting up. Did not trust my welds and it was taking on too much of a cobbled look so I decided against hauling this fall and that I needed to do much more serious modifications to the trailer. REMEMBER, I designed the trailer for a long shallow keel (shoal draft) more or less flat bottomed 27ft Bayliner Buccanner... NOT a 30ft full keeled curved hull Seafarer. Way too much weight on the four 3" C channel cross members where the short 5 ft of keel and 9000 lbs were... bunker way too high to stabilize properly... and the fact that with the slightly larger diameter over slung axles with 3000 lbs more on the springs now left only a 1/2 of travel left till bottoming on the frame (springs were not over loaded, but used much more of their travel that the 6000 lb bayliner did)... just too tight and I was not going to risk my new Dexters... reluctantly, but smartly, I decided this configuration would not work. Mapped the hull and took accurate dimensions off the boat itself (verses extrapolation from a "maybe to scale" drawing)... swore, made arrangements for over wintering there, winterized the boat, and headed back to the house.
So now its rebuild the trailer for THIS boat this winter.
1) Move the axles to an underslung installation (also raises the main frame 4")
2) build a dropped main keel support suitable to the 9000 lbs (less bunker weight) 5" from the ground while maintaining all compression loads and no shear loads on the welds (lowering the boat 15"), going to an independent suspension on the axles while maintaining the ability to slide the whole triple group for weight balance. Yea, it can be done, and have the design already thought through.
3) redesign the bunker support framing and incorporate real screw type support pads...
4) and design for an open rear end frame structure for float on float off.
I'll be busy... but its entirely doable... remember... I built it the first time.
As far as the changes to DOT and permitted loads... WOW it was a PIA but I got it accomplished. Remember anything now (since 2009) with a CGVW of 10001 lbs or more is considered a commercial vehicle and has to conform to 49 CFR.... had I known all this I may not have gone with a 10ft beam. If you want to know I'll pass on what I've learned.... its not like it used to be at all. "non-com" really doesn't exist above 10001 lbs now.
Thought you all might be curious as to my crazy man antics.
Dave
---
Last edited by dem45133; 10-27-2012 at

01:49 PM

.
Senior Member
Join Date: Sep 2011
Location: western Maine
Posts: 583
Thanks: 25
Thanked 16 Times in 14 Posts
Rep Power:
6
Re: Largest Semi-Trailerable Sailboat ???
---
I always have more trouble with the trailer than the boat. I've looked into loads of boat/trailer sales here and NONE of the trailers had working brakes, only a darn few had broken rusted brakes, and very few even had that square plate on the axle where brakes can be attached. All were of a size that required brakes on all axles.

This summer I purchased and rebuilt a Hunter 23 wing keel on a trailer with broken brakes and not a speck of wiring anywhere. After making the trailer legal and the boat usable I hauled it to the ocean.

After only having full keel boats, which sit flat on the trailer, I'll have to say that a small keel in the middle makes the boat want to hobby horse on the trailer when going over rough roads, which is about all I went on. Make sure to have very strong support at the bow and maybe something removable at the stern to overcome this problem. I also need more tongue weight, but can't move the axle any further back, so I need to move the bow support forward. I already cut out the guides to allow the boat as far forward as possible for the trip home last week.

Sounds like you are doing things right!
Member
Join Date: Aug 2007
Location: Palm Bay, FL
Posts: 89
Thanks: 0
Thanked 0 Times in 0 Posts
Rep Power:
10
Re: Largest Semi-Trailerable Sailboat ???
---
I've come in late to this discussion, but no one has mentioned the Mega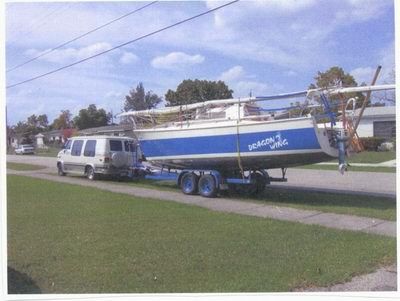 I think that might be a
MEGA 30 OD (C&C)
I saved the image when I was thinking about if I ever upgraded from my Macgregor 26X
Senior Member
Join Date: Feb 2012
Location: New Orleans Louisiana
Posts: 3,236
Thanks: 10
Thanked 137 Times in 131 Posts
Rep Power:
6
Re: Largest Semi-Trailerable Sailboat ???
---
I would also add that going to multi-hulls can place a lot more boat on a trailer than a mono-hull. The entire Corsair line (including the 36) is trailerable. Though to be fair the larger boats are more transportable than truly trailerable.

For many in the marine industry a trailerable boat is one that can be easily trailered, and go from packed away for the road to out sailing in less than an hour or so. Transportable typically referred to boats that can be moved by trailer, without specialty permits, by nothing larger than a standard hitch, and can be put in the water without outside assistance (think cranes for stepping the mast).
---
Greg
Senior Member
Join Date: Aug 2010
Location: Vermont
Posts: 510
Thanks: 7
Thanked 13 Times in 11 Posts
Rep Power:
7
Re: Largest Semi-Trailerable Sailboat ???
---
I have managed to find a great 28' O Day with a swing keel complete with trailer. I can just about pull it on my Tundra. Its a sturdy boat and sails well. The only downside is that its keel stepped so I can raise the mast myself, have to get the yard to do it.
---

To view links or images in signatures your post count must be 10 or greater. You currently have 0 posts.

Three mini-pirates scour the Caribbean Seas with stops for ice cream and legos
Latest blog post:
To view links or images in signatures your post count must be 10 or greater. You currently have 0 posts.

Senior Member
Join Date: Apr 2012
Location: Canada
Posts: 112
Thanks: 0
Thanked 1 Time in 1 Post
Rep Power:
6
Re: Largest Semi-Trailerable Sailboat ???
---
Try a beneteau 32 in florida with a swing keel????
30 ft Seafarer trailer sailer update...
---
Still working the trailer over... had to stop when the cold weather came. Cut all the old rigging off last fall and spend a month or so in CAD designing. Have the new axle subframe built (triples expanded out to accommodate dropped keel support, keel will be 5" from the ground in between the front and rear axles, center axle will be stubbed into this keel trough and pivot sorta like the old VWs). Required totally custom suspension rigging (built custom 20" equalizers with 100% lateral stability and twist control).

Starting on the main center support drop members now.

I wanted this finished by the 30th April... but the weather hasn't cooperated. Oh, had to buy a new welder... the old Forney did not survive the trip last fall (more arc inside the case than out! even after sitting all winter). Found a new-old-stock Century 250 AC/DC. 13 years old but new and Made in the USA (Minnesota)... and copper wound not alum as most of the lower cost buzz boxes are now. $450. Works well... 1/8th 7018 rod on DC most of the time. Have some 6013 for vertical welds but its a bit hard to use... have totally change you technique to really flow in on the edges. Still dialing in 5/32 7018.

Later... Dave
---
Last edited by dem45133; 04-13-2013 at

09:50 AM

.
Re: Largest Semi-Trailerable Sailboat ???
---
Quote:
Sail,

Something is telling me this rant about crealock design boats does not belong here! I do not see anywhere where any one knocked one of his boats. In fact, they were not mentioned too much in this thread frankly!

Marty
Something set me off, maybe I was sitting on a hot potato? lol
---
Sailing Nebraska with a William Crealock designed Clipper Marine 32, center cockpit, aft cabin, diesel, cruiser racer.

To view links or images in signatures your post count must be 10 or greater. You currently have 0 posts.

---
Last edited by sail123; 04-13-2013 at

10:01 AM

.
Currently Active Users Viewing This Thread: 1

(0 members and 1 guests)