Are you a risk adverse sailor?
---
This may seem like a silly question (and should read "averse" not adverse). However I have encountered Sailors and Windsurfers who seem like very conservative, risk averse people. I have always wondered what attracts them to sports/hobbies that are relatively risky. Not to be overly dramatic, but we've lost several experienced sailors on good boats within eyesight of the Golden Gate Bridge over the past several years. In addition, maneuvering on a heaving,wet deck, heeling at 20 degrees, with lines and powerful sails flailing about, seems absolutely insane to some non sailors! Lets not even start with Windsurfing/Kiting (Every veteran Windsurfer I know has a long list of horror stories)!
I received a response to one of my threads that made me think "man, if you worry about all those (minor, highly unlikely, IMO) things, you must be absolutely terrified when the wind suddenly picks up and your boat is overpowered!" (as one example).
I don't think sailing is dangerous. However, as a risk taker and bit of an adrenaline junkie, I've always been curious what attracts a person who is risk averse to sailing. Seems very counter intuitive to me! Thoughts?
Edit: See post #30 (page 3) for clarification of risk averse.
---
Last edited by L124C; 01-18-2012 at

01:50 PM

.
Senior Member
Join Date: Aug 2011
Location: Eagle River Wi.
Posts: 1,105
Thanks: 2
Thanked 16 Times in 16 Posts
Rep Power:
6
Sailing is real! and in this world there are few things left that way.-Dale
---
Reluctant Lady
Cal 28, 1967
Lake Superior
Where God got it done!
Sea Slacker
Join Date: Jan 2007
Posts: 1,789
Thanks: 0
Thanked 0 Times in 0 Posts
Rep Power:
11
risk averse.
(and yes, I am)
Chastened
There's this thing called "the burden of knowledge".
When I started sailing, I was not risk averse. I was so eager to get out there and try it, that I took my Coronado 25 out, and plowed 300 yards through 3" of ice, in February, to take advantage of a sunny day with fair winds. I wore a harness and nothing else.
3 short years and a thousand horror Sailnet stories later, I'm not sailing in the cold as much, I'm piling on the personal safety gear, I'm getting downright paranoid in my gear and rigging inspections, I'm constantly overestimating the wind, and choosing jibs that are too small for the conditions, and then getting frustrated when I have a hard time getting the boat moving!
I used to make fun of all the nanny's on this site, now I'm in danger of becoming one of them. I know a lot of people here will think I'm getting smarter, but sometimes the burden of knowledge is taking the fun out of sailing.
*sigh*
---
Alacrity, 1981 Tartan 33 #168
Senior Member
Join Date: Jul 2006
Location: Corpus Christi, Tx
Posts: 1,441
Thanks: 39
Thanked 50 Times in 46 Posts
Rep Power:
11
Quote:
I wore a harness and nothing else.


*sigh*
Really? Got pictures? Did it freeze off?
John
Junior member, rest old
Join Date: Feb 2009
Location: Columbus Ohio
Posts: 499
Thanks: 3
Thanked 1 Time in 1 Post
Rep Power:
9
I consider myself to be a risk-averse person, but I also have confidence in my ability to think and act myself out of bad situations. I singlehand a lot. You can't eliminate risk but you can minimize it by thinking ahead, acquiring knowledge and experience, and not doing stupid things. Part of minimizing risk is knowing your boat well. I fix everything on my boat with as little outside help as necessary so I learn to deal with things if they break when there isn't help available. Although I don't take risks I consider to be stupid, a little risk keeps things exciting.
---
Mark Smith
1977 C&C 30 Mk 1 hailing from Port Clinton, Ohio
Senior Member
Join Date: Dec 2004
Location: Portugal, West Coast
Posts: 16,505
Thanks: 21
Thanked 113 Times in 96 Posts
Rep Power:
13
I donít think sailing is a risky activity. It is an activity that implies knowledge and responsibility, as many other activities.
Put a guy that has never drive on the wheel of a truck and we have a risky situation. Driving a truck is not particularly risky if the driver is qualified.
In what regards sailing the level of knowledge is linked with the level of risk. Put a professional racer going downwind at 18K under spinnaker solo on a Figaro class 35ft with 30 K wind and he would be perfectly safe. Put me doing that and it would be a very risky situation.
Anyone that practiced an activity or sport that needs a high level of training knows about the different levels that make the safety of each one, accordingly with his training and performance and they also know that they are hugely different between a rookie and a professional.
The safety lies in never go over your safety limit related with your knowledge and performance. If you never go over that limit you would be perfectly safe.
Regards
paulo
---
Last edited by PCP; 01-16-2012 at

06:27 PM

.
Junior Member
Join Date: Jun 2011
Location: Indian Ocean
Posts: 3,023
Thanks: 33
Thanked 97 Times in 92 Posts
Rep Power:
6
The riskiest part of sailing/cruising for me is making landfall and walking down the streets with broken sidewalks,uneven walkways if any, open gutters and sewers. Not to mention the cars driving on the wrong side of the road. Every time I get off the boat I feel like a "newbie?
---

To view links or images in signatures your post count must be 10 or greater. You currently have 0 posts.



"Your dreams minus your doubts equals your net worth"

Life is a short journey, filled with emptiness and pain. Get all the sailing and booty you can.
About the only time i get a bit risk adverse is when i am by myself OR sailing with my wife as she has a pretty low threshold
When i race with my regular friends on Zzzoom i have come to trust then a great deal and flat out know if i screw up and put myself in a bad way somebody will (within reason ) have my back
I still feel the most risky thing i do is clean the bottom as even if somebody is on-board and i bump my head i will dead before they ever even notice i was in trouble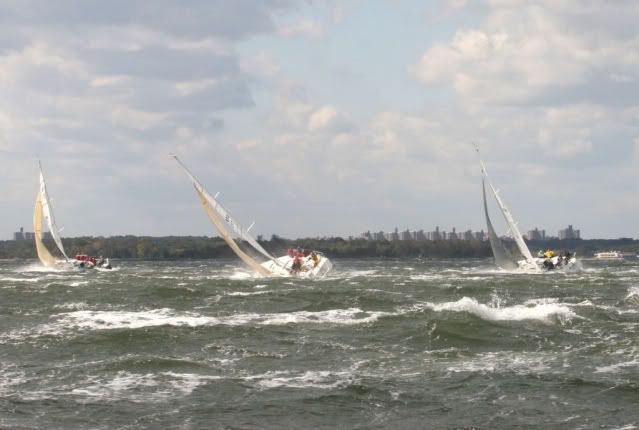 I would NEVER single-hand on a day like this BUT with the Zzzoom crew we would be racing or working on hoisting the storm jib just to be sure were good at it
---
1970 Cal 29 Sea Fever

To view links or images in signatures your post count must be 10 or greater. You currently have 0 posts.

1981 J24 Tangent 2930
Tommays
Northport NY


If a dirty bottom slows you down what do you think it does to your boat
To view links or images in signatures your post count must be 10 or greater. You currently have 0 posts.

---
Last edited by tommays; 01-16-2012 at

07:21 PM

.
Senior Member
Join Date: Dec 2008
Location: Calgary, AB, Canada
Posts: 9,298
Thanks: 35
Thanked 76 Times in 71 Posts
Rep Power:
9
I am aware of risks and attempt to minimize as much of the risk as possible. I am a big fan of passage planning and safety aboard.
---
__________________
ISPA Yachtmaster Ocean Instructor Evaluator
Sail Canada Advanced Cruising Instructor
IYT Yachtmaster Coastal Instructor
ASA 201, 203, 204, 205, 206, 214
As I sail, I praise God, and care not. (Luke Foxe)
Currently Active Users Viewing This Thread: 1

(0 members and 1 guests)