Member
Join Date: May 2008
Posts: 56
Thanks: 0
Thanked 1 Time in 1 Post
Rep Power:
9
Downeast and Bay of Fundy
---
In August, my wife and I have got a month to sail. The plan is to trailer our Seaward 25 to Rockland, and head down east. We know the coast pretty well from Portland to Stonington area, and are psyched for the opportunity to go quite a bit farther.

So- Soliciting ideas for favorite places to cruise, anchor, shop for fresh food, etc. We will spend most of our nights on the hook, and need shore access a couple times a day to walk the dog. Accessible inexpensive restaurants on the coast are also a good find.

Also, I have seen a couple of Nova Scotia cruising guides. Anybody have one they particularly like or dislike?

Would love to hear any suggestions from anybody experienced in this area.
Junior Member
Join Date: Jun 2006
Posts: 17
Thanks: 0
Thanked 0 Times in 0 Posts
Rep Power:
0
Re: Downeast and Bay of Fundy
---
There are a few older ones around (CCA and I think the Royal Nova Scotia Yacht Squadron had one). The new one that I picked up last fall is Peter Loveridge's cruising guide to Nova Scotia. It is available in some of the local chandleries here in Nova Scotia. It is available only on CD so if you wanted a book form you would have to get it printed out - that is what I did. It seems quite a good guide but I haven't used it much yet. Here is a link to his blog where it might give you more info on where to purchase,
Richard
Cruising Guide to Nova Scotia
Junior Member
Join Date: Apr 2012
Posts: 1
Thanks: 0
Thanked 0 Times in 0 Posts
Rep Power:
0
Re: Downeast and Bay of Fundy
---
We would like to know more about your plans. Very familiar with inland, but not to give you specific places to go ashore. It would be inteesting to follow your journey. That is something we might consider one day.

Safe Sailing!
SunRayCruiser
Senior Member
Join Date: Dec 2010
Posts: 5,111
Thanks: 1
Thanked 227 Times in 187 Posts
Rep Power:
7
Re: Downeast and Bay of Fundy
---
There's a whole world to explore just between Stonington and Mt. Desert, all that is covered in the Taft Guide...
Beyond Schoodic, however, things change pretty dramatically - considerably fewer boats venture further east. I love the area out around Jonesport - Mistake Island, the Mud Hole, the Cows Yard, and of course Roque Island are all beautiful anchorages with great exploring ashore...
The area out around Cutler and Eastport is pretty cool, I really enjoyed hanging out in Eastport for a couple of days... That town is barely hanging on, much of the main street was boarded up, but nevertheless I found it very welcoming and friendly, and the enterprising efforts of the locals to keep it alive inspirational. One of the best Mexican cantinas I've ever found anywhere was in Eastport, go figure...
Crossing Fundy to NS can be pretty ambitious at times, and even with a month in hand, that could be pushing it a bit... I'd suggest you give some thought to staying on the west side, and cruising Passamaquoddy Bay and perhaps the St John River, instead... I loved the town of St Andrews, and a trip through the Reversing Falls and up the St John can be every bit the adventure that sailing across to NS could be... You'll do plenty of motoring in there, to be sure, but it's a wonderful area to explore, and plenty of sailing opportunities if you're willing to make the effort, and be patient...
Not to mention, after some time along the chillier and perhaps foggier coast, the inland warmth of the rivers and lakes of the St John basin offer a real treat... A wonderful and unique cruising ground, highly recommended...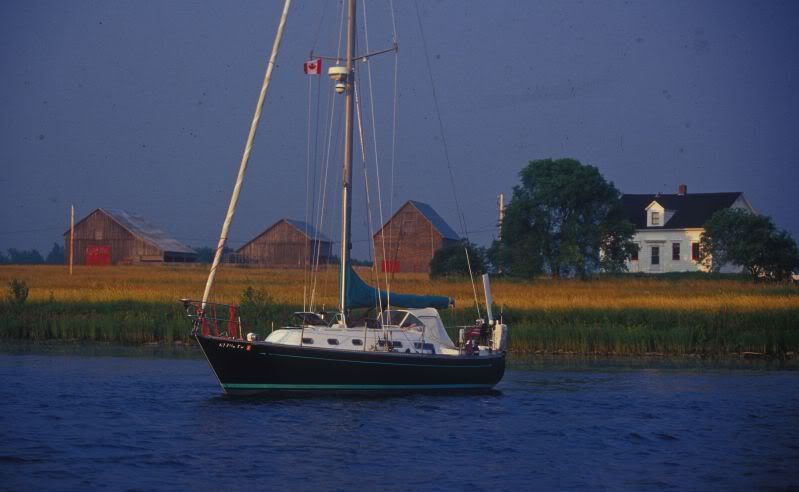 old guy :)
Join Date: Feb 2008
Location: Fredericton, NB, Canada
Posts: 1,061
Thanks: 13
Thanked 14 Times in 12 Posts
Rep Power:
10
Re: Downeast and Bay of Fundy
---
Meboater - we live in the area (New Brunswick) and sail in the area. (New Brunswick and Downeast Maine) We have sailed from NB down to the Penobscot and back for 14 summers now.
For instance look at this
post
.
ActiveCaptain.com
has a fantastic amount of information regarding where you are talking about.
Please contact me via private message if I can help in any way.
Rik, Linda and Capt. Hook
---
Irwin Citation 34
Mystery
Currently Active Users Viewing This Thread: 1

(0 members and 1 guests)