07-06-2012
Morgan 33 O.I. Perryville

Join Date: Dec 2010

Location: Maryland

Posts: 3,138

Thanks: 3

Thanked 122 Times in 107 Posts

Rep Power:

5
Re: Hurricane Season: What's Your Plan?
---
Nothing different than I did last year - doubled and lengthened all the lines, hoped for the best. Fortunately, the boat is fairly well protected from the wind in two directions, condos on one side, heavily forested island on the other. The worst problems come down the Susquehanna River in the form of floodwaters, which was the case last year.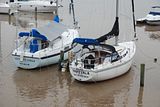 Beneath all that muddy, disgusting water is a nice marina, swimming pool, and lots of expensive equipment.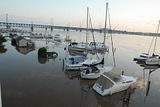 Hopefully, we'll dodge the bullet this season.
Gary