Bombay Explorer 44
Join Date: Apr 2009
Posts: 3,263
Thanks: 0
Thanked 111 Times in 107 Posts
Rep Power:
9
Re: Hurricane Season: What's Your Plan?
---
Quote:
In all the hurricanes I've seen here in new England, I've never seen a boat that is properly blocked and chained blow off it's stands. The only one I've seen fall over was in someone's back yard. The rain made the ground so soft that the stands pushed in far enough for it to topple over. If the stands are on pads, and chained together, it would take a hell of a blow to knock over a boat. I vote for a haul out if it's going to be a direct hit.
Hmm go to google images and do a search on ' huricane ivan boatyard ' .
Those boats were on stands that were chained together in the vast majority of cases.
Insurance Co.s now require boatyards in this area to have tie downs as well.
As for my plan I know where the mangrove hurricane holes are, the diesel tank is full and I am ready to go at 3 hours notice.
---
Last edited by TQA; 07-06-2012 at

08:34 PM

.
Senior Member
Join Date: Dec 2010
Location: Maryland - USA
Posts: 5,422
Thanks: 1
Thanked 43 Times in 39 Posts
Rep Power:
7
Re: Hurricane Season: What's Your Plan?
---
Nothing different than I did last year - doubled and lengthened all the lines, hoped for the best. Fortunately, the boat is fairly well protected from the wind in two directions, condos on one side, heavily forested island on the other. The worst problems come down the Susquehanna River in the form of floodwaters, which was the case last year.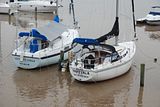 Beneath all that muddy, disgusting water is a nice marina, swimming pool, and lots of expensive equipment.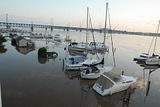 Hopefully, we'll dodge the bullet this season.
Gary
Currently Active Users Viewing This Thread: 1

(0 members and 1 guests)