When you reach Cape May, there's a good chance you'll be confronted with a situation commonly faced by southbound cruisers in the fall - namely, a brisk NW breeze, or the forecast of one, blowing down Delaware Bay...
Ideally, you'd want to ride a NW breeze down the Jersey coast, fall sailing doesn't get much better than that. But you'll likely have to sit in Cape May to wait for it to move to the NE (which can often afford a very nice sail up the bay), or blow it self out... As nice a spot as Cape May can be to hang out for a bit, a good alternative could be to continue on down outside the Delmarva to the Chesapeake Bay Entrance, and back up to Deltaville from Cape Charles...
This route is actually roughly 25-30 miles shorter (and considerably more so, if the in-out distances of your likely stopping points headed down the Chesapeake are factored in), and if the breeze was moved from the NW to NE by the time you make Cape Charles, you'll have a nice sail back across to Deltaville, as well...
This route makes more sense if you're in more of a delivery mode at that stage of the trip, it will involve an overnight sail, as the only recommended stop along the way would be Ocean City, MD... But, Cape Charles and Onancock on the Eastern shore both make for nice stops, if you're inclined to do a bit of relaxing or exploring before the final leg over to Deltaville...
Of course, the real benefit of this route is the possibility of maximizing the amount of
SAILING
you might be able to do... Unfortunately, the Delaware/C&D route most times involves a LOT of motoring...
One other option exists, if you decide to take advantage of a frontal passage to go down outside... The ride across the Delaware Bay Entrance can be pretty sporty in a fresh breeze behind a front, but if you cross over to Lewes, DE to await a frontal passage, you'll be superbly positioned for a nice ride down the beach...
Lewes is a nice little town, rarely visited by southbound sailors in the fall... On my trip south last winter, I didn't leave NJ until New Year's Eve, and wound up bypassing Cape May in favor of Lewes to await the arrival of a very strong front on the night of the 1st... Spent a very nice New Year's Day wandering around Lewes and catching up on some sleep, had a nice dinner in one of the town's numerous restaurants... the city marina was closed for the season, but amazingly, the showers were still open... Just as advertized, the front came thru in the middle of the night, and I luckily rode the ebb from the bay down past Cape Henlopen, the start of a totally kick-ass sail down down the coast... Fantastic start to another trip south, and the beginning of a new year...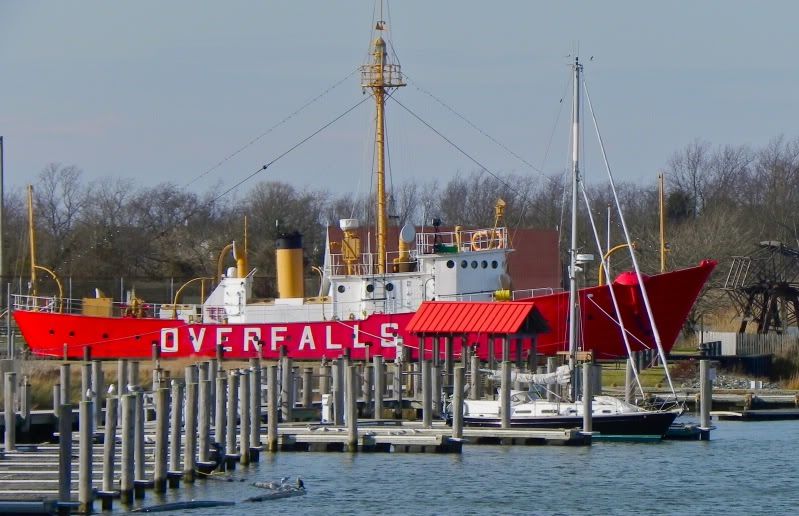 Oh, and if you do head up Delaware Bay, you might find this helpful... I can't imagine why NOAA stopped publishing these graphs in the Tide Tables some 25-30 years ago, I'm really glad I saved mine...