Senior Member
Join Date: Jun 2006
Posts: 5,006
Thanks: 5
Thanked 20 Times in 20 Posts
Rep Power:
13
Re: Does cruising keep you young?
---
I don't think cruising does anything good for your skin, but otherwise, yeah
---
What are you pretending not to know ?

Please support my
To view links or images in signatures your post count must be 10 or greater. You currently have 0 posts.

Tundra Down
Join Date: Jan 2008
Location: Seal Harbor, Maine
Posts: 1,290
Thanks: 51
Thanked 21 Times in 20 Posts
Rep Power:
10
Re: Does cruising keep you young?
---
I will let you know on my 70th birthday a couple years from now.

Down
Senior Member
Join Date: Dec 2010
Location: Maryland - USA
Posts: 5,404
Thanks: 1
Thanked 40 Times in 37 Posts
Rep Power:
7
Re: Does cruising keep you young?
---
Tomorrow seems like a good day to go sailing. I've fixed just about everything on the boat that needs fixing, NOAA weather is calling for winds from the south at 10 mph in Hawk Channel near Marathon, so I think I'll ease through Sister's Creek, then sail out to the reef, hang a line out and hopefully, catch some fresh mahi for dinner. Seems like the logical thing to do for a 72-year-old that's enjoying the balmy breezes in Marathon, Florida.
One of the best aspects of cruising is the wonderful people you meet along the way. Last night, I performed a Christmas concert for about 85 to 100 cruisers here at the City Marina's Tiki Hut. We had a ball, lots of folks came up and complemented me on the performance, and throughout much of the day, while I was working on the boat at the marina bulkhead, where I'm currently docked, people came up and thanked me, plus invited me to their boats for drinks.
Every morning at 9 a.m., on VHF channel 68, there's a cruisers net that's open to anyone within radio range of Boot Key Harbor. Lots of ideas are exchanged, new arrivals are greeted, depatures are given well wishes and there's a buy/sell/trade segment, comments segment, help segment, and even a trivia segment near the end.
With any kind of luck, I'll be headed south to Key West in early to mid January where I hope to meet up with Aaron and his dad, then it's off to the Marquesses and Dry Tortugas. Been to the Marquesses many times in a small, powerboat where I caught giant barracuda, permit and a few tarpon, but never made it to the Tortugas, so that will be anothe first for me.
My one regret is not beginning this adventure a decade earlier.
Cheers,
Gary
Senior Member
Join Date: Nov 2005
Location: Milton, DE
Posts: 593
Thanks: 2
Thanked 7 Times in 7 Posts
Rep Power:
12
Re: Does cruising keep you young?
---
I'm 77 and I feel like I have the body of a 19 year old Marine.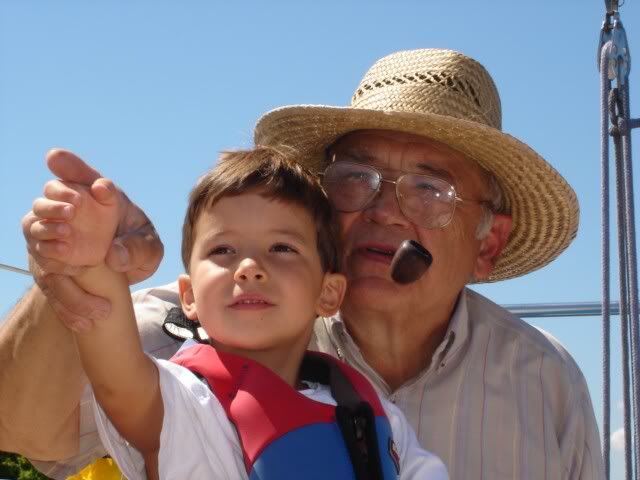 Member
Join Date: Feb 2012
Location: Michigan
Posts: 68
Thanks: 6
Thanked 0 Times in 0 Posts
Rep Power:
6
Re: Does cruising keep you young?
---
Quote:
Dan was 50 the first time he was on a sailboat - hey, not that many opportunities in Kansas
Five years later we were fulltime liveaboards who no longer owned a house. Pix of him climbing into lockers and crawling under tables to install our new hot water heater in my blog (link
Life Afloat Archives
) Does this man look 65? Agree with Capt Aaron, and awahl - the life keeps your body and brain flexible.
Growing up in the suburbs of Chicago kept me far enough away as well... Scary but so exciting to be starting this journey- I must say it has grabbed me like nothing else. It's nice to know there are others with the same affliction -which seems miraculously to keep you younger!
BTW I signed up to your blog... looks very interesting!
cheers-
Senior Member
Join Date: Jan 2010
Location: Florida/Bahamas
Posts: 831
Thanks: 3
Thanked 24 Times in 24 Posts
Rep Power:
8
Re: Does cruising keep you young?
---
I think stress has a lot to do with the way we age.
When I'm on the boat I'm relatively stress free.
---
Sail Fast Live Slow
36' Solaris Sunstar catamaran
Senior Member
Join Date: Jul 2007
Location: Philadelphia
Posts: 1,187
Thanks: 0
Thanked 21 Times in 20 Posts
Rep Power:
10
Re: Does cruising keep you young?
---
I will be 59 next year and I am a fair weather sailor with plans on spending two to three months sailing in 2013. What keeps me thinking young is working as an adjunct at a local university with design students and mentoring young architects in my practice.

I really, really like being wrong so much that I get worried when I am right.

So while I would love to sail full time, until I stop having fun at doing what I am doing sailing full time can wait, then I will be looking forward to being wrong all over again.
---
1970 Havsfidra 20 by Fisksatra
On the Delaware River at Fox Grove Marina Essington PA
Currently Active Users Viewing This Thread: 1

(0 members and 1 guests)