Senior Member
Join Date: Dec 2010
Posts: 5,111
Thanks: 1
Thanked 227 Times in 187 Posts
Rep Power:
7
Re: How do you use your boat
---
Mine's a 40+ year old Allied Chance 30-30, a pretty racy boat in her day, but a totally Plain Jane production boat below... I completely gutted her, and rebuilt and re-powered her, so she now makes a pretty nice small cruising boat...
She lives behind my house on New Jersey's Barnegat Bay, my local sailing is pretty minimal, confined to short afternoon sails after the sea breeze comes up, or overnight jaunts out to a nice little cove about 30 minutes away...
Primary use is more extended cruises of a couple of months, or more... Mostly headed south to the Bahamas for the winter, then another to New England or Canadian Maritimes in the summer... So far, she's made it as far south and west as Guatemala, out to Bermuda, and as far north and east as Newfoundland...
Hoping to stretch those boundaries a bit this year, but having my house go under water during Sandy has cancelled this winter's trip south, we'll have to see about this summer...
Tough little boat, I'm pretty confident she's capable of taking me anywhere I'd care to sail...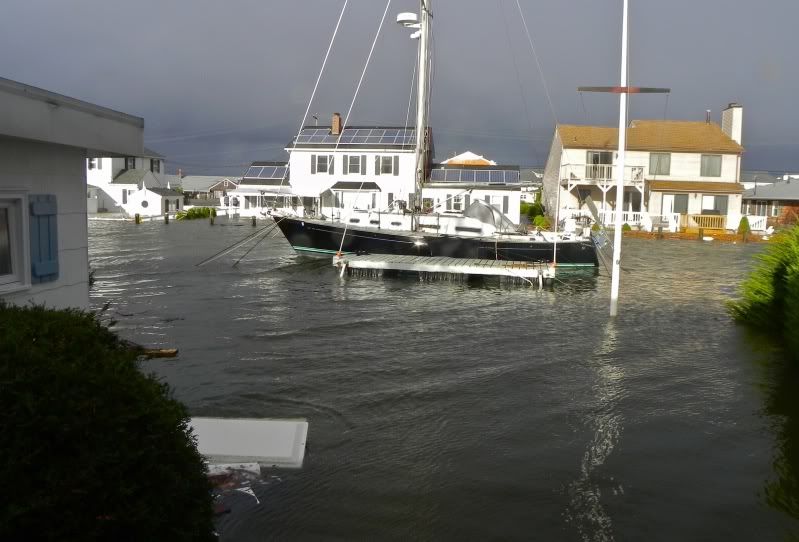 Senior Member
Join Date: Mar 2006
Location: Fort Lauderdale
Posts: 1,503
Thanks: 0
Thanked 24 Times in 24 Posts
Rep Power:
12
Re: How do you use your boat
---
I own a 2008 Beneteau 343. She was bought when the right deal presented itself to us and after much back/forth...some of it played out on sailnet. She is the epitome of a modern "flat bottomed" production boat.

She is mostly in cruising configuration, with a bimini, dodger and a lot of crap weighing her down. She is homed behind my house in an ocean-access canal in Fort Lauderdale. We primarily user about 20-25 times a year. Mostly a combination of daysails and club races actually. We're active in our local sailing club. Occasionally - about a couple times a year - we cruise to locations for long weekends or a mini-vacation. We've done Bahamas a couple of times and Keys a couple of time.

The hardest part of not cruising more is time...my wife and I are both mid-career professionals and its tough to take time off. We also just had a baby and are figuring out how to take our daughter aboard more.
---
S/V Jendai
Beneteau 343
Senior Member
Join Date: Aug 2011
Location: Eagle River Wi.
Posts: 1,105
Thanks: 2
Thanked 16 Times in 16 Posts
Rep Power:
6
Re: How do you use your boat
---
I have a Cal 28, Flattop,1967,Masthead Sloop. I sail all the weekends from May to October. The boat is kept in Ontonnogon, Michigan Village Harbor, Lake Superior, 90 miles from home. So that makes me a weekend warrior! I plan a few long trips 60 - 70 miles one way to Isle Royale,(wildest place in the lower 48) or the Apostle Islands. Superior has a lot of beauty to tempt you, But; She is a place to respect! Harbors far apart. cold water- 40 degrees, and help is far away. I keep my Cal fully stocked, & set up for ruff seas , as things happen fast here....Dale
---
Reluctant Lady
Cal 28, 1967
Lake Superior
Where God got it done!
Member
Join Date: Oct 2010
Location: New Orleans
Posts: 36
Thanks: 6
Thanked 3 Times in 3 Posts
Rep Power:
0
Re: How do you use your boat
---
My boat is a Catalina 320 - the epitome of a production boat. I wish I could say I used her more, but the truth is that I probably sail about 20 - 25 day sails a year. I wouldn't even sail that many times if I weren't fortunate to live in the sunny south. (I sailed on New Years Eve - a great way to end 2012.) I am still hoping to get a couple weekend trips a year into the schedule, but the wife and kids aren't as fond of sailing as I am, so sailing vacations probably aren't in my future any time soon.

However, I see lots of boats in the marina that look like they haven't moved in months, or possibly years. So I figure that I'm doing OK, and that so far the capability of the boat is definitely not holding me back. If anyone out there wants to swap me for a Swan or a Super Maramu, I'm willing to consider it. But in the meantime, I think my Catalina is sufficient.
Blue Horizons
Join Date: Nov 2010
Location: Jacksonville, Fl
Posts: 1,052
Thanks: 4
Thanked 21 Times in 16 Posts
Rep Power:
7
Re: How do you use your boat
---
Like a bumper car without wheels
Senior Member
Join Date: Jul 2012
Location: Baytown Texas
Posts: 100
Thanks: 2
Thanked 1 Time in 1 Post
Rep Power:
5
Re: How do you use your boat
---
I've got a Hunter 23.5 trailer sailer. Used mostly for daysails and occasional overniters. We love sailing out and rafting up with friends or just going and camping out on our own. Often we take family and friends out for a quick sail or just to watch the Friday night fireworks in the summertime. It's great for gunkholeing with its centerboard and swing up rudder. Though I have run aground, I've never not been able to get unstuck by myself. We are thinking of a larger boat sometime in the future though. I would love to do the Loop someday. I don't think we'll be crossing any major oceans, (at least not my wife) on our boat. LOL

Kevin
Senior Smart Aleck
Re: How do you use your boat
---
I sail a Pearson 28-1, a small family coastal cruiser. I use it for daysails in the Chesapeake Bay and extended cruises in the Bay/mid-Atlantic area.

I estimate that I logged over 1,000 nautical miles in extended cruising in 2012, all solo, including 3 overnight passages in the Atlantic between Cape Charles, VA and Cape May, NJ, a Delmarva circumnavigation, and spent a total of 21 nights on the boat. I sailed the entire length of the Chesapeake Bay last year, from the Elk River to Cape Charles, and the entire length of the Delaware Bay (but not the river).

I would love to go on some weekend cruises, but my wife and young son have not been ready for that yet. Maybe this year. I also hope to take an extended cruise to the Northeastern U.S., visiting Fisher's Island, Greenport, Block Island, Nantucket, and Martha's Vineyard.
---
Last edited by jameswilson29; 01-02-2013 at

01:09 PM

.
Senior Member
Join Date: Mar 2011
Location: Henderson, NV
Posts: 654
Thanks: 9
Thanked 8 Times in 8 Posts
Rep Power:
7
Re: How do you use your boat
---
I have a 1968 Cal 2-30 that I bought last year. It is my first boat of any kind and I use it primarily as a place to sleep when I work in Hollywood (about 100 days a year). The sailing is a bonus, which I do twice a week in season. I've made two crossings to Catalina. This year, I will be racing her and My wifey and I will do a mini-cruise down the coast for a couple of weeks this summer. Because I bought her on the cheap, restoration and maintenance has taken much of my time and mental capacity, but will be worth it when, at some point, I hand her off to a new owner who will say 'tough titties- she's mine now.'
---
1968 Cal 2-30
Sandpiper 2
MDR
Senior Member
Join Date: Jul 2011
Location: portland oregon
Posts: 106
Thanks: 4
Thanked 2 Times in 2 Posts
Rep Power:
6
Re: How do you use your boat
---
I have a Cascade 29, they can sail anywhere. I've sailed it to Mexico with stops at Catalina. Have done lots over night trips. Mostly I day sail solo, year round, 2 and 3 days a week.
Senior Member
Join Date: Feb 2007
Posts: 272
Thanks: 0
Thanked 0 Times in 0 Posts
Rep Power:
11
Re: How do you use your boat
---
Bermuda 40 Mark III sloop. Launch in mid April and haul the end of Oct. Daysailing or coastal cruising every chance I get. Maine and Atlantic Canada. Retired.
Currently Active Users Viewing This Thread: 1

(0 members and 1 guests)