Junior Member
Join Date: Dec 2008
Posts: 4
Thanks: 0
Thanked 0 Times in 0 Posts
Rep Power:
0
Re: Changing Oil - an easier way?
---
Hi,i use a brass oil pump as used in the beta range of engines,my engine is perkins 4017 and has two dipstick ports so you take your pick i think this pump is better than vacuum type because the hose is 1/2" rather than 3/16"it pumps the oil out in short time.Ronnie.
Over Hill Sailing Club
Join Date: Feb 2009
Location: Adirondacks NY
Posts: 3,663
Thanks: 93
Thanked 111 Times in 108 Posts
Rep Power:
9
Re: Changing Oil - an easier way?
---
One thing that is odd and annoying is that my 3GM30F does not have a drain plug in the pan. It IS quite accessible and would be a simple and more effective process to drain oil out into a container but I have to go through the PITA of sucking it out through the fill tube. It probably would have cost an extra 25 cents for Yanmar to put a drain plug in! I bought one of those "ball" shaped vacuum gizmos. It works, which is about all that can be said about it.
---
Alberg 35: With a philosophical flourish Cato throws himself upon his sword; I quietly take to the ship.
Re: Changing Oil - an easier way?
---
I wrestled with a small hand pump for a few years until it broke. I saw one of those drill pumps at my hardware and I'd forgotten the last time I used one.

I made sure I had the correct fittings to connect direct to the hose on my engines drain plug. I keep a small cordless angle drill on board and after making the easy fast connection from my hose to IP adaptor, I chucked the drill on and pulled the trigger.

What the heck have I been doing with that hand pump for so many years?

After a few seconds, it primed, and pulled all the oil out in maybe 30 seconds or so. No leaks. Best of all, it and the related fittings and short drain hose fit in a small tupperware container little bigger than a sandwich.

They're cheap, less than 20 bucks I think.

It comes with small diameter hoses to fit in the dip stick but I don't know how well that will work.
---
Tom Young sailing a 1961 38' Alden Challenger, CHRISTMAS out of
Rockport, Maine.
To view links or images in signatures your post count must be 10 or greater. You currently have 0 posts.

'I'd have written a shorter post, but I didn't have the time', Mark Twain.
Junior Member
Join Date: Jun 2010
Posts: 25
Thanks: 0
Thanked 0 Times in 0 Posts
Rep Power:
0
Re: Changing Oil - an easier way?
---
Puget Sound Pounder
Join Date: Nov 2008
Location: Bainbridge Island, Port Madison, WA
Posts: 646
Thanks: 22
Thanked 8 Times in 8 Posts
Rep Power:
9
Re: Changing Oil - an easier way?
---
Quote:
I have the same problem and can't afford the $97 Westmarine one pictured above.

But this week on the dreaded oil change I decided to run the engine for thirty minutes instead of fifteen I normally do to warm the oild.

After thrity minutes the oil is quite hot and much easier to pump than the usual warm.

But the $97 looks good... Lol
You can get it cheaper at Amazon. This was the exact same one I saw in WestMarine. It is just fantastic for boat oil changes. I use it for my cars now as crawling under the oil pan was getting annoying. Super fast, really is a great reliable item. Well worth it!!!! Free shipping with Super Savor shipping (UPS Ground) and is a Prime shipping item.
[IMG]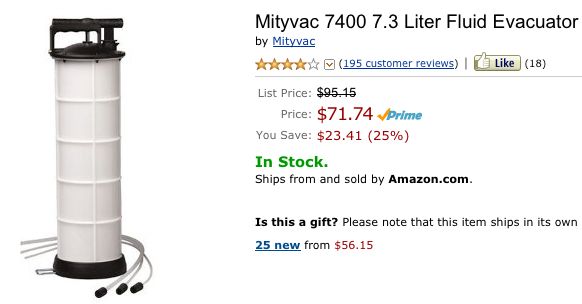 [/IMG]
Additionally I use it for changing lube in my saildrive. It sucks cold 90 weight oil out of the saildrive lickity split. Well beyond my expectations.
---
Last edited by kellysails; 01-09-2013 at

12:47 PM

.
Senior Member
Join Date: Nov 2010
Location: Baltimore
Posts: 1,102
Thanks: 69
Thanked 31 Times in 24 Posts
Rep Power:
7
Re: Changing Oil - an easier way?
---
Quote:
As I wait for brighter and warmer days I've begun pre-season maintenance and upgrades to my boat. My Yanmar 2GM sits very low in her bilge and although I'm sure there is a drain plug in the oil pan there is no way to locate a container under the pan to contain the drained oil. The boat came with a manual vacuum pump where you insert a tiny (about 3/16") hose through the dipstick hole and stroke for an eternity. I'm never satisfied that I got all the old oil out as the drain hose is quite stiff with a perpetual curl in it and I doubt that the end of it ever really touches the bottom of the pan. Other than draining the oil directly into the bilge and pumping it from there does anyone have any suggestions for a more efficient and cleaner method to extract the used oil. There's gotta be a better way!
I replaced the installed brass hand pump on my Atomic 4 (which worked but one needed a hundred strokes or so for an oil change) for a permanently installed electric pum. Now changing the oil means pushing a button and seeing the oil being pumped into the container.
But of course you still want to warm it up.
Senior Member
Join Date: Jun 2004
Location: western LI sound, L.I., N.Y.
Posts: 518
Thanks: 1
Thanked 15 Times in 15 Posts
Rep Power:
13
Re: Changing Oil - an easier way?
---
I put a small notch on the end of my tube, guess cutting at an angle might have same effect. Seems you can get a little more oil out as opposed to being flat against bottom.
Junior Member
Join Date: Sep 2010
Location: Texas
Posts: 8
Thanks: 0
Thanked 0 Times in 0 Posts
Rep Power:
0
Changing Oil - an easier way?
---
Jabs I makes a great vacuum pump that you drive with a 1/4" chuck drill motor. It comes Colette with a suction hose that will fit into your dipstick and a larger discharge hose. Warm the oil first, as has been previously stated, and it will self prime and do a great job of getting the oil out. I tried 3 different hand pumps before having someone recommended the Jabsco. It solved my problem and relieved my frustrations.
Senior Member
Join Date: Jan 2001
Posts: 517
Thanks: 0
Thanked 3 Times in 3 Posts
Rep Power:
17
Re: Changing Oil - an easier way?
---
My powerboat has a fitting that replaced the drain plug with a hose connected. The other end of that hose has a fitting that can be connected to a vacuum pump to suck out the oil. I connect it to the Moeller version of the suction pump, pump a bunch of strokes and it drains the whole thing. It's obviously important to periodically inspect that hose.
Senior Member
Join Date: Oct 2008
Location: Durham N.H.
Posts: 561
Thanks: 2
Thanked 15 Times in 15 Posts
Rep Power:
9
Re: Changing Oil - an easier way?
---
TomMaine had it right . . I use a drill pump and empty milk jugs . . .no big deal . . .
Currently Active Users Viewing This Thread: 1

(0 members and 1 guests)