Original Helms documentation
---
This is the original builders certificate, mine is singed by Jack Helms and is notarized.
| | |
| --- | --- |
| The Following User Says Thank You to jumaggafanny For This Useful Post: | |
David:
That's a valuable piece of information. I'm glad you shared it. It answers a lot of questions on why the boats varied from one another - options from the factory.
I see the anodized mast and boom is an option. So silver aluminum doesn't mean a replacement mast or boom.
My boat didn't come with a spinnaker or it's hardware. It would be nice to know were it was all installed.
Interesting to see that winches were not standard and I don't have the optional jib halyard winch on the mast. How far up from the base of the mast is it mounted and is it the same size as the sheet winches or smaller?
I didn't know a backstay tensioner was optional. Now I know what the U-bolt is for at the top top of the transom. Anyone know what the original set up was like? ratio etc.?
I don't have the Boomvang option either. How fare from the gooseneck was the boom bail installed and what was the block ratio?
I wonder if the gas tank venting option was the two opposed cowl vents?
I wish I had the poptop cover option. David-is your cover an original or a copy of an original?
---
Wayne
Rehoboth Bay/Indian River, DE
S/Y KJ, Helms 25
1976 #552
Broad Reachin'
Join Date: Aug 2006
Location: Grand Rapids, Michigan
Posts: 2,030
Thanks: 1
Thanked 26 Times in 26 Posts
Rep Power:
11
Wayne:
My boat does have a spinnaker and hardware (except for a spinnaker pole). There's a stainless d-ring loop and block about 2/3's of the way up the front of the mast for the spinpole topping lift. There's also a turning block at the base of the mast and a cam cleat on the coachroof to run the topping lift line back to the cockpit. Then there's a another d-loop on a sliding track (~3') on the front of the mast on the lower 1/3 for attaching the spinpole. Finally, there is a block on each of the stern corners for the spinnaker sheets to be routed to the winches. That's how mine is rigged. Hopefully I'll acquire a spin pole this year and try it out.
I also have a halyard winch on my mast. It's roughly the same size as the sheet winches, though it is of a different make. I do not have the handle for it and therefore do not use it. I've found that both the main and jib are raised fairly easily, though I sometimes wish I had a downhaul for the headsail.
My mast and boom have attachment points for a boomvang, though I don't have the actually vang. You can see the hardware in the picture below (excuse my ratty sails!).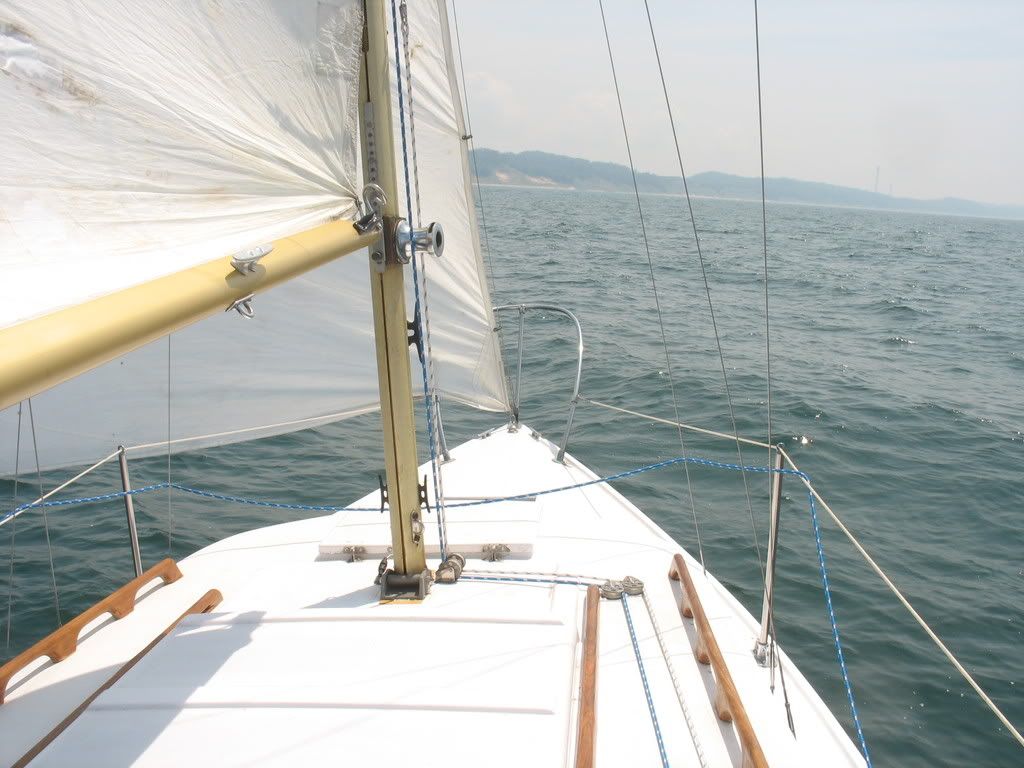 ---
Catalina 34

To view links or images in signatures your post count must be 10 or greater. You currently have 0 posts.

eburgess
Join Date: Nov 2010
Location: Columbia, SC
Posts: 3
Thanks: 0
Thanked 0 Times in 0 Posts
Rep Power:
0
Purchesed '74 Helms 25 and rebuilding. Need forward hatch. Anyone know of a boat that is being sold for parts or how I could make or have made a duplicate?
eburgess
Join Date: Nov 2010
Location: Columbia, SC
Posts: 3
Thanks: 0
Thanked 0 Times in 0 Posts
Rep Power:
0
Helms 25
---
I live in Columbia, SC where Jack Helms lived and made his boats. Knew him as a splended craftsman; make beautiful furniture and boats.

I'm new to the web posting business but I'm looking for a replacemnt for my forward hatch on my H 25 sail #378. Any info would be appreciated.
Welcome to the Helms area of Sailnet. I'm not aware of any hatches at the moment. I sent you a private message with some info.
David
Hatches
---
I bought some hatches off a Helms 25 a while back. You need the most forward small one, correct. I'll check Sunday, but I think I have it. Do you need the original hinges?

Wayne
---
Wayne
Rehoboth Bay/Indian River, DE
S/Y KJ, Helms 25
1976 #552
Junior Member
Join Date: Mar 2011
Posts: 2
Thanks: 0
Thanked 0 Times in 0 Posts
Rep Power:
0
Hello, I am in search of some information regarding a possible purchase of a Helms 25. From my research the Helms 25 has a swing keel- are there any exceptions to this? The current owner swears it doesn't have one but hasn't hauled the boat himself to see.

I can dive the boat to take a quick look but is there any other way to verify the existence of a swing keel. My concern is trailerablity in the future as I am an active duty military member and have to always keep that in the back of my mind.

Thank you for any help.
John Briggs, Pensacola FL
The Helms 25 has 1650# of fixed ballast in a short fixed keel with a 300# steel centerboard. The centerboard swings up into the fixed keel. With the centerboard up the draft is 20". With the centerboard down the draft is 6'. However, you don't need to sail with the centerboard fully extended. Lowere it just enough to balance the weatherhelm.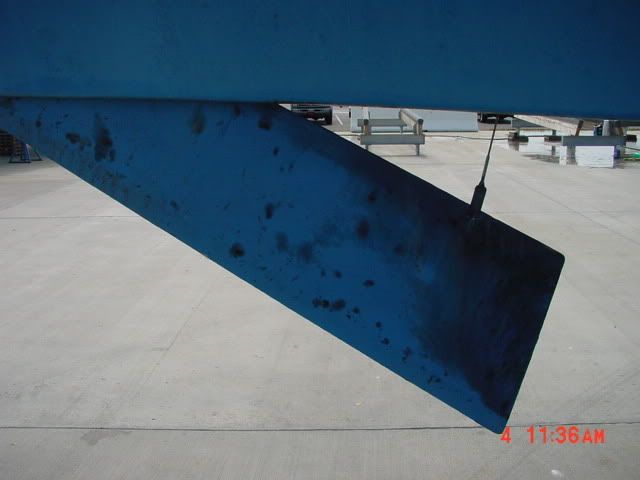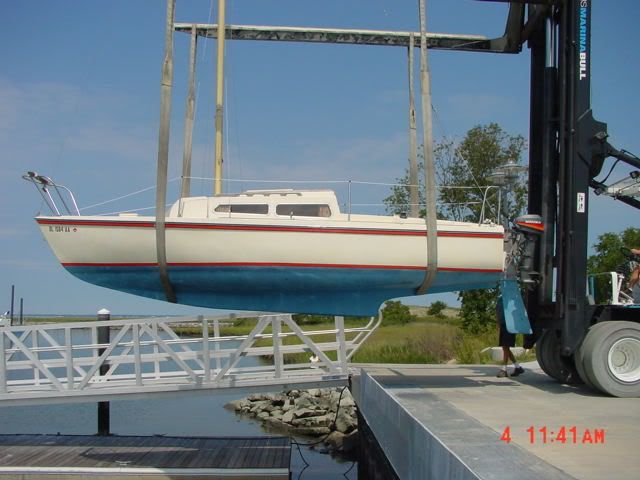 I hope this helps.
Wayne
---
Wayne
Rehoboth Bay/Indian River, DE
S/Y KJ, Helms 25
1976 #552
Currently Active Users Viewing This Thread: 1

(0 members and 1 guests)
Similar Threads
Thread
Thread Starter
Forum
Replies
Last Post
Coast Guard Documentation?

grommet

Boat Review and Purchase Forum

18

10-04-2012

09:44 AM

Opinions on Helms 25

kwaltersmi

Boat Review and Purchase Forum

17

08-04-2007

08:38 PM