Junior Member
Join Date: Mar 2011
Posts: 2
Thanks: 0
Thanked 0 Times in 0 Posts
Rep Power:
0
Swing keel question on a Helms 25
---
This is a very elementary question but one that may heavily influence the purchase of a Helms 25.

From my research, the Helms 25 has a swing keel- are there any exceptions to this? The current owner swears it doesn't have one but hasn't hauled the boat himself to see.

I can dive the boat to take a quick look but is there any other way to verify the existence of a swing keel. My concern is trailerablity in the future as I am an active duty military member and have to always keep that in the back of my mind.

Thank you for any help.
John Briggs, Pensacola FL
I also answered your question with pictures on another thread in which you posted. Here is a picture of my Helms 25 on it's original factory trailer before I painted it.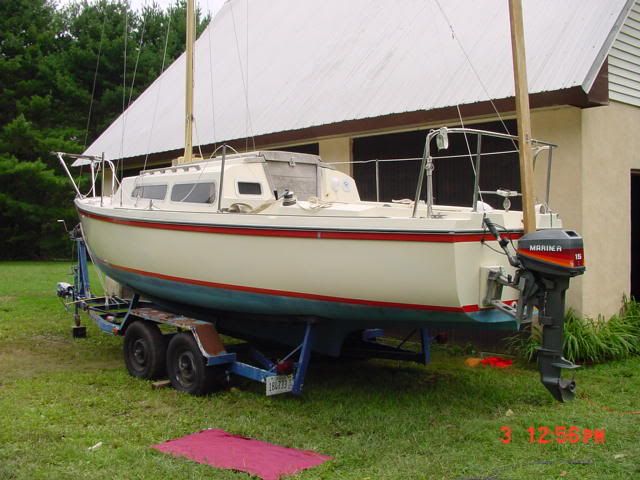 Wayne
---
Wayne
Rehoboth Bay/Indian River, DE
S/Y KJ, Helms 25
1976 #552
Junior Member
Join Date: Oct 2008
Location: Elmira, NY
Posts: 4
Thanks: 0
Thanked 0 Times in 0 Posts
Rep Power:
0
As far as I know, every Helms 25 had a swing keel. The hoisting mechanism should be just inside the cabin (or inmy case, just outside the cabin). The boat is very trailerable, but at roughly 5000 pounds for boat and trailer, you need something with a little oomph. I am retired military
Junior Member
Join Date: Nov 2008
Posts: 8
Thanks: 0
Thanked 0 Times in 0 Posts
Rep Power:
0
Does it have one of these? If so its a swing keel
Currently Active Users Viewing This Thread: 1

(0 members and 1 guests)