Junior Member
Join Date: Apr 2011
Posts: 3
Thanks: 0
Thanked 0 Times in 0 Posts
Rep Power:
0
Hello from Texas
---
Lake guy here, fresh into sailing. Just picked up my first boat and am already doing the normal sailing kind of things.
Junior Member
Join Date: Apr 2011
Posts: 3
Thanks: 0
Thanked 0 Times in 0 Posts
Rep Power:
0
I've been on here reading as much as possible. Every new technique, gadget, and sailing story makes me want to get out there and sail away. Well, it'll be easy with the semester coming to an end... here comes summer.
Anyhow, I'm a Texas lake-goer. Currently, spending my time on the water at Lake Palestine, in Berryville (Frankston), TX. Been sailing probably 10 times in the past 3 years. Few times on a small sunfish, always had fun, never got into too scary of a situation. Even hit some BFS for my second time out... caught my elderly neighbor's hat at a quick speed when it flew off her head and into the water.
Now, I have my own boat. I launch my 10' (guessing) sailboat from the small beach in our backyard. Nice seawall, dock, and small beach, very shallow until 10-15 feet out where it starts dropping off to 3 ft.
Here she is .. Cactus.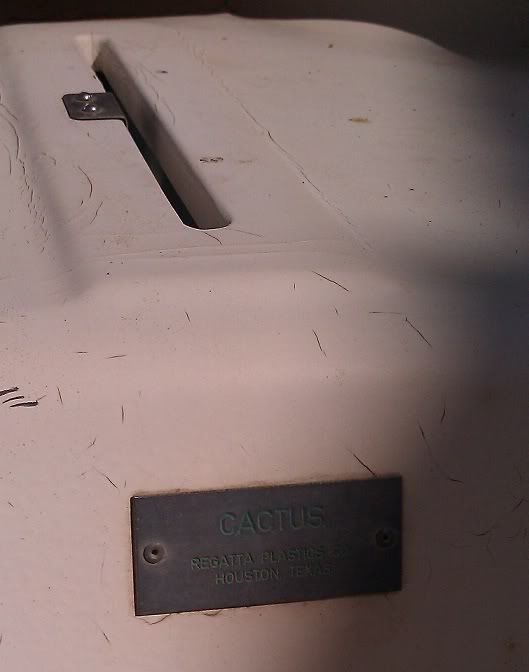 I've only been out on my new boat two times this spring, having purchased it during the winter. Sails are probably worn, needs one small rip sown. Ropes need replacing, one cleat is cracked, and there's definitely some do-it-yourself ghetto-rigging here and there. Needs small scratches and scuffs cleaned up on the hull and on deck. I'm in a pickle with the rudder at the moment, but that'll come later in another post.
First time I took her out, the wind was teasing me.. couldn't fill the
sail
(s) up for more than a few seconds at a time... I sadly as scared to put the jib on at the time as I wasn't 100% sure how it work it yet. Second time, I got "gutsy" after reading a bunch here in sailnet, though I could put on my big boy pants and put the jib on. Woah nelly, don't wanna overload a young skipper do ya? Well, there sure as hell was enough wind for my tiny boat. Wind was 10kt gusting to 15-20 probably (guessing here based on news weather reports, in MPH) . A lot of those drinking, old fart pontoon types were saying it was too windy to go out and play today. I left the jib on the deck but didn't do my best to tie it down.
So, as I get away from shore after about 40 feet, you clear the tree line and the S-SW wind (I head N-NE to leave my small beach) finally starts blowing along at full force. I am immediately getting my ass thrown around by random gusts. Though I hold strong and continue to hone my skills for my newly acquired hobby. As I'm fighting to trim the main sail, hold the tiller steady (I'm a big guy on a small boat), and balance the boat with my weight/sail trimming .. my jib starts to grab wind and pull itself about 1/3 the way up the the forestay. So I start to oh-crap while i think of how to get it down...
I can not for the life of my keep my tiller still. It already has home-made mounts for it, so it has a lot of play in there already. The heavy (for me) winds made it difficult to point into the wind, let the main out, and stand up to the mast to get the jib down. Every time I tried to turn into the wind and get up, the boat would start to turn and the main would fill up, throwing my balance off. After 10-15 of fighting this, I finally make the hard decision to drop the main. I say hard decision because getting it back up on the water, one manned isn't the easiest thing to do. The sail has tracks and the pulleys (sorry for my less than nautical lingo) aren't the smoothest running things in the world. So I finally drop it and start standing up to work on the jib and of course my tiller turns and by this time the 2/3 raised jib has filled up and just plain knocks me and the boat over.
I jump on the turtle, grab her board and flip her. Save my shoes, centerboard and rudder and grab a rope to swim to a shore about 20-30 feet away. I got her on land and take everything down and pack it nice and tight. I lost the two bolts that held my rudder on.. luckily my brother was watching from across and came and picked me up. Nothing wrong but a bruise and a quick, slightly expected dive. Good learning experience, I thought I did everything I already knew how to do to prevent things and make for better sailing.
So, right now I'm in the process of thinking up a rudder/transom idea to make it better than the crap I have on their now. Just need to replace some rope, sow a little and I can safely be on the water again.
Picture from the "cockpit", sorry I took these pics after I had taken down the mast and put up the sails and gear. and she was a little dirty.. it was a sad day for her overall.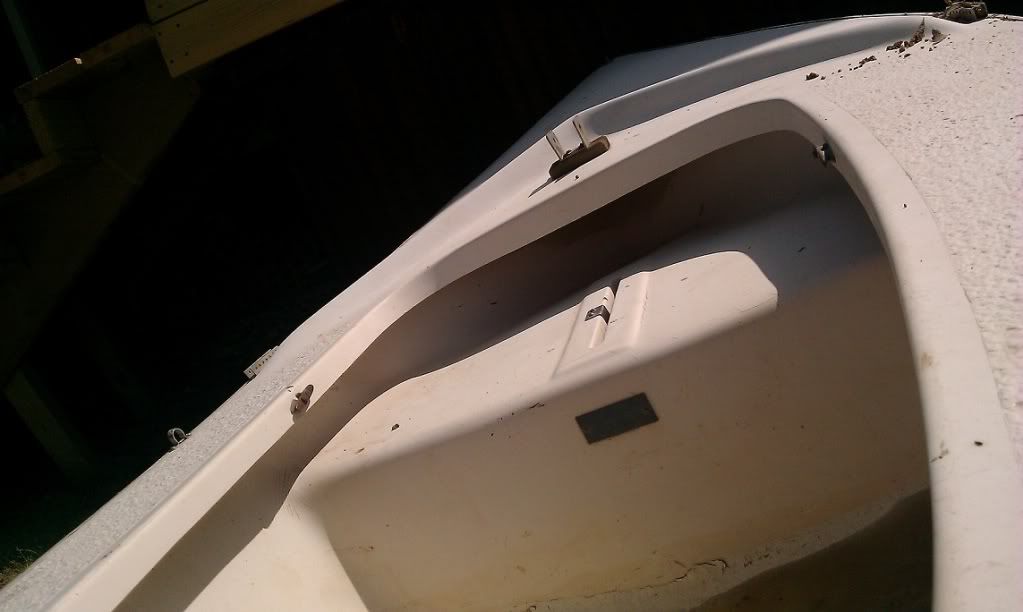 The beautiful pulley that hangs tight to the front of the mast, making getting the jib up and down a PITA. I need to make up some sort of rigging to push the pulley/rope away from the pole. Any ideas?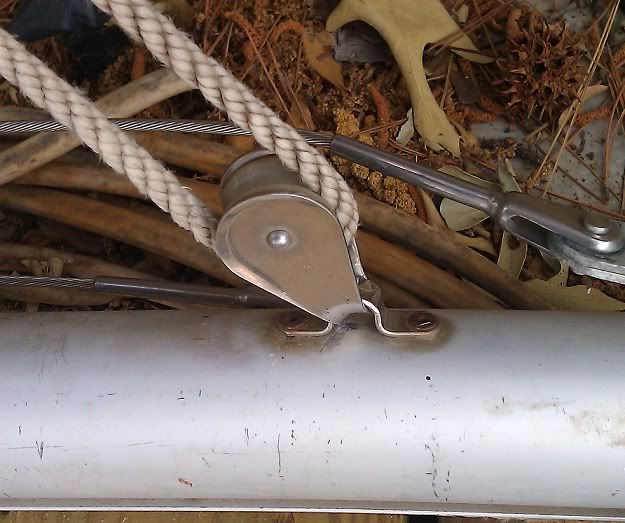 Picture of the awesome tiller mount.. I was thinking of place a 1inch wood block in it's place, this will help put the tiller in a better position to deal with from inside the boat. There's a lip around the boat making it difficult to reach the pins that held the rudder in previously. Also want to build a kick-up or raise up rudder mechanism.
I'm guessing they moved the rudders contact point to get more rudder in the water when heeling. And to keep the tiller off the back of the boat.

Will get more pics in the future, plan to get sailing ASAP. I love being able to drop in the water any time I wish.
Thanks for reading. Things are small right now, but I have big plans for the future.
Tartan 27' owner
Join Date: Jan 2008
Location: NYC
Posts: 5,076
Thanks: 8
Thanked 134 Times in 126 Posts
Rep Power:
10
Welcome to SN.
I'd think about replacing the rudder attachment hardware (pintles and gudgeons). Look for the 'Race Lite' gear on this page:
APS - Pintles, Gudgeons & Rudder Heads
You can also replace that block (pulley) on the top of the mast if it can't be made to work more smoothly. I'd try loosening it up with WD 40 or similar. It may just need some cleaning.
Keep trying to get both sails up on a light wind day.
---
"The cure for anything is salt water~ sweat, tears, or the sea." ~Isak Denesen

Everybody has one:

To view links or images in signatures your post count must be 10 or greater. You currently have 0 posts.

Junior Member
Join Date: Apr 2011
Posts: 3
Thanks: 0
Thanked 0 Times in 0 Posts
Rep Power:
0
I'm waiting for a good 5-10 kt day to work both blankets.

I don't have a huge budget, so all parts I'm adding on or replacing will be few and far.

I think the top pulley is beyond WD40. The issue is when the rope starts getting pulled, to raise or lower the jib, the block tightens up against the mast. it has to be gently handled with two hands to smoothly raise it up.
---
Last edited by PalestineSinker; 05-09-2011 at

10:34 PM

.
Currently Active Users Viewing This Thread: 1

(0 members and 1 guests)
Similar Threads
Thread
Thread Starter
Forum
Replies
Last Post
Texas 200

Tetra

TMCA (Texas Mariners Cruising Assoc)

4

11-20-2014

08:51 PM

Greetings From Texas

JoeDiver

Introduce Yourself

7

08-26-2011

12:06 AM

Greetings from Texas!

shgrant

Introduce Yourself

2

04-03-2009

03:23 PM

Hello from Texas!

LavonRobert

Introduce Yourself

0

08-07-2008

10:18 PM

ICW in Texas

kymbie

Cruising & Liveaboard Forum

17

06-17-2008

11:33 AM