I'm about to post up my zodiac and motor for sale and see if I can find a good home for my trusty dive boat. Does the forum have a sale page?
Quote:
By the way, you can't post pictures or use PM on sailnet until you have at least 10 posts. You are almost there. If you want quick posts, go to the song chain in Off Topic and you'll quickly get to 10.
You may also want to have a quick look in the sailnet How-to Forum - Tips for Newcomers.
http://www.sailnet.com/forums/sailne...t-sailnet.html
If you ever here the call Sign "Devil 505" on the VHF It will be me but most likely you'll know I'm starting my Expedition on here first.
Senior Member
Join Date: Aug 2007
Location: Georgian Bay
Posts: 400
Thanks: 2
Thanked 1 Time in 1 Post
Rep Power:
10
Sorry to hear about your job, hopefully you'll find something soon. This economy can't stay down forever.
Years ago, we spent several trips up in Killarney and I swore I would get back up there someday ( that was 20-25 years ago). Last year we made it back, although in a much bigger canoe.
Our "campsite"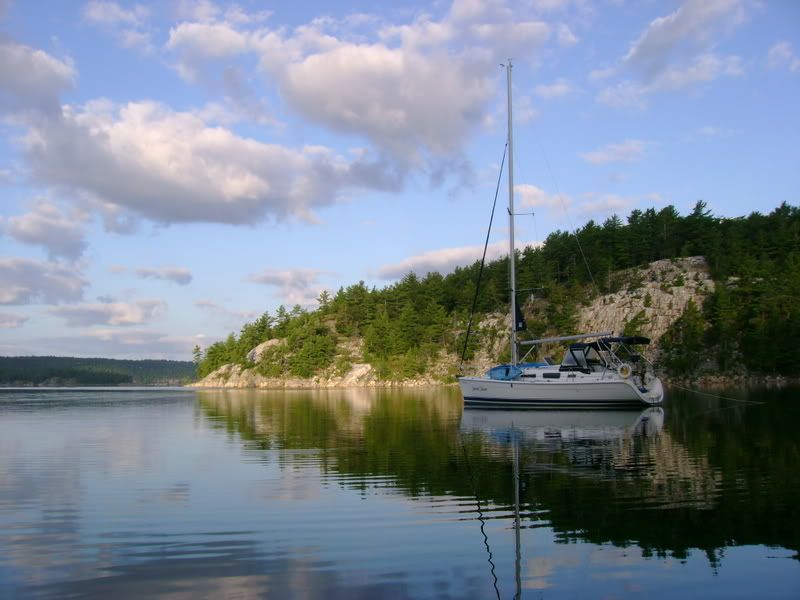 Hiking the ridges once again....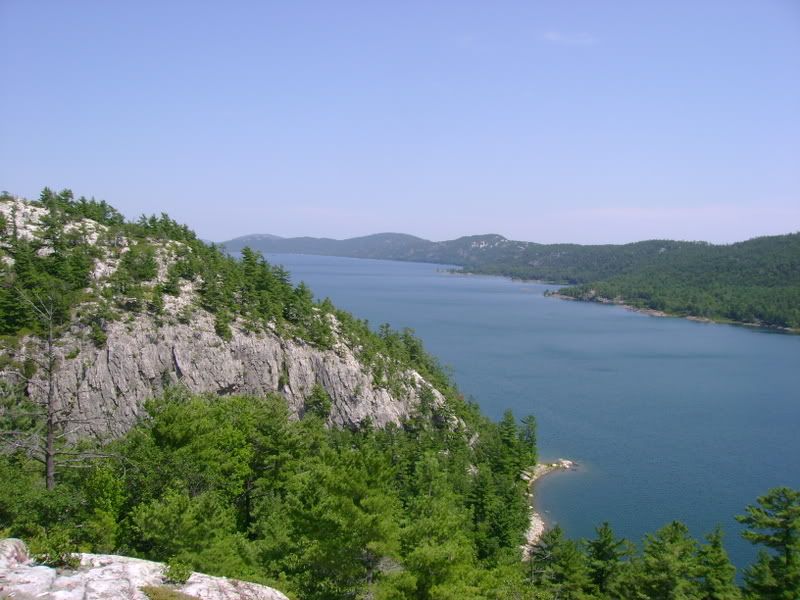 what kind of camera did you use? Those pics are really clear! I've never been on a sailboat and told my wife that I always wanted to learn how to sail. I see them all the time on the lake. With the wind at force 5-6 today gusting to force 7 with front moving through I'm sure I'll see them out today while I'm training in the high winds here.
---
Last edited by freediverGA; 04-03-2009 at

09:50 AM

.
Bristol 45.5 - AiniA
Join Date: May 2006
Posts: 4,470
Thanks: 5
Thanked 120 Times in 108 Posts
Rep Power:
11
sounds like a great trip, couple of thoughts
---
Just a couple of things to consider ...
Water temperatures in May are still very, very cold and weather can be highly unpredictable. Also the cold water means that air temperatures on or near the water are cold when it might be very warm a mile inland. Also, if the air is warm it can produce localized fog over the cold water.

Another consideration are bugs -- at least for the camping part. This area (and much of Canada) get a plague of black flies from about May 10th until the first really hot spell of weather when they die off (say mid to late June). These little beasts look like small house flies but they bite and can fly into your eyes, ears and nose. Very nasty to be around - you would have to camp in an exposed area so that the wind keeps them at bay and that might not be good if it is blowing.

I have done a lot of flat water canoe tripping north of Manitoulin, in the Killarney Park area and would choose a different time of the year for your trip. Mid-summer can be hot and there will be lots of boats and people around. I think a trip in mid-August might be very nice. No black flies, fewer mosquitoes, warmer water and less chance of fog.

BTW, my wife lost her job last week, we are heading off sailing for a few years as of May 1.
Senior Member
Join Date: Aug 2007
Location: Georgian Bay
Posts: 400
Thanks: 2
Thanked 1 Time in 1 Post
Rep Power:
10
Sony Cybershot 6.0 mp not a bad camera, but I miss my old Nikon SLR, and a new digital SLR is not in the budget.


killarney... good points. Our first trip into Algonquin Park was early June and we were eaten alive in the portages and into bed by sundown. August is more bug and weather friendly.
Update
---
I'm making plans to change my trip from 85 miles to 150miles. I'm going to start and end from Lions Head.
Senior Member
Join Date: Mar 2006
Location: Great White North
Posts: 315
Thanks: 0
Thanked 0 Times in 0 Posts
Rep Power:
11
Freediver,
Lions Head would be a good place to start. My boat is currently in Bayfield having some work done on it but I now have a slip in Lions Head. I'll sail her from Bayfield to Lions Head once she is launched.

From Lions Head, you can go to Wingfield Basin on the NE tip of the Bruce Penninsula. Winds are mainly from the west so you will be paddling in the lee of the Bruce Penninsula. The, from Wingfield to the rest of your voyage.

I havn't forgotten about those pictures of Rattlesnake Harbour... I'll get them to you shortly.
---
Dave S
Georgian Bay, Ontario
Catalina 34 - "Good Idea"
well I guess I've decided to do this trip right. I'm not going to come to just do a week long trip because I'm driving really damn far for just 7 days. I'm going to stick with first part of my route but I'm going to head up eastern side of Manitoulin island. go around cockburn island and then back track my way back to my orignal route to Tobermory. This route will be 300 miles and will take about 20 days to complete if U add a couple bad weather lay over days. This will be an a easy 20 mile a day pace which will allow me to sight see and actually enjoy the Expedition. I actually played with the idea of take the north channel up and head around the island then head back the eastern side of Manitoulin island back to my staring point at Tobermory. this would add another 60miles to the 300 already plotted which is another 3 days.

The big thing is the kayak I have now is good for 7 maybe 10 days gear carrying whys. So I'm going to get a NDK Explorer which is alot faster and made for long rough water expeditions just like this. A good excuse to convince the wife I need to get a new kayak huh. Most of the worlds longest expeditions like circumnavigation of England, Japan, greenland, iceland, south island of new Zeland and many others have been done with this very kayak. I've tested one out and for being 13 inches longer and 1/2 inch narrow than my kayak now, this boat is very deseaving. It's crazy how much gear u can put into it, loaded or empty it actually handled better than my smaller nimbler kayak I have now. The rougher the water got, better the kayak seems to paddle. I was pretty much sold on getting one! I was going to post pics of my planned route but said they were to large.
---
Last edited by freediverGA; 11-19-2009 at

11:57 PM

.
Senior Member
Join Date: Aug 2007
Location: Ontario, Canada
Posts: 1,844
Thanks: 27
Thanked 31 Times in 24 Posts
Rep Power:
10
Seeing as your coming all the way up anyway
---
pack your dive gear.
Tobermory (
Fathom Five National Marine Park
) is renowned for its diving - particularly wreck diving.
The water is cold below the thermoclines though...
Check out
this footage
(and
Part 2
)that I took of the area (Killarney to Club Island to Tobermory to Cabot Head) last summer.
---
1989 Hunter 30'
Southern Georgian Bay

Visualize the vastness of the oceans; the infinity of the heavens; the fickleness of the wind; the artistry of the craft and the frailty of the sailor. The oneness that may be achieved through the harmony of these things may lead one to enlightenment. - Flying Welshman
Currently Active Users Viewing This Thread: 1

(0 members and 1 guests)
Similar Threads
Thread
Thread Starter
Forum
Replies
Last Post
Sea Snakes

Ralph Doolin

Seamanship Articles

0

01-21-2002

08:00 PM

Sea Snakes

Ralph Doolin

Cruising Articles

0

01-21-2002

08:00 PM