Junior Member
Join Date: Sep 2009
Posts: 2
Thanks: 0
Thanked 0 Times in 0 Posts
Rep Power:
0
Learning to sail with young children
---
My husband and I have been dreaming about sailing for years. There are so many things about it that we find appealing. We are finally at a point where are young children are becoming easier to manage
and we're ready to resume having a life with hobbies. Sailing seems like a great activity that would be perfect for the family.
My question is, can one learn to sail with small children (3 under the age 7)? Our plan is to spend the winter reading everything we can get our hands on in regards to sailing. This spring/early summer my husband and I would like to enroll in classes. My question is this, would a weekend class be enough to get started or would it be necessary to take the week long class? We live in Idaho so the only sailing we would be doing is on lakes to start with. Once we obtained a bit of skill we'd like to venture over to the Portland, OR area and sail on the rivers.
We'd like to start with a 22 footer, something we can do overnights on. We haven't started researching boats yet, but we'd like to buy next spring. I'm sure a smaller boat is more desirable to learn on, it would simply be impossible with a family. Is this a reasonable plan?
My final question is this, my husband is in the Army and will deploy late next year. I'd like to enjoy this activity with my kids while my husband is gone. It would make for a good distraction. Within a year of beginning to sail is sailing alone with kids a feasible goal?
Thanks in advance for your help! It's most appreciated.
Go for it! You'll probably meet like minded sailors in Idaho or Portland who would be glad to have you accompany them sailing. A good way to lean how to sail and what you are looking for in a boat.
Junior Member
Join Date: Jun 2009
Posts: 9
Thanks: 0
Thanked 0 Times in 0 Posts
Rep Power:
0
Learning to sail
---
Glad to here you and husband want to learn to sail. It is great for the whole family. You said you were interested in something like a 22' boat to learn on...then try out this websitye:
Home (sanjuan21fleet1)
or
San Juan 21 Fleet 43
. The San Juan 21 is a very easy boat to sail and very forgiven. It is cheap to buy and to maintain. Good luck.
Jerry
Best Looking MALE Mod
Join Date: Jul 2006
Location: Washington State
Posts: 9,918
Thanks: 3
Thanked 125 Times in 57 Posts
Rep Power:
10
I think kids and sailboat go together great... but I may be prejudice!!!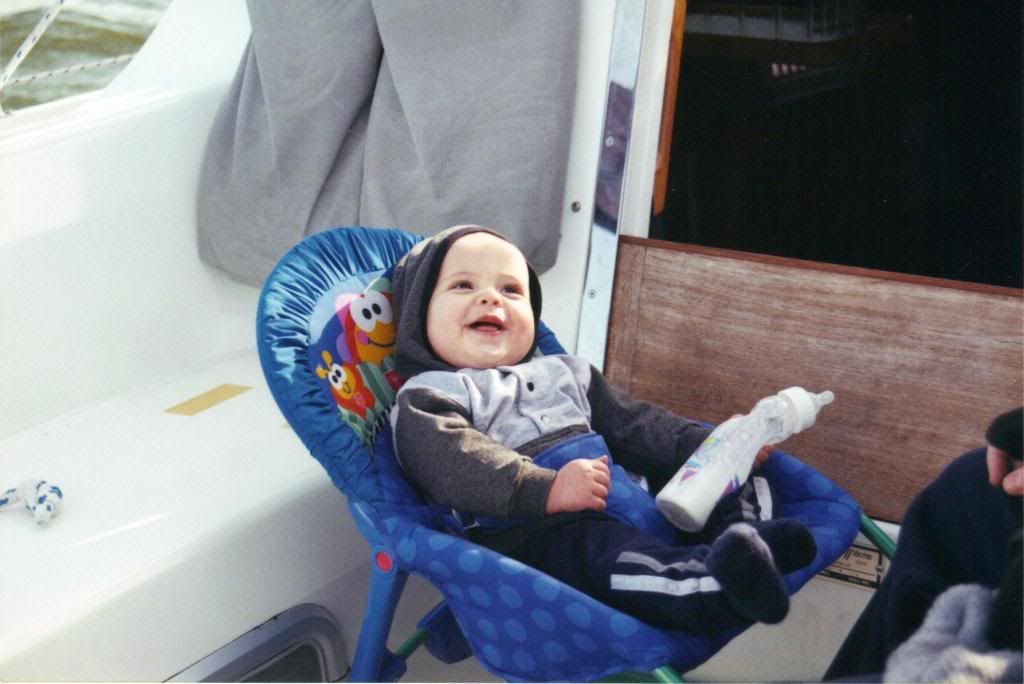 Chase was on board at 5 days old. The issue with smaller boats and infants are two part: safety and comfort. A 22 footer can capsize, so I would be pretty cautious on what weather I took the kids out in. Larger boats don't have this issue as much. A fixed keel would be better than water ballast in this regard (my opinion). Also, air conditioning, a silly as it sounds, is another factor (at least in Texas). The outside temperature will restrict you to nice days until the kids are older.
Chase is now 9 and Glen is 5. We spend every moment we can onboard and soon will be living aboard again. So, it is a great life and great place to spend time with the kiddos in my opinion. Have fun with it!!!
- CD
---
Sailnet Moderator



1987 Tayana Vancouver 42, Credendo Vides, (Mom and Pops boat, F/T Mobile Live Aboards in Puget Sound)

My Website:
To view links or images in signatures your post count must be 10 or greater. You currently have 0 posts.


Follow My Blog at:
To view links or images in signatures your post count must be 10 or greater. You currently have 0 posts.


Follow me on Facebook:

To view links or images in signatures your post count must be 10 or greater. You currently have 0 posts.

Moderator
Join Date: Mar 2007
Location: Chesapeake
Posts: 5,680
Thanks: 0
Thanked 4 Times in 3 Posts
Rep Power:
10
MLB,
Welcome to Sailnet!!
It's always nice to hear about another prospective sailing family. As others have mentioned, and I can attest as well, sailing is a great family past time.
Liek CruisingDad, my wife and I have been sailing since our kids were young. We had three under four (two in diapers) when we got our first boat -- a 24 footer. So, absolutely, it can be done.
But your question seems more about
learning
to sail with kids. Many of us had the advantage of already being competent sailors when our kids came along. So I think your situation is different, and the approach you take should probably be different too.
I hope someone will chime in who learned to sail under similar circumstances to yours. But in the meanwhile I will venture a few suggestions.
First, your idea of taking lessons is a great one. But if at all possible, try to get away for the weekend course without the kids. Also, you and your husband should be in different boats with different instructors -- many husband/wife teams report that learning together often does not go too well (not always, though).
So maybe you could both go to the same sailing school, but on successive weekends? This would allow one of you to watch the kids while the other learns more or less worry free.
Later on, as your experience grows, you can introduce the kids to the sailing concepts and pass along your knowledge, in the time honored tradition. (By the way, a small sailing dinghy is a great platform for students of all ages to practice what they've learned.)
When you do finally find yourself out on the water with the kids, remember there is no shame in taking baby steps. You want to acquaint the kids slowly, without any drama. Choose a calm day and putt around with the motor, practicing docking, etc, then anchor and have a little picnic. Next time go a little farther and maybe hoist a sail for a short run. Small steps -- you get the idea.
As far as boats -- a 22 footer will be a bit cozy for a family of five for overnighting -- but you can do it, and it would make a great daysailer/learning platform. It would also be small enough for you to manage without your spouse -- once you've built up enough experience.
Anyway, learning to sail is like embarking on a long voyage. There will be ups and downs, setbacks and satisfaction. Don't get frustrated if it doesn't all click right away. We were all novices at one point, and many of us who have been at it for decades are still learning. But don't let that stop you from getting out there and giving it a try!
And don't hesitate to use Sailnet as a resource. We have a lot of helpful sailors here. Good luck!
---

To view links or images in signatures your post count must be 10 or greater. You currently have 0 posts.

Pacific Seacraft Crealock 31 #62

NEVER CALLS CRUISINGDAD BACK....CAN"T TAKE THE ACCENT
Senior Member
Join Date: Nov 2002
Location: New York
Posts: 5,856
Thanks: 0
Thanked 18 Times in 17 Posts
Rep Power:
17
Hear, Hear, I second the posts from CD, and JRP. Kids and sailboats go together like dogs and pick"m up trucks. They are just meant for each other. I should know I have had 4 dogs and 6 kids.
---

To view links or images in signatures your post count must be 10 or greater. You currently have 0 posts.
Never Forgotten

To view links or images in signatures your post count must be 10 or greater. You currently have 0 posts.

Junior Member
Join Date: Apr 2009
Posts: 23
Thanks: 0
Thanked 0 Times in 0 Posts
Rep Power:
0
Pollard hit the nail on the head. I bought my bought my Cat 22 this spring with the plans to take my wife and 4 year old son out for some overnight trips on the lake. I took a 2 day ASA course that has given me enough knowledge to go out and learn more with some of my friends to help crew. What I soon realized as a beginner is that there are lines ,halyards ,sails, an outboard motor,a keel anchor , wind , other boats , that do not take care of themselves , that the Captain must be aware of and in control of at all times. With a little experience sailing can be great family fun , but I would recommend not setting any time lines for it all to come together, as sailing is a lifelong adventure.
Just another Moderator
Join Date: Sep 2005
Location: New Westminster, BC
Posts: 18,774
Thanks: 141
Thanked 499 Times in 473 Posts
Rep Power:
10
Absolutely go for it... it will be a bit of a challenge introducing the whole clan at once, but some of the excellent suggestions above will help..

We had been sailing less than a year when our son was born, now 27 years later he's a boat owner himself. And he takes our granddaughter sailing regularly.
---
Ron

1984 Fast/Nicholson 345 "FastForward"

".. there is much you could do at sea with common sense.. and very little you could do without it.."
Capt G E Ericson (from "The Cruel Sea" by Nicholas Monsarrat)
Junior Member
Join Date: Sep 2009
Posts: 2
Thanks: 0
Thanked 0 Times in 0 Posts
Rep Power:
0
Thank you SO much for the very helpful advice and encouragement! We're starting to get very excited about learning to sail. I'd call it "giddy!"
The one thing I've learned after having is kids is NEVER have expectations because you've got to be willing to go with the flow so I'm thinking that will serve us well with sailing.
I'm also thrilled to hear that it's a lifelong learning adventure. That means it will always stay exciting!
My husband and I have officially decided that in 20 years we're selling the house and living in a sailboat. I have a feeling this is going to take over our lives and I think that's a good thing.
Senior Member
Join Date: Aug 2003
Location: Long Island, NY
Posts: 2,008
Thanks: 4
Thanked 79 Times in 74 Posts
Rep Power:
14
Hi,

Back in 2003, when my kids were 9, 6, and 3, my wife and I decided that we should go sailing. I did a lot of research, and decided that a Catalina 22 would be the right boat for us. We needed something that was cheap, trailerable, easy to sail, small enough to learn on, but big enough for the five of us, and had a small cabin for the kids to get out of the sun, and a bathroom.

I bought the boat in August and sailed until November. The boat went back into the water in April the next year, and I was hooked on sailing.

You can sail with young kids, but it may not be easy.

Do you need a trailerable boat, or will you leave it in the water? We trailered the boat for the first year, and while that allowed us to sail right away, trailering is a real hassle. It took about 1 hour from the time we arrived at the marina until we were ready to cast off, and another hour from the time we arrived at the ramp until we were driving home. And the kids were not so happy to be stuck in the car during that time. Having the boat on a mooring or slip was much nicer.

My son (the youngest) would usually fall asleep when we sailed. My younger daughter enjoyed it, my oldest daughter never did enjoy sailing (and still doesn't).

I suppose it possible for 5 to overnight on a small boat, but I would not. On a Catalina 22 there just isn't enough room. The V Berth will fit 2, the sette 1, and maybe you can fit two on the dinette, but it will be real crowded. And I don't know what you will do for food / cooking, because there won't be a lot of room for that either. We used to go camping a lot (small motorhome) so we don't need a lot of space but a 22' boat is pretty small.

BTW, I bought a 28' boat in summer if 2004, and we did spend weekends on that boat. It was good for an overnight trip, but no big enough for more than that. I have a 35' now, and it's great for a week.

Good Luck,
Barry
---
Barry Lenoble
Deep Blue C, 2002 C&C 110
Mt. Sinai, NY

To view links or images in signatures your post count must be 10 or greater. You currently have 0 posts.

Currently Active Users Viewing This Thread: 1

(0 members and 1 guests)