Junior Member
Join Date: Jan 2010
Posts: 2
Thanks: 0
Thanked 0 Times in 0 Posts
Rep Power:
0
Navy certification vs US Sailing/ASA?
---
I'd like to take a sailing course this summer in order to learn how to sail larger boats (I have some experience on Hobie 16s). Cruising around in the Caribbean is something that appeals to me very much. I would also be interested in day sails on the Chesapeake Bay (I'm in DC).
I found a course that I'm interested in at the Pentagon Sailing Club - described on their website as the following:
The Pentagon Sailing Club, based out of Bolling Air Force Base Capitol Cove Marina, offers Basic sailing courses on the Potomac and Anacostia Rivers. We conduct the training aboard our own small keelboat sailing sloops, which range between 22 and 24 feet. All have outboard motors, a full complement of sails, and sparse accommodations below deck. Completion of our Basic sailing program results in the award of the U.S. Navy Basic Keelboat Skipper (B-KBS) certification. This certification is commensurate with US Sailing and American Sailing Association basic sailing programs.
After reading about the course, it sounds like exactly the level of basic class that I'm looking for, and I think it would allow me to decide whether sailing is something I'd like to pursue, or whether I'm better off renting a Hobie at the beach once a year.
I'm open to general advice, but my main question is this: If I do decide that I'd like to pursue sailing, is the USNSA certification widely recognized at sailing schools or charter companies? Some courses I've seen elsewhere have specific US Sailing/ASA prereqs, and I want to be sure I have the correct foundation.
Thanks!
Junior Member
Join Date: Jan 2010
Posts: 2
Thanks: 0
Thanked 0 Times in 0 Posts
Rep Power:
0
I'll let others detail the benefits of USNSA and recognition of their certification as it relates to charter companies...but...I'll quickly take the opportunity to throw out an endorsement of the Pentagon Sailing Club. I'm a fairly new member and my impressions thus far...

- Experienced and knowledgeable club leadership
- Willingness to teach in a constructive manner - haven't seen an ego flare up yet
- "All are welcome" attitude / friendly atmosphere
- Highly-structured and documented learning program

The latter was what really made it a no brainer for me. The club appears to be completey focused on educating new and old sailors alike. I know this doesn't directly answer your question, and I'm not trying to make a commercial here...just my two cents. Good luck.
Either the charter company will accept it OR not

If its NOT you will have issues with charters
---
1970 Cal 29 Sea Fever

To view links or images in signatures your post count must be 10 or greater. You currently have 0 posts.

1981 J24 Tangent 2930
Tommays
Northport NY


If a dirty bottom slows you down what do you think it does to your boat
To view links or images in signatures your post count must be 10 or greater. You currently have 0 posts.

Senior Member
Join Date: Jun 2005
Location: New Orleans
Posts: 2,162
Thanks: 10
Thanked 49 Times in 46 Posts
Rep Power:
12
If they give you a certificate, and you show that, along with a page from their web site stating that their course is equivalent to Basic Keelboat, my guess is they'll consider it equivalent too (and knowing the military way of teaching, it probably is). And if the program has existed for a while, chances they've seen such certificates before.

For what it's worth, I teach ASA Basic Keelboat as a part-time gig.
Junior Member
Join Date: May 2007
Posts: 11
Thanks: 0
Thanked 0 Times in 0 Posts
Rep Power:
0
I am the 2010 Training Commodore at Pentagon Sailing Club. I am a retired Surface Warfare Officer (cruisers, destroyers, frigates). I am also a member of Navy Pax River Club, and participated for three years as the Officer-in-Charge of Navy 44s for the Naval Academy's offshore training program. I have several thousand miles of offshore sailing experience (mostly the Ches Bay, Bermuda, New England triangle). I am also a member at Navy Pax Sailing, where I am boat captain of the Navy 44 MK I "Valiant".

As for most respected certifications, as you are aware, there are basically three now: the American Sailing Association (ASA), US Sailing, and Navy Sailing (USNSA). There are some Royal Yachting Association (RYA) affiliations, but they are very few. Any ASA, US Sailing, or Navy Sailing organization, will have a challenge process that you can follow. It will often involve little more than taking a one hour exam, and paying the organization's fee.

I apologize for the long answer, but I see your question a lot.

There are three major sailing clubs in the Washington area that offer floor to ceiling qualifications:

Pentagon Sailing Club (PSC), which is located at Capital Cove Marina on Bolling AFB across from Reagan National Airport. PSC has about 200 member "units". Average turnout for club meetings is about 75. Most of them are active duty or retired military; many are DoD affiliated, with about 25% unaffiliated with DoD. The club has 4 Catalina/Capri 22 boats, with one older Sonic 23 that we keep because she is big and heavy and great for winter sailing. These boats are owned by the club. We have a clubhouse on the back lot of the marina. Our unrestricted sailing ground is the area from the Woodrow Wilson Bridge south of Alexandria to the Fourteenth Street bridge north of the Airport to the Capitol South Bridge on the Anacostia. We have a Racing Squadron that races three of the Capri 22s in the Dangerfield Island Sailing Club (DISC) series on Tuesday nights and on select Saturdays. We offer a B-KBS plus qualification (comparable to ASA 101/103) is required to sail the club boats. As long as the club boats are not being used for the B-KBS course or for racing, they cost $25 to take out for a social sail, or one Frequent Volunteer Sea Mile (FVSM), which are certificates the club gives out for 8 hours of club volunteer work.

For sailing on the Bay, PSC charters from Annapolis Bay Charters (ABC) at Port Annapolis on Back Creek in Annapolis, Maryland. We have approximately 56 day equivalents of sailing on the Bay during the season from April until November. We have raft ups on three day weekends, overnight sails, and trips to remote locations such as Bermuda. To sail as a Bay skipper, you need a D-CS rating in the Navy Sailing system. The club is in the process of implementing an ASA 101/103 concurrent qualification for its B-KBS qualification course.

Navy Pax Sailing Club (NPSC) is based at West Basin on Patuxent River Naval Air Station in Lexington Park, Maryland across from Solomon's Island. The club has about 100 member units, with average club turnout for meetings at 20. Most of the members are NAVAIR civilian employees, with about 40% retired or active duty military. The club has a very nice permanent building owned by Navy Pax MWR. The boats are owned by MWR. They consist of three Catalina 16s, two Catalina 250s, and three former Naval Academy Sail Training Craft (STCs). Two of the STCs are Luders 44 Yawls, which were the Academy's offshore training vessels from 1967 to 1987. The third is a Navy 44 Mk I; this class replaced the Luders Yawls in 1987, and are, in turn, being replaced by the Navy 44 MK II. The sailing area for the Catalina 16s is the local waters between Solomons and Pax River. The Catalina 250s and Luders 44 Yawls can be sailed anywhere on the Bay. The Navy 44 is unrestricted. We offer the ASA 101 course for the Catalina 16 and the ASA 103 for the 250s. We are working on a Navy Sailing based qualification package for the STCs. It will be similar to Pentagon's, but with some signoffs specific to the STCs.

NPSC regular participates in the Southern Maryland Sailing Association (SMSA) races. There is a frostbite series on Sundays in March and November. During the season, the races are on Tuesday night. In addition, there are some all day races to various in the Bay. We regularly participate in Governor's Cup, which is a race from Maryland's current capital (Annapolis) to its former capital (St. Mary's City). It is done on the last weekend of July and starts at 1800 on a Friday and ends whenever the boats get to St. Mary's, which is usually early afternoon. The club also participates in Harborfest in Norfolk, where we take the Yawls down as part of a parade of sail of tall ships. We moor between Harborplace and Nauticus on the restored waterfront. We also take a Yawl and a Navy 44 to the Annapolis Boat Show each year, to support Navy Sailing.

Annapolis Navy Sailing Association (ANSA): I am not a member of this club, but many were active in the Naval Academy volunteer programs. They restarted themselves a couple of years ago, and now have the use of a large cruising boat "Fantasea". They don't have small boats, and are oriented toward ocean cruising. Their certifications are Navy Sailing.

Sailing Club of Washington (SCOW): they are based at the Washington Marina south of National Airport, on the Virginia side. They are co-located with the DISC group. They have, I believe, four Flying Scots and two Catalina 25s. I believe that their qualifications are local. I know little about them.

Chartering:

The sailing qualification card as a "credential" is a chimera. The real truth is that if you are going to try to get another sailing organization to let you take out a boat, they will not be interested in your ASA, US Sailing, or Navy Sailing card. They will want to see your sailing resume. They may want to check your references. They will tend to respond well if you have references from other chartering companies thanking you for returnin their boats in perfect condition. They will view you more favorably if you have been sailing with a sailing club, such as PSC, where other people are "looking at you" than if you have been a private boat owner and can keep your mistakes a secret. Most of the members of the New York Yacht Club and the Cruising Club of America, two of the most respected bodies of offshore sailors anywhere, do not hold a "credential" from ASA, US Sailing, Royal Yachting Association, or Navy Sailing. There is no such thing as a universally recognized "credential".

What the "credential" does for you is show that you went through a structured training program. Combined with lots of on the water experience in an environment where other people have been "looking at you", it paints a picture that instills confidence in the person who will "hand you the keys."
moorehal
Say hi to Ralph N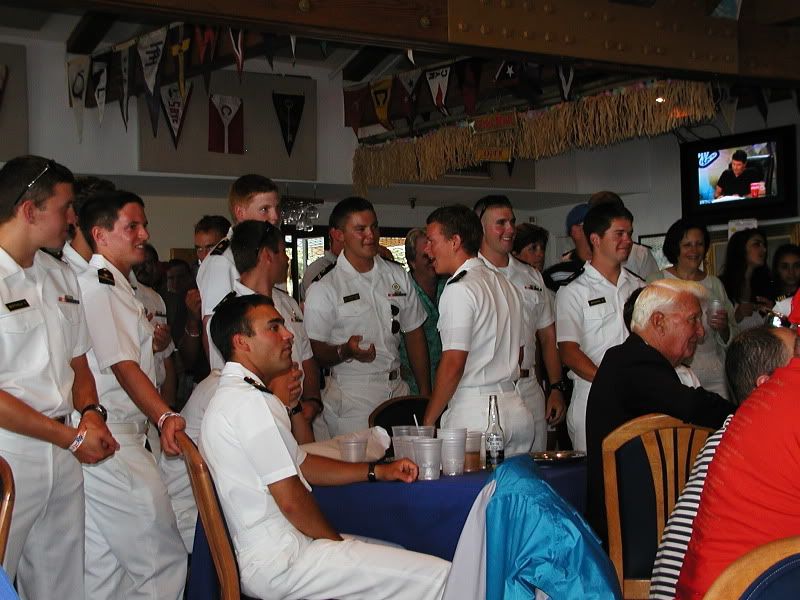 And Go NAVY sailing
---
1970 Cal 29 Sea Fever

To view links or images in signatures your post count must be 10 or greater. You currently have 0 posts.

1981 J24 Tangent 2930
Tommays
Northport NY


If a dirty bottom slows you down what do you think it does to your boat
To view links or images in signatures your post count must be 10 or greater. You currently have 0 posts.

Junior Member
Join Date: Jan 2010
Posts: 2
Thanks: 0
Thanked 0 Times in 0 Posts
Rep Power:
0
Great info, thanks to all.
Senior Member
Join Date: Aug 2007
Location: NY
Posts: 2,249
Thanks: 1
Thanked 2 Times in 2 Posts
Rep Power:
10
with that certificate and a check that doesnt bounce you are good with any of the major charter companies.


but really, are you trying to say the NAVY knows about boats?
Junior Member
Join Date: Jun 2010
Location: London, UK
Posts: 10
Thanks: 0
Thanked 0 Times in 0 Posts
Rep Power:
0
If it is a piece of paper credential that you want, my advice is to find an RYA-affiliated programme. ASA and other US programmes are well-accepted in the Caribbean and US charter markets, but the RYA accreditation is accepted world-wide. That's not a hard and fast rule, you can find Greek charter companies that will take ASA too for example, but the RYA goes a lot further afield. (N.B. - I learned to sail in the U.S. and have received most of my formal training under ASA auspices, despite sailing in the UK now.)

But Halmoore is right - your sailing resume counts for far more, and references help. And just having a solid experience base helps far more - maybe not in getting the charter, but actually enjoying it, especially when things go wrong, don't work, need repair, the anchor holding is poor, or the weather plays up.

I think the experience and tutelage you would receive from the PSC would be excellent. My only two concerns would be 1) do they have enough small boats (only 4?) to really get a lot of sail time on when you want to book them? and 2) if you are a civilian, how well will you integrate socially with the fraternal Navy members of the club?

I could add another depending upon your personal circumstances: I would guess that the PSC has a rather lower number of ladies sailing than civilian clubs tend to. That may not be a consideration for you, but I do remember fondly my days in the (strongly co-ed) Boston Sailing Club...(in point of comparison, the BSC had about 20+ small boats (Solings, Sonars, J/24s) to take out for personal use)

Where ever you decide, enjoy!
Junior Member
Join Date: May 2007
Posts: 11
Thanks: 0
Thanked 0 Times in 0 Posts
Rep Power:
0
I concur with FutureShock's comments on RYA. They run what most would agree is the best organized training certification program. They are chartered by the British Government to essentially combine what in the US we would call a Coast Guard license combined with the offshore certifications of Navy Sailing, ASA, and US Sailing. Although I am not saying that certifications are "gun decked" in most cases, Coast Guard licenses can be earned for about $2, 000 from many commercial schools without a lot of experience on the water and a lot of on-the-water evaluations. There are also a number of ASA and US Sailing "puppy mills", where a candidate goes from ASA 101 to ASA 105 (or the US Sailing equivalent) in four weeks, even though both ASA and US Sailing discourage it. We have had a bad experience at the Academy and at PSC with some of these "paper qualifications".

The key thing about RYA is that when you get your certification, you will get an evaluator who doesn't know you and probably lives a long distance away. He has no reason to certify you if you don't measure up. There is a lot of integrity in their system that does not exist in the US model.

The problem with RYA is that they are limited to the Commonwealth countries. I can't say that I have seen that many RYA facilities in Canada. I know that the French and Swiss use a different system. The only RYA facility I have seen on the French Riviera is a British School that deals mostly with a British clientele during the winter.

PSC goes sailing in Greece about once every three years. We have never had any issues. We usually need to draft some unusual letters on club letterhead attesting to the certifications of the individuals or other documents that sort of look like an "international driver's license", but that is it.

As for the club membership, suprisingly, there are very few of us who are Navy at PSC. The Army and Air Force have us outnumbered by a substantial margin. When I look at our list of D skippers, it heavily favors Air Force pilots (B-52s, F-111s, KC-135s). We have lots of H-60 pilots. We have only one former Surface Warfare officer and one submariner. We have more Navy Supply Officers, than line officers. Although Navy is only about 25% of the membership, the former or current naval aviators have the "black shoes" outnumbered by about 2 to 1. Seventy five percent of our member units have someone who has been in the military at some point, but there is much smaller number who are vested retirees or active duty. There are a lot of government civilians. Twenty five percent are civilians with no militar or government backgrounds.

Women are very active and forceful. About 30-45% of our governing Bridge is comprised of women. We have two active racing skippers and four of the D skippers are women. PSC focuses much more on cruising, although we have a racing component, and the women participate strongly in the social events, which are our raft ups on the Bay and our remote trips (BVI, Greece, Pacific NW). In the past six years, we have had 8 of our D skippers (normally 15 to 20 of those) who have been active volunteer skippers in the Naval Academy Offshore Training or Varsity Offshore racing programs. I have been a member of private yacht clubs, and we have as many women as you would normally find .

We have five small boats, four of the Capri/Catalina 22 variety and one heavier Sonic 23. All have outboard engines. The only times when you would not be able to use them would be on those weekends when we are conducting our ASA 101/103- Navy Sailing Training Classes. However, if you want to gain experience, in those classes, we are always looking for assistant instructors and primary instructors. When we aren't using them for training, you can't rent them for $25 per day or use a Frequent Volunteer Sea Mile coupon (then its free) for volunteer work (such as teaching) for the club. At PSC, you can sail as much as you want.

The Racing Squadron uses three of the five boats on Tuesday nights and intermittently on weekends.

And if you are not satisfied by PSC, there is always Navy Pax, where I am also a member. NPSC uses a melange of Navy Sailing and ASA as Pentagon does. There we have 3 Catalina 16s (no engine), two Catalina 250s (outboard), two former Academy Luders 44 Yawls (Alert and Vigilant), and one Navy 44 Mk I (Valiant). I am the boat captain for the VALIANT.

Between the two clubs, you can get in a ton of sailing. I think that you will also find that cost of sailing (both training and social use) is substantially lower than what you would pay anywhere else.
Currently Active Users Viewing This Thread: 1

(0 members and 1 guests)