Junior Member
Join Date: Apr 2003
Posts: 2
Thanks: 0
Thanked 0 Times in 0 Posts
Rep Power:
0
Installing radar pole on Morgan 323
---
I am installing radar on my 323 and plan to mount the radome on a pole at the stern. Since there is quite a variety of options, I was wondering if anyone has done this on a 323, what brand of pole was used and how was it mounted? I need one that can be lowered for trucking the boat for winter storage. Any and all ideas will be appreciated.
Thanks
Senior Member
Join Date: Apr 2007
Location: Long Island
Posts: 404
Thanks: 0
Thanked 0 Times in 0 Posts
Rep Power:
10
Hi how are you. I have a Morgan 323 with the same exact setup as what you describe you are looking to install. I did not do the install myself as it was on the boat prior to me purchasing her 3 years ago. However, I absolutely love the setup and the way it looks and constantly get compliments on it. The pole is actually from Edson and the radar is Furuno. I posted some pics for you to check out below.
How long have you had your 323 and where do you keep her? I am in the Long Island Sound. I really love the 323 as it meets my needs perfectly and I love the build quality and sturdiness. I rarely meet other 323 owners and I think I have only seen one other in person. Do you have any pics of yours? I would love to see her.
-Nick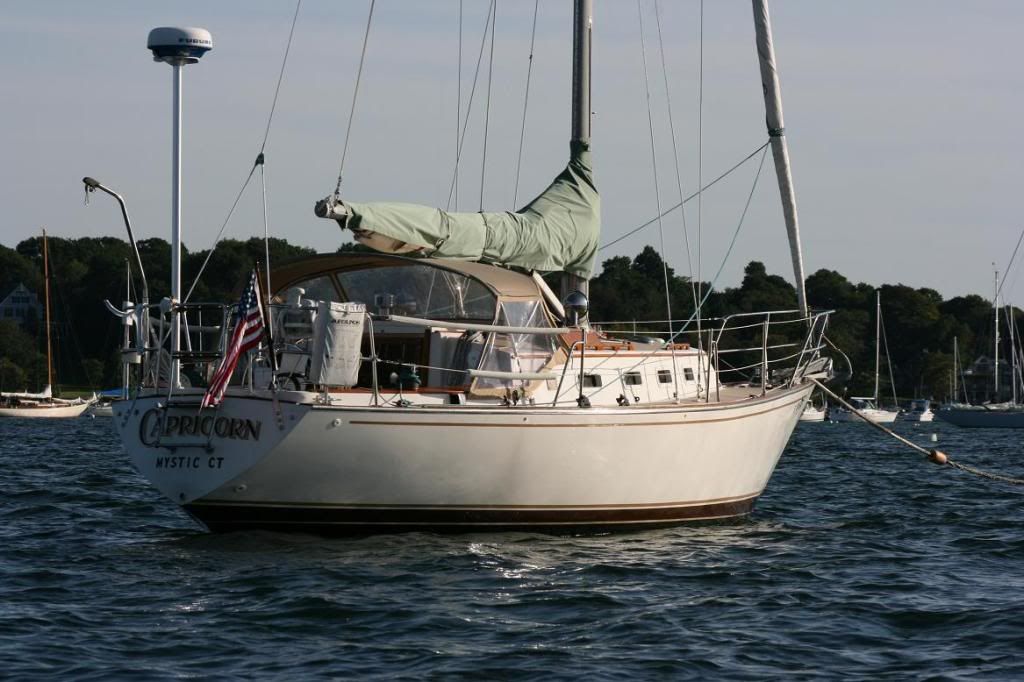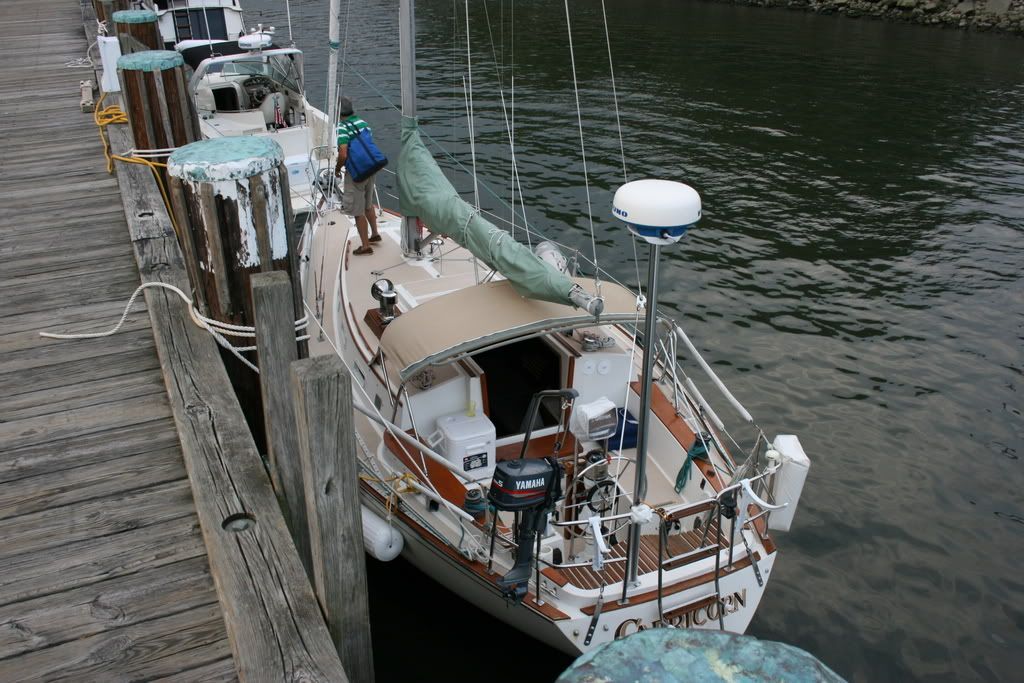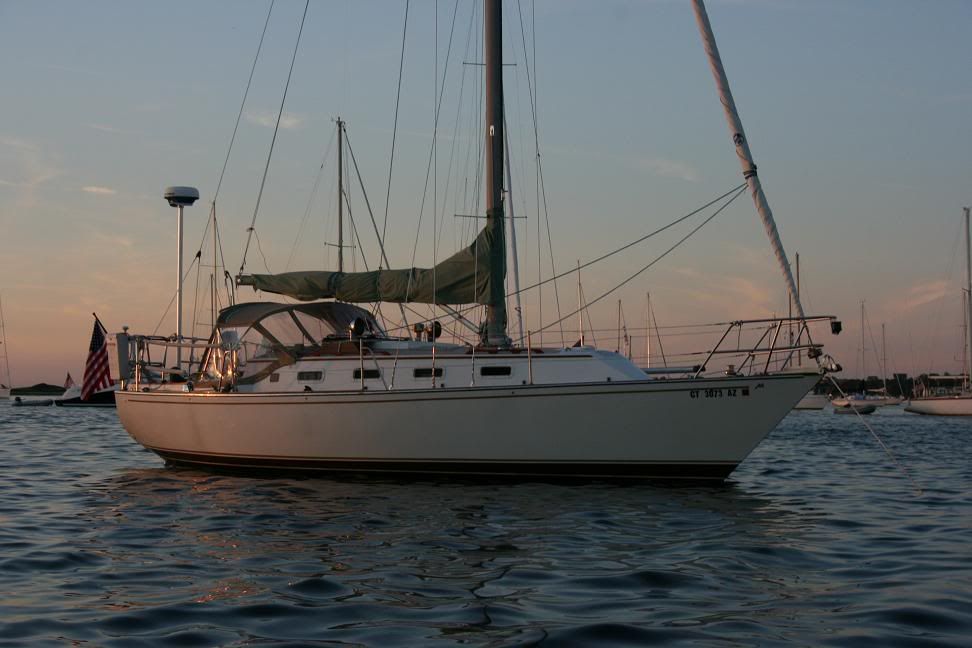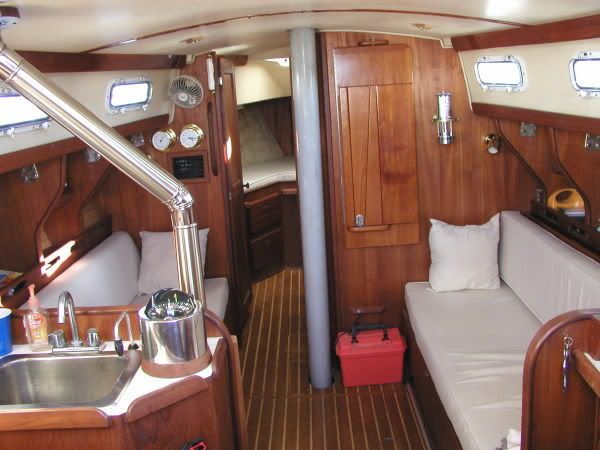 ---
Morgan 323
Junior Member
Join Date: Apr 2003
Posts: 2
Thanks: 0
Thanked 0 Times in 0 Posts
Rep Power:
0
Hi Nick,
I finally saw your response 5 weeks later! I had forgotten about this. I also saw your Private message, but I can't respond until I do three more posts after this one. We have had Footloose for five years and keep her in Kittery, Maine. I have never seen another 323. We love her. We are her second owners and since nothing had been updated since 1984, I have done many upgrades. The boat was kept in excellent condition. I would be interested in some of the mods on your boat.
The pictures of your boat are great and the ones showing the pole are very helpful in planning where to locate mine. How high is it, 8'?

I do have some pictures I can share, but I have to reduce them first. I'll try to do that in a couple of days.

Thanks for responding and sorry it took so long for me to notice.

Alan
Currently Active Users Viewing This Thread: 1

(0 members and 1 guests)
Similar Threads
Thread
Thread Starter
Forum
Replies
Last Post
Navigating with Radar

Jim Sexton

Seamanship Articles

0

03-29-2002

07:00 PM

Installing Radar

Sue & Larry

Gear and Maintenance Articles

0

02-22-2002

07:00 PM

Radar Basics

Jim Sexton

Gear and Maintenance Articles

0

11-14-1999

07:00 PM

Radar Basics

Jim Sexton

Cruising Articles

0

11-14-1999

07:00 PM

Radar Basics

Jim Sexton

Her Sailnet Articles

0

11-14-1999

07:00 PM