Junior Member
Join Date: Feb 2011
Posts: 12
Thanks: 0
Thanked 0 Times in 0 Posts
Rep Power:
0
morgan 34
---
I am starting to restore a Morgan 34 with aft split galey and a keel similar to Tartan 34 c, anybody familiar with this model ? Thanks !!
Junior Member
Join Date: Feb 2011
Posts: 12
Thanks: 0
Thanked 0 Times in 0 Posts
Rep Power:
0
Morgan 34 hull #2217 1967
Just another Moderator
Join Date: Sep 2005
Location: New Westminster, BC
Posts: 18,865
Thanks: 141
Thanked 513 Times in 487 Posts
Rep Power:
10
---
Ron

1984 Fast/Nicholson 345 "FastForward"

".. there is much you could do at sea with common sense.. and very little you could do without it.."
Capt G E Ericson (from "The Cruel Sea" by Nicholas Monsarrat)
Junior Member
Join Date: Feb 2011
Posts: 12
Thanks: 0
Thanked 0 Times in 0 Posts
Rep Power:
0
Thanks Faster. Hamilton , Ontario.... Yes is similar to the that one accept the keel and the rudder which is similar to Tartan 34 c , rare model on Morgans ?, at least i did not see any similar ones. I will post a pic tomorow .
---
Last edited by nordx105; 04-06-2011 at

06:58 AM

.
Junior Member
Join Date: Feb 2011
Posts: 12
Thanks: 0
Thanked 0 Times in 0 Posts
Rep Power:
0
[IMG]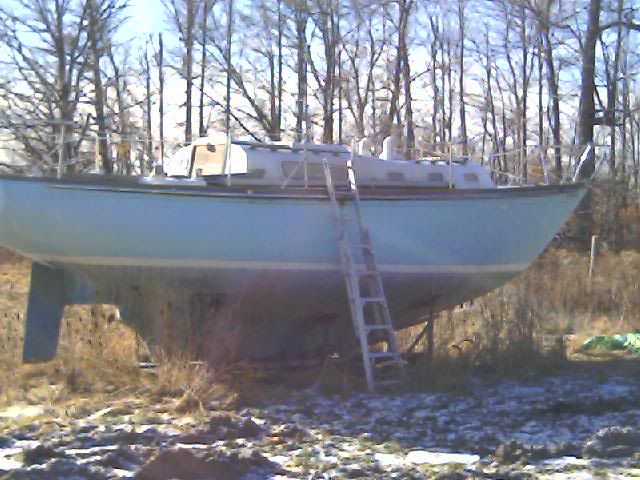 [/IMG]
Junior Member
Join Date: Apr 2011
Location: escanaba mi
Posts: 4
Thanks: 0
Thanked 0 Times in 0 Posts
Rep Power:
0
Bob
---
Good Morning: I have a 67 M34 with the same rudder arangement as yours. Don't know why Charlie made a few (three that I know of) with this design. I have quite a bit of information on the M34. If you are interested, let me know your email address and I will forward. Regards Bob
Junior Member
Join Date: Feb 2011
Posts: 12
Thanks: 0
Thanked 0 Times in 0 Posts
Rep Power:
0
Hello Bob
Thanks for the reply, intresting about how many where made, was this an option at the time or perhaps more of racer than cruiser??. I purchased the boat from the original owner and i know he used it for racing mostly. I did not start the project as of yet but as soon as i get my hands on it i will let you know what info i may need. I will post some more detailed pics and you can compare for similarities . Thanks
Junior Member
Join Date: Aug 2010
Location: So. Cal
Posts: 1
Thanks: 0
Thanked 0 Times in 0 Posts
Rep Power:
0
Interesting! I have the same boat with I believe the same keel/rudder set-up. I haven't had it on the hard yet so I'm not certain, but I thought I have a spade rudder (from what I can see from the dock). I definately don't have a full keel. Maybe it's a modified full such as yours.
I e-mailed Charlie about it after I noticed it wasn't a full keel. He said they made some with a seperate keel and rudder. He didn't give an amount, though.

Bob, I would love to see what info you have. If you could e-mail me too, it would be greatly appreciated!


Thanks,
Chad
Junior Member
Join Date: Apr 2011
Location: escanaba mi
Posts: 4
Thanks: 0
Thanked 0 Times in 0 Posts
Rep Power:
0
Morgan 34 info
---
Hi Chad: I got a kind of generic operators manual that I got from Morgan back in 78 when I bought the boat. There is some information relating specificly to the M34 which you might find interesting. Also I have a writup on what I have done to Sans Souci in the years I have owned her. I'll try to attach that here. If it get boring, hit the delete key!Classic Plastic

In 1978 I was looking for a sailboat to upgrade from my then current boat, a San Juan 26. I first considered a new Catalina 30, priced it out, but before signing, thought I should see what was available in used sailboats. The first option was a fairly tired Person Alberg and then I saw a 1967 Morgan 34. It wasnít tired, it looked drop dead gorgeous and I bought it. Itís a love affair that is still going strong after 30 years. In fact it has lasted considerably longer than my first marriage!

Judy and I have spent a lot of enjoyable time aboard San Souci in the 26 years we have been married including five years of living aboard. Our travels have included all the great lakes except Superior, the Trent Severn, Erie Canal, Hudson, Illinois, Mississippi, Tennessee rivers, Ten Tom Bigbee waterway, the Bahamas, and the islands down to Trinidad. For us itís been a comfortable, dependable, (except for the Atomic Four) and beautiful home away from home.

In the course of thirty odd years we have made a number of modifications to make her more comfortable, reliable or prettier. Let me mention a few:

Probably the most time consuming one was redoing the interior, The original consisted of a lot of pretty ugly wood grain Formica. Over the course of several winters I covered the bulkheads with ľĒ teak plywood and replaced the plastic welting with white fender welting. White Formica was installed on the sides of the main salon to brighten it up and to finish it off we varnished all the interior wood. The icebox which was large enough for a child to sleep in didnít seem to have much insulation so we cut it out, glassed in four inches of foam, and installed Adler Barbour refrigeration. Under the new smaller ice box I added a drawer. Under the dinette seat I installed a heater using engine water to keep the cabin warm on those chilly mornings up here. We bought a Shipmate kerosene stove ,added a air pump to pressurize it and eventually found a pneumatic control valve to automatically maintain the correct pressure. In the head we added a shower head with a hose along the mast so we can take a sun shower inside when itís cold or a crowded anchorage.

To find a place to hang the radar, wind generator, TV antenna, and alarm, I added a mizzen mast which was a option on the original design. That necessated moving the traveler into the cockpit which then lead to removing four feet from the boom to have room for a bimini and three large solar panels. Also in the cockpit I brought the engine controls out of the port lazarette, installed a Edison wheel and a curved helmsmanís seat with storage underneath. Speaking of engines, in St Martin, West Indies, the Atomic Four finally died. We replaced it with a Yanmar 3GM which was a difficult installation but the single best improvement from a reliability viewpoint. Also in St Martin we met the couple who own Charlie Morganís first boat ďPaper TigerĒ, itís a duplicate of ours, just a little longer.

The port quarter berth was replaced with a aft facing nav station which contains the radio, GPS, battery monitor, and all switches. Behind the nav station are two large six volt batteries to run the reefer and there is even room for our folding bikes. The starboard one was raised 12Ē for more storage underneath including a drawer and flexible water tank. The sliding door was replaced with a folding one and the pocket where it resided was converted to a series of vertical shelves for chart storage. Speaking of shelves, I added one above the existing one on the port side for storage of books and veggiesí . We obtained better ventilation with Beckson opening ports and added a midship hatch, another option originally. Thereís a hinged screen door in the companionway with a sliding screen under the hatch. Over that is a dodger with a zippered canvas from it to the bimini.

In Trinidad we had a bowsprit fabricated which provides space for two anchors and allowed the forestay to be moved 18 inches forward and that in conjunction with a Sea Tiger windlass and a deck wash pump make anchoring a relative breeze. A Ray Marine autopilot and Monitor wind vane make steering a lot easier although with the fluky winds of Lake Michigan the Monitor is mostly used as a very expensive boarding ladder!

So there you have it. Probably more than you ever wanted to know about our baby. I may be prejudiced but I think itís the best looking boat in
Junior Member
Join Date: Feb 2011
Posts: 12
Thanks: 0
Thanked 0 Times in 0 Posts
Rep Power:
0
Hi Chad glad to know there is a few owners of this particular model and we can share some info.

Bob thats a great story about your boat and i share a relative story as far as love at first sight , i had a project at the time but one day decided to go see the boat , loved the lines and the structure of the boat. After a quick inspection there was not one stress crack anywhere to be found and in my mind i alwredy seen a great project and a great cruiser. My boat came with a rebuilt Atomic but i will consider replacing it down the road when i get to the engine work. I will be stripping the interior to the bare hull and i will post some pics here before and after. Love the upgrades you did to your boat, Bob i was curious can you post a pic or send me pic of that bowsprit, something i like to consider in the future. Thanks !!
Currently Active Users Viewing This Thread: 1

(0 members and 1 guests)