Made the fastest trip down the bay since I've been sailing, which is coming up on 7 years. Winds from the northwest at 15 to 20, some higher gusts, and a dirty boat bottom. (yeah, they get cruddy in the Susquehanna River too!)
We left Owens Marina in Perryville, MD at 11 a.m. and arrived at the entrance to Worton Creek, MD at just after 2:30 p.m.. Made a 15 minute stop at Tidewater Marina for gas during that time, the average speed was 6.9 MPH, with a top speed of 10.1 MPH. The recorded average speed, however, was only about 5.6, mainly because it included time at anchor prior to shooting the photo. The boat never heeled more than 7 degrees during the entire trip, even with some incredible gusts.
Met up with Donna and John Ferron at the back end of Worton Creek, which is totally protected from winds in nearly every direction. Had a couple Green Coconut Margarettas, hit the sack about 10:30 and slept like a log. Motored home, though, mainly because the wind didn't come up in the upper bay till about 3 in the afternoon. When it did come up it was really woofing along.
Now, I figured that no one would ever believe a Morgan 33 O.I. would go this fast, therefore, I shot a photo of the GPS trip page, which cannot be modified by the user. It is what it is. The total time, however, includes all stops, plus time at anchorage prior to shutting down the GPS. The last 10 miles of the trip was covered in record breaking time, lots of 8.5 to 9.2 MPH speeds during that segment.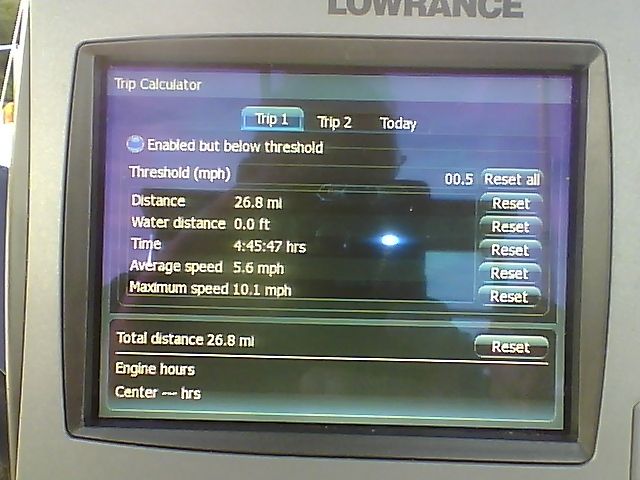 Cheers,
Gary