What do others do about this issue?
This is our first winter aboard our 36í sail boat. We have an Islander Freeport B plan. That means our stateroom is forward of the salon with a pullman queen birth to port. The head is forward where the V birth would be.
We use an electric heater with a thermostat which sits across from the bed between two hanging lockers. We also have an electric matress pad that heats up from the feet up keeping cooler at the top by your head. Two controls which is nice, wife and I have different tempetures. So far all is well.
The head door we leave open.
The salon door we leave closed.
The stateroom and head get some condensation. The head gets more as there are more cabinets that get the condensation. The cabinets are under the side decks. It gets bad enough in the cabinets it drips.
We have tried closing the head door and opening a hatch in the head to create the same temperature as the outside. No help as it still gets condensation. Also it is a cold trip to the toilet
We are going to try another heater in the head this weekend.
Would a dehumidifier work?
What works??
Insulating the cabinets with closed cell foam may work but that is not a quick fix, oh yea we are looking for a quick fix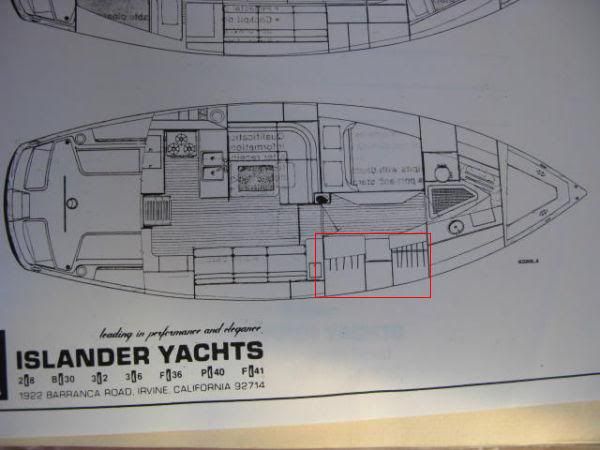 Never mind the red box it was for another issue, it is where the heater goes though
Thanks,
Chip