Junior Member
Join Date: Oct 2007
Posts: 1
Thanks: 0
Thanked 0 Times in 0 Posts
Rep Power:
0
Port light screens 34 PSC
---
I have hull number 314 and i am lookng for replacement screens. any help would be great.
Ken
Senior Member
Join Date: Feb 2009
Location: Mexico
Posts: 132
Thanks: 2
Thanked 20 Times in 17 Posts
Rep Power:
9
We just recently replaced ours on Indigo from a company called Screens of Schooner Bay -screensofschoonerbay.com
Great product and customer service. We are very happy with the fit and finish, and are much better than the plastic ones we had before.
---
Brian & Marya
S/V Indigo
Pacific Seacraft 34
Hull #281

To view links or images in signatures your post count must be 10 or greater. You currently have 0 posts.

We also just ordered a full set of screens from Screens of Schooner Bay. Haven't had a chance to try them out yet, but feedback from others is very good. GREAT customer service.
BTW: We're using "Hatchmaster" screens on our Bowmar hatches.

David
Cloud Messenger
PSC 37 #293
| | |
| --- | --- |
| The Following User Says Thank You to fishtrip For This Useful Post: | |
Coastal Carolinas
Join Date: Aug 2008
Location: Little River, SC
Posts: 100
Thanks: 3
Thanked 5 Times in 3 Posts
Rep Power:
9
We have the plastic frames for the screens mounted on the bronze ports. When we bought the boat the old screens were shot. We picked up some scrap nylon screen material that our canvas maker provided to us for free. Removed the plastic frames, (held on with 2 screws) and cut the old material out with an exacto knife. Used some adhesive to secure the new screen material on and after it set, trimmed with the knife and re-installed. So far they have lasted about 5 years and still look good.

John S.
PSC 34 # 201
"Norstar"
Senior Member
Join Date: Sep 2004
Location: Hilton Head Island
Posts: 327
Thanks: 9
Thanked 4 Times in 4 Posts
Rep Power:
13
Ken:
We never saw the original screens as 2nd owners of the boat, but ordered replacement bronze screens from John Danicic (screens of schooner bay) like others here - when we heard he started offering them in the newer rectangular shapes to fit our 2000 PSC37.
If his name sounds familiar, you may have read his article in Good Old Boat magazine on "
Installing an Anchor Windlass
".
We've been extremely pleased with the screens - what a difference being able to open up at night and not have to worry about the bugs coming in.
---
Regards,
Ted
V42#186
s/v Little Wing
Moderator
Join Date: Mar 2007
Location: Chesapeake
Posts: 5,680
Thanks: 0
Thanked 4 Times in 3 Posts
Rep Power:
10
Incidentally, John is here as a member of Sailnet.

Some time ago he posted an advertisement in one of his posts for his screen products. Which of course is a no-no here at Sailnet because the site runs partly on advertising. Pulling those kinds of posts down -- from folks who have no advertising budgets because they are essentially a small cottage industry -- is one of my least favorite tasks as a Sailnet moderator.

The normal procedure is for a moderator to remove the post and then send a note to the poster explaining the policy. Often this elicits a very nasty reply from the poster. In John's case, however, he replied very congenially and apologetically -- a perfect gentleman.

If I didn't already have a set of nylon-framed screens in perfect condition, I'd order a set from John in heartbeat knowing full well I was doing business with a class act. I'm happy to see other folks recommending his product based on first hand experience with it.
---

To view links or images in signatures your post count must be 10 or greater. You currently have 0 posts.

Pacific Seacraft Crealock 31 #62

NEVER CALLS CRUISINGDAD BACK....CAN"T TAKE THE ACCENT
Junior Member
Join Date: Sep 2000
Posts: 16
Thanks: 1
Thanked 2 Times in 2 Posts
Rep Power:
0
Re: Port light screens 34 PSC
---
Was there any problem securing the Screens of Schooner Bay ? I see they do not use screws from their site.
PSC ORDER
Not Finished Yet
Join Date: Jun 2009
Location: Varies
Posts: 813
Thanks: 24
Thanked 52 Times in 47 Posts
Rep Power:
8
Re: Port light screens 34 PSC
---
Quote:
Was there any problem securing the Screens of Schooner Bay ? I see they do not use screws from their site.
PSC ORDER
The screens did not fit on our ports. I am pretty sure we have the same ports, since our hull IDs are almost the same.
I would strongly recommend ordering one first before buying a while set if you go this route.
---
To view links or images in signatures your post count must be 10 or greater. You currently have 0 posts.
Port light screens 34 PSC
---
Hi all:

I ordered a set of screens from John for my '31. They were too big with the rubber gasket he supplies. I punched my thumb through a couple of them trying to shove them in. John was very sympathetic and when I told him of my idea to use black silicone caulk from GE, offered to repair the ripped screens for free.

By the way, the screens without the rubber gasket, I.e. just the metal frame, look great with black caulk in my bronze port lights. You need a very steady hand and don't use too much caulk because if you do, when you lay the caulk off with a finger, it gets stuck in the screen. I did the exteriors first, then the interiors once the caulk was dry and there was no danger of pushing the screen out before the caulk set.

Elan
Hinei'ni
'89 PSC31
---
Elan K
SV Hinei'ni
Pacific Seacraft 31 #36
Senior Member
Join Date: Jan 2007
Location: The house is in Kingsport, TN. Boats are on Watauga Lake and in New Bern, NC
Posts: 402
Thanks: 4
Thanked 51 Times in 46 Posts
Rep Power:
11
Re: Port light screens 34 PSC
---
When we bought Irish Eyes we had a collection of falling apart flimsy plastic framed screens stuck in the back of one of the cabinets. One night of bugs and I knew that had to change. We have the original oval bronze opening ports which I think came from White Water Marine. There are six large ones and four small ones. They look like the ones on the White Water Marine web site.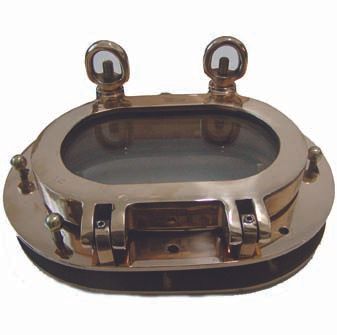 We also have three Bomar opening hatches; two large and one small. Then, there are the companionway opening and the doors to the anchor locker. (Yes, I watched mosquitoes come through the the louvers too.)
The anchor locker doors are now permanently screened on the forward side with fiberglass screen held in place with teak strips.
The small Bomar hatch in the head is framed, and stock white window screen hardware from Lowes works for it. The screen is held in place with two brass turnbuttons.
I jig sawed out of 1/2" plywood frames for the two larger Bowmar hatches. Grooves are routed in one side for the rubber spline that holds the screen cloth in place. They are stained and varnished. The frames wedge into the bottom of each hatch. Friction holds them in place.
The bronze port screens are similarly done except since there were several to make, I made a pattern and cut them out with a router. In the photo one is resting top up and the other is resting bottom up. You can see the routed groove that the screen spline fits into. They have velvet ribbon glued to their edges to keep the varnish from being abraided by the rough metal of the ports. Brass eye screws serve as knobs to grasp the screens when putting them in or taking them out.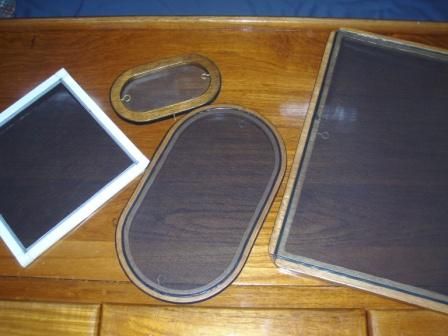 The companionway has one teak framed screen that drops in where the hatch boards go and another that rests in the top opening. These two screens and the two for the large Bomar hatches are stored overhead in the vee berth held in place with bungee cords attached to the screws that were already there.
On buggy nights all the screens go in. The bugs stay out, and a little breeze comes in. On bug free nights all the screens come out, and all the breeze comes in.
Bill Murdoch
Irish Eyes
1988 PSC 34
Currently Active Users Viewing This Thread: 1

(0 members and 1 guests)