Junior Member
Join Date: Dec 2006
Posts: 1
Thanks: 0
Thanked 0 Times in 0 Posts
Rep Power:
0
Arches
---
We are considering an arch for our PSC 37. All kinds of brands out there--any experience or thoughts? Would be for wind generator, dinghy davits, radar and possibly solar.
Years ago there was a posting from a PSC 37 owner who had designed his own and had it fabricated in Annapolis, I think.
Just another Moderator
Join Date: Sep 2005
Location: New Westminster, BC
Posts: 19,006
Thanks: 152
Thanked 525 Times in 499 Posts
Rep Power:
10
Generally these are all "custom" jobs. As far as I know there's no standard arch - too many differences between hardware locations even on similar boats.

Look for a reputable SS fabricator in your area, try to get a look at some of the jobs they've done, and don't be afraid to ask about one you like - owners are usually happy to talk about these kinds of projects, esp the successful ones. If you're lucky they'll also tell you about things that maybe didnt' work so well after all.
---
Ron

1984 Fast/Nicholson 345 "FastForward"

".. there is much you could do at sea with common sense.. and very little you could do without it.."
Capt G E Ericson (from "The Cruel Sea" by Nicholas Monsarrat)
Senior Member
Join Date: May 2008
Location: Rehoboth, MA
Posts: 120
Thanks: 0
Thanked 0 Times in 0 Posts
Rep Power:
10
I'm looking at putting an arch up too - there must be someone out there with a design to work from for a 37... Come on BunkyII and NiftyNickers - I know you're out there - share the wealth!! :-)

My dream would be an integral push-pit and arch which would allow stern rail mounted seating, provide location for outboard, gantry for outboard, solar panels, wind machine, stern anchor, etc. Needs to be high enough to not affect the vane steering and provide anchorage for bimin/awning arrangement...

Any recommendations in the MA/RI area of a good fabricator?

Thanks,

Bill
s.v. Toodle-oo!
Best Looking MALE Mod
Join Date: Jul 2006
Location: Washington State
Posts: 9,918
Thanks: 3
Thanked 125 Times in 57 Posts
Rep Power:
10
Mine is not a PSC, but I thought I would show some pics of whqat we did and why.
Instead of SS, you might consider a high grade aluminum. The aluminum will be lighter. It will also give you the ability to go to a large diameter tubing. This is important because you will likely have many wire runs, and the larger tubing makes them easy to do. You will also find the aluminum less expensive.
The negative of the aluminum is it can pit. THat is why I suggest a high grade, coated aluminum where this is minimized (if at all). Mine has been up for over two years and has shown no negative effects.
Just some pics and food for thought....
- CD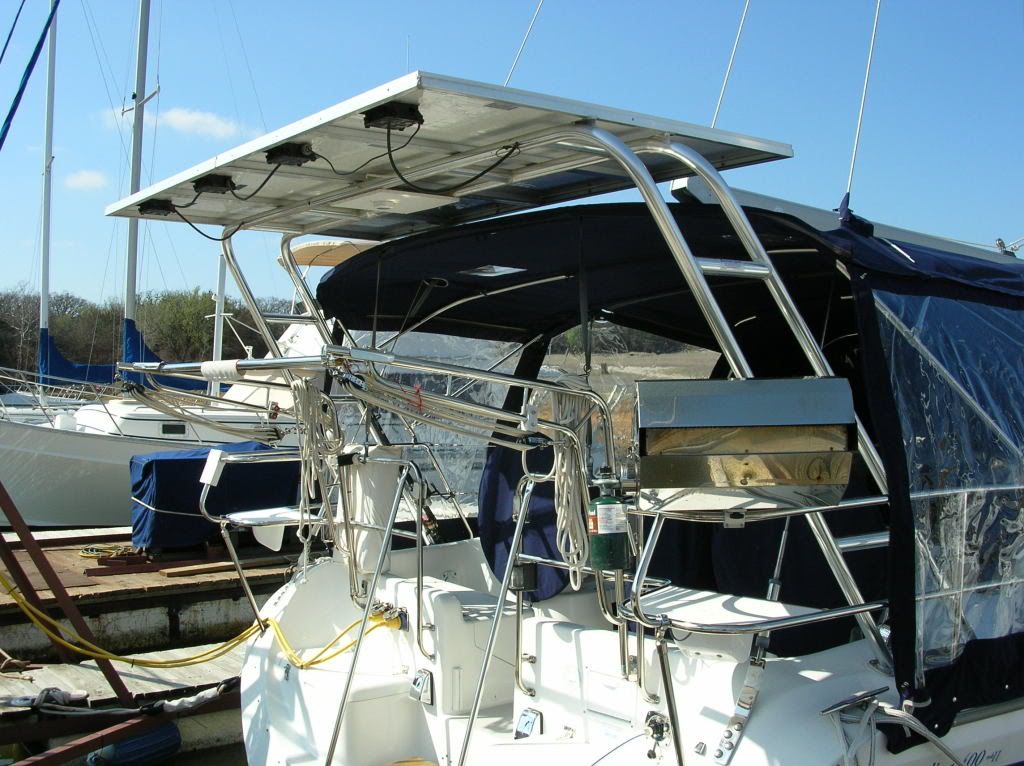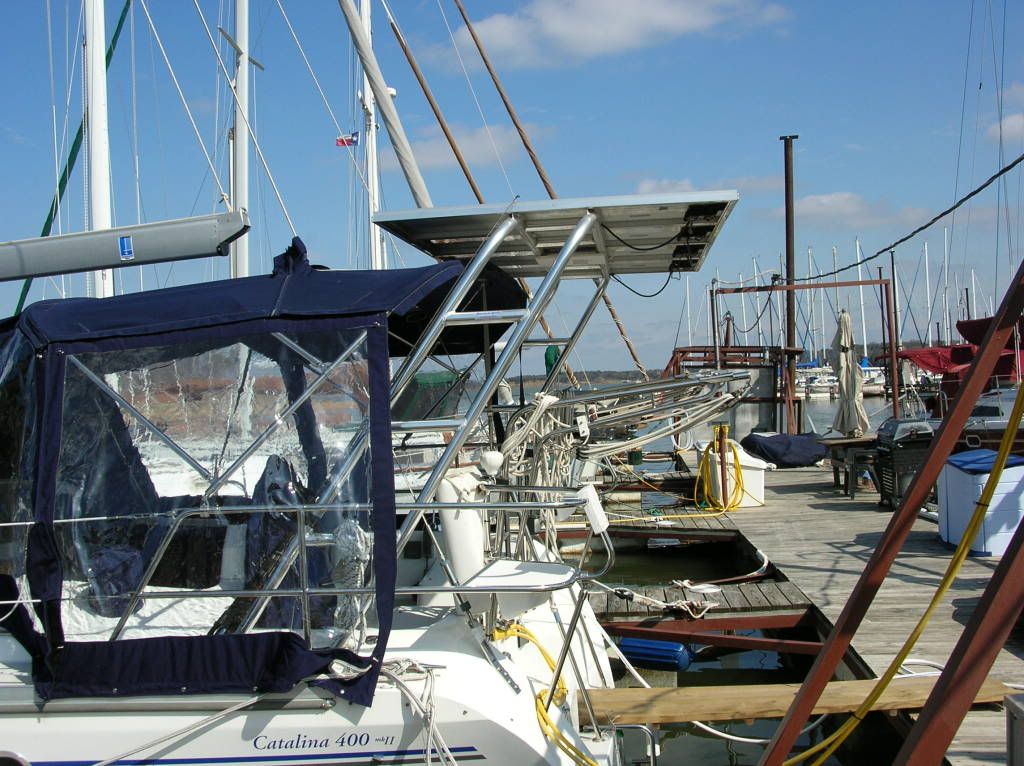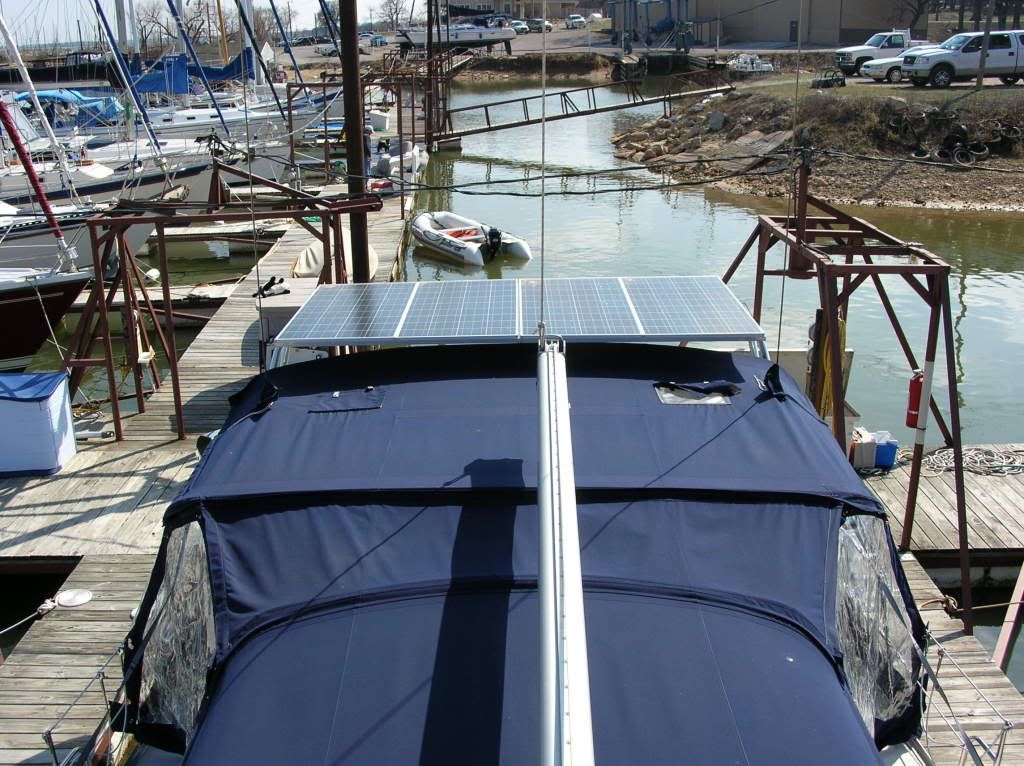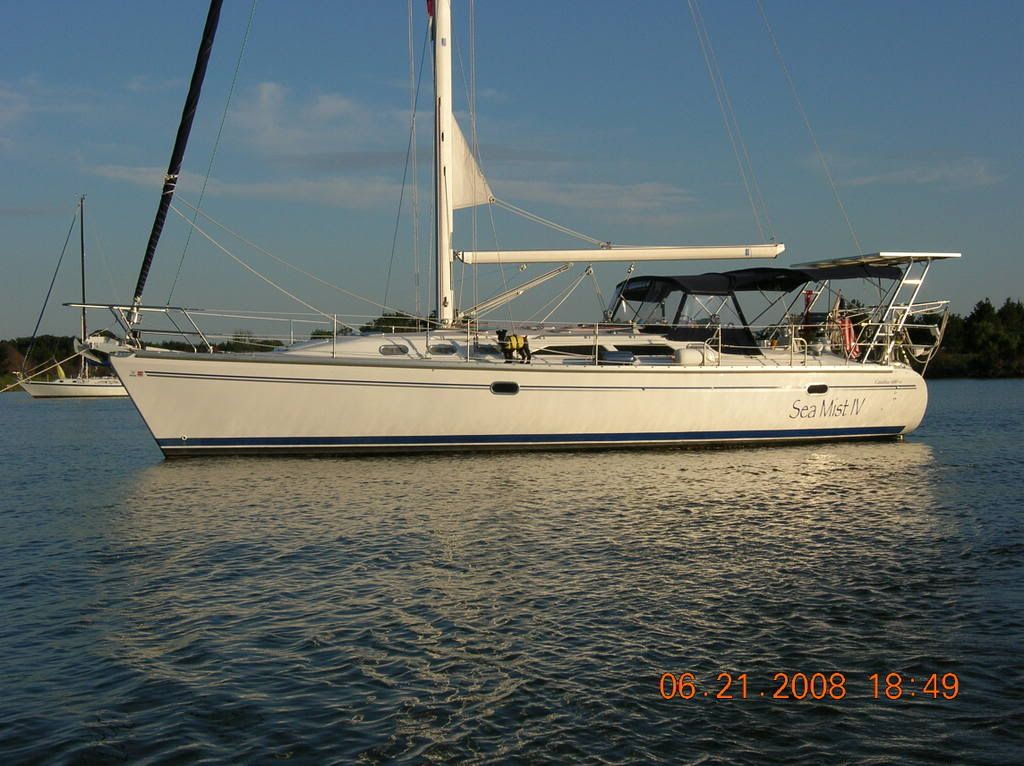 ---
Sailnet Moderator



1987 Tayana Vancouver 42, Credendo Vides, (Mom and Pops boat, F/T Mobile Live Aboards in Puget Sound)

My Website:
To view links or images in signatures your post count must be 10 or greater. You currently have 0 posts.


Follow My Blog at:
To view links or images in signatures your post count must be 10 or greater. You currently have 0 posts.


Follow me on Facebook:

To view links or images in signatures your post count must be 10 or greater. You currently have 0 posts.

Moderator
Join Date: Mar 2007
Location: Chesapeake
Posts: 5,680
Thanks: 0
Thanked 4 Times in 3 Posts
Rep Power:
10
Not sure who that was in Annapolis... but a good fabricator known for their davits is Kato Marine. I think they'll do a custom arch too.

Doug Griffiths (sp?) of PSC 37 Kindred Spirit has a nice arch arrangement. Maybe he'll pop in here and show it off a bit (I have photos he sent me a while back). He's even got an off-set Sailomat windvane to go with it.

I've always liked CruisingDad's arrangement on his Catalina 400. The one change I'd want to make is to somehow incorporate the davits into the arch -- if it's possible to do so without having excessive rake. My absolute ideal would be to incorporate the stern rail/pulpit, arch, and davits all into one unit.
---

To view links or images in signatures your post count must be 10 or greater. You currently have 0 posts.

Pacific Seacraft Crealock 31 #62

NEVER CALLS CRUISINGDAD BACK....CAN"T TAKE THE ACCENT
Member
Join Date: Nov 2008
Posts: 32
Thanks: 0
Thanked 1 Time in 1 Post
Rep Power:
0
Senior Member
Join Date: Oct 2001
Posts: 192
Thanks: 0
Thanked 9 Times in 8 Posts
Rep Power:
16
Stern Arch
---
Hi Guys,
NiftyNicker's arch is constructed of Powder Coated Aluminum and is custom unit that is a one-off built as a class project in a Vocational School welding class.We donot have dinghy davits nor do we have a built-in motor hoist both of which I wish I had.The wind-genny has it's own mast partially guyed to the arch.My arch is too low in my opinion and I suggest at least 6' from deck to bottom of arch.
Depending on the weight of your outboard you can use the arch as a lift point but I have a Garhauer lifting davit for my 100lb. motor.
One other lesson I learned was to raise the radome much higher than your head
even standing on the seat to watch for lobster pots.I got a burn on my neck using the radar in fog ,in Maine, while standing on the seat.DUMB !I've since designed and built an offset to raise and move the radome forward.
The arch is an excellent solar panel mount and also for various antennas such as a wifi,GPS,or 2nd VHF .We use it for a canopy attachment and even lights and speakers for the cockpit.
Member
Join Date: Jul 2009
Location: Baltimore, Maryland
Posts: 47
Thanks: 0
Thanked 0 Times in 0 Posts
Rep Power:
0
Arches that don't fall.
---
Kato Marine did my davits, and although they were not custom, their attention do detail is superb. They make custom arches, and I am sure they would do a great job.

Madden Mast and Rigging, which is just up the road from Kato, also does custom fabrication (nice picture on the web site). They made custom dorade covers for my PS31, and the work is excellent.
---
Rod Johnson
First Sight PS31 #128
Currently Active Users Viewing This Thread: 1

(0 members and 1 guests)