Member
Join Date: Feb 2002
Posts: 69
Thanks: 0
Thanked 1 Time in 1 Post
Rep Power:
16
Multiple Anchors
---
We currently carry a 35lb Delta and a 34lb Manson Ray on our bow rollers. We like the Ray for some conditions but the Delta does drag in heavy winds. Hence, we're thinking about buying a Manson Supreme. We've read all the positive reviews, etc. but we're worried about fitting the two anchors on the same bow roller.
Has anyone tried this ?

Sam
s/v Grace PSC34
Senior Member
Join Date: Feb 2009
Location: Mexico
Posts: 132
Thanks: 2
Thanked 20 Times in 17 Posts
Rep Power:
9
Re: Multiple Anchors
---
Sam,
We had two CQRs (35lb and 25lb) on the bow but switched to one 44lb Rocna - similar design as the Manson. The anchor fits fine by itself, but the roll bar on the anchor prohibits mounting a second anchor.
Without getting into an anchor debate, I felt comfortable upsizing the anchor and only having one "ready" anchor. However, I left the second anchor rode attached and ready to shackle on a second anchor, if necessary. For me it was a fair trade (seems like everything is a tradeoff on a boat): I gave up having a quick deploying second anchor for better holding with the bigger, better designed primary anchor, and also decreased the total weight on the bow (60lbs to 44lbs).

Brian
---
Brian & Marya
S/V Indigo
Pacific Seacraft 34
Hull #281

To view links or images in signatures your post count must be 10 or greater. You currently have 0 posts.

Senior Member
Join Date: Jan 2007
Location: The house is in Kingsport, TN. Boats are on Watauga Lake and in New Bern, NC
Posts: 390
Thanks: 4
Thanked 50 Times in 45 Posts
Rep Power:
11
Re: Multiple Anchors
---
We have a 35lb Delta and a 44lb Bruce on the bow rollers.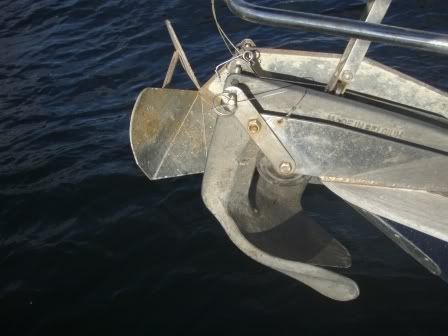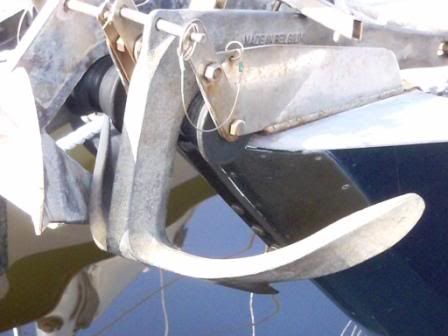 Bill Murdoch
1988 PSC 34
Irish Eyes
Member
Join Date: Feb 2002
Posts: 69
Thanks: 0
Thanked 1 Time in 1 Post
Rep Power:
16
Re: Multiple Anchors
---
Thanks to both of you for your replies. And I like the way you have your anchors properly secured on Irish Eyes !
Currently Active Users Viewing This Thread: 1

(0 members and 1 guests)