Member
Join Date: Nov 2006
Posts: 38
Thanks: 0
Thanked 0 Times in 0 Posts
Rep Power:
0
jibe preventer
---
any good sketches around for a simple preventer for accidental jibes?i really don't like dead runs but would like to be ready if the situation calls for it. boat is only 23 feet long.
thanks
Telstar 28
Join Date: Mar 2006
Location: New England
Posts: 43,290
Thanks: 0
Thanked 18 Times in 14 Posts
Rep Power:
16
You can use a simple preventer line, run from a forward point on the boat back to the boom, but you would have to undo this line each time you gybe or the wind shifts, and the preventer could cause some serious problems if the wind does shift drastically, including pinning the boat rail down to the water.
I highly recommend using a boom brake, although it requires a bit more capital initially. However, a boom brake is safer in many was than a preventer line, since it will allow the boom to move, albeit rather slowly and in a relatively controlled manner. MVBinfo.com has information on the Dutchman Boom Brake, which is one of the better ones around, and the BB500 is the model I have installed on my boat.
---
Sailingdog
To view links or images in signatures your post count must be 10 or greater. You currently have 0 posts.
Telstar 28
New England

You know what the first rule of sailing is? ...Love. You can learn all the math in the 'verse, but you take
a boat to the sea you don't love, she'll shake you off just as sure as the turning of the worlds. Love keeps
her going when she oughta fall down, tells you she's hurting 'fore she keens. Makes her a home.
—Cpt. Mal Reynolds, Serenity (edited)

If you're new to the Sailnet Forums... please read this
To view links or images in signatures your post count must be 10 or greater. You currently have 0 posts.
.
Still—DON'T READ THAT POST AGAIN.
.
Join Date: Nov 2006
Posts: 10,851
Thanks: 0
Thanked 5 Times in 2 Posts
Rep Power:
15
Jimmd,
here you go.
Hope it helps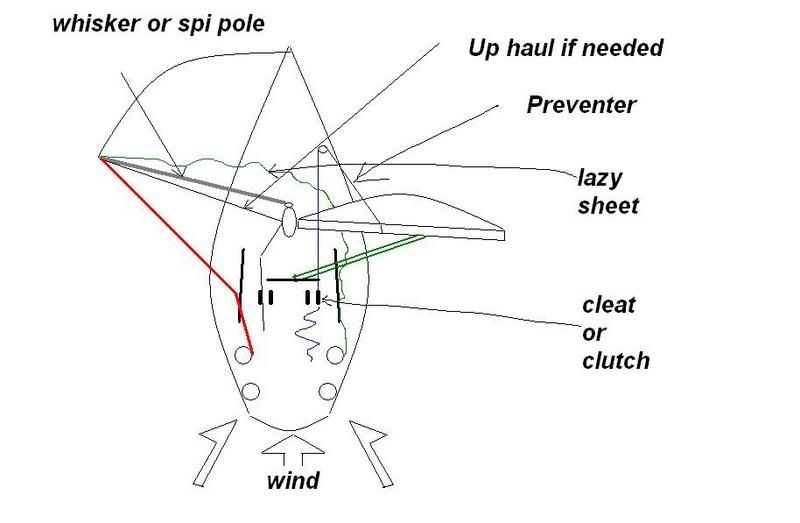 Member
Join Date: Jul 2007
Location: Seattle, WA
Posts: 116
Thanks: 0
Thanked 0 Times in 0 Posts
Rep Power:
10
Sometimes in light wind on a long run I unshackle my boomvang from the mast and clip it to the base of a forward station. But normally, I just grab the 'lazy jib sheet" and lash the boom to something convenient.
Senior Member
Join Date: Jun 2006
Location: Toronto
Posts: 5,491
Thanks: 0
Thanked 2 Times in 2 Posts
Rep Power:
12
I have used a pair of purchases at the mid-boom, going forward to padeyes at the rail, and with the tails going aft to cam cleats. I have been able to steer through a gybe with my knees on the tiller and by using both tails at once, can obtain a very controlled movement of the boom from one tack to the other.
Basically, I only reset the mainsheet itself when I have completed the tack and secured the appropriate preventer. Some lead the preventer to the bow. I have not found this necessary, probably because the boat in question has a tall, skinny IOR main.
I have used this techniques in 30 knot downwind runs.
Here's a not particularly good picture, but it was a windy, rolly day in October on Lake Ontario. So was yesterday, as well, come to think of it.
Currently Active Users Viewing This Thread: 1

(0 members and 1 guests)