Senior Member
Join Date: Jun 2006
Posts: 5,006
Thanks: 5
Thanked 20 Times in 20 Posts
Rep Power:
13
One problem is that we get so used to seeing this projection of the world with Greenland about the same size as South America that we in the Northern Hemisphere don't have an intuitive understanding of the distances involved south of Texas.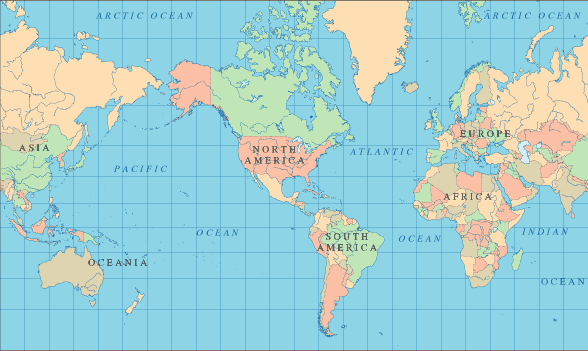 In reality the distance from western Venezuela to the eastern tip of Brazil, a journey that looks relatively short on that map, is actually about the same as the distance from icy Newfoundland to the Panama Canal, something that we would consider "a long ways". Now imagine sailing from Newfoundland to the Panama canal into the wind the whole way.
---
What are you pretending not to know ?

Please support my
To view links or images in signatures your post count must be 10 or greater. You currently have 0 posts.

---
Last edited by wind_magic; 05-25-2010 at

10:00 PM

. Reason: Changed map link
Junior Member
Join Date: May 2010
Posts: 4
Thanks: 0
Thanked 0 Times in 0 Posts
Rep Power:
0
distance
---
A direct line distance is over 4000 miles I think..

So if I sail all the way staying off the coast line then its going to be a long trip. ..And going this way would be sailing into the wind?
Junior Member
I am also looking to sail south from Texas soon... But I am more concerned about the drug cartel violence that has taken over Mexico...

I'll be leaving Port Isabel, TX.
美国华人, 帆船 教授及输送
Join Date: Sep 2006
Location: MD
Posts: 2,531
Thanks: 24
Thanked 23 Times in 15 Posts
Rep Power:
11
Quote:
I want to sail from Houston Tx to Brazil.
Oh boy, I would love to join you. Let's make it happened
---

Fine Print:
I am old school. Integrity is to do the right thing even when no one is watching.
Junior Member
Join Date: Jul 2000
Posts: 19
Thanks: 0
Thanked 0 Times in 0 Posts
Rep Power:
0
A passage from Houston to Brazil si a serious endeveaur and I'd only do it with an experienced crew. You have just started learning how to sail, so I'd say you still need a lot of time on the water before attempting something of this nature.

As pointed out, the prevalent wind on the NE coast of S. America is NW and the current also flows in thsi direction. Most cruisers go way offshore to make a loop and get favorable winds and current. This trip would take more than one month.

I'd suggest you take courses (Navigation, Bareboat) and do lots of sailing, help deliver boats, etc before attempting a trip like that.
Junior Member
Join Date: Oct 2009
Location: Miami, Fl
Posts: 16
Thanks: 0
Thanked 0 Times in 0 Posts
Rep Power:
0
Texas to Brazil
---
this trip sounds to me like it might last several months, you will have to get a boat in decent condition, and expect to spend a lot of time waiting for weather.

If I were you I would probably try to sail as follows:
1) Texas to Miami sailing along the coast, this will take you a LONG time but you will gain some good experience in some pretty safe grounds...
2) Miami to the Virgin Islands (this is called the thorny path), look up a book called The Thornless Path to Windward - The Gentleman's Guide to Passages South. This book has plenty of good info on this leg of the trip.
3) Virgin Islands to Trinidad, this should be the easiest part of this trip.
4) Trinidad to Brazil, this looks like the hardest part of the trip, windward sailing with a lee shore in what looks like a mostly uninhabited shoreline... but by the time you get here you would be a pretty reasonable sailor having made it so far.

Keep us posted with your cruising plans... I'm hoping/planning to do #2 and #3 at some point, hopefully in the not-too-distant future...

good luck,
Christian Vargas
Junior Member
Join Date: Nov 2016
Posts: 1
Thanks: 0
Thanked 0 Times in 0 Posts
Rep Power:
0
Re: Routes and safety Sailing to South America from Tx
---
hi, is anyone looking for a skipper/helper to do this trip? i have some experience...
Bristol 45.5 - AiniA
Join Date: May 2006
Posts: 4,525
Thanks: 5
Thanked 124 Times in 112 Posts
Rep Power:
12
Re: Routes and safety Sailing to South America from Tx
---
The original post was in 2010. I imagine he is there by now (or not is a strong possibility).
---
After the refit we have decided to sell Ainia. We want something smaller that would be could for the light summer winds of Lake Ontario, although we plan to spend at least a couple of winters in the Caribbean before heading north.
Currently Active Users Viewing This Thread: 1

(0 members and 1 guests)