Junior Member
Join Date: Dec 2008
Posts: 1
Thanks: 0
Thanked 0 Times in 0 Posts
Rep Power:
0
Looking for advice on bareboating near Phuket, Thailand
---
Hello Sailnet community, long time lurker here.

I was wondering if I could solicit a a few recommendations from you. A friend of mine and I are looking to charter a 30-35 monohull for 5 day around the last week in October.

Firstly I was looking at Elite Yachts and wondered if you have an opinion on them. Seems like they have some pretty new Bavaria boats that look easily handled, fairly comfortable and maybe even have a bit of performance to them. Do you have any other suggestions either for a charter company or boat model/style?

I was also looking at the conditions and the information I've been able to find ranges from excessive rains and rough seas to brief rain showers and moderate conditions. I don't have a real firm itinerary (any suggestions on that score would be extremely helpful), but clear water for snorkeling, spectacular anchorages, and some local culture are high on our hope list. It seems like maybe the southern portion of the Phang Nga Bay getting into the Andaman Sea might hit more of those points than the northern bay, but also open us up to a a bit rougher seas. Any thoughts you can share?

Any other general recommendations you have on bareboating in the area would be most welcome. Thanks in advance for any feedback.

I came across a post from a member who recommended Aventyr60 as a local expert on sailing in thailand; would love to hear your feedback if you see this.

Thanks again everyone,

- Mike
Senior Member
Join Date: Nov 2010
Posts: 4,108
Thanks: 46
Thanked 184 Times in 163 Posts
Rep Power:
7
Re: Looking for advice on bareboating near Phuket, Thailand
---
Hi Mike,
I never saw any water in Thailand that is clear.
Phang Nga Bay is extraordinary. You basically have the choice of cruising there or going out into the Andaman to the Similan Islands or Phang Nga Bay.
My sugestion is Phang Nga Bay because Similan Islands is just snorkeling and you can do that anywhere in the world, and anywhere on the Great Barrier Reef is 20 times better.
Phang Nga Bay, conversely, is unique with its extraordinary limestone cast islands.
People will try to warn you off Phi Phi Li (forums like this are full of grumpy old nay sayers!) but I suggest you overnight in Phi Phi Li get there late and leave early and you will be the only boat there! Grab a mooring, its free. We spent about a week there, but you can't.
PhiPhiLi by ourselves!!
Phi Phi Li
Phi Phi Don the larger island close by is the best set of resturants you are likely to find! The anchorage is a pain so make sure you are dug in, you may be a bit away from the dinghy dock but thats fine.
Your trip up around the islands in the bay will be weird because the water does get cloudy. They say you can swim in it but... Ummmmmm..... Well see what happens.
When you get to James Bond Island don't be disappointed! The film was shot in 1964 and the island is unrecognizable.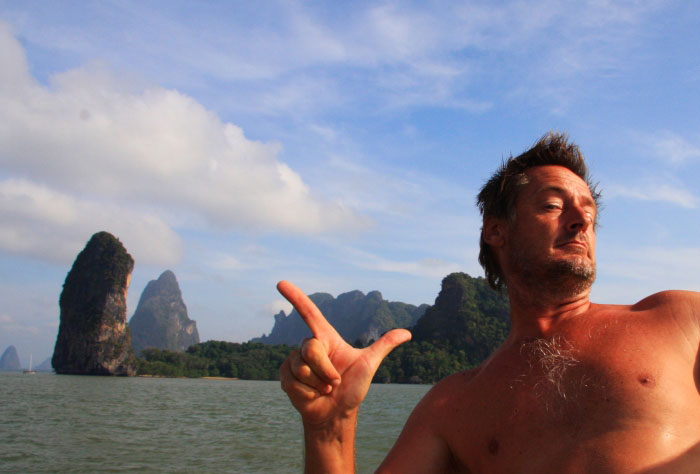 James Bond on his Island!
Even though the island isnt recognizable look at the scenery! its just amazing.
Do some of the dopey, touristy crap too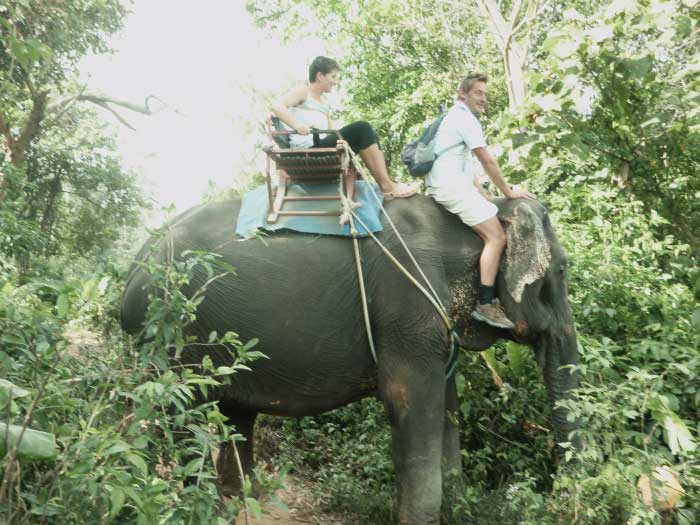 Don't forget the little rip off merchants will try to make you pay extra at the end to 'feed the elephant'
Have fun!
---
Sea Life
Notes on a Circumnavigation:
To view links or images in signatures your post count must be 10 or greater. You currently have 0 posts.


To view links or images in signatures your post count must be 10 or greater. You currently have 0 posts.

---
Last edited by MarkofSeaLife; 09-24-2014 at

07:47 AM

.
Senior Member
Join Date: Oct 2011
Location: Nanaimo B.C.
Posts: 3,412
Thanks: 3
Thanked 99 Times in 98 Posts
Rep Power:
6
Re: Looking for advice on bareboating near Phuket, Thailand
---
Getting harder to find local culture on the beaten track.Mostly condos and girly bars any where farangs hang out. I've lived for 18 years on Koh Jum (Koh Pu on the charts) just got electricity a year ago. Like it like that. Sunsets over PhiPhi (12 kilks to the west) Most seem to hang in Au Nang (Phang Nga area) but some interesting places from Krabi down past Koh Lanta to the Islands near the Malay border. It's a pretty big area so pick your place for a short visit .They have two seasons ,wet and windy and not so much. I prefer Dec to March. If you like karaoke bars (many) and low brit/american culture, don't' miss Koh Phi Phi Don. The scenery is spectacular
---
Last edited by Capt Len; 09-24-2014 at

12:59 PM

.
Currently Active Users Viewing This Thread: 1

(0 members and 1 guests)