Join Date: Mar 2007
Posts: 2
Thanks: 0
Thanked 0 Times in 0 Posts
Rep Power:
0
Unrealistic expectations or is $50,000 enough?
---
My wife and I are two of the many baby - boomers looking to transition from the work world to cruising life. For the past 8 months, we have been searching the internet and contacting brokers looking for a sound, seaworthy boat in the $50,000 US range that we can use to cruise the Bahamas and Caribbean.

Three offers later, all of which were rescinded after high moisture content was revealed in the hulls and / or decks, we're left wondering whether our expectations are unrealistic. Offers were on a Dickerson 37 C/C ketch, Islander Freeport 38C (liked the layout) and Pearson 367 cutter. We have also investigated others such as Westsail 32s, Union 36, Morgan 382 and Pan Oceanic 36 in that price range.

We have two questions. Are we being unrealistic in looking for a dry boat of this vintage (1980s) and price range? How serious is moisture around deck fittings? If there isn't any delamination or rot, is it enough to pull the fittings and re - bed them? Consensus of most brokers that we have spoken to and the surveyors we've engaged is that we are going to have a hard time finding what we are looking for. We fully expect to spend some money to do repairs but are hoping that it doesn't have to include epoxy coating the bottom or replacing large sections of deck core.

With our northern summer now over, we're now wondering if we need to rethink the whole venture (budget vs boat vs cruise). We have a 4 - month window each year (Dec - Mar) in which to enjoy life afloat. We would appreciate your feedback and any suggestions on how we should modify our search.
Broad Reachin'
Join Date: Aug 2006
Location: Grand Rapids, Michigan
Posts: 2,038
Thanks: 1
Thanked 27 Times in 27 Posts
Rep Power:
14
I don't think you're being unrealistic. You should be able to find 1980's boats capable of cruising the Caribbean and serving as a short-term liveaboard for ~$50k. They may need updating, but I'm willing to bet you can find several that don't have major structural issues (or any structural issues) in your price range.

Maybe you should look at some boats in the 27'-32' range. For instance, how about a Shannon 28 or PSC 27?
---
Catalina 34

To view links or images in signatures your post count must be 10 or greater. You currently have 0 posts.

Join Date: Aug 2006
Posts: 1
Thanks: 0
Thanked 0 Times in 0 Posts
Rep Power:
0
Hi,
If core moisture is a priority, then why not go for an older, monolithic, hull and spend the money saved on new sails? The worst you will find in terms of osmosis is a blister job. Just some time and hard work, but make sure you ask someone who has done their own boat what they did, not a yard for a quote.. You can buy a very strong 1960's 40'er for less than $40k.
I have spent the last 15 years with a keen eye on the US boat market (I live in England) and if you have $50k ready to go, there is no question you can find a superbly seaworthy boat, in good condition, within your budget. What is going to make it tricky is if you want a large double cabin aft, pressurised hot and cold water, the attendent water storage facility and all the other guff. If you just want to be afloat, somewhere warm and sleep in a cosy bed, with room to offer a couple of visiting friends other bunks on the boat, have a look at Bounty II, Alberg 35, Pearson 35 (same boat really, but less sexy), Hardin Sea Wolf etc.
I wish you luck on your quest and I hope my comments are of use.
Regards,
Nicki Crutchfield.
Telstar 28
Join Date: Mar 2006
Location: New England
Posts: 43,289
Thanks: 0
Thanked 20 Times in 15 Posts
Rep Power:
19
I don't think that you have any unrealistic expectations, provided you're looking at boats 30-35' LOA. I doubt you'll be able to get anything decent above that size range for your budget. I would also recommend that you keep at least 15% of your total budget reserved for upgrades, repairs and refitting the boat. Most boats will need some changes to be setup the way you want it to be.




---
Sailingdog
To view links or images in signatures your post count must be 10 or greater. You currently have 0 posts.
Telstar 28
New England

You know what the first rule of sailing is? ...Love. You can learn all the math in the 'verse, but you take
a boat to the sea you don't love, she'll shake you off just as sure as the turning of the worlds. Love keeps
her going when she oughta fall down, tells you she's hurting 'fore she keens. Makes her a home.
—Cpt. Mal Reynolds, Serenity (edited)

If you're new to the Sailnet Forums... please read this
To view links or images in signatures your post count must be 10 or greater. You currently have 0 posts.
.
Still—DON'T READ THAT POST AGAIN.
Senior Member
Join Date: Oct 2006
Location: Maryland USA
Posts: 5,135
Thanks: 107
Thanked 71 Times in 51 Posts
Rep Power:
14
Look at a Tartan T33-T37
---
No I dont think $50,000 is impoosible for a good boat...
Is $50,000 the max you can spend, is that cash? Or do you plan to finance the $50,000?
Look at some Tartans, 33-37 centerboard with a 4' draft board up would fit your needs and likely get a nice one for close to $50-60,000.
here are a few from Yacht World near your price: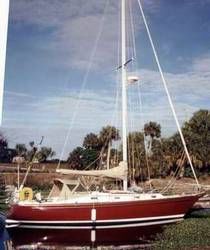 http://www.yachtworld.com/core/listi...jsp&searchtype
=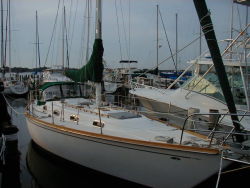 http://www.yachtworld.com/core/listi...jsp&searchtype
=
---
Shawn


To view links or images in signatures your post count must be 10 or greater. You currently have 0 posts.

---
Last edited by T37Chef; 10-11-2007 at

08:03 PM

.
How about an Irwin? The 34 is well within your budget and a 37 might be as well. You're not talking about terribly long passages. These could be comfortable boats for the islands.
I would say that you are a little too narrow in your view of the "perfect" used boat. No used boat is going to be perfect; you need to realize that first. I have not read the hull surveys you have gotten but there are levels of severity of hull and deck moisture; from the readings being totally wrong to there being wet/damaged core. It really depends on the type of moisture meter, the condition of the hull (if the paint is too thick it can cause a bad reading), if the boat was in the water prior to survey (the hull WILL have a non-zero reading).

If the deck had elevated moisture readings it needs to be tapped out to find any hollow spots. It's possible that there is moisture but no rot, and it's possible that simply re-bedding the deck fittings and potting the penetrations with epoxy is all you need to do.

Surveyors are mostly going to tell you "what the possibilities are"; not what repairs are needed. An elevated moisture reading alone is not a clear indication of what actually is going on in a cored deck or hull. What were the valuations placed on the boats relative to the asking prices? What were the condition of the rigging, spars, and sails (big expense items for long-term costs also)?

I think you will have a hard time finding a boat without some elevated moisture somewhere in the hull or deck. You CAN negotiate and get the appropriate price reduction to have repairs made if the seller is willing to take your counter-offer and accept that his boat is likely going to be on the market for a long while if he lets you get away.
Join Date: Jan 2007
Posts: 2,031
Thanks: 0
Thanked 0 Times in 0 Posts
Rep Power:
0
I think your budget is realistic for a boat in the 30 to 33 foot range, and I think that there are many out there that will offer enough room and comfort for the two of you.

The reason I am suggesting that you look at smaller boats is the cost of maintenance. Regardless of which boat you buy, you are going to have to make some fairly significant expenditures on an ongoing basis in order to keep her seaworthy. Even if you buy a boat in perfect condition, within two years, wear and tear will require $ to fix.

As far as the wetness issues go... I don't believe that you will find any used boat out there that has not absorbed some moisture. My personal opinion is that if you buy a hull that is solid glass (not cored anywhere), and if it is in good condition, and if you barrier-coat it, the moisture is a non-issue.

Over time fibreglass absorbs water. It is porous - microscopically so - but still porous. So if the boat has been sitting in the water for six months, it will absorb some moisture and your surveyor will get some type of reading on his/her meter. If there is no core material in the hull, and unless this is a high reading, and unless there is some evidence of blistering or other osmotic decomposition, you can pretty well ignore it.

Wet decks can be frustrating, but can be repaired. You can do it your self or hire a yard to do it. It is unusual for a used boat not to have some dampness in the deck, particularly around fittings, if it is metered while in the water and being used. Sometimes, the dampness will not show up on a meter, but usually there's something somewhere.

There are hundreds of articles and threads on the internet that deal with deck repair techniques, and it would probably be a good idea to take a break from your boat search and spend a couple of weeks studying them so that you can understand a bit better when your surveyor tells you that there is a low to moderate reading on your stem fitting.

I echo SailingDog's suggestion that you keep a good percentage of your budget for upgrades and repairs, so if you have $50,000.00 to spend - it would be a good idea to hold $10,000.00 back to buy new gear, and not pay more than $40,000.00 for your boat.

Also, take time to investigate the costs of slips and insurance in your area, as they can be substantial and you don't want to end up with any surprises.
Join Date: Oct 2006
Posts: 128
Thanks: 0
Thanked 0 Times in 0 Posts
Rep Power:
0
There is hope, lots of hope; I was going to tell you to purchase a new copy of Lin and Larry Pardey's book - Cost Conscious Cruiser - but in keeping with the spirit of the book, find a used copy... lol! I'm not sure how much you know about this couple but they have 5 circumnavigations under their belt and are great believers in getting just enough boat... period. The phrase on the cover of the book, just above the title - Cost Conscious.... - is "Champagne Cruising on a Beer Budget."
Their first circumnavigation was on a 24 foot sloop (amend that, cutter) without a motor - it took 7 years. There lots of used "Cruising in Seraffyn" books out there by the Pardey's so why not pick one up to motivate you.
Here is a paragraph from Pardey's Cost Conscious.... to help motivate you and to encourage you to look at older boats:
"Another advantage of buying secondhand is well stated by Andrew Simpson, a recognized British yacht designer/builder/surveyor who is now editor at
Practical Boat Owner
magazine: "There is the growing feeling amongst informed sailors that with fibreglass-reinforced plastic boats (GRP), older might actually be better. Or to put it another way, that in opting to buy second-hand, you would really be settling for more not less. With certain qualifications, I agree with these sentiments and would put my money on a good quality, mid-1970's yacht - a Nicholson 32, for example - out living many of the 'plastic fantastics' being built today."
Taleisin is their current boat, but somewhere in the deep recesses of my mind, I seem to recall they purchased another boat. However, on Taleisin - a 29 foot cutter - they have travelled approximately 50,000 miles.
http://www.landlpardey.com/ColdHardFacts.html
---
Last edited by rsn48; 10-12-2007 at

02:26 PM

.
Join Date: Mar 2007
Posts: 2
Thanks: 0
Thanked 0 Times in 0 Posts
Rep Power:
0
thanks for feedback
---
Thanks for the feedback.

We appreciate the comments and will probably redirect our search to a somewhat smaller boat.

We never expected to get pristine boat and feel all of the moisture problems warranted rejection. First included stress cracks in the hull, delamination below the waterline and moisture readings off the meter, second was at numerous deck fittings plus port deck from shreaders to stern and cockpit sole. Third one, surveyor called from the boat reporting high moisture readings around most of the deck fittings and he was uncovering "quarter size" blisters under the newly - painted bottom. "In his expert opinion", he expected report to worsen as he proceeded. We're game to rebed fittings and do other repairs but draw the line at what we perceive to be structural repairs such as replacing large areas of deck core or stripping the bottom gelcoat and applying exopy coating.

Based on previous advice and readings, we put aside an additional $15,000CDN for repairs / upgrades / equipment and $6000 for the cruising kitty.

We're planning on a "shopping trip" to Miami and Florida east coast in January. Hopefully, we will find something on site. Pickings are rather thin in Northern Ontario and the recent surge in the CDN dollar has us limiting our search to US boats.
Currently Active Users Viewing This Thread: 1

(0 members and 1 guests)