Join Date: Sep 2002
Posts: 24
Thanks: 0
Thanked 0 Times in 0 Posts
Rep Power:
0
Porthole sealing question(s)
---
All,

I have a Pearson 30 that seems to have some leaking around the non-opening portholes. I also have the smaller portholes that open and two that do not open. I am interested in ''re-sealing'' the leaking portholes. I am planning to remove the portholes and use a silicon sealer, then re-installing the portholes. Will this seal the portholes properly? Is this the recommended way of doing this? What are the ''gotchas'' or ''lookout for'' issues in this process. Any feedback is appreciated.

Rookie
Member
Join Date: Nov 2002
Posts: 89
Thanks: 0
Thanked 0 Times in 0 Posts
Rep Power:
18
Porthole sealing question(s)
---
I have rebeded ports on a couple of boats and did what you are doing (sought advice) before I did it. Here''s my 2 cents worth on the subject.

1.Silicon sealers would not be my first choice unless the ports are made of some plastic material that wont tolerate other sealants. Silicon caulks are great for some applications but dont have the best adhesive properties. Other caulks work better for long term adhesion.

2. If your non-opening ports are plexiglass panels that are bolted or screwed onto the boat, you must use silicon caulking. Polysulfides and the like with damage the plexiglas.

3. If the opening ports are metal you might consider a product like sikaflex which has excellent adhesive properties (you will learn this the first time you get some in your hair).

4. Read the materials compatibility information that all manufacturers puton their products. They will tell you what you can use the product with. Some are ok with fiberglass and metal but the lable says not to use it on plastic.

It is entirely possible the that you should use two different products on the opening and non-opening ports on your boat.

Here''s a tip I just learned that might help you. When you need to shape the bead of caulk around a fitting you can put on a rubber glove and coat one finger with some diswashing liquid detergent. You will be able to shape the caulk but it wont stick to your finger...Be patient with this stuff. It can make a mess...Dont start the project with out plenty of paper towels around. Make sure you get all the old caulk off the surfaces and out of the bolt holes before you start with the new sealant.

I redid the ports on my last boat and had no trouble out of them for the ten years before I sold the boat.

Hope this helps,

John

Senior Member
Join Date: Jul 2000
Location: Pennsylvania
Posts: 5,065
Thanks: 54
Thanked 330 Times in 314 Posts
Rep Power:
21
Porthole sealing question(s)
---
On my old P30 instead of reinstalling the non-opening ports, every two years I''d tape off the port frame and tape off the gelcoat .... and push in a bit of silicone sealer with a wet finger to make a smooth and fine bead of white silicone caulk.
Especially the large saloon ports will thermally stress and strain and will need constant resealing even if you remove and recaulk ... easier to do it as above than all the aggravation of removing, etc. If you remove the large ports you risk damaging the (now hardened) rubber insert that holds the plexi fast to the frame... and the rubber insert material is very hard to find nowadays.
Join Date: Sep 2002
Posts: 24
Thanks: 0
Thanked 0 Times in 0 Posts
Rep Power:
0
Porthole sealing question(s)
---
Thank you for the good advice, I will look into the different products for each application. I believe the large salon ports are non-glass and the smaller openning and non-opening are glass with metal frames. This forum has been an awesome resource for me. It has been a great sounding board and a wealth of information. What did we do before the internet?

Rookie
Member
Join Date: Nov 2002
Posts: 84
Thanks: 0
Thanked 0 Times in 0 Posts
Rep Power:
18
Porthole sealing question(s)
---
Good advice there. Just a comment about silicone. When I removed my plastic Gray portlights to replace with bronze I found silicone. It was still elastic after 20 years. The only wet coring I found was around a couple of Becksons that a previous owner had installed. He did not use silicone.
Super Moderator
Join Date: Jan 2003
Location: Maine Coast
Posts: 6,694
Thanks: 32
Thanked 362 Times in 282 Posts
Rep Power:
10
Porthole sealing question(s)
---
Do NOT use an adhesive type product like a Sikaflex, 4200 or 5200 on your ports. The next time you need to fix a leak (and you will) you will inevitably ruin your ports trying to get them out!!! I sealed a port with 4200 five years ago and then needed to remove the frame to replace the glass a year later. After four hours with a heat gun, chisel, acetone and other caustic chemicals I still had not budged the port. I then diacovered Butyl tape sold at glass stores (it is what Catalina and others use from the factory). It is a gooey tape for installing plate glass windows. You simply lay a piece of tape around the port and screw the port back in. Once your done just trim the squeeze out with a chisel and your done. To remove the port at a later date just heat with a heat gun! Make sure you get the flat tape not the round for windshields. I beleive mine is 3/16 of an inch thick. If you must use silicone tape all surrounding areas as there is nothing that will clean up silicone NOTHING not even acetone!! I use 3M 101 as my standard bedding compound it seals great, stays flexible and you can take it apart at a later date.. Hope this helps!!!
Senior Member
Join Date: Mar 2011
Location: Henderson, NV
Posts: 762
Thanks: 17
Thanked 13 Times in 13 Posts
Rep Power:
9
Re: Porthole sealing question(s)
---
Hi, everyone! I'm resurrecting this thread as a way of saying "yes, I searched for previous threads on the subject before asking everyone about my issue."
I pulled the curtain to check the weather this morning and lo and behold, there was a new crack in the glass: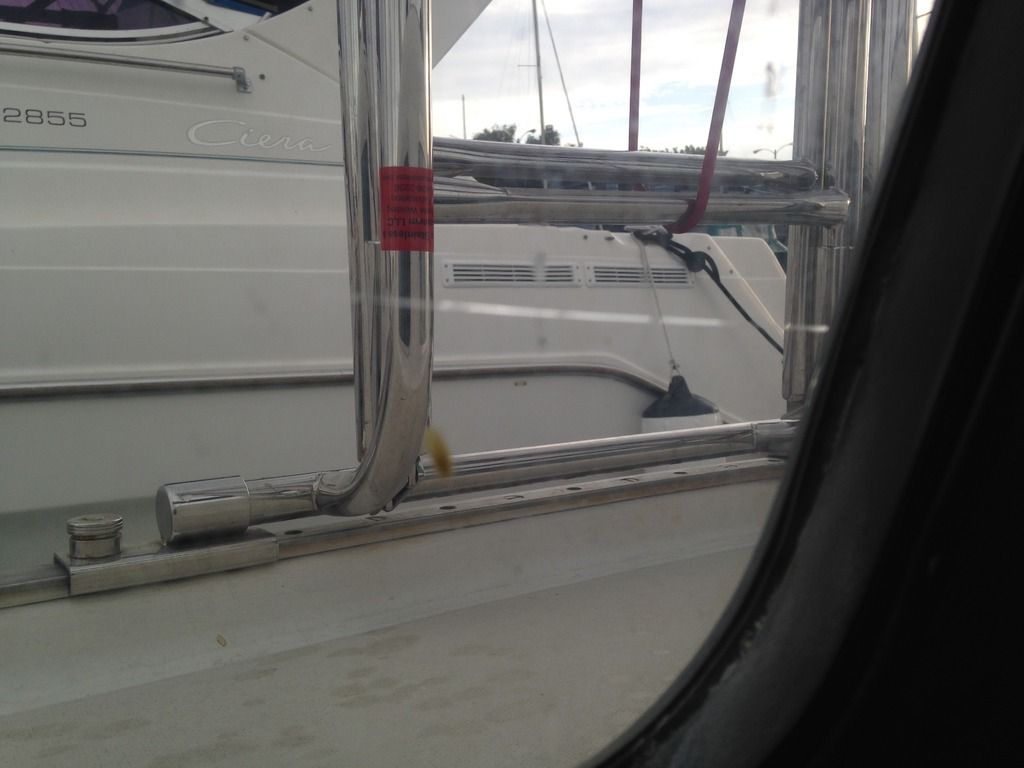 Is this something I could drill a hole in to fill with epoxy, or do I have to replace the glass? Where would I find said glass? Porthole removal and replacement is no easy task (as evidenced by Maine Sail's exhaustive how-to section).
1968 Cal 2-30, glass window.
---
1968 Cal 2-30
Sandpiper 2
MDR
Senior Member
Join Date: Jul 2010
Location: Massachusetts
Posts: 863
Thanks: 1
Thanked 17 Times in 15 Posts
Rep Power:
10
Acrylic is cheaper, easy to find (Home Depot, McMaster) and very easy to work (a router table is ideal for copying your old form but a bandsaw or jigsaw is fine as well).
Less Senior Senior Member
Join Date: May 2011
Location: Bangor, Maine
Posts: 1,442
Thanks: 39
Thanked 50 Times in 50 Posts
Rep Power:
9
Re: Porthole sealing question(s)
---
You can get tempered glass at any glass shop (think window replacement), and you could probably get them to put it in the frame for you as well if you take the whole thing to them.
---
Ocean- that which covers 3/4 of a world made for man, who has no gills.
██▓▓▒▒░░▒▒▓▓██
Join Date: Apr 2006
Posts: 13,645
Thanks: 11
Thanked 253 Times in 248 Posts
Rep Power:
15
Re: Porthole sealing question(s)
---
rb-
In theory, you could use a glass bit, or masonry bit, or fake one by using a brass tube and loading it up with abrasive to grind through, making a hole to relieve the stress. And then perhaps thoroughly cleaning and drying the crack with alcohol or another "no residue" solvent, and applying crazy glue to bond and seal it.

That will still be weak, because the "tempering" is like case hardening, it relies on evenly applying tension to the entire skin of the glass, in one piece, with no cracks or other localized issues. The glass will never have full strength again. Tempered glass has to be cut to shape and THEN fired in an oven to heat temper it. Which is why most glaziers will not handle it, they don't have the glazing ovens so they can't temper the glass.

If you call around, if you find someone who will make up a new window for you, the best bet is to carefully re-glue that crack (for strength) and then carefully remove all the trim and sealant, and give them the old window to make up a new one. You may find a lot of glaziers will say "I have to go now, my mother's calling me" and run away when you say "tempered".

Yes, you can make up a new acrylic one, but I doubt the color will ever match the other "windows", and acrylic will eventually scratch, again mismatching the glass ones.
Currently Active Users Viewing This Thread: 1

(0 members and 1 guests)