Junior Member
Join Date: Aug 2010
Posts: 20
Thanks: 0
Thanked 0 Times in 0 Posts
Rep Power:
0
solar powered vent
---
I have a 4" hole in the forward center deck of my c30 had a vent or something there at one time. I was thinking about a solar powered vent to put there could anyone tell me if this is a good idea and if so who makes the a good vent.
Senior Member
Join Date: Sep 2005
Location: New Westminster, BC
Posts: 19,488
Thanks: 160
Thanked 587 Times in 558 Posts
Rep Power:
17
A solar vent is not a bad idea.. helps to keep the air moving and that's all good. Such a vent on the foredeck, however is a bit dodgy.. not sure any of these things are truly watertight and an unexpected wave could get the berth wet under some conditions.
Some people carry a deck plate too and remove the vent and put in the plate while underway to deal with that issue.. but it's another chore that you'll likely forget one day....
However if it is to be located on the foredeck be sure to get a SS one rather than a plastic one so that accidentally stepping on it isn't going to damage it so easily. Any marine supplier should be able to get you one....Like this: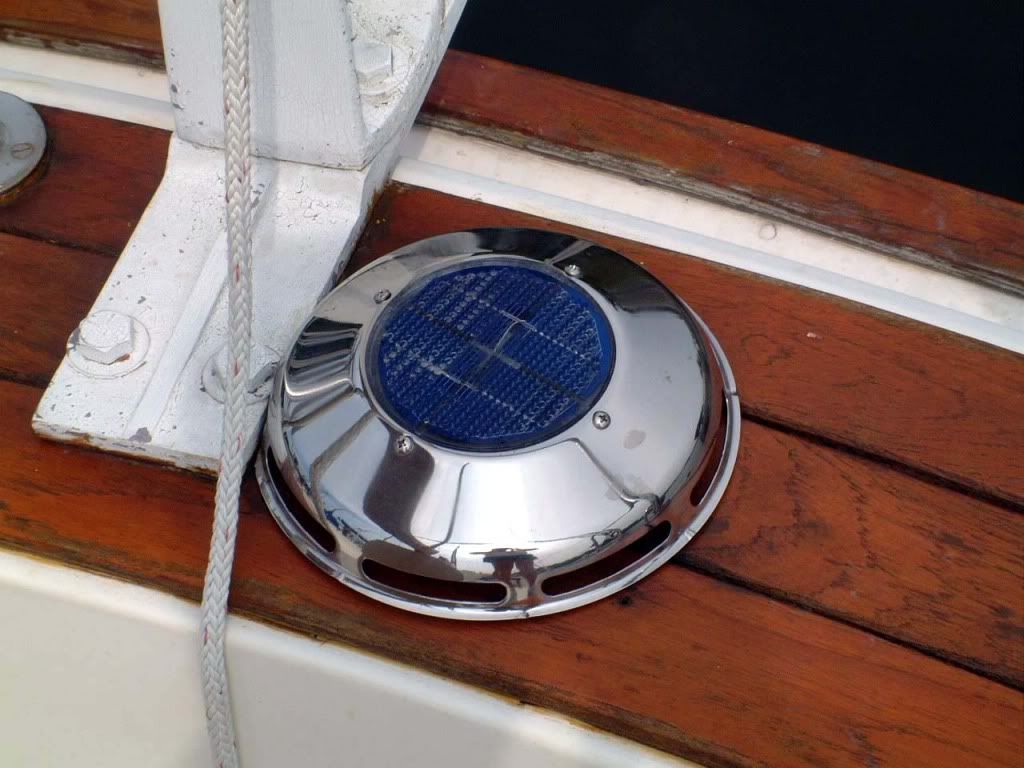 ---
Ron

1984 Fast/Nicholson 345 "FastForward"

".. there is much you could do at sea with common sense.. and very little you could do without it.."
Capt G E Ericson (from "The Cruel Sea" by Nicholas Monsarrat)
---
Last edited by Faster; 11-18-2010 at

06:17 PM

.
They do leak,are VERY expensive.are not repairable from manufacturer.Just threw one in dumptster.marc
Sailing to surf
Join Date: Nov 2008
Location: St. Augustine, FL
Posts: 208
Thanks: 1
Thanked 0 Times in 0 Posts
Rep Power:
12
to those who do not recommend them...

would you prefer dorade/cowl type vents in place of solar fans?
---
My boat rebuild/sailing blog:
To view links or images in signatures your post count must be 10 or greater. You currently have 0 posts.

Senior Member
Join Date: Oct 2009
Location: California
Posts: 1,381
Thanks: 0
Thanked 3 Times in 3 Posts
Rep Power:
11
---
How inappropriate to call this planet Earth when it is quite clearly Ocean ~ Arthur C. Clarke

Quinn McColly
Macgregor Venture

---
Last edited by QuickMick; 11-19-2010 at

11:18 AM

.
Those are some really good prices.Still don't want one.marc
Senior Member
Join Date: Jan 2010
Location: Boston, MA
Posts: 525
Thanks: 2
Thanked 1 Time in 1 Post
Rep Power:
11
They leak, huh? I've been thinking about installing one in my head, which is directly aft of the V-berth. If I get a little water in the head from a wave, that's ok, but if it's a lot of water or if it also leaks when it rains, that's a no-go. Do you know if some brands are less leaky than others?
---
1979 Gulfstar 37 Laissez Faire
Senior Member
Join Date: Dec 2001
Location: North Brookfield, Mass.
Posts: 935
Thanks: 0
Thanked 0 Times in 0 Posts
Rep Power:
19
Quote:
if it also leaks when it rains
I've installed 2 or 3 Nicro Solar 24/7 vents in my last 5 boats and they DO NOT LEAK in the rain - even driven rain and wave spray that was reaching me back in the cockpit. The only problem I have ever had was with one in/on a forward sloping forward hatch that when waves broke on the bow the water rolled up the slope - just like a beach - and Under the protective cover. If I had pulled out the vent and replaced it with the supplied deck plate Before bashing into steep waves there would have been no leakage. Since then I have now switched to the Nicro 24/7's with the sleeve that slides up and down to totally block out water. I also have never caught one with a genoa sheet - the hatch that is was in yes - but never the vent itself. Of course every boat and every person has gone through different situations but those are mine.
---
Stan
'Christy Leigh'
NC 331
Wickford/Narragansett Bay RI
Senior Member
Join Date: Jul 2008
Location: San Leandro California
Posts: 188
Thanks: 0
Thanked 0 Times in 0 Posts
Rep Power:
12
I am not understanding why someone would put a 4" hole in a deck. Dorads okay, if you can plug in heavy weather. The problem I see is if you go upside down that's alot of water that can get in. I won't even mention core problems if not installed correctly. All this for a little air that a porthole provides when needed. I would glass it and fair it then gelcoat it. Just me.
Currently Active Users Viewing This Thread: 1

(0 members and 1 guests)