Aspiring Boat Bum
Join Date: Oct 2007
Posts: 252
Thanks: 6
Thanked 11 Times in 11 Posts
Rep Power:
13
Re: Bermuda to Gibraltar
---
Quote:
Yes. This is the exact thing I disagree with so I will lay out my reasons for you to consider.
lets start with the map that doesnt should a florida start. and Attached the Pilot chart for June, attached at the bottom of the post .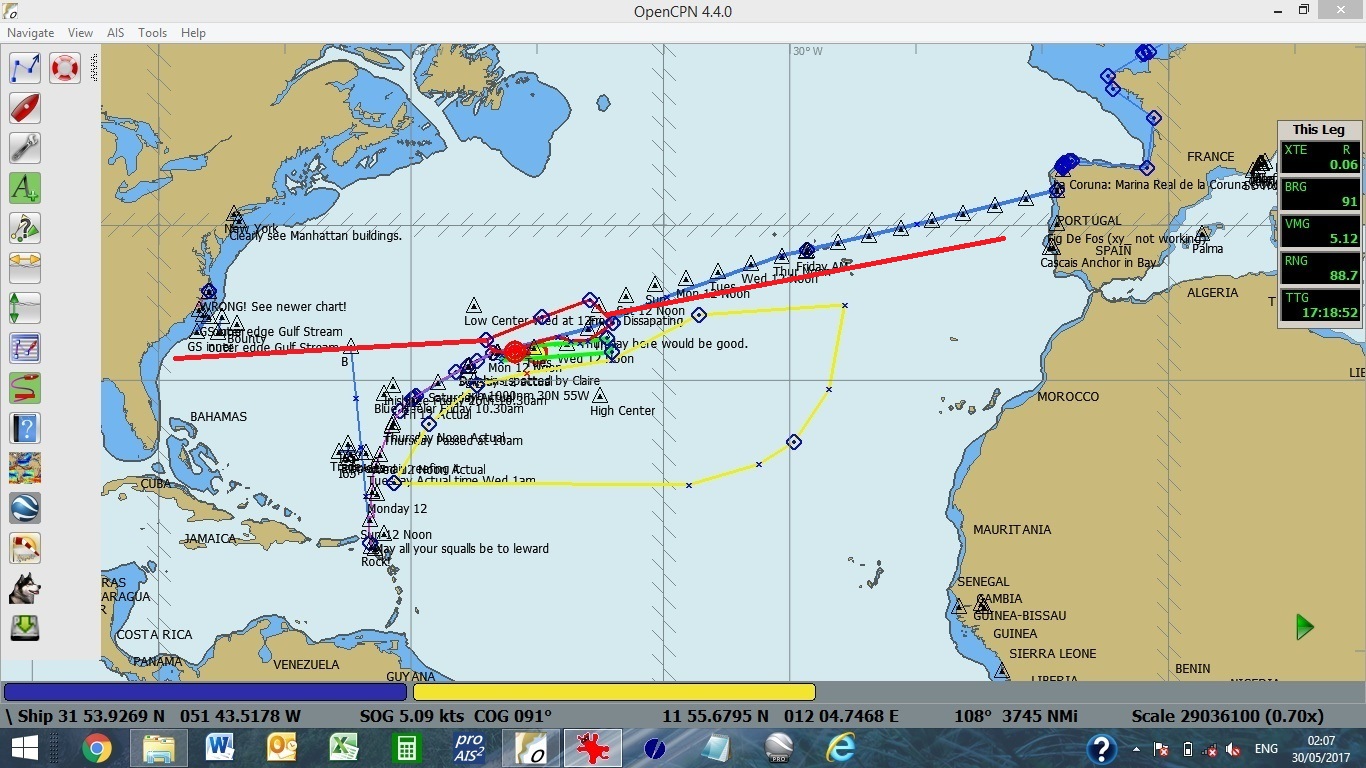 The yellow line is the boundary of the Azores High (whatever its called
)
I think if you run a line from Cape Hatteras to Azores (not a Great Circle Route) you get the Gale Line that I am takinig about. Yes,, bermuda isnt *exactly* in it. However if you are IN Bermuda and go to the Azores you are in that gale line for a long time, some 2,000 nms.
However, if you can start on the Florida Coast SOUTH of, and Remain south of Bermuda then you reduce the distance in that gale zone.
See the Gale Zone on the small pilot chart... the line of 1's in the gales. Yes, theyre only 1's but they are less than reality. Also see the green storm line.
So my idea is never to do the Great Circle Route on that passage but to keep low and follow the Yellow Line once you are out there.
The Pilot Chart shows that if you leave Florida you can get out there, yes, close hauled for a few days untill the wind begins to come astern of you.
I would advocate leaving Florida as far south as you can and sail for the Azores and then make up your mind your destination when you have arrived in the Azores. (which is what I did... I was going to do Gib, or Porto, then France... but finally headed for the UK).
The weird thing about the Azores is they are in the way no matter which way you are going. In other words theres no problem about stopping in there because you will bump into them anyway.
Still, if when you are doing your considerations just remove Bermuda and the Azores off the map, and then see how your passage plan works.
Further, theres no real problem about making the final destination decision whilst you are at sea. You dont really need to be on some bit of rock. You have satellite weather? Then you can do it anywhere.
Many people plan to stop at Bermuda and the Azores for "impure" reasons. They want to stop because they are scared about the number of days at sea if they dont stop. However, stopping for 1 day doesnt work. Once youve had you rest, got fed, got drunk and hit the supermarket, one whole week has gone by. Now, as lovely as Bermuda and the Azores are, they're *nothing* compared to our European destination. Thats the main game! Not the islands in between.
Your decisions on which way to do the passage are your own decisions and I will, nor should anyone else, second guess you how you should do it. A lot of people will tell you to go to Bermuda and then head north until the Westerlies come in. Thats the "standard" way. I think they are crackers because they will hit gales. I head south to avoid the gales but mine will be a slower voyage because theres less wind. But that is no problem to me
But its crackers to other people
Thanks Mark,
Yes I've studied the pilot charts carefully, even the old printed set that's been in my attic for 40 years (I think they're still reasonably accurate but now look at the latest versions online). I have also been regularly checking passage weather and the last couple of years also earth.nullschool.net and windy.com. I
think
these are reasonably accurate based on comparing them to the actual winds I saw on a couple of trips up the US east coast and one to the Bahamas. If they are somewhat accurate it shows Bermuda frequently with calm winds. Then from there to the Azores you can easily adjust course NE or SE as needed to stay between the too much and not enough wind zones.
Regardless, I think it would be fun to visit Bermuda anyway. And correct me if I'm wrong but most of the nasty weather and sinking boats I've read about seemed to be a good bit east of Bermuda before you reach the Azores.
Currently Active Users Viewing This Thread: 1

(0 members and 1 guests)