.
Join Date: Nov 2006
Posts: 10,851
Thanks: 0
Thanked 8 Times in 3 Posts
Rep Power:
17
My Seaview PYI radar pole parts arrived!!
---
All I can say is wow....it's hard to find this type of quality, craftsmanship and friendly customer support in Europe..I mean, yes we do have good stuff, as you know, but not as affordable as this. This I am about to show you reminds me of the Orange County Choppers craftsmanship!!
As you know I was looking for a radar pole for my boat, and because of the way it was built, I could not buy off the shelf stuff..(well some parts are)..
I also want the radar to be well above our heads, and because of the extreme heeling angles we sail normally, Raymarine (the radar manufacturer), recommended the height of the pole, and that a gimbal be used.
So I started looking, through a post on sailnet, where I asked the folks for good suppliers..I was given several.
SEE HERE
I chose, (after several days of research and several contacts, a company called Seaview PYI, in Washington, USA.
SEE HERE
Good news..The different components of my semi-custom radar pole arrived today, packed in an incredibly well done box..kudos.
As you may recall I wanted and needed a set up that would allow easy removal of the radar and the pole..
Seview of all companies, was the only one offering a pivoting base, and all of the components in either Carbon Fiber or Aluminum.. an added factor for me because my constant struggle to reduce weight aboard.
I always liked American boat material and stuff, because the level of finish and quality are a thing USA is proud of..and that is good.
This post is a living proof of that.
First off, the simple first step, the inquiry is an absolute pleasure..I called Seaview PYI, in Washington, and got a very helpful person, willing to answer my questions..
I said I was looking for a solution for my boat, that required a few special items, and was not a simple layout to install..and I never got a no for an answer..
I wanted a lot of carbon fiber stuff and we went from there..
I needed a gimbal, that wasn't too heavy, and had good dampening qualities..I also wanted to reduce the weight as much as possible, so we went light, but strong!
Also another problem was the pole, I was going to use the aluminium base and the aluminium gimbal head, BUT if I used a carbon fiber pole, the areas of the pole where the base and the gimbal attach, had to be covered and sleeved with fiberglass to avoid corrosion (CF and Alu don't like each other)..
THE PROBLEM I found is that although the base (male) enters the tube, the gimbal attaches to the tube, by having the tube enter the gimbal (female)..this posed a problem with manufacturing a tube in CF that would have to be made conical or tapered and we could not find a size mold tube to do it..si it would look bad..also, the CF tube would create a point of strees for me, sticking in the bow, where a lot happens...
Abandoning the CF tube, I decided on an alu tube, that weighs almost the same, does not shatter, and is easily replaceable, costing half of a CF tube.
The tube is 14 feet long, because the base will have to be installed on my transom step, and fly upwards from there..transport from the USA to Europe would be a problem..Seaview, immediately proposed that all the accessories be bought in the US, and the tube, made, anodized, treated and shipped, by Seaview PYI, in Europe, (France), to my marina in Portugal.
So I bought all the accessories in the US and the tube in France, but all is Seaview PYI. They were very nice, took care of everything..I just paid!
Ok, let's look at the material now, be prepared to be amazed with a show in quality.
First I was shown the base...now this is an all aluminum part, that is anodized in black, and get this..the areas where the bolts go through are protected with metal or nylon sleeves so there is no dissimilar metal corrosion..and all is threaded with anti cease and thread locking glue.
The level of finish and the quality of the anodizing is superb..perfect even..
Adding to that, Seaview came up with an excellent idea. They installed the cable passing fitting at the base of the alum base itself. This way, there is no more drilling and the wires come in straight from the tube..the cable pasing fitting has a thick rubber grommet that you need to drill to pass the wire, but as you tighten it, it squeezes the wire, preventing water penetration. Excellent idea..love it.
This is all supplied by Seaview, as well as all the bolts and screws, as part of the base items.
The base fits perfectly inside inside the tube and comes pre-drilled..all one needs to do is drill the tube and install provided bolts, all excellent quality.and all sleeved to avoid dissimilar metal corrosion.
the photo below shows the base wire accessory.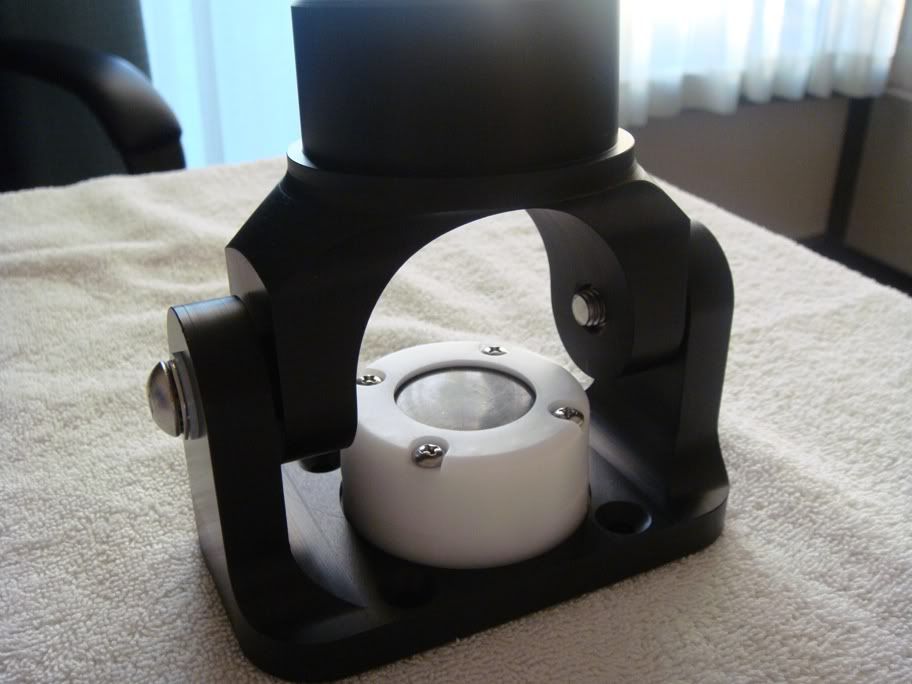 The base tilt more than 90 degrees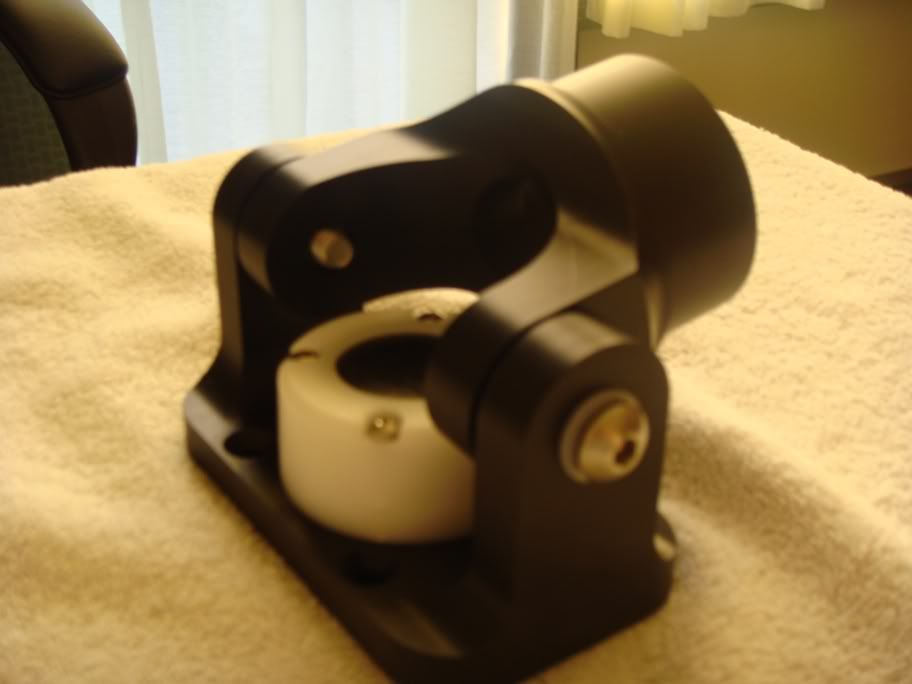 Next we have the Radar basket, as they call it..here I had a bit of bad luck..I bought the Carbon fiber one, but unfortunately, a problem with the CF manufacturer/vendor caused the basket production to have a small hick-up..Seaview immediately contacted me, and proposed that a SS one be made, and it would be only 2lbs heavier than the CF one, and once the CF ones are back in production, Seaview will send it to me.
Now..this is high quality finish!!
The basket is composed of 2 elements, the structure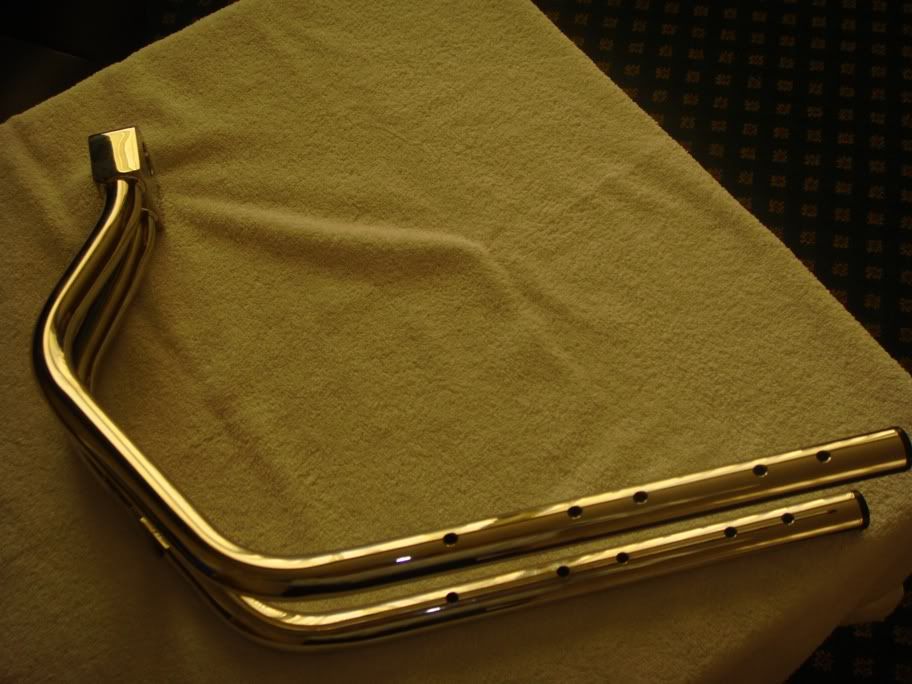 and the base plate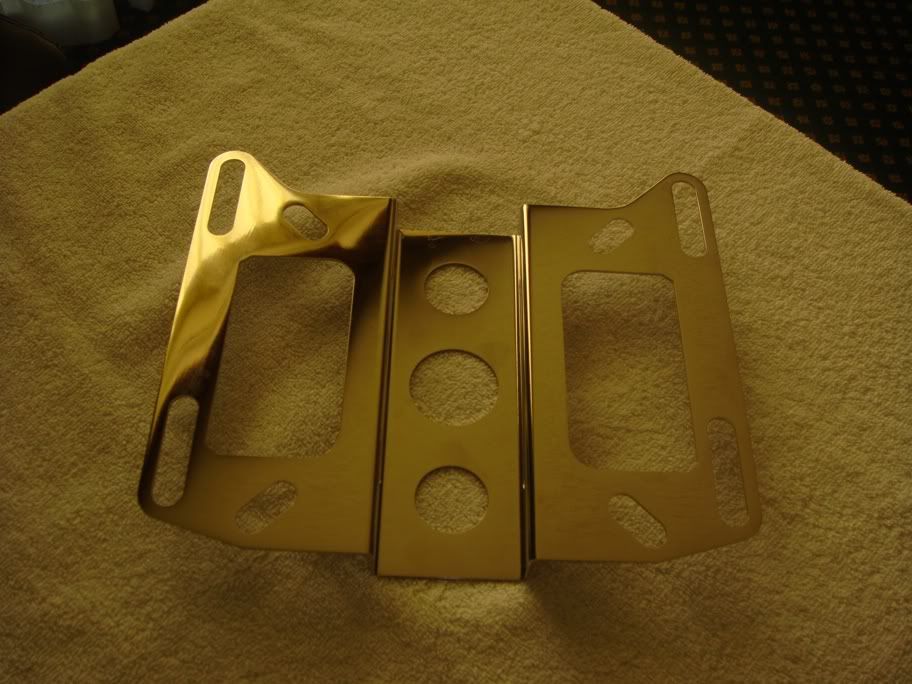 The base level of finish is incredible, from the quality in the bends on the tubes to the welding, to the machining of the head piece
The head is so shiny that in the photo it was reflecting the ceiling of my room, and the hole is tapered and has a key slot, all extremely well achieved.
On the bolt side, there is a whole so that the locking nut is flussh inside the head!! This is the level of detail that matters to me.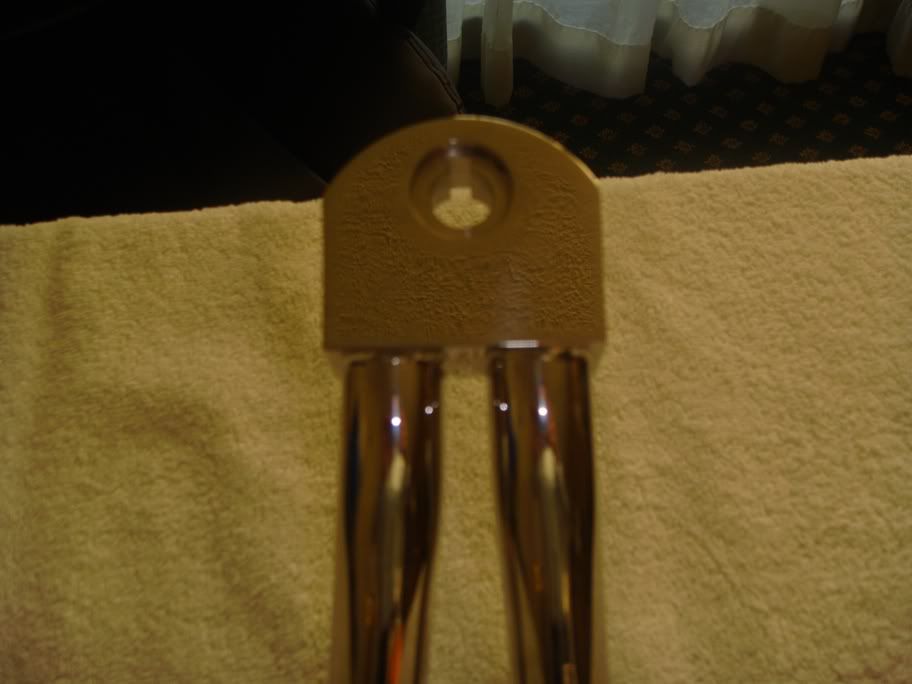 They even made a special name plate with Seaview cut in the metal, by CNC machines.
The base had holes done to reduce weight and I can shave my self on it!!
It has a slot, that allows the radar to be adjusted in the 3 axis!!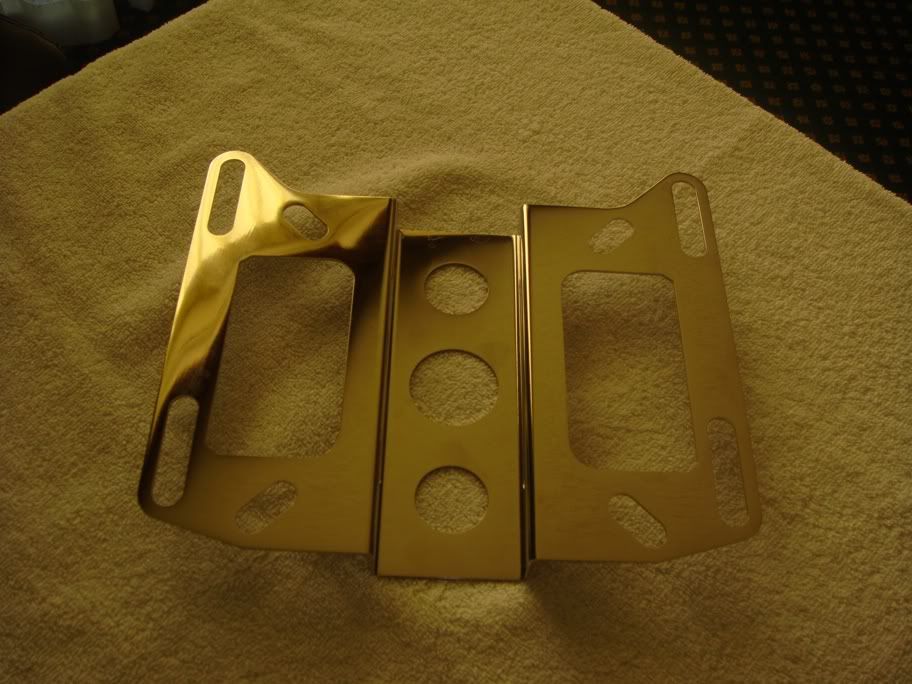 Check the finish on this, this is high quality Stainless..all was done to reduce weight..incredible
The system has several bolts and nuts..look at a quality detail, that costs nothing to them, but breathes quality when you look at it!!
The heads of all bolts are covered with plastic white caps!!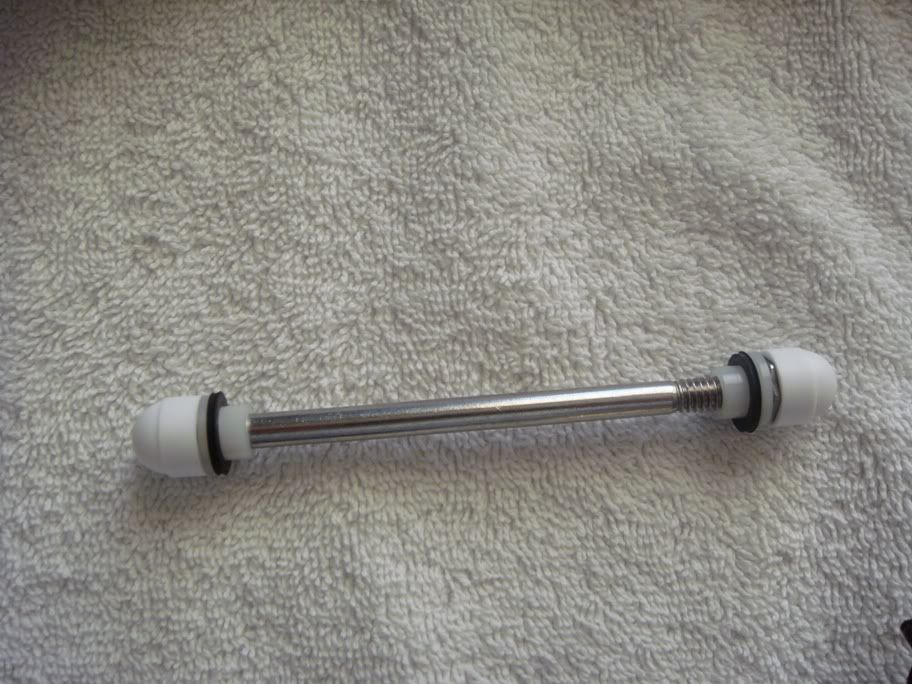 OK..so we saw how the pole attaches at the stern, on my stern step, and saw the basket..
Next, how to hold the pole steady..get ready folks..this is Orange County Choppers of boats!!!
The pole attaches to the stern pull pit, via 2 brackets that are adjustable with turnbuckles..nothing new..BUT check the level of finish in these!!
the part that attaches to the rail
the part that attaches to the tube, note the engraved brand name.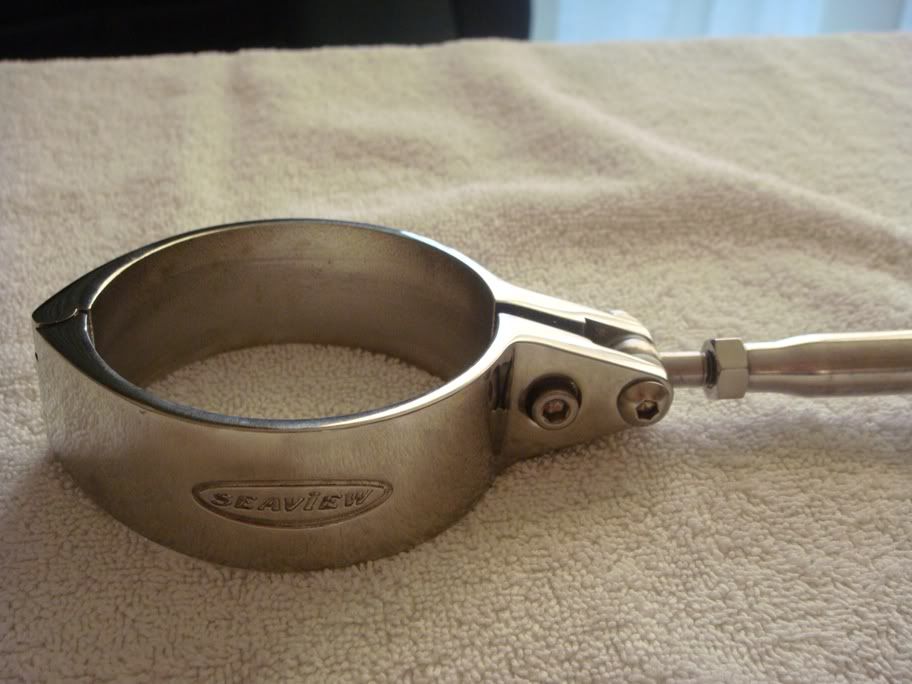 and the whole viewed from above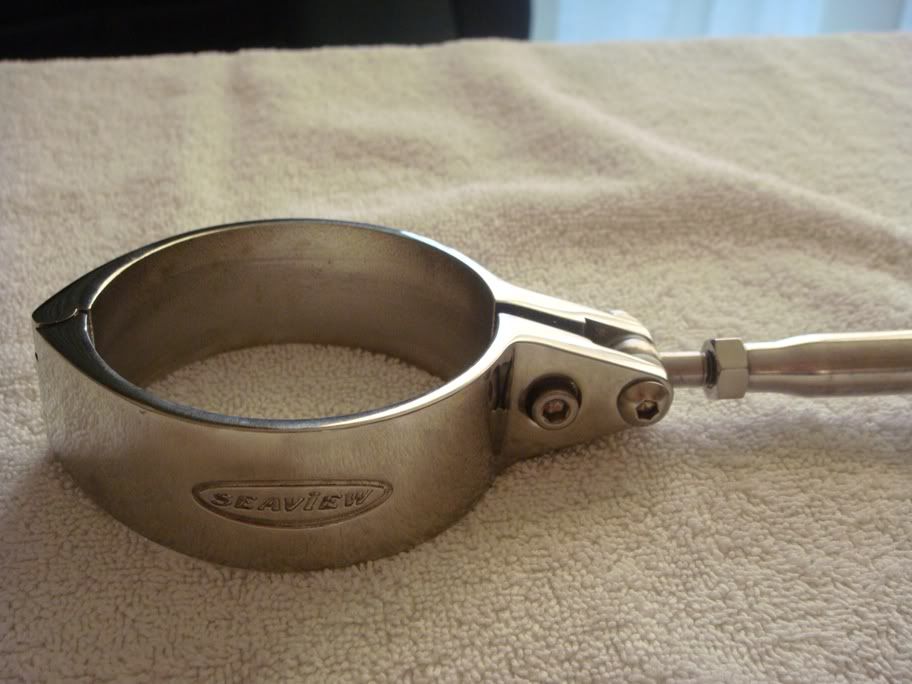 and finally..the best part..
The gimbal is a hydraulic damper, that comes filled with oil, ready to use.
It's a no maintenance unit, that will not require an oil change often.
That part was custom for this unit, and specially painted too, it is a bit heavy, BUT, the quality and the damping action is extraordinaire, and will for sure keep my radar horizontal at all times. I save the weight in the rest and get the best damper.
the damper has a keyed conical shaft, with a large bolt and locking nut on the end.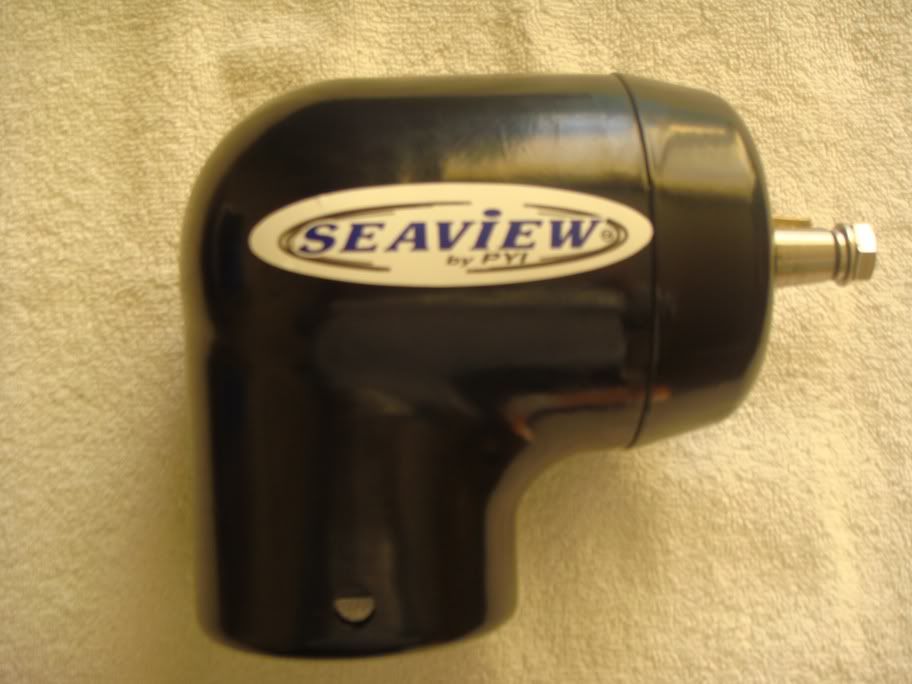 there is an oil filling hole.
and as you can see, the gimbal enter the tube on the outside.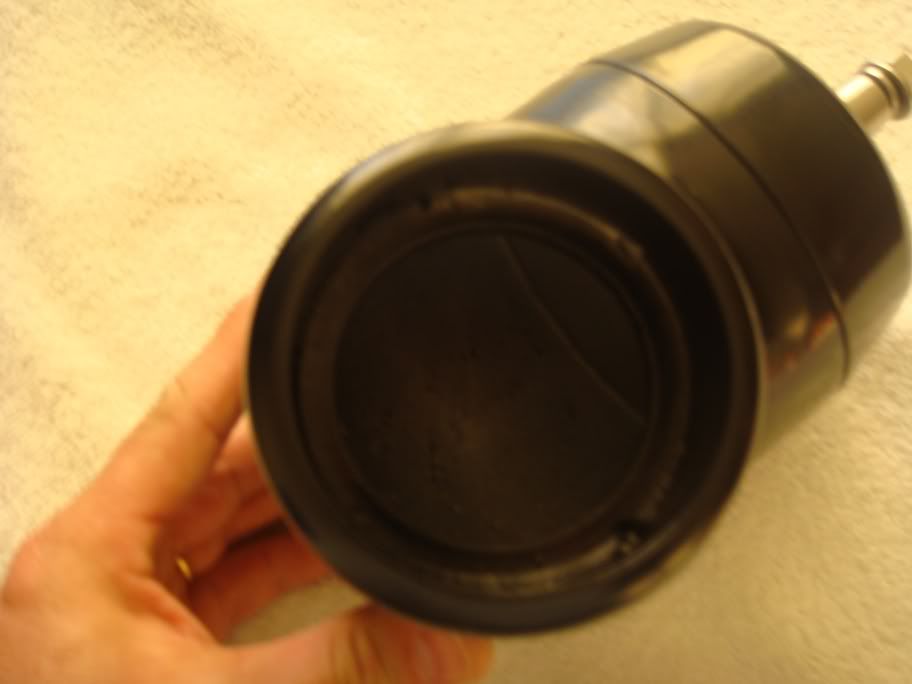 This is a general view of the unit, sorry I can't get it to sit upright..but once installed, it will be nice..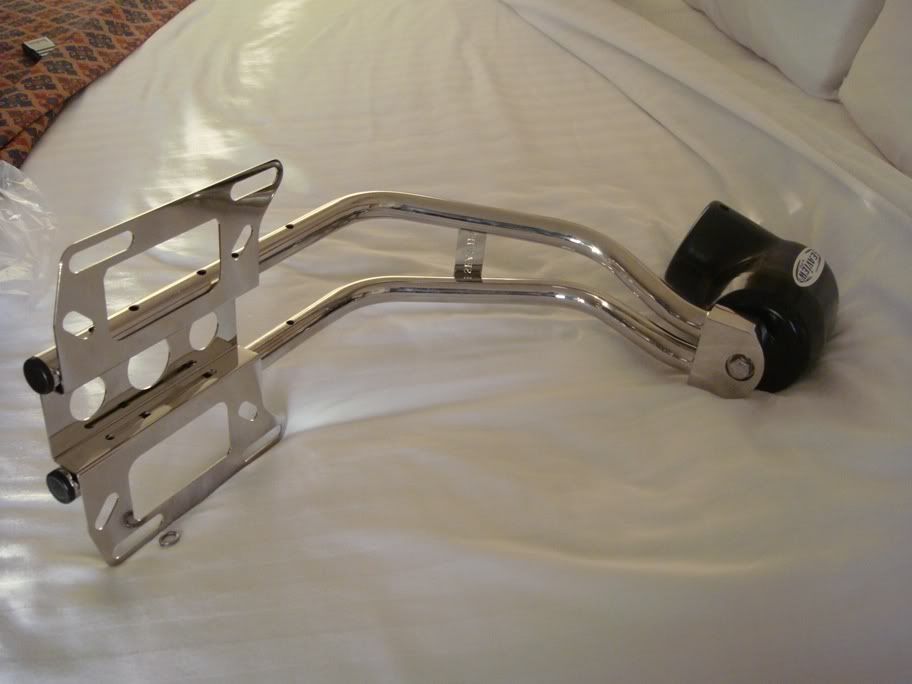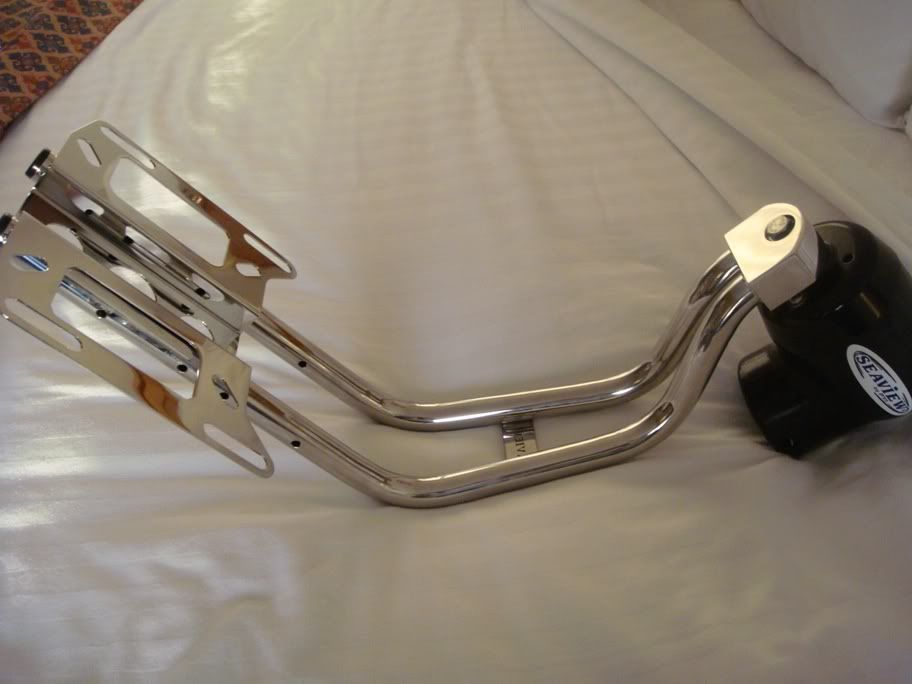 Now..a full radar pole from Seaview, with semi custom parts and a carbon fiber basket, can set you back around $2350.00...
But Seaview were very eager to do a price reduction, if I exchanged a few favors with them...
one, was I promised Seaview's manager that I would do a complete installation guide book, or step by step installation manual, (because this is a rare setup they would like to document for the future, with the CF parts), and I promised to add a few stickers on my boat, near the pole and on the pole, with Seaview's name on them...OK with me..with this, he was also very happy to contribute with some price reductions, as my boat does get a bit of exposure, after all.
The folks at Seaview are really nice (met a few in Chicago's boat show), and it was a pleasure to deal with them..
As you know and the few that know me, know that I want the best for me and my friends..I would never show crappy stuff..so here you go!!
Best of the best, really..
I strongly recommend these guys to you...
Jason Romesburg is the manager..give him a call, he is a very nice guy, eager to help an industry in dire needs..
Hope you enjoyed, and stay tuned for when the pole arrives and I will show the installation and the whole thing working
Thanks
Alex
Senior Member
Join Date: Aug 2007
Location: Toronto
Posts: 407
Thanks: 0
Thanked 0 Times in 0 Posts
Rep Power:
13
Congratulations! Nice looking piece of kit. I can't wait to see it in place.
---
Patrick Rea

To view links or images in signatures your post count must be 10 or greater. You currently have 0 posts.

1978 30' Hughes Northstar 1000
1964 20' Bertram Moppie
Senior Member
Gui,

Great set up. Looks very similar to what I want to do next year with our radar. I want it in the stern and I like the dampened mount and great quailty.
What is the diameter of your aluminum pole? Can your base sit on a Reverse Transom like i have? It angles to 90 degrees so I would think that is possible. I have seen other bases which pivot side to side so you can lower the pole to work on the radar if necessary, is that possible?

Dave
---

To view links or images in signatures your post count must be 10 or greater. You currently have 0 posts.
___________________________
S/V Haleakala (Hawaiian for" House of the Sun")
C&C 35 MKIII Hull # 76
Parkville, Maryland
(photos by Joe McCary)
Charter member of the Chesapeake Lion posse

Our blog-
To view links or images in signatures your post count must be 10 or greater. You currently have 0 posts.


"Sailing is just the bottom line, like adding up the score in bridge. My real interest is in the tremendous game of life."- Dennis Conner
Telstar 28
Join Date: Mar 2006
Location: New England
Posts: 43,289
Thanks: 0
Thanked 19 Times in 15 Posts
Rep Power:
18
Very nice, now if we could just teach you to take a decent product photo...
---
Sailingdog
To view links or images in signatures your post count must be 10 or greater. You currently have 0 posts.
Telstar 28
New England

You know what the first rule of sailing is? ...Love. You can learn all the math in the 'verse, but you take
a boat to the sea you don't love, she'll shake you off just as sure as the turning of the worlds. Love keeps
her going when she oughta fall down, tells you she's hurting 'fore she keens. Makes her a home.
—Cpt. Mal Reynolds, Serenity (edited)

If you're new to the Sailnet Forums... please read this
To view links or images in signatures your post count must be 10 or greater. You currently have 0 posts.
.
Still—DON'T READ THAT POST AGAIN.
Big Chicken Baby
Join Date: Mar 2009
Posts: 410
Thanks: 0
Thanked 6 Times in 2 Posts
Rep Power:
11
I find it utterly charming that you are so in love with a radar pole that it causes you to wax poetic about bolts.
I am glad you are pleased and hope it serves you well.
Senior Member
Join Date: Mar 2006
Location: Kirkland, Washington
Posts: 1,850
Thanks: 1
Thanked 9 Times in 9 Posts
Rep Power:
15
I'm glad things worked out so well for you, Alex.

I drive past PYI twice a day. If anyone needs me to stop by personally for anything, I'm happy to do so.

David
---
David

1987 CS 36 Merlin "Kyrie"

"They drove a dump truck full of money up to my house. I'm not made of stone!" -Krusty the Clown
.
Join Date: Nov 2006
Posts: 10,851
Thanks: 0
Thanked 8 Times in 3 Posts
Rep Power:
17

Thank PR..me too!! looks really sexy!!


The pole is 3 inches OD with quite a thick wall.
The base can be mounted anyway you want, but only pivots on one axis, it does not rotate, but the hinged part rotates more than 180 deg.
Even so, if you contact them, I am sure they can come up with something for you.


Bite me




Thanks

Alex
Senior Member
Join Date: Mar 2007
Location: Chesapeake
Posts: 5,680
Thanks: 0
Thanked 4 Times in 3 Posts
Rep Power:
15
Alex,

Very nice hardware!! Can't wait to see the final installation!
---

To view links or images in signatures your post count must be 10 or greater. You currently have 0 posts.

Pacific Seacraft Crealock 31 #62

NEVER CALLS CRUISINGDAD BACK....CAN"T TAKE THE ACCENT
Belliure 41'
Is it installed yet? Lets see this thing!
---
"Greatness Is Not In Where We Stand, But In What Direction We Are Moving. We Must Sail Sometimes With The Wind And Sometimes Against It – But Sail We Must, And Not Drift, Nor Lie At Anchor."
Oliver Wendell Holmes
Currently Active Users Viewing This Thread: 1

(0 members and 1 guests)