Member
Join Date: Sep 2011
Posts: 32
Thanks: 0
Thanked 0 Times in 0 Posts
Rep Power:
0
What would be your favorite boat and why?
---
Go-hifreann-leat
---
Last edited by old-sailer; 09-10-2012 at

10:33 AM

.
SERIOUS SAILOR
Join Date: Feb 2011
Location: DFW Metroplex
Posts: 483
Thanks: 0
Thanked 0 Times in 0 Posts
Rep Power:
9
I don't need to go fast, just get there eventually, and I prefer to be comfortable.

I would love to own a Formosa 51.....or similar....
---
To view links or images in signatures your post count must be 10 or greater. You currently have 0 posts.
1982 Catalina 25 #2897
FK/SR/Traditional
Eagle Mountain Lake, Texas
Remember you're a womble
Join Date: Aug 2009
Location: Sooke, BC
Posts: 2,328
Thanks: 11
Thanked 64 Times in 62 Posts
Rep Power:
11
I love sailing my boat, where I sail her. She's mine, bought and paid for
---
Orange Crush
1974 C&C27 MkII

To view links or images in signatures your post count must be 10 or greater. You currently have 0 posts.

Above 5 knots
Join Date: Jun 2007
Location: Bedford, VA
Posts: 2,837
Thanks: 11
Thanked 180 Times in 173 Posts
Rep Power:
13
Paul gets it. Not that others don't mind you. However the trick is to love the boat you have, unequivocally. I've heard people say stuff like: "Life's too short to sail an ugly boat."

OK? But ugly is subjective. I have sailed much bigger boats than mine. I also don't think there is anything wrong with a loan for a nice boat that pleases you. Some like to race (usually to hone skills), others are cruisers (mostly on this forum). It's all good!

The reality is, this sport of ours is, what you make it to be (as are most things in life). Buy what you love. Love what you buy!

My boat was cheap, paid for, and I am putting many hours of work into her. I want to restore her to her brandy new state. She's a sailing machine as she stands now. I plan on improving on that. That's just me! I am landlocked, and would LOVE to get something on blue water (we've done it a bunch before). However, right now it is about this boat, that I can get to on the water within an hour from my house. My stress reliever that is paid for. She's already paid for herself to me as well, as I've had more great times on this boat in JUST this summer than I would have had otherwise.

We take the same approach to our other hobby of field trialing. We have a simple 2 horse bumper pull trailer. My rusted old pickup truck (that runs real well), and we go, run our dogs against guys that have 100k+ rigs and $1000/month pro's training their dogs. It's a real hoot to beat their dogs on the ground with our paid-for rig.

Well, I start racing next year in our "for fun" PHRF races. Let's see if my $4000 sailboat can smack down some high priced floating loans.

With that same approach, I will likely be dropping in bigger and bigger waters soon. The ability to pull the boat out, and drive it to larger water is a helluva gas! Gunk holing trailer sailor style. I sure won't be doing the run to the Bahamas with it (maybe) but you can darnwell bet I will be having fun.

Isn't that why we have hobbies?
Senior Member
Join Date: Jul 2006
Location: San Diego
Posts: 6,707
Thanks: 40
Thanked 44 Times in 38 Posts
Rep Power:
16
It's a Tayana 37 for me, room to run-amuck on the deck and solid as a rock under sail,

oh, and comfortable as hell down below
---
1955 Blanchard 51 Custom ( I got a woody )

1974 Ranger 33

Friends don't let friends do stupid things alone
Quote:

The Bayfield is an aesthetically pleasing craft with its bowsprit and decorative sides. It has a full hull and some say it doesn't sail all that well and it doesn't in light winds but it gets going when the wind kicks up.
.
I sailed Bayfield 29 and I was impressed with her sailing ability. She does it better than she looks (sorry, guys, I'm not into clipper bows
)
Interior layout is very practical for a small boat too.
For pure sailing pleasure I'd choose A-class catamaran as favorite (beach racing cat, nothing handles better)
For cruising purposes I love my boat. She does everything I want, she is small, but comfortable, I can easy sail her without motor, and I don't hesitate to go far on my boat. She isn't bad looking either, in my eyes. Lots of storage, shallow draft. I'm pretty happy. Yes, she is old and she is never ending project, but I have time, right?
---
CR
s/v NEMO - Freedom 28 Cat Ketch, centerboard
Senior Member
Join Date: Aug 2011
Location: Eagle River Wi.
Posts: 1,105
Thanks: 2
Thanked 16 Times in 16 Posts
Rep Power:
9
My Cal 28 is roomy, fast, & a good looker! Sails well and with a YSM 8 for a iron jib is cheap to operate I'm in love with her!
Senior Member
Join Date: Dec 2010
Location: Idaho/Seattle
Posts: 142
Thanks: 2
Thanked 3 Times in 3 Posts
Rep Power:
9
Right now it would be the Baba 35, why you ask cuz, I am dreaming. Being 700 miles from any salt water one has to dream. The other thought is that I could put my toy on deck and cruise up to AK. It might work..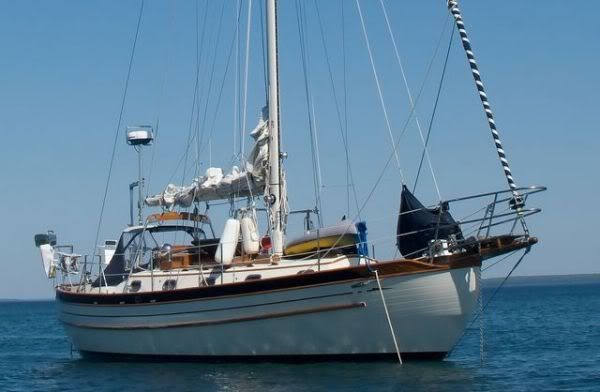 This is the toy about 11 foot long, might fit.
But till then I will float in a C-25.
---
------------------------------------------------------
Baba 30 1979
Pacific Northwest for now..

-------------------------------------------------------


_______________________________________________
Quote:
I like the look of a Ketch but not the work. Getting lazy in my old age... even though I have a main and a genoa I usually just use the main... like I said lazy... it's about the trip isn't it.
I have Cat Ketch with free standing masts. It is easiest rig to handle. Well, it is not true,easiest would be just Cat rig.Anyway, my rig is simpler and more versatile and reliable than a sloop and it is much easier to handle.
---
CR
s/v NEMO - Freedom 28 Cat Ketch, centerboard
Senior Member
Join Date: Mar 2006
Location: Fort Lauderdale
Posts: 1,514
Thanks: 0
Thanked 27 Times in 27 Posts
Rep Power:
14
A Norstar 40...which is a slightly modernized (read...added foldaway transom steps) of the classic Nordic 40. Robert Perry design, sturdy construction, better interior than a Valiant 40, and excellent performance for long range cruising. In addition, no fire-retardant blister issues. Also, I have a bridge to deal with so the rig fits under my bridge at low tide.
Oh, also, ironically the Norstar/Nordic is back in production after a nice 20 year hiatus and unfortunately, the Valiant 40/42 is out of production
---
S/V Jendai
Beneteau 343
---
Last edited by night0wl; 10-03-2011 at

08:40 AM

.
Currently Active Users Viewing This Thread: 1

(0 members and 1 guests)