PRICE REDUCED TO PUT ME OUT OF MISERY(Ill take 8k) if not Ill just keep it...this means my $$ investment and work and labor paid is down the drain and then some off the boat itself...
ahh to be a boat owner!
This is a longshot I know guys but please be understanding...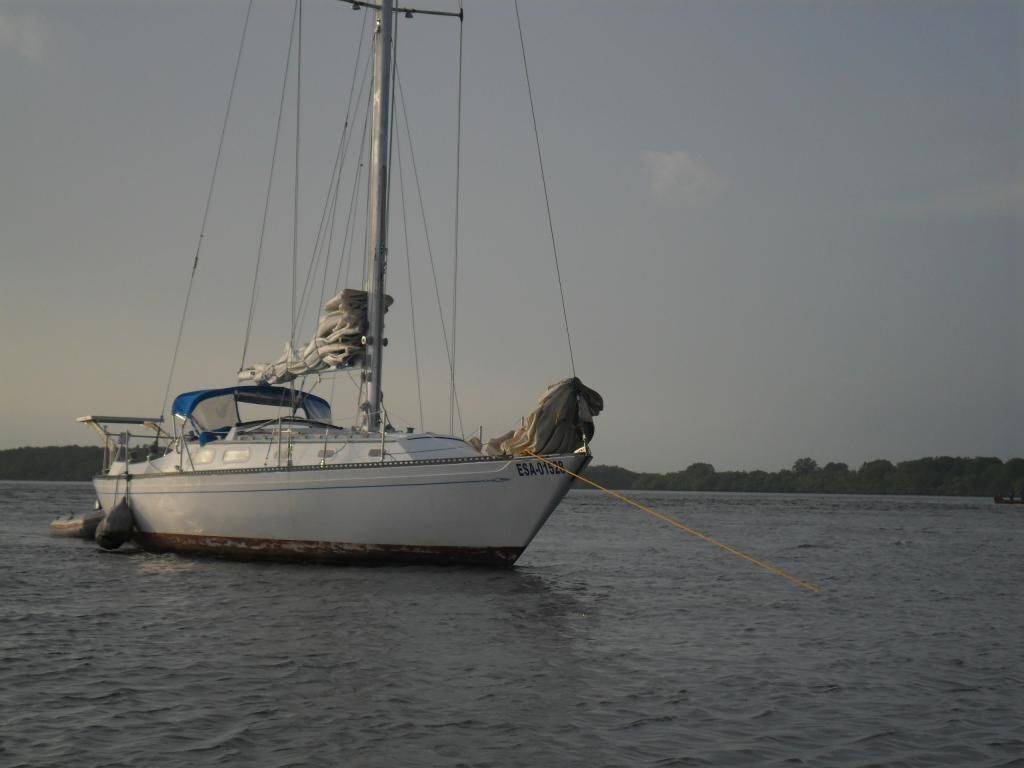 Im putting my boat for sale, for those who know my thread:
http://www.sailnet.com/forums/gear-maintenance/115890-islander-36-projects-paradise.html
... you know whats already done, but for those that dont just know that its been a long road to getting the boat sailable.Thats not necessarily indicative of the condition of boat but more monetary on my part than anything as times got rough down there a bit for us and the restauarant.
Boat is salvadorean flagged till 2018.(very easy to transfer over to another us citizen for example)
It is currently inboard engineless. However it does have auxiliary power by way of a heavy duty longshaft outboard.
Evinrude seahorse 15hp.
In any case I have my ad on craigslit in san fran bay(my old sailing grounds) and here in columbus, ga as well as in spanish in el salvador craigslist with many pics and complete details
Islander 36 Sailboat
If anybody is interested in an almost completed refit for a good price, solid hull and deck and great mods and improvements let me know.
This boat is for a frugal sailor or cruiser who just wants to go not impress those at the marina.
Goodies include zodiac and evinrude 3.3hp.
Davits, solar, dodger.
3 head sails
1 spinny
Awesome rolly tasker cruising full battened main.
New sheets
NEW CHAINPLATES, longer, thicker and stronger attachments to hull and bulkheads. 3/8ths ss versus 1/4 inch stock.
new intermediate stays with norsemans, partial re rig of mast.
New halyards
winches and gear serviced
new bulkheads(industrial grade) 3/4 ply sealed and epoxied.
new tabbing and glass work(massive) look at pics.
reinforced lower stays and extenders glass work under aft lowers in cabin
modified lower plates with extenders.
deck gelcoat(sprayed and rolled in certain areas) could use a buff.
REBEDDED TOERAILS and seald hull deck joint.
hull has no soft spots and deck is solid.
etc...
bottom paint , glass keel and fairing done
keel hull joint cleaned and sealed, faired over.
4200 fast cure was used.
no leaks from hull
shower, pressure water from 1 tank, bilge pumps basic electrical.
needs mast wiring and lights, running and a new or fixed pulpit.
there is an awesome yanmar 2qm ready to be installed(I can include in price or you pay after for $2k installed)
tanks in great shape
Interior painted faired and cleaned...trim wood and others, removed as well as 99 percent rotted wood and paneling veneer etc...
rotten vynil removed on cabin ceiling.
Please if you have any questions please call at 762 207 3602 or email
Im am negotiable and willing.
I am only selling because we moved away from el salvador and are starting fresh back here in the states.
Beleive me this is a hard sale for me
MUCH THANKS TO ANYBODY WHO SHARES THIS AD! jaja
Christian