This weekend past Fuzzbot and Fuzzet managed to get on down to the lady Friday evening though too late to get away. No big deal, we slipped the mooring pre dawn and pottered on down harbour, our intention being to get out through the heads for a decent sail, maybe even spot the odd whale and then back up harbour to an anchorage I posted about a couple of years back on this very forum.
http://www.sailnet.com/forums/oceania/60519-heres-another-any-given-weekend-port-jackson-sydney-australia.html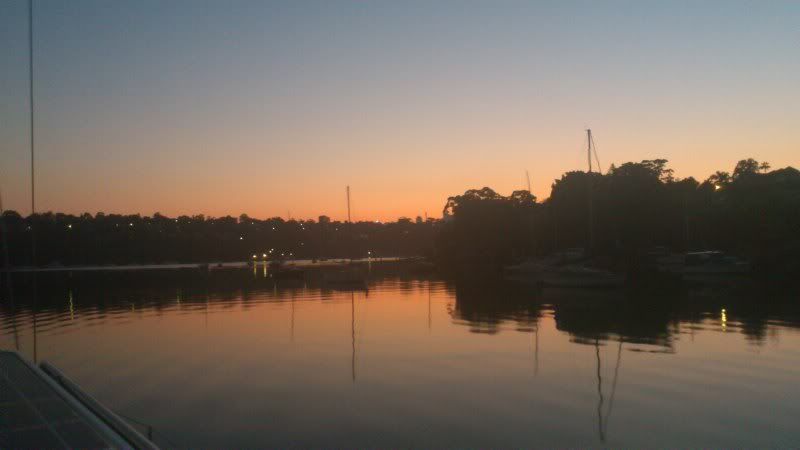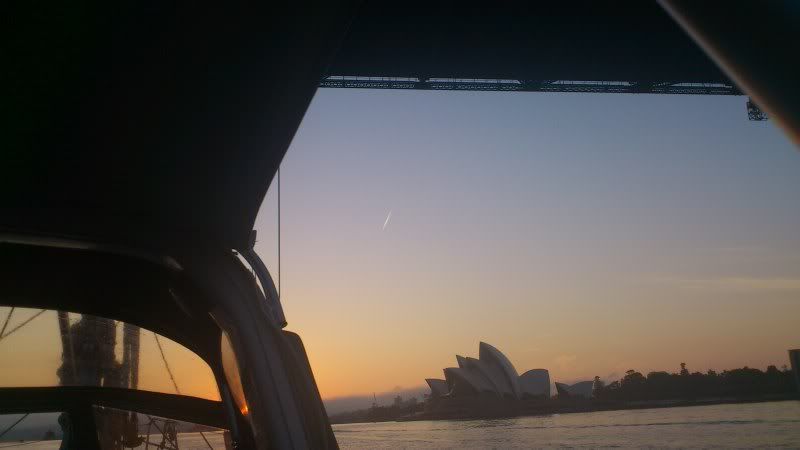 That hour of the day, these conditions, no hurry whatsover .... where the rats words ever more apt re simply messing about in boats. Slipping through that dead calm water, a cup of tea, me and my best girl by my side ....
Then it got weird.
Apparently the Rural Fire Service was conducting scrub clearance burning or some such and by midday visibility was down to a little bit more though not much more than bugger all. We figured we'd head out to sea thinking it would be clear out there but nope, there we were, visibility around 1nm and somewhere heading into the harbour was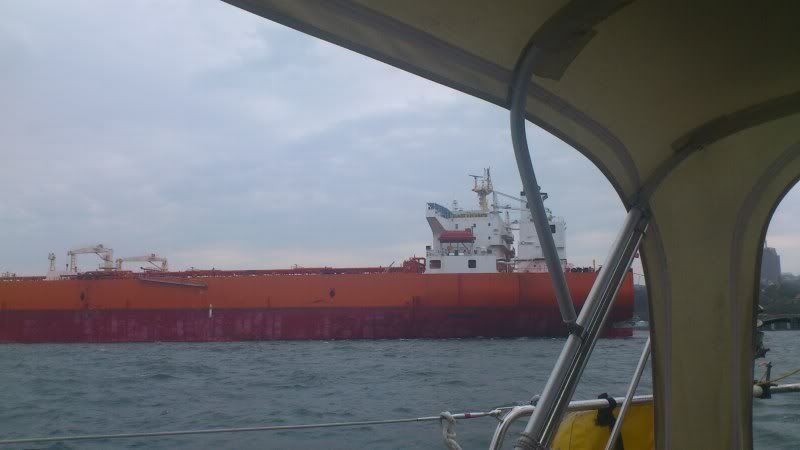 We could hear her but could not see. Kind of spooky really. Of course many of you sail with fog as a constant companion but in Sydney fog or haze that reduces visibility to these levels is quite rare. Harbour ferries were cancelled and beaches were closed. Still and all through the haze we did manage to have one nice encounter beyond our towering metal friend.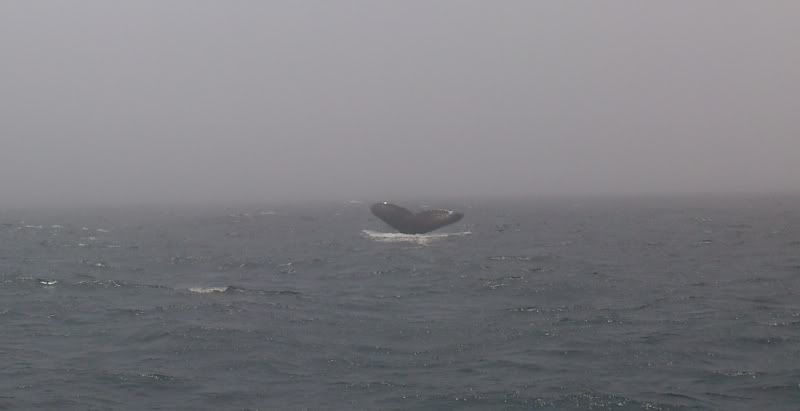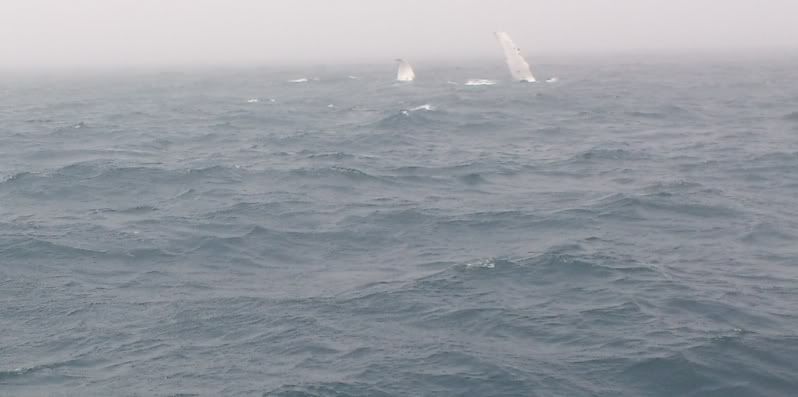 Now here we'll acknowledge a mea culpa. Radar is to date something of a dark art for me. I look at a radar screen and all I see is stuff, indecipherable stuff at that. AIS is so much simpler. Look at the wee ship shaped thingy, cursor it and you have the full details. Love it. When it works. First time I need to use the bloody thing in anger and it stops working. Sheesh.
Oh well, these things happen at sea. We knew the ship's path and we knew ours so all we had to do was to keep them from meeting up. The Wombet let out a cry, she peering while I steering and there she was. Great big hulking mass agyring and agymbling wabe or no wabe. Thankfully not in our direction.
Excitement over we headed back to port, the coast not appearing until we only an nm or so out but the haze obviously easing and all clear as we sailed up harbour to our anchorage. Good stuff really. Great weekend.
Extras
- Unfortunately her crew have been absent but this little lady has been anchored here for the past couple of weeks. An Albin Vega by the name of Rebellion. Dutch flagged. Yes Dutch. From what I can glean her crew sailed her out here across the Atlantic, down the coast of Argentina, through Beagle Passage and across the Pacific. Now that my dears takes cojones.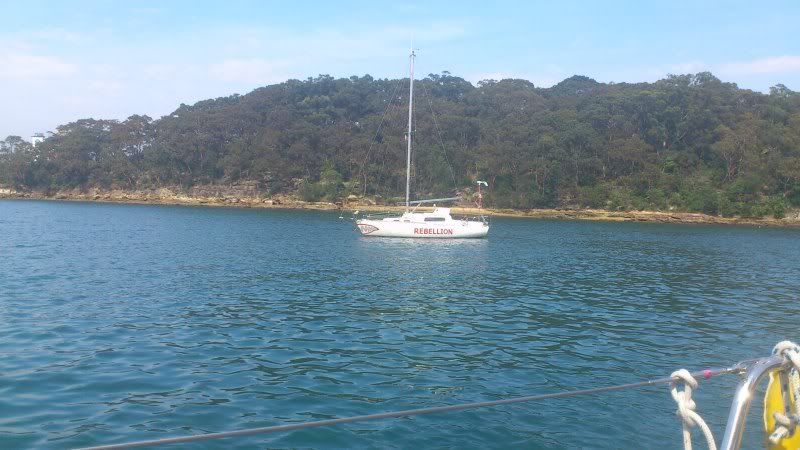 - We stayed at anchor all day Sunday, upping stumps as evening fell to motor back home only to be met by the same bloody tanker being tugged out of her berth, I tell you that thing was out to get us. Not that I'm paranoid or nuffink.
(Thats when we took the pic.)
- Fog is weird stuff no doubt. The drone of the tankers horn was simply unsettling especially as it semed to come from anywhere but where we knew she actually was. To all those who went to sea in pea soup fog with nowt but a fog horn I dips me lid.
- The AIS thing was also weird. When we back in port I went through the settings only to discover that somehow or other the inlet port for the AIS signal had been changed. How we will porbably never know cos it was working when we headed out. Somehow or other I must have inadvertently changed it or as is much more likely someone else did and we all know who that someone else is going to be don't we Ms Wombet ? Come on, lets burn her at the stake ...witch witch ....
Yeah OK so it probably was me and as a parting thought .... learn radar you stupid rodent.