Discussion Starter
·
#1
·
Hi,
We are anchored in La Cruz Anchorage in Banderas Bay, Mexico and it is very active echo system. Every two weeks or sooner we need to clean our bottom; we have a 36' boat. admittedly we are in die need of a bottom job which we will get done in September (off season rates).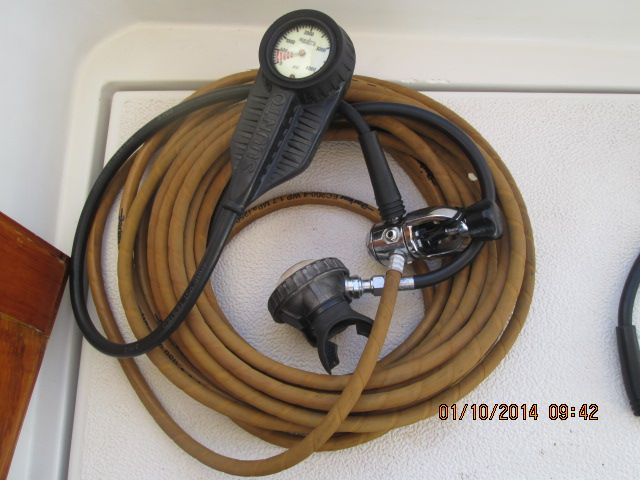 We have been using a dive tank and an old hooka yellow hose with a regulator that was given to us. We connected that to a stage one and then use a div tank on deck. We need to dinghy in the tank and take it for re-fill which is not easy every two weeks or so.
The problem is the dive tank air gets used up quickly. There is no solution for this that I am willing to do, like holding my breath etc.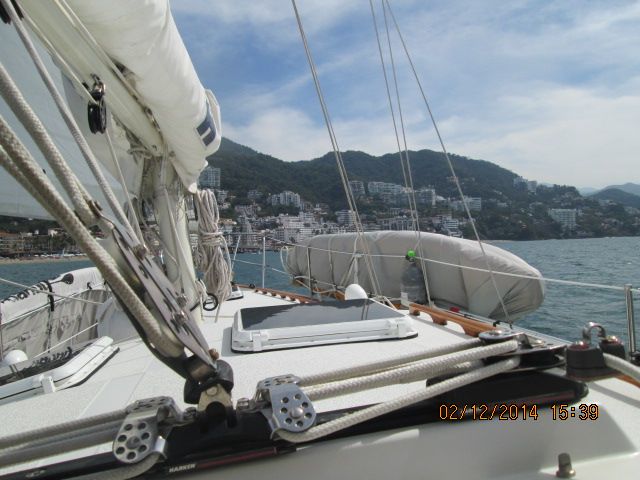 You can see the dive tank up on the starboard side.
It could be the regulator on the yellow hose is a low pressure regulator for a hooka setup. About say 30 pis regulator and the tank is much higher so air is getting out even when we are not breathing. Any way this is not diving forum so I will skip all that and just say we want to get rid of the tank. But it is a money thing.
We have plenty of solar power on the boat so we would like to use a 12v compressor to supply endless amounts of air at a price we can afford, we are retired and on a small fixed income.
We have found one Hooka type setup we think may work fine. We could sell our current system here in Mexico where the prices are high for dive equipment to recover some of the costs.
This system can be had with a 35' hose, regulator and compressor. Uses 10 amps and is affordable. We can clean most of the bow are with a snorkel so 35' seems enough. We do the keel are and zincs and prop with the tank the rest we get with a snorkel.
So after all this does anyone have any experience with this system?
"*mask not included For those wanting to use a more conventional regulator a Promate regulator is included. 12v Hookah diving air compressor Power:120w 12V Weight: 9 lb *battery not included Lightweight aluminum with easy carry handle Uses our long life, oilless, efficient, DC motor designed for clean breathing. One of the advantages of this system is the low power draw of 10 amps of safe 12v DC current. With the average deep cycle marine battery you will have enough power for all day use. Also you can put the compressor and battery on a float and not be encumbered by the length of the hose. Satisfaction Guaranteed. Rated for 5 meters of depth. 25 ft (35 ft available add upgrade to cart) diving dedicated , food grade hookah hose, brass direct screw connection to air compressor Nose clip and ear plugs included. With this kit you will be swimming with the fishes! Please leave feedback and please tell your friends. International Customers give a minimum 6-10 business days for arrival."
The system seems like it should do the job we are wanting it for, cleaning the bottom of our boat.
12v Electric Hookah DIVING KIT WITH PROMATE REGULATOR
Thank you,
Chip