My wife and I are the happy owners of a 2000 Hunter 340. Boat surveyed almost flawlessly a year ago. Had a good season, saw a little rough weather on the Chesapeake and spent the winter in the water. Come the spring, we noticed water kept appearing in the bilge. We'd dry it out, it would come back.
Over a couple months, we progressively eliminated sources until we finally began to realize the water was coming from the #4 and #5 aft most keel bolts. Out of an abundance of caution, we hauled the boat, brought the surveyor out and revealed that we likely had a crack in the keel bedding that was letting water in via the keel joint. Recommended repairs was to expose the joint and fill it. Most yards stated the only sure way to repair such an issue was to drop and rebed the keel.
After much hand-wringing, the need for safety won out. We contracted for a yard in Annapolis to do the work and got the boat in the keel stand. They pulled the keel nuts and backing plates and we saw water in the tunnels. That cinched it.
Hunter owners out there, do you ever wonder why you rarely hear about issues with Hunter keels?
Here's the reason: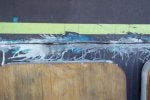 That's air. Air from the gap from the saw required to cut away the keel joint to drop the keel. Air across 90% of the joint save for the first 3 keel bolt holes. That is all that is holding 4600+ pounds of lead in the air still attached to the boat.
All courtesy of Hunter's preferred bedding compound for keels:
Epoxy
.
I learned a lot that day. The main thing being that Hunters don't have keel issues because the bond is so strong it takes a very hard grounding to damage them. Even the factory was surprised to hear a 340 was getting the keel done.
For some reason, lots of builders are putting keels on with epoxy nowadays. It makes sense from a maintenance standpoint. Trouble-free when it works and beyond incredibly strong. The keel bolts are an afterthought. You don't need them. I have 5 keel bolts, 4 of them 1 1/4" monsters and in an epoxy joint, they are superfluous. All five nuts were off and the keel was hanging on the boat from three plugs of epoxy that had formed around the forward 3 keel bolt studs.
But epoxy creates stiffness along a joint of dissimilar materials that can and does flex. Hence why you're supposed to bed with something flexible to allow for that motion. As long as it holds up it will be fine.
But, as my experience shows, once a little fatigue happens or the joint flexes beyond the tensile strength of the epoxy, it doesn't bend; it cracks. That's what we think happened in our boat. That probably combined with a day at the factory where not enough epoxy was put on the day my keel was bedded on.
And when you need to fix it, here's where you wind up:
Enjoy that view (or cringe in horror) and see what happens when epoxy as a joint compound fails you.
The end result, though, was a keel rebed that was better than new. The keel stub was repaired to perfection, the keel was rebedded with 3M 4200 and allowed the keel bolts to be actual bolts to hold the keel on and faired so beautifully you can't find the joint even if you knew where to look.
Hunter has apparently been doing this forever. And with few problems to their credit. Until you have one like mine. And so are a lot of other makers which leads me to wonder where they will be once sailing stresses take their toll on what is a butt joint to the bottom of their hulls rather than against a dedicated sump like on my boat.
But feel free to share this little tidbit with friends and fellow surveyors. Even our surveyor never knew this about Hunters.
I have plenty of pictures of this experience if anyone is curious about the process of dropping an epoxy bedded keel and putting it back on. The end result for us is peace of mind.
Matt