Discussion Starter
·
#1
·
It's approximately 85NM from Vancouver (lower right) to Desolation Sound (upper left). A relatively easy 3-4 day trip up Georgia Strait. It's sometimes difficult, though, to get there.. not so much due to weather or distance, but more due to the attractions and distractions along the way.
(co--ordinates at the bottom of the image, open GE to zoom and explore further!)
Hooking immediately right out of Vancouver's English Bay puts you into the 20NM deep Howe Sound. A steep sided fiord terminating at Squamish (a short drive to Whistler, the 2010 Winter Olympics site) Squamish hosts an active yacht club, a transient float, great daily winds in the 20 knot range, and flat water.
Along the way and around Gambier Island there are hidey holes here and there, and several good anchorages and yacht club outstations in the 4 south facing bays - West Bay, Centre Bay, East Bay(Long harbour) and Halkett Bay.
Bowen Island has a good marina at Snug Cove, also the terminal for the ferry service. Bowen has a sizable full time population, many of whom commute daily to the city. (also the moorage home of member Sequiter!)
Finally Gibson's Landing at the northwestern entrance is a sizable town, supported in part by one of the few remaining coastal pulp mills and associated sawmills/logging activity. Also "famous" as the location for the long running TV series "The Beachcombers" in the 70s and 80s. You can still dine at "Molly's Reach"....
My wife's 50th Birthday Raft-up in Halkett Bay, Gambier Is, Howe Sound
FAll series Race, Squamish Yacht Club (photo by Peter Lang)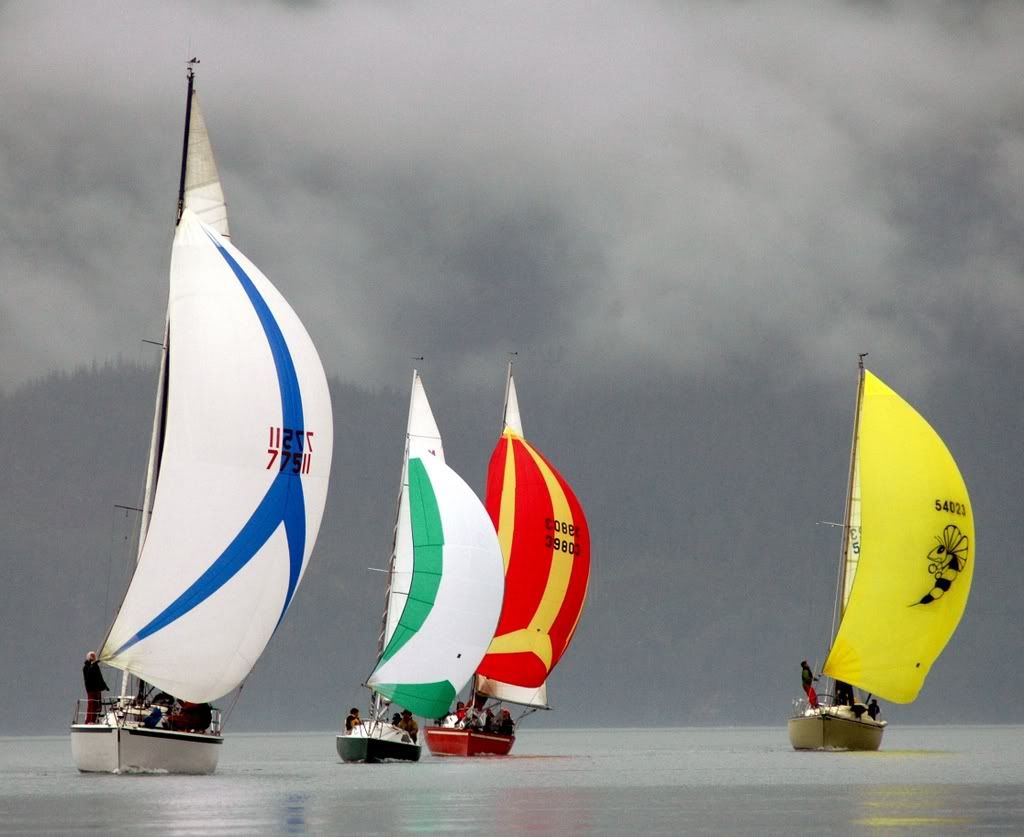 Our former boat "Phantom" at anchor in Christie Cove, northern Howe Sound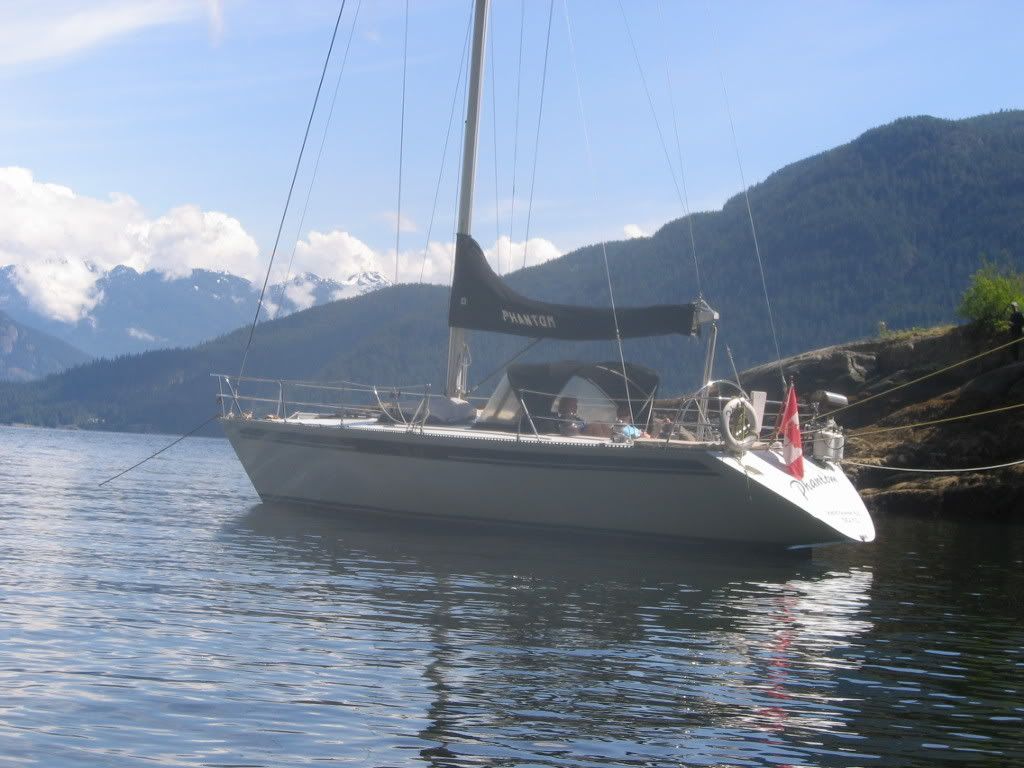 Heading up the coast, the next major inlet is Jervis Inlet - which ultimately leads to the mystical and magical Princess Louisa Inlet, with its tidal narrows entrance, Chatterbox Falls, and amazing topography. Pender Harbour, just south of the entrance to Jervis is a great provisioning stop. Just around the corner on Aggememnon Channel is Green Bay, a delightful stop too. Further up is Egmont and it's wonderful hike into the Skookumchuk narrows (aka Sechelt Rapids) to watch the kayakers play. Note: tides run up to 16 knots here at spring tides, photos show a 10-12 knot flood)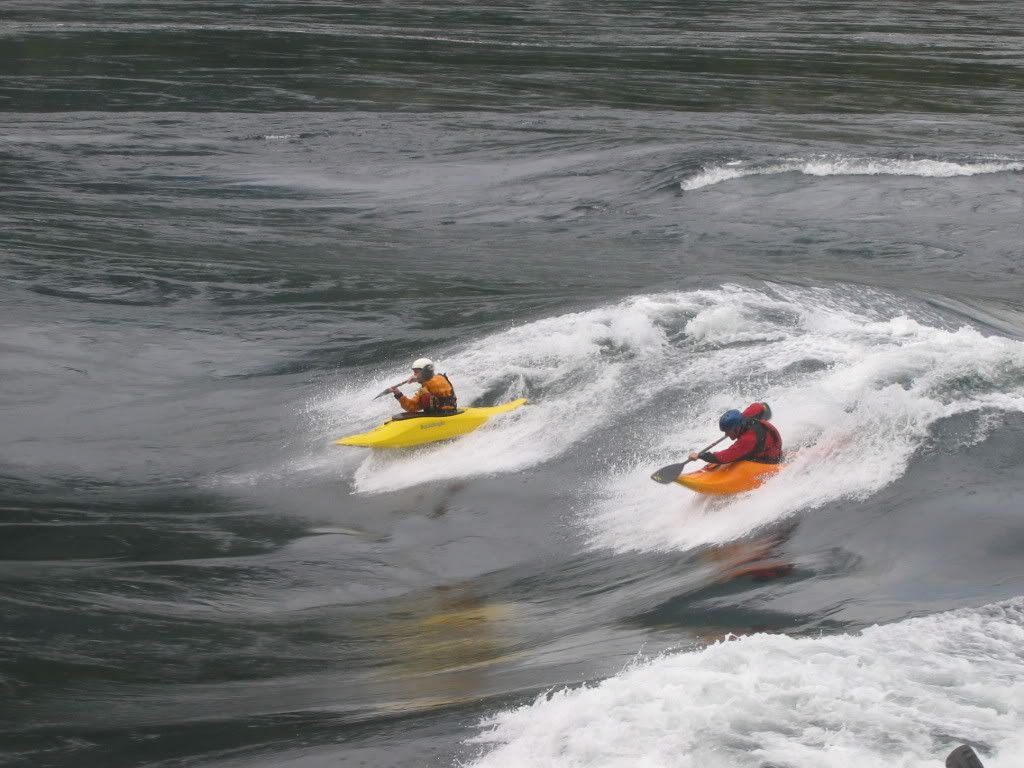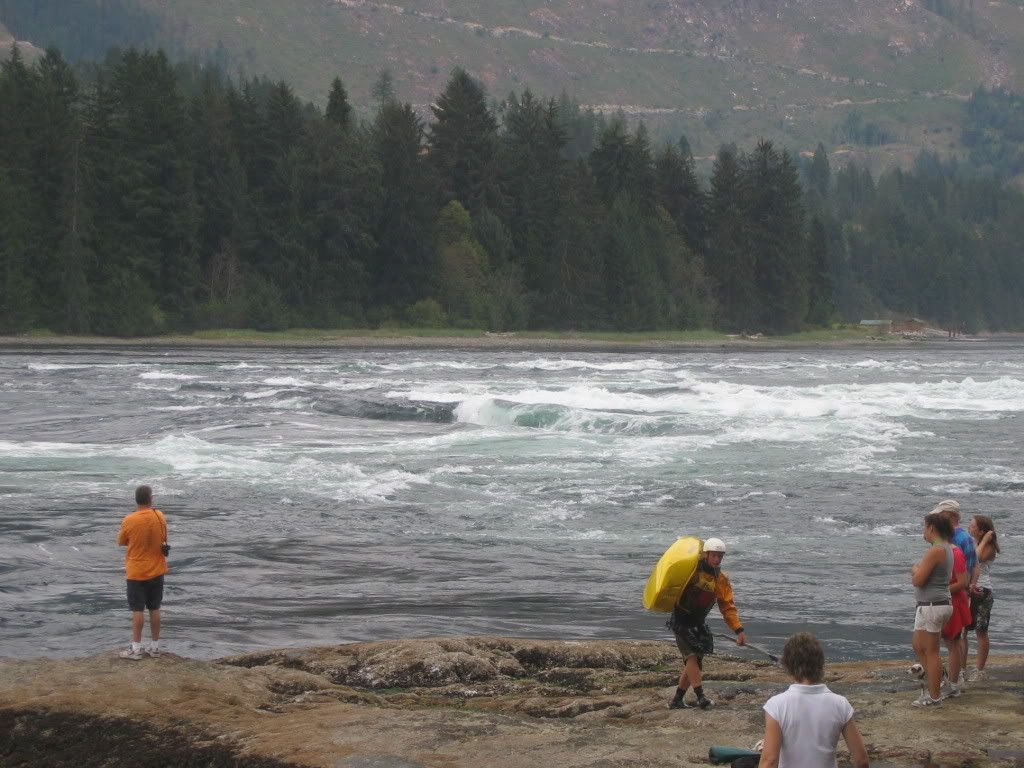 Between Nelson Island and Hardy Islands is Blind Bay, hosting Musket Is Marine park and Ballet Bay, another popular anchorage. Venturing further inland, up Princess Royal Reach takes you to remote Princess Louisa Inlet.
Our friends charging up behind on the way to Princess Louisa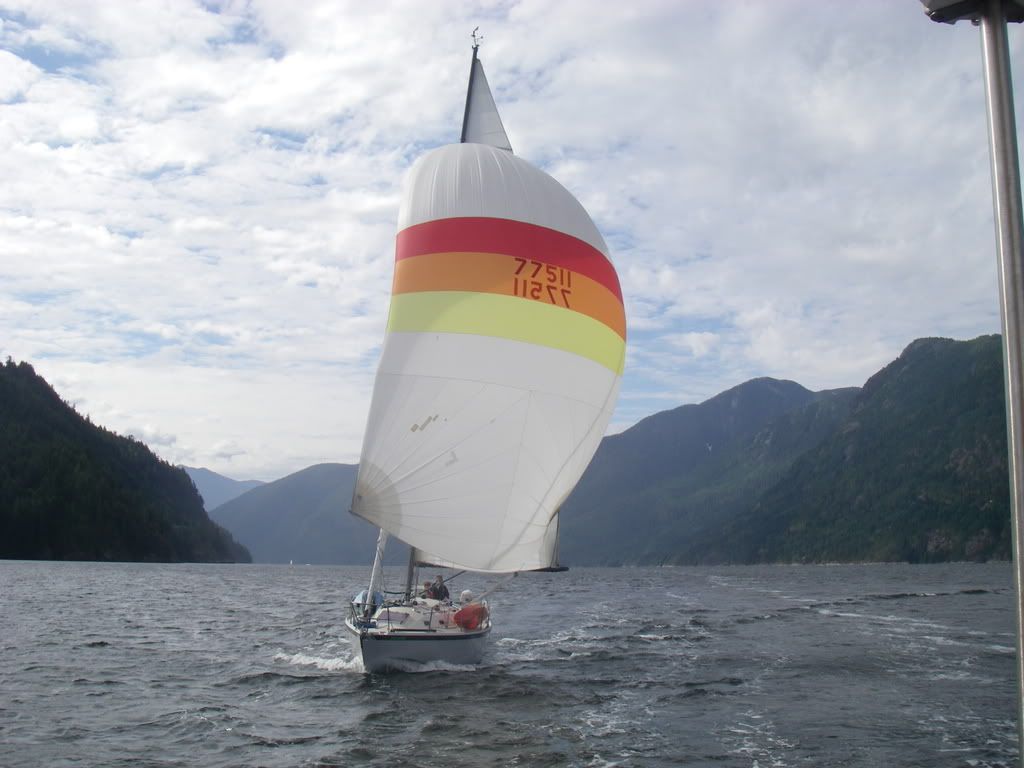 Late afternoon arrival: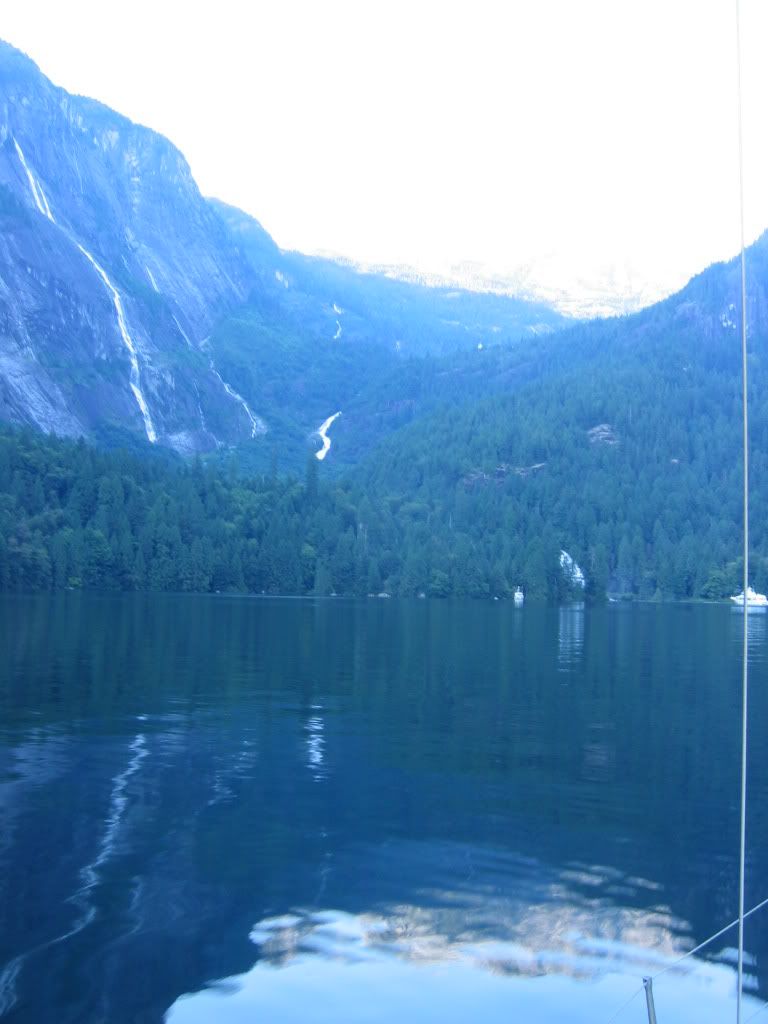 The next morning
Part of the "trail"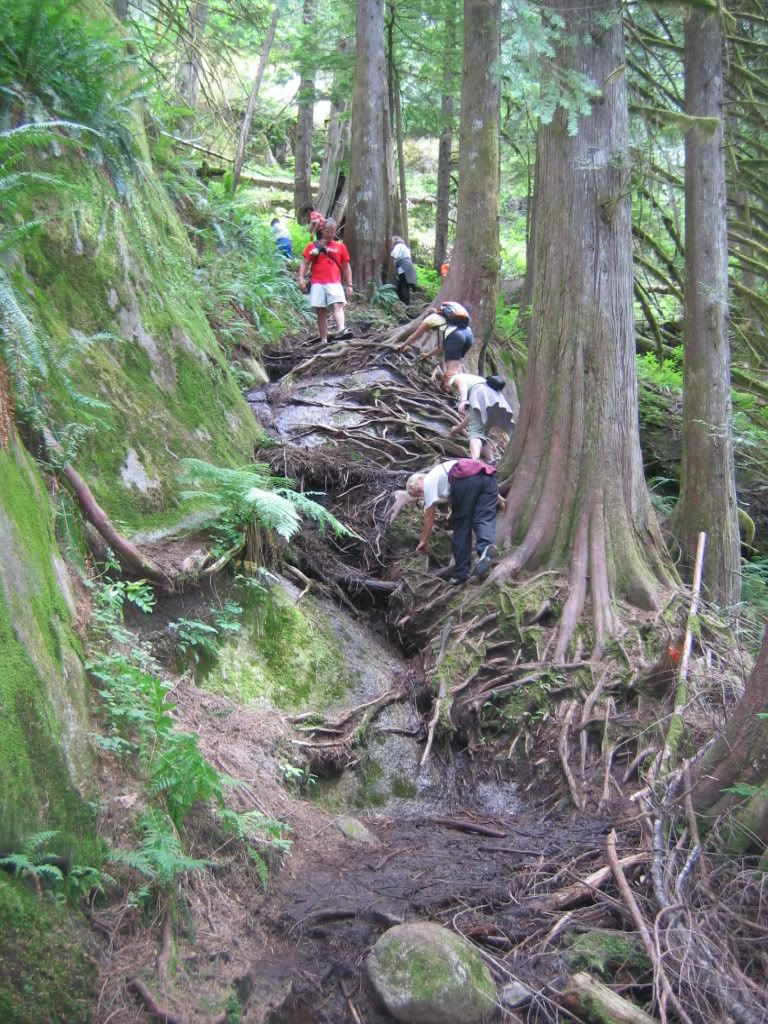 The waterfall at the end of the hike: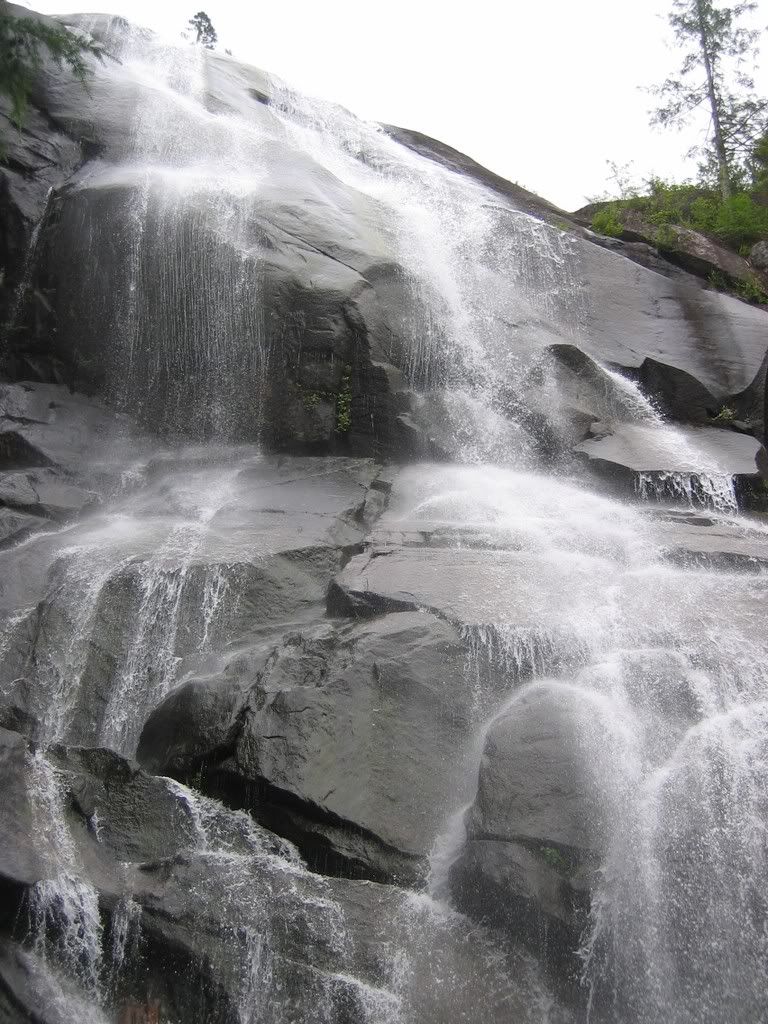 The inlet as viewed from the end of the waterfall hike (to 1800 ft elevation):
Desolation sound awaits at the northwestern extreme of Georgia Strait, a wonderful collection of inlets, islands, lakes (fresh, warm and generally a short walk from the beach) and beautifully sheltered anchorages. Since the tides flush around both ends of Vancouver Island, and meet here, there's unusual warming of the ocean water during summer, making for excellent salt water swimming too.
Early morning calm, Pendrell Sound (Desolation)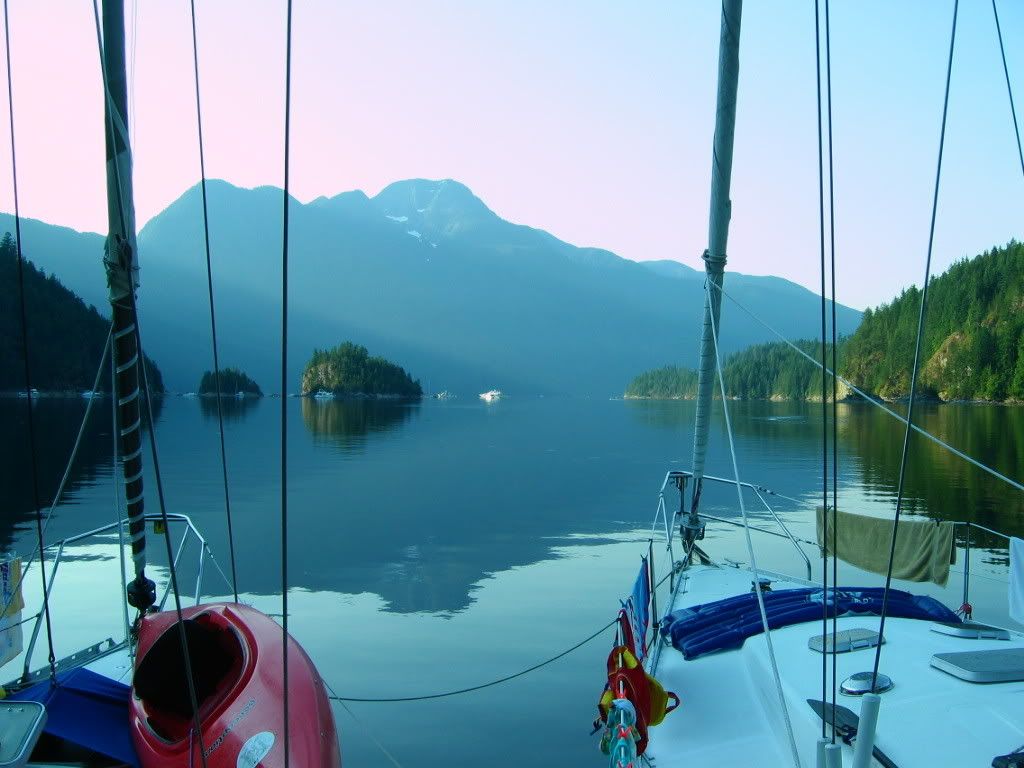 Entrance to Gorge Harbour, Cortez Island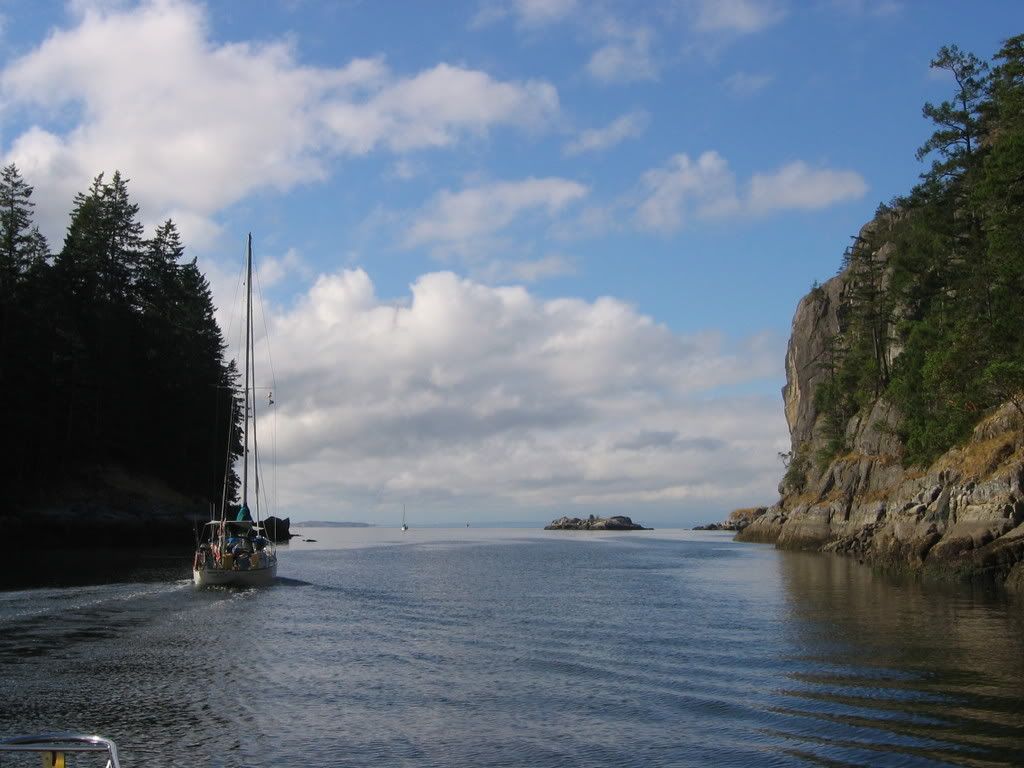 Overlooking Desolation from Tenedos Bay Bluff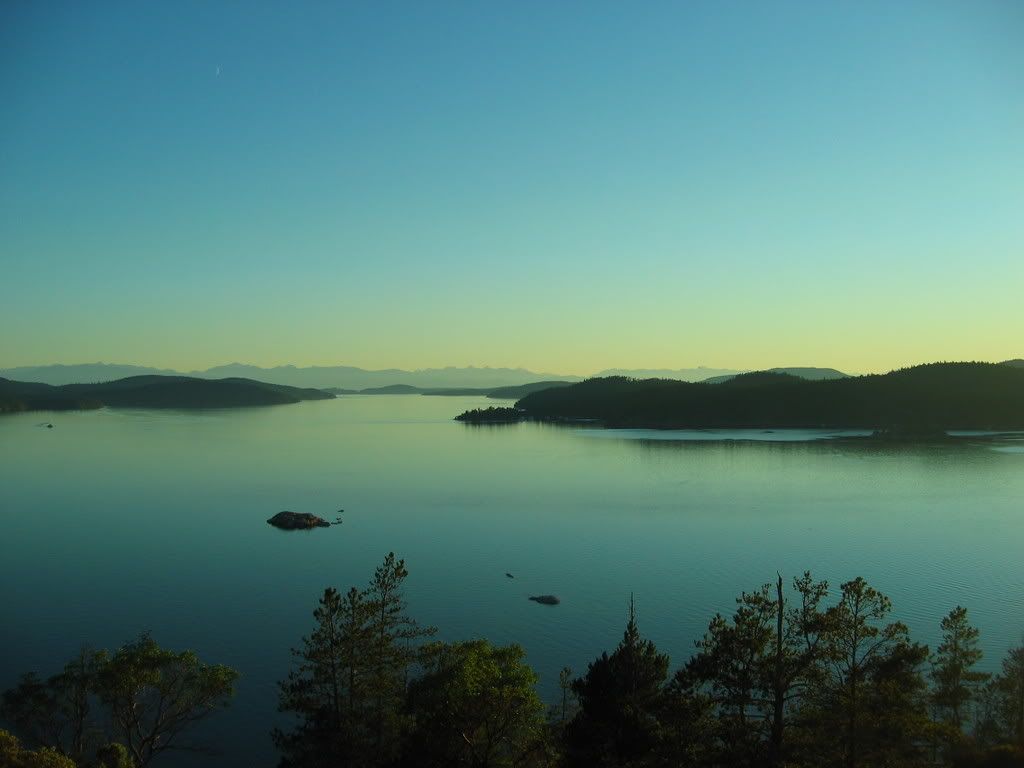 Anchored at Walsh Cove Marine Park.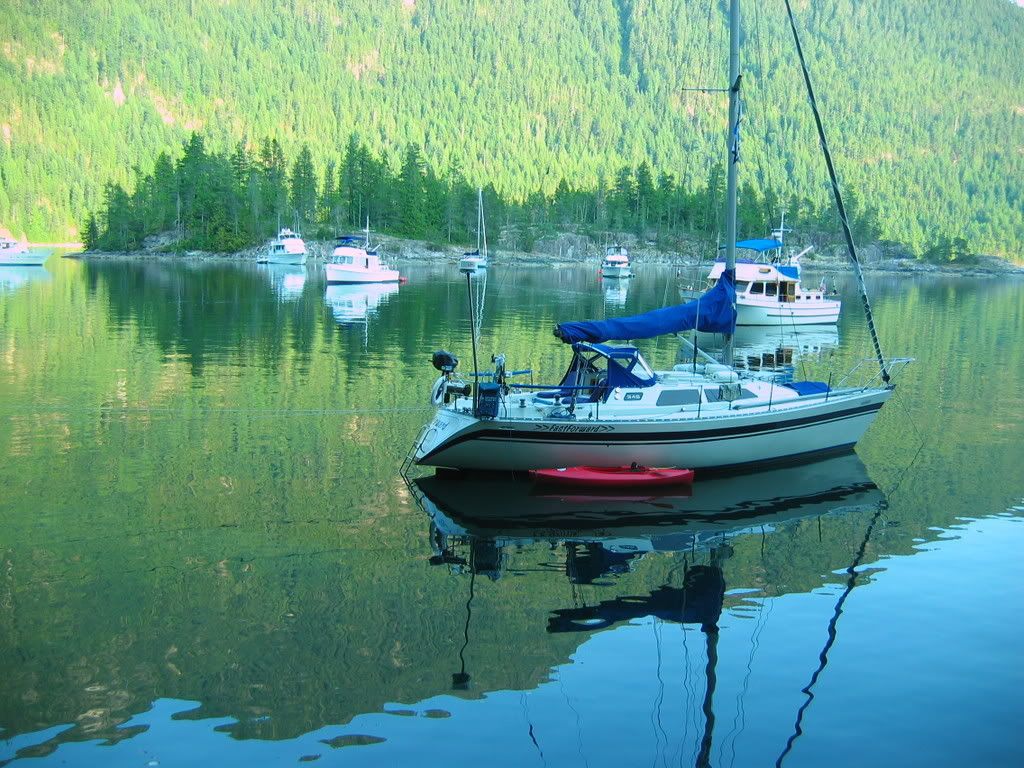 This quick tour is but a small taste of what's available in our cruising area.... all within 100NM of most major south coast cities and towns. For those of you using GE, you can get better look the various inlets, the latest edition has pretty good resolution in many areas now! Enjoy!