Discussion Starter
·
#1
·
One of our all time favourite places to spend a few days each year is this island park. To the previous owner's eternal credit, they turned down developers' offers of much higher figures to allow the Island to be purchased as a park, with a large part of the funding coming from the estate of Dan Culver, a Canadian mountaineer.
Only 40 miles or so from Vancouver, this island is nestled between Lasqueti and Texada, on the edge of Sabine Channel.
The island itself boasts numerous smallish anchorages, a large meadow, an old homestead, sheep, goats (and for a time, Will, the resident horse - whose grave is well tended by visitors) - if the weather or crowding makes anchoring difficult, Boho Bay on Lasqueti Is is an alternate, and Jedidiah is a short dinghy ride or a decent kayak paddle away.
The most popular anchorage is probably Deep Bay, in the Northwest corner of the island. A cleft in the shore, partly sheltered by Paul Island, can host as many as a dozen or more boats in sheltered weather. Plenty of water and shore rings make for some interesting patterns of rodes and sternlines - to the point that we get concerned about having to leave in a hurry.... Impressively large cedar windfalls at the head of the bay are testament to Paul Island's ability to funnel a really strong NW wind in there... and that'd just be nasty.
Our favourite is White Rock Bay, more open but in some ways more secure than Deep Bay, and not as busy as a rule. There's a white boulder on the south shore that gives the bay its name, but also watch for a near-drying rock near the eastern shore. We like this one (or two if rafted) boat nook here.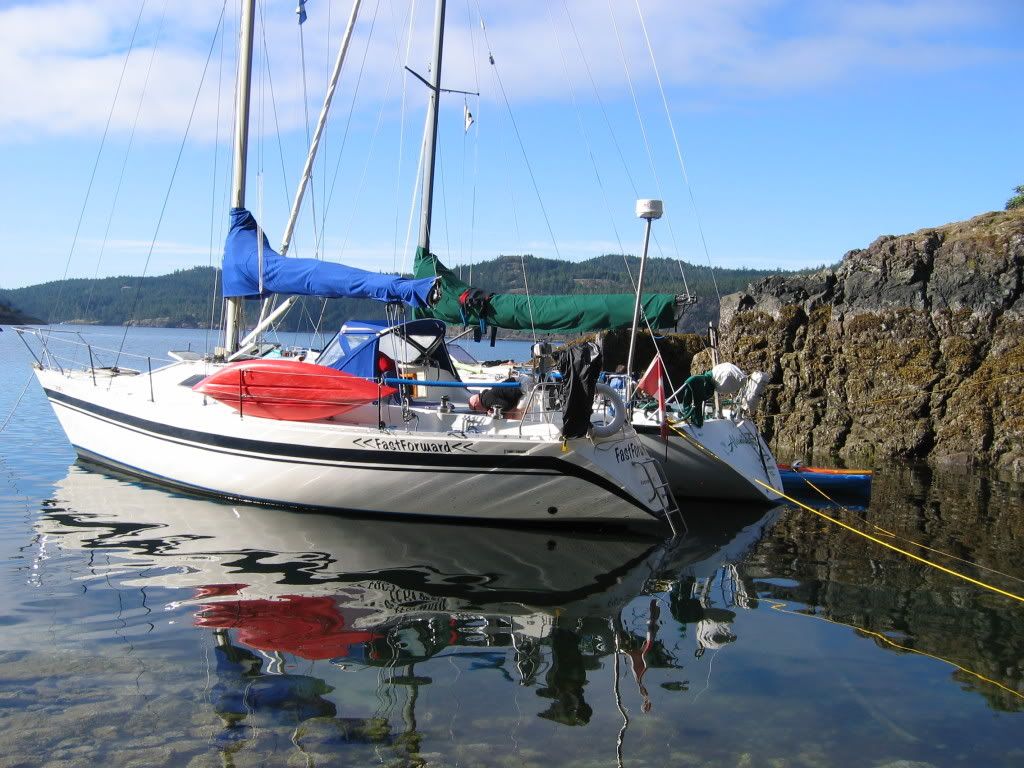 Carrying on south down the west shore, Boom Bay nearly dries completely, but a boat could find a spot on the edge of the shoals. The same goes for Long Bay, which also largely dries but has some room at the mouth. The ends of the shoal sections are marked on shore by red-painted concrete blocks. There's an un-completed house in Long Bay, and at higher tides it's a great kayaking "lagoon".
Otter Cove and Sunset Cove are other small coves that offer secure anchorage, but somewhat exposed to the Northwest - so check your weather.
Little Bull Passage is a treat - you slowly make your way through with vertical bluffs on the Jedidiah side, using caution as you pass over a mid-pass bar (doesn't dry, probably 5-6 feet a LLW). You may well hear some of the resident sheep or goats in the cliffs above you.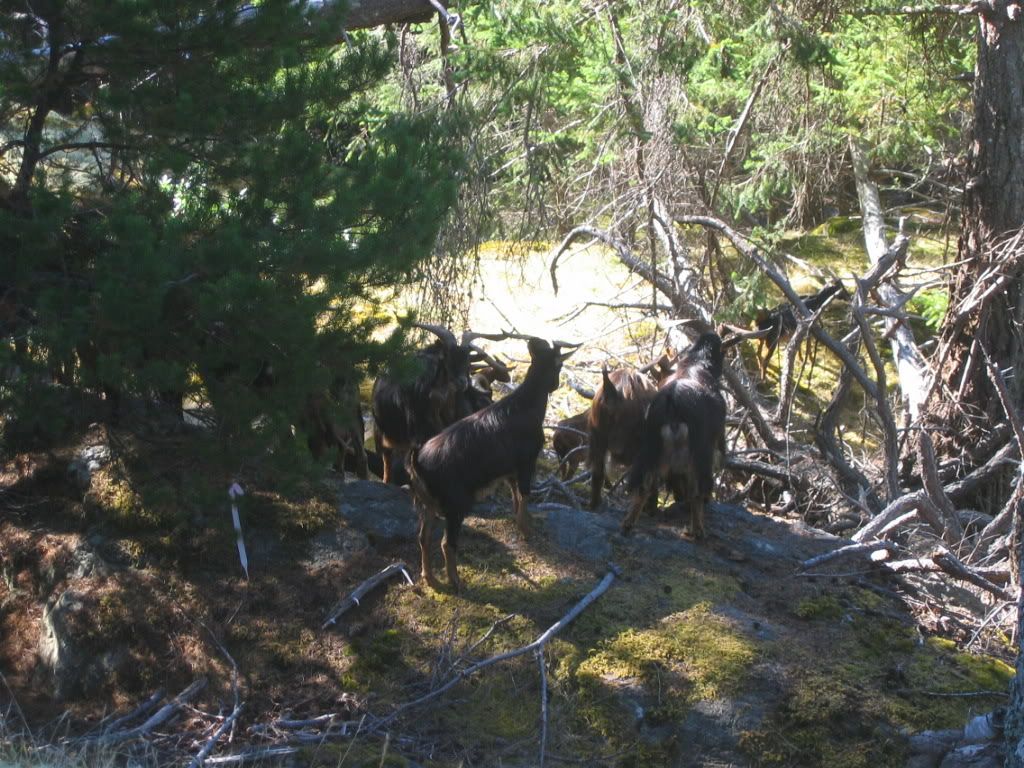 The no-name nook at the southern end is a neat little dog-leg inlet with room for two friendly boats - but be prepared to bolt if a SE wind comes up.
Around the south end and up the eastern shore, on Sabine Channel now, Codfish Bay offers good protection in strong NW winds. (and NO protection in strong SE winds... the story of our lives up here) Seen here from "Gibraltar", lower right.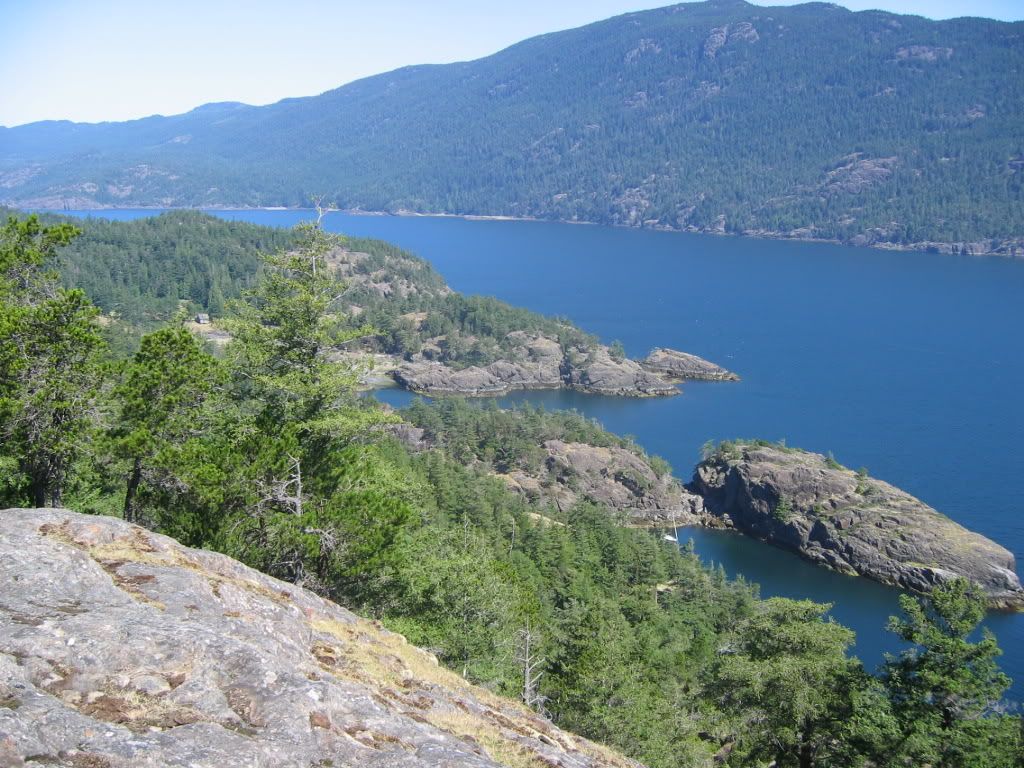 Home Bay, so called because that's where the homestead with house, barn, sheds, orchard, and connected to the meadow, is a beautiful landlocked bay that would be an exceptional all weather anchorage except that it dries completely. It's a popular kayak expedition landing spot.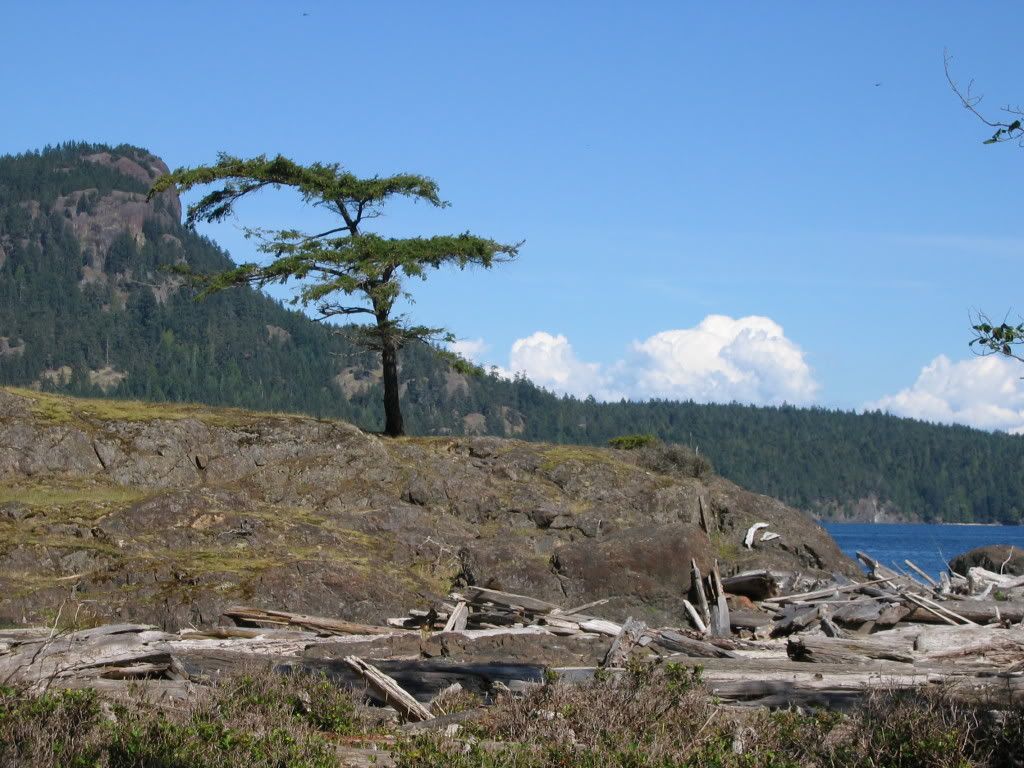 The tree in this last shot, near the mouth to Home Bay, is a testament to the power of the winter winds....
Another must-do here is the hike to the "Gibraltars" There are two peaks with cairns an easy 40-50 minute hike from Long Bay. Both give good views, the first across Bull Island to Lasqueti, the second, a panarama from Texada Island, around south to the mouth of Howe Sound, and across to Vancouver Island as well. These shots are sequenced in a "panaroma" from the second peak.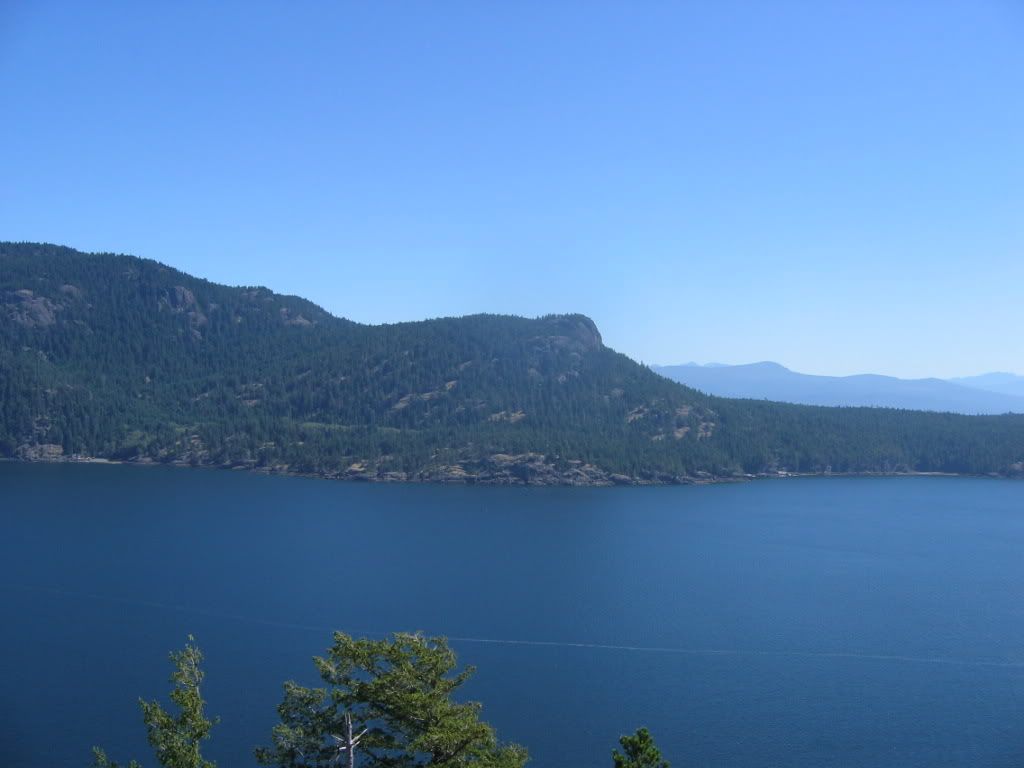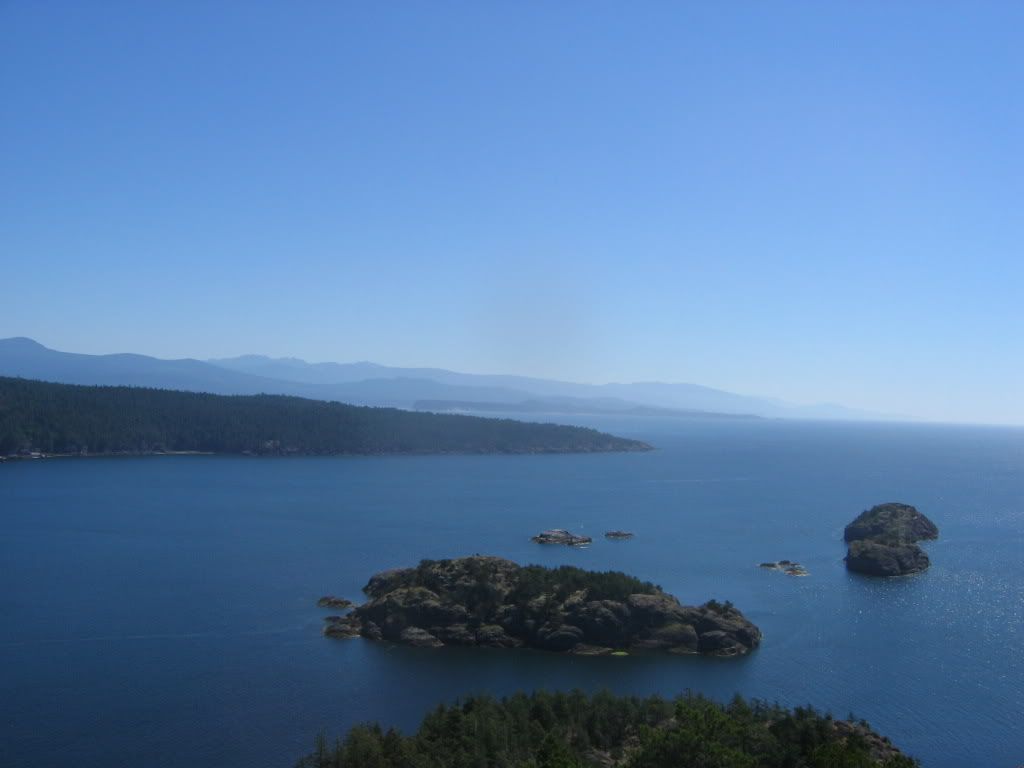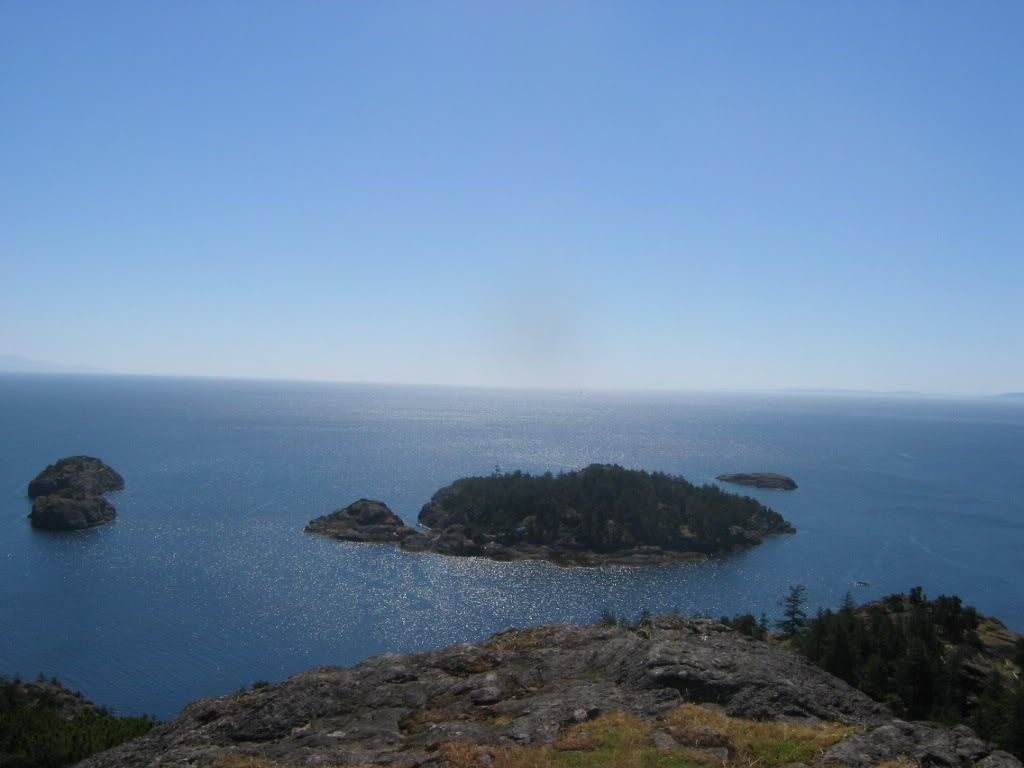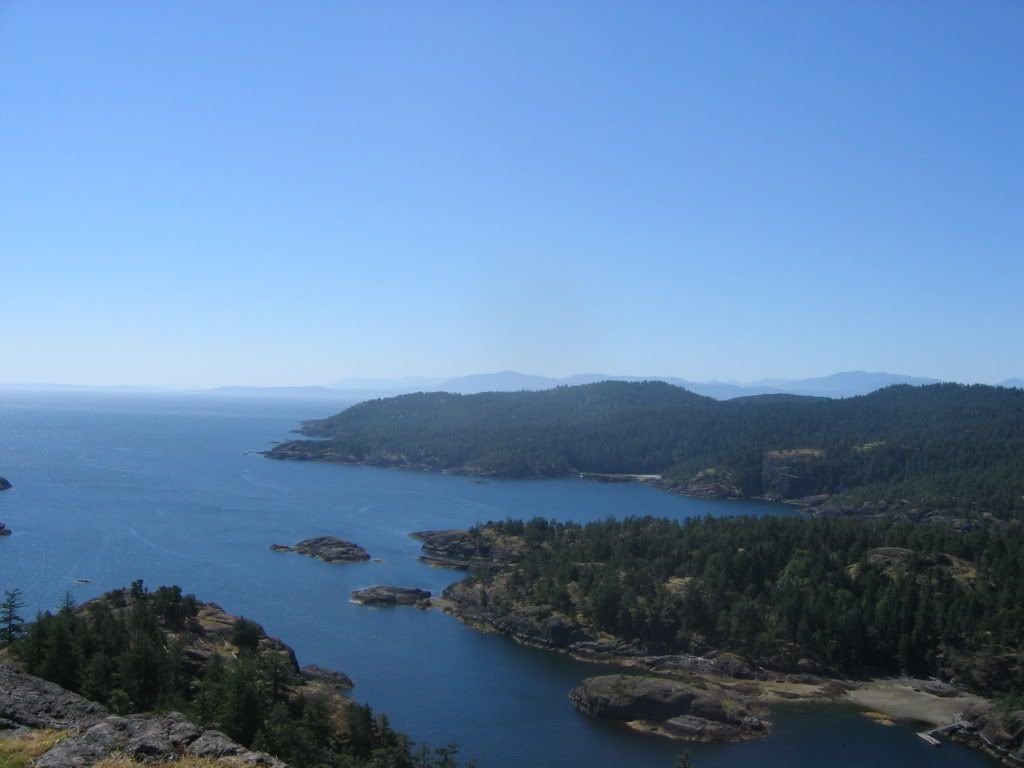 One of British Columbia's gems... a convenient stop to almost any other destination along Georgia Strait - a magical place altogether!