Last weekend, Cascais hosted the last races of 2008..The Christmas regattas, where over 309 sailors got together for the last real race of 2008, and battled for what it was worth.
Classes like Optimist A, Optimist B, 420, Laser 4.7, Laser SB3 and Dragon sailed one more time...for the 2008 season...the races were held over 3 days, Saturday, Sunday and Monday (a national Holiday).
a total of 51 races all together in all classes!! In very heavy wind conditions on Sunday and Monday
my son Fred had his first REAL race in Optimist B class where he now competes..Fred placed a humble but consistent 49th place overall, with a race completed with a torn main sheet, having to sheet the boom by hand and teeth..really. Fred completed all 7 races he had to do, with no de-qualifications, protests or faults..he placed out of 97 racers in his class, as follows:
race 1 55
race 2 35
race 3 44
race 4 42
race 5 48
race 6 27
race 7 59
Giving him a total of 251 series points..not bad for the first race, really...but he understands that now the levels are different and the conditions are tougher..and a lot of sacrifice and work lies ahead.
A good thing I conclude by looking at his scores is he is pretty consistent..a good thing.
Just a little note, in Race 1 Fred's main sheet tore the outer skin leaving him with nothing but a few wet strings of his sheet core, to pull his boom...he jury rigged what was left of his main sheet, tied a knot to the boom and finished the race pulling it without any blocks..a real BFS.
Here are a few moments from that 3 day weekend..by the way..most of them raced with Sant's hats on!!! really see for yourself
The "mean machine" now has sponsors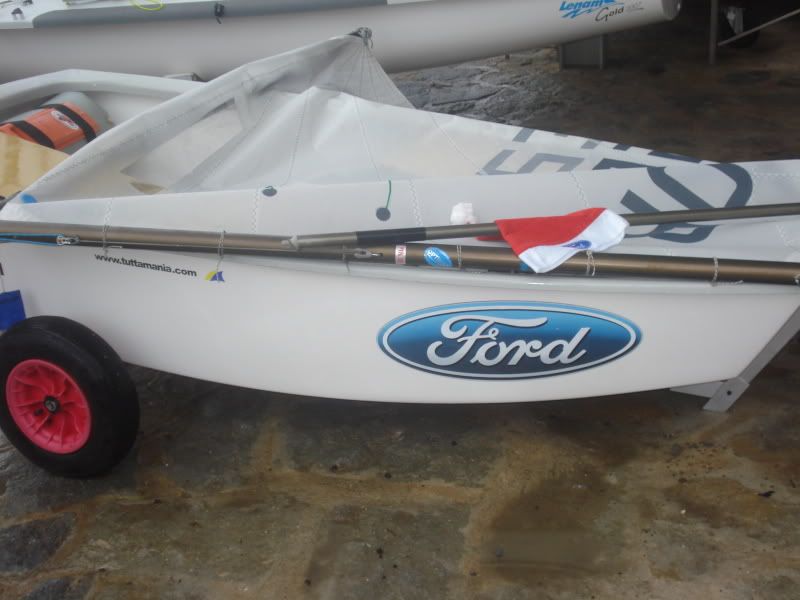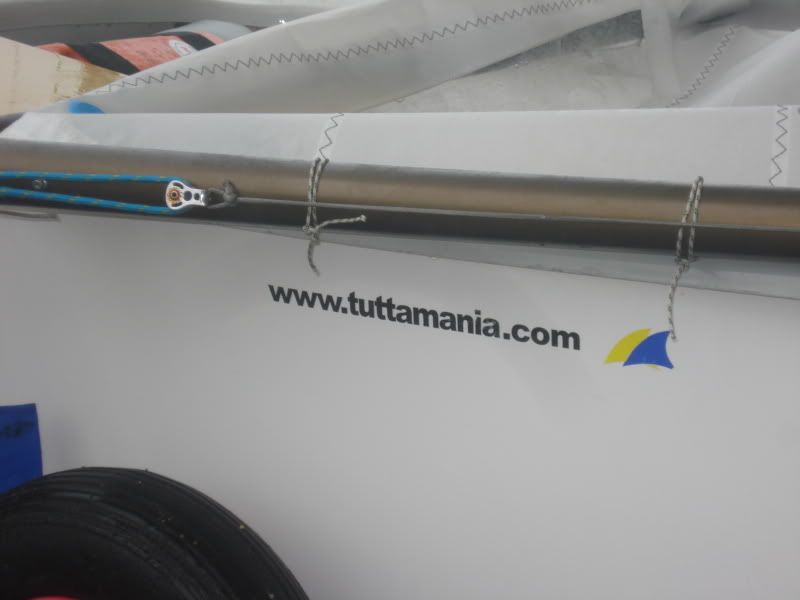 Fred proudly glues the red square that identifies him as a real B Optimist racer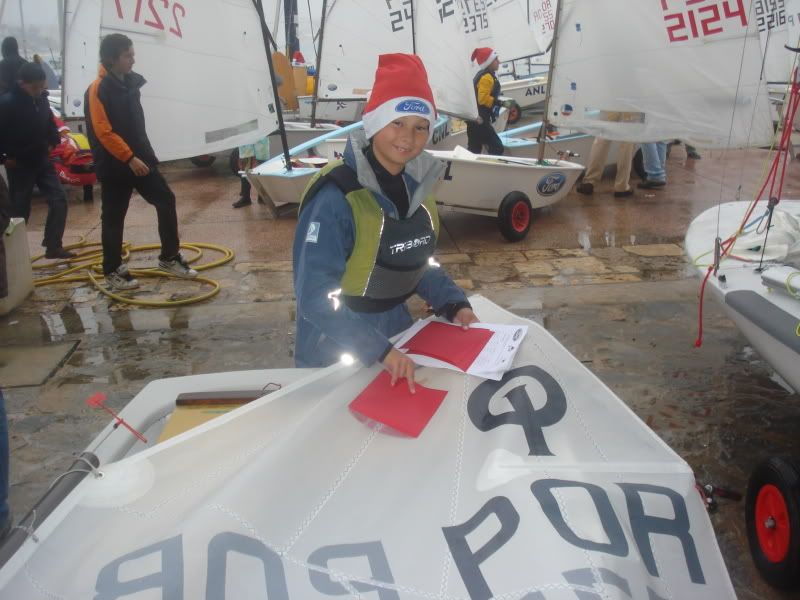 a little teaking here and there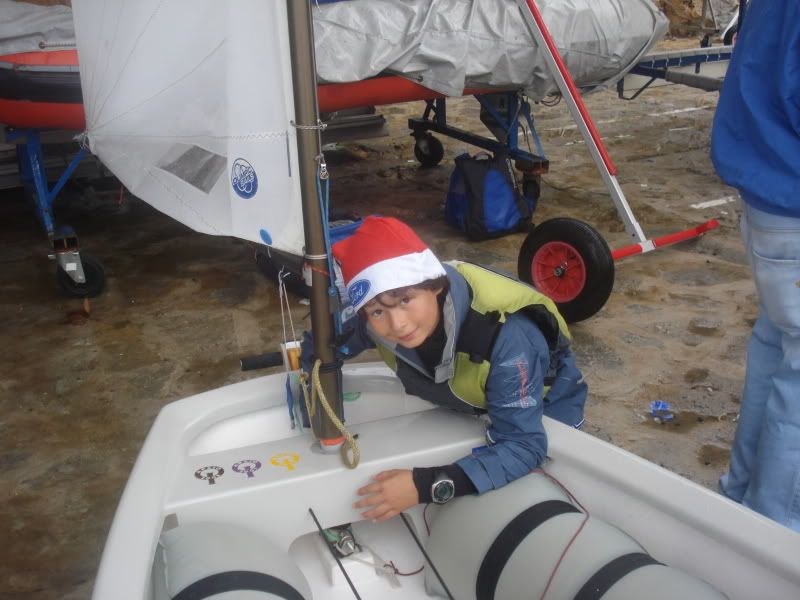 sometimes a lot of rain too..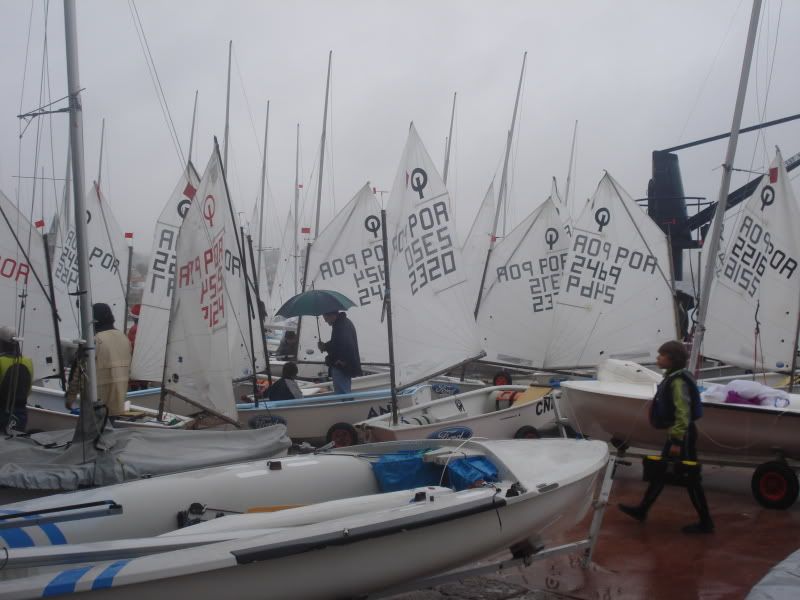 coach gives last minute instruction to the gang..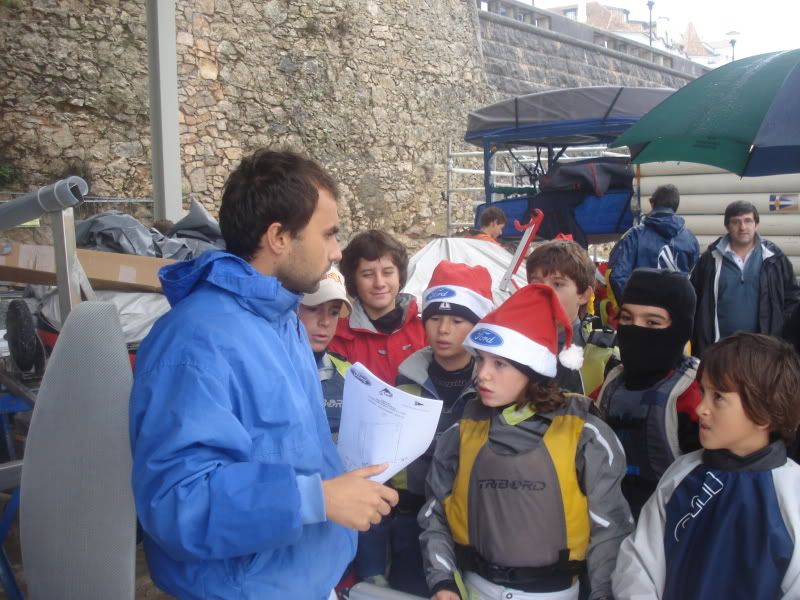 this bellow..I don't really know what it is...must be some kind of new "race ritual"...they were doing it for 5 minutes..no one actually understood what that was...and further questioning provided no positive answer either..but hey these are 11 and 12 year old kids..so we're not quite there yet...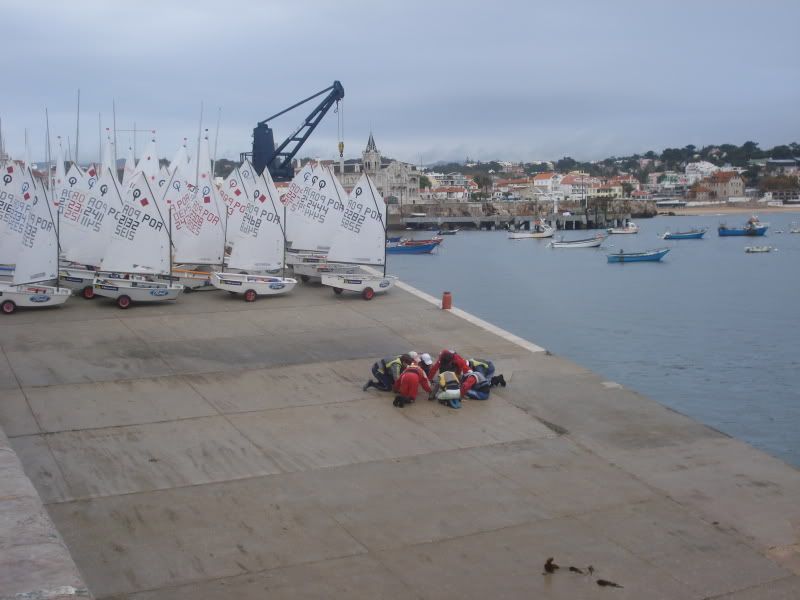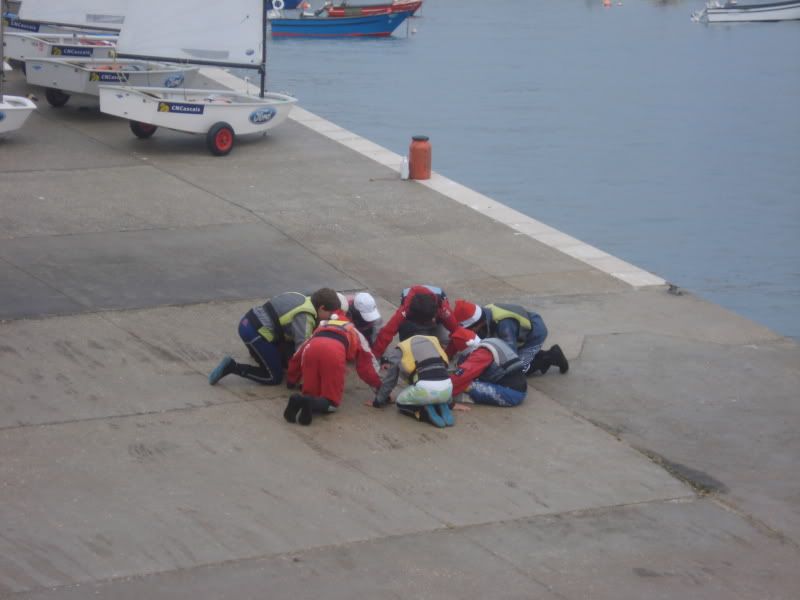 getting ready to go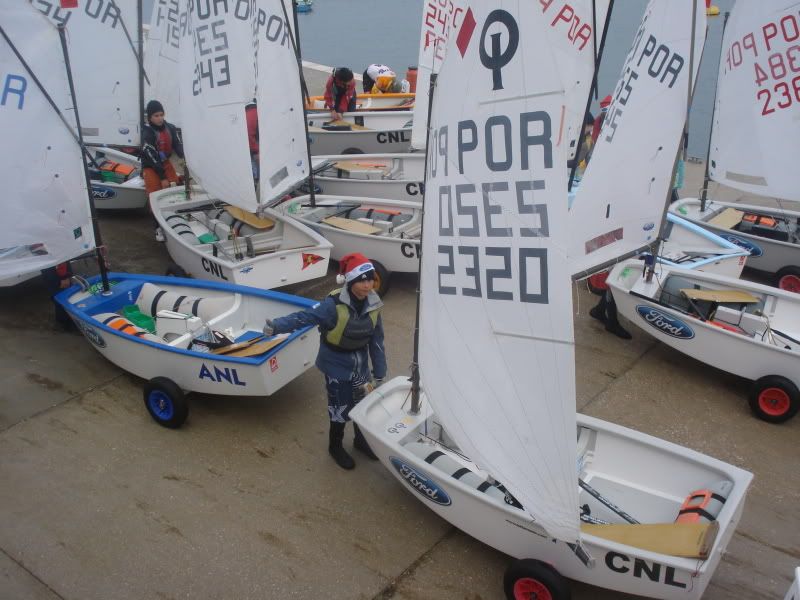 a lot..and I mean a lot of small boats everywhere..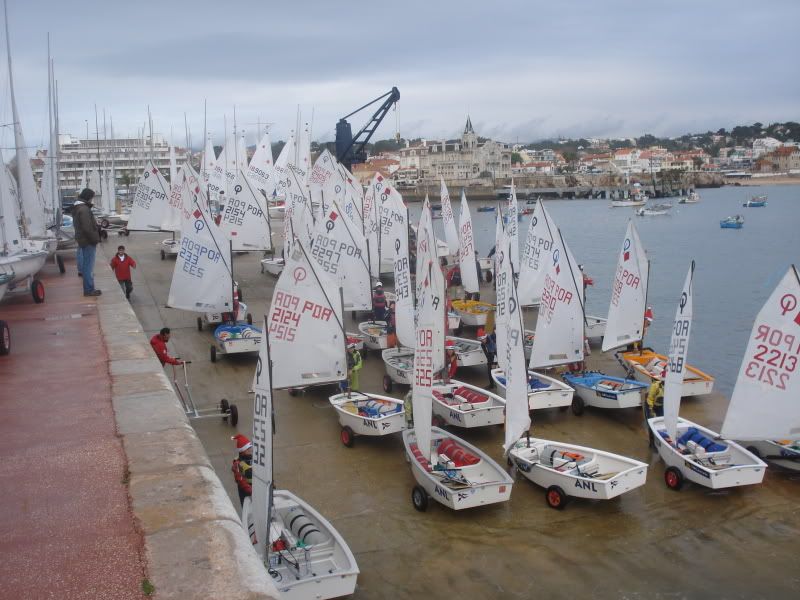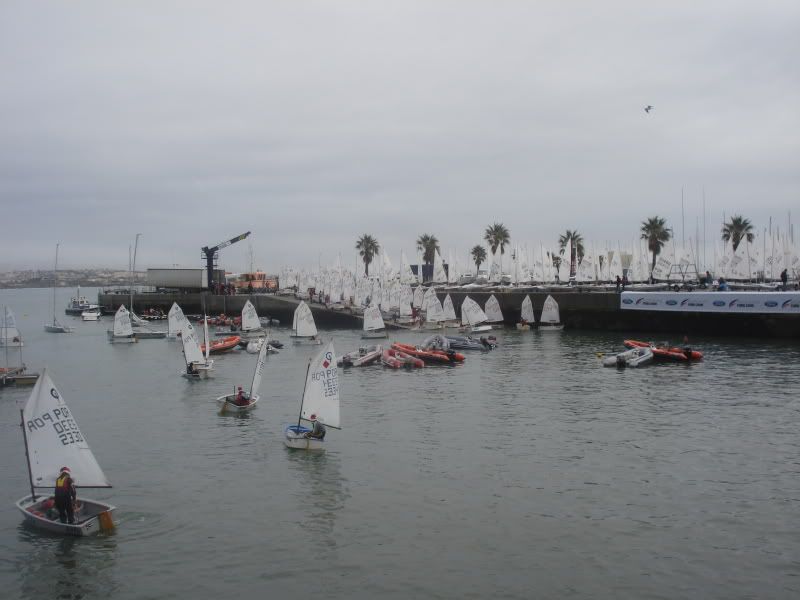 damn rudder's are hard to insert...damn cold water too...brrrrr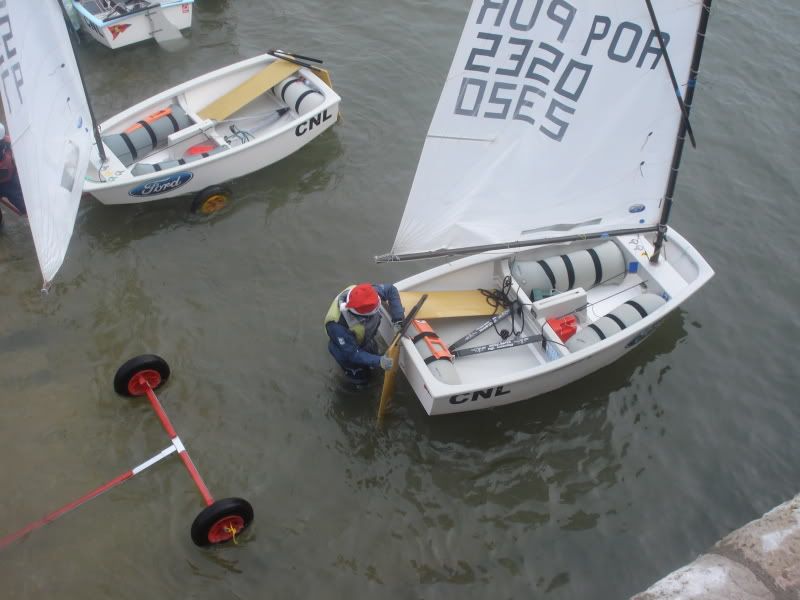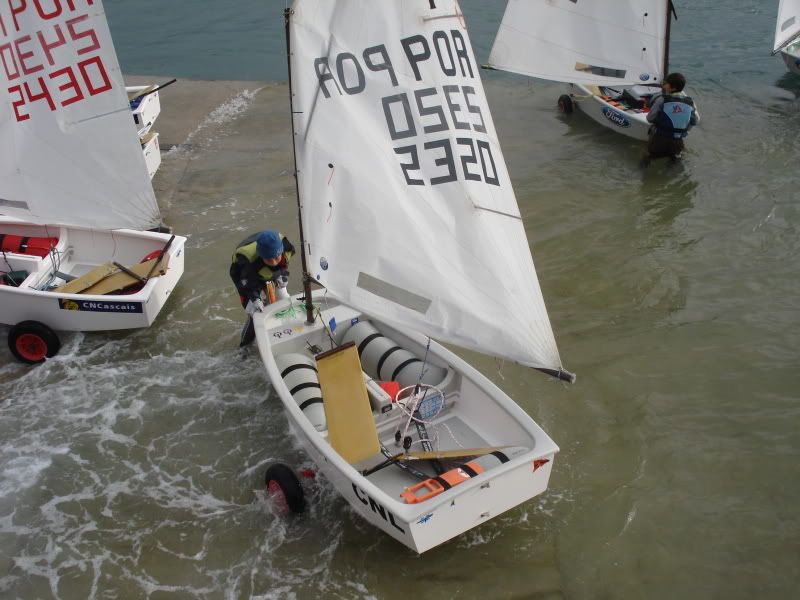 there..off we go...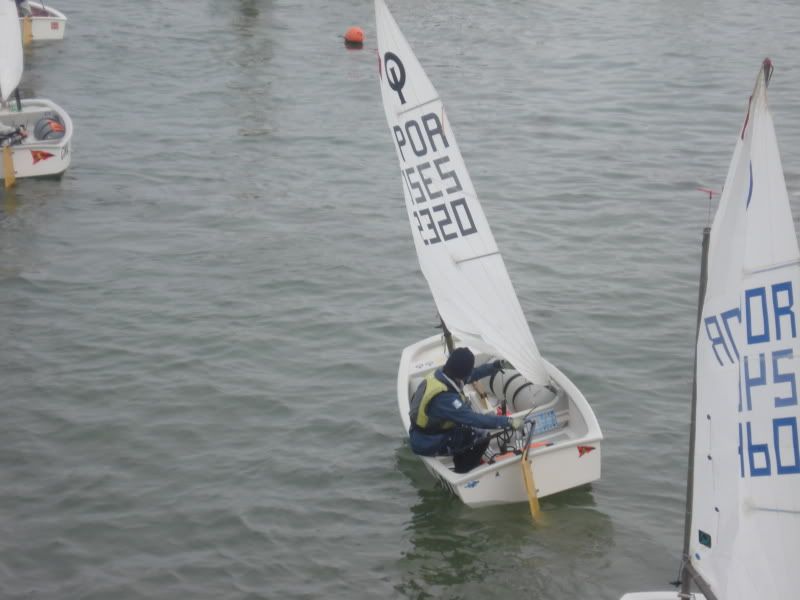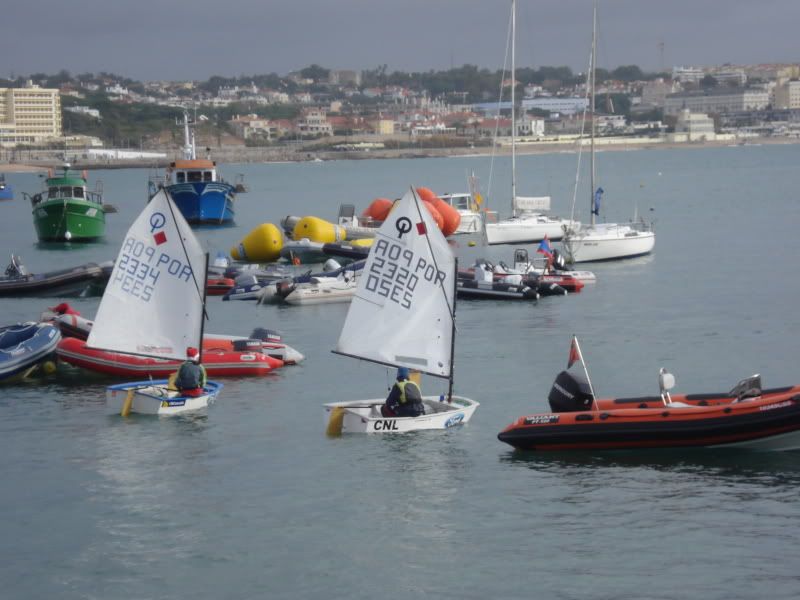 several race shots...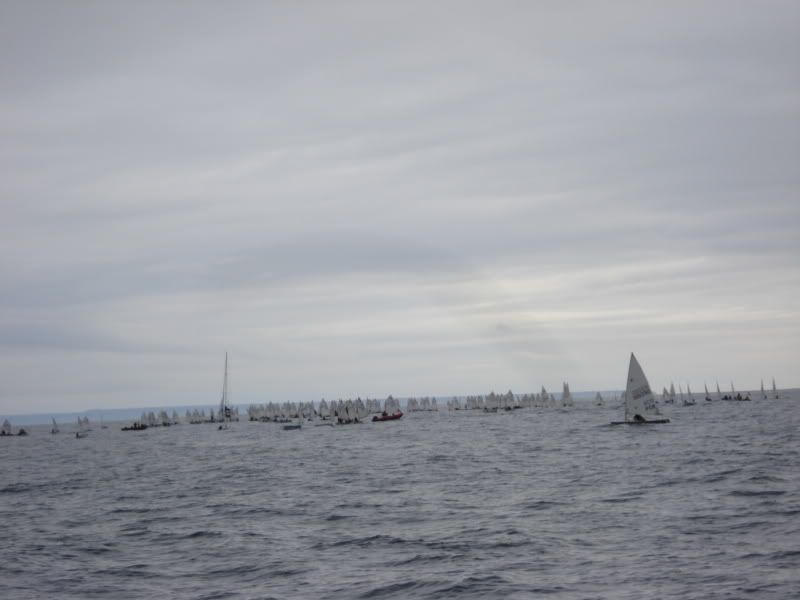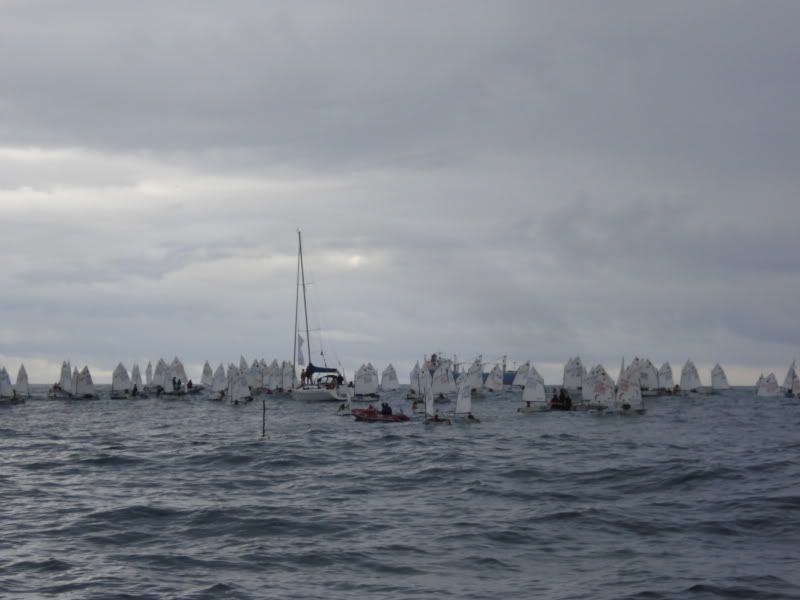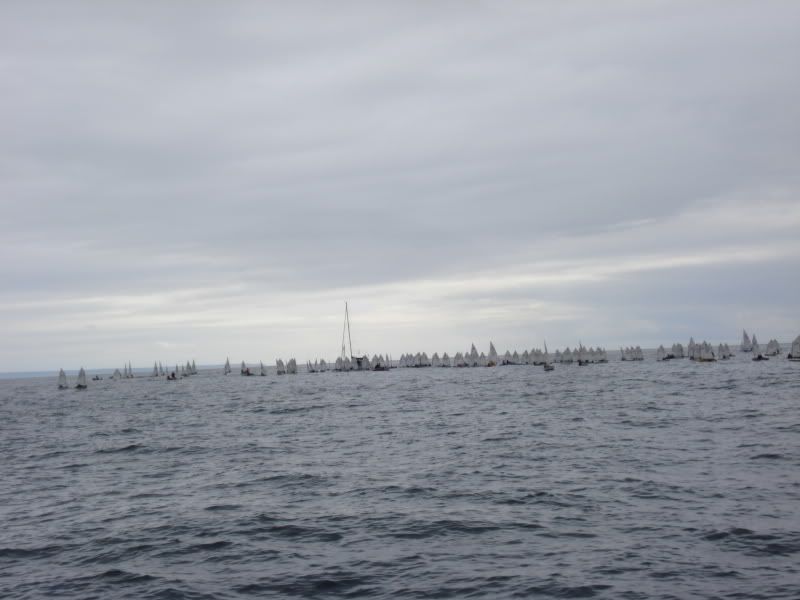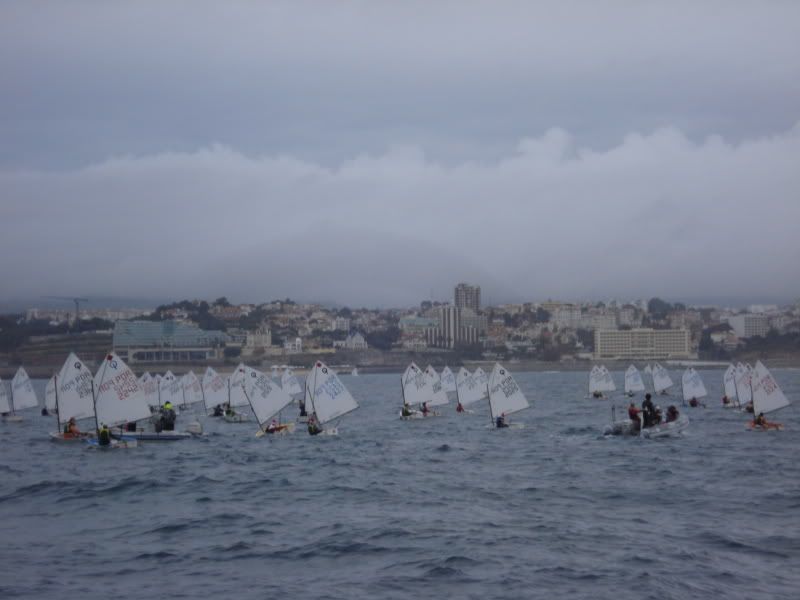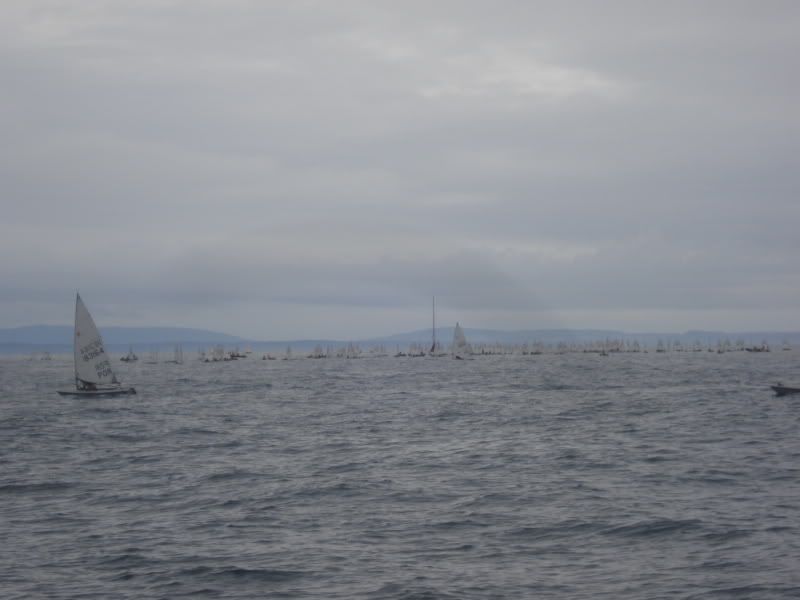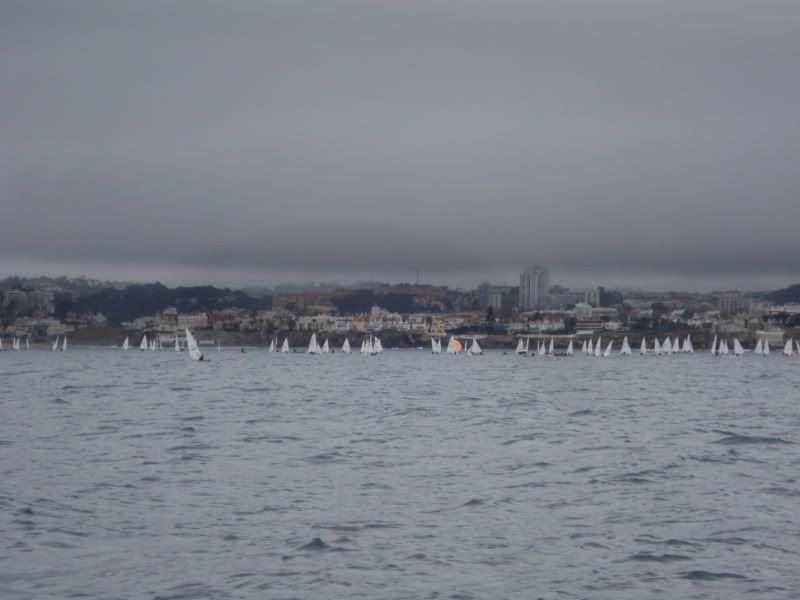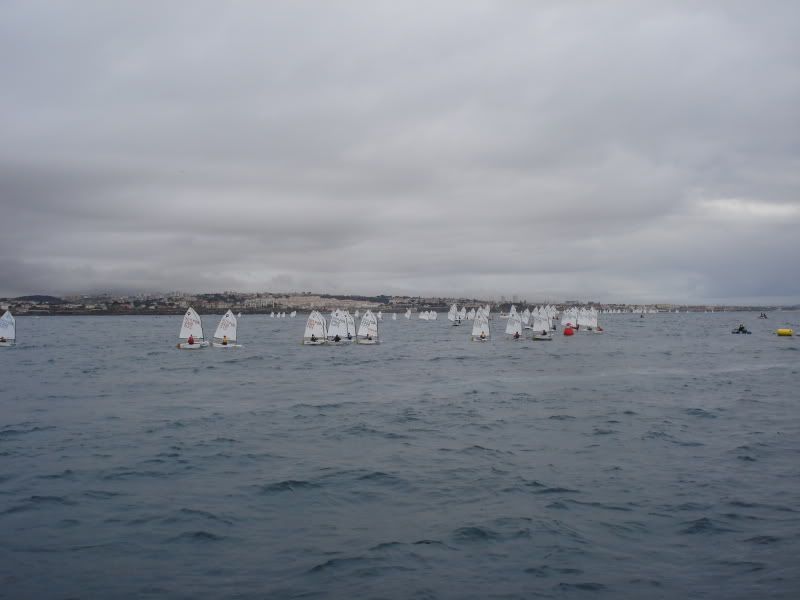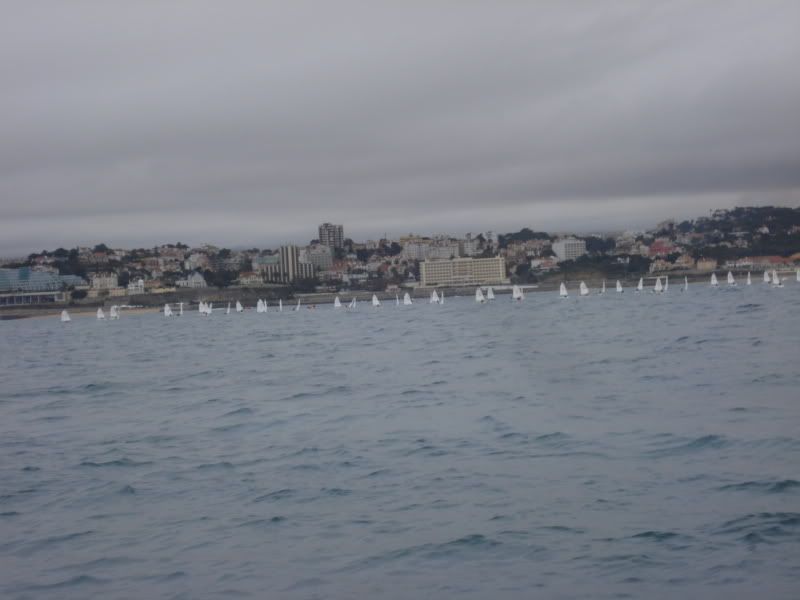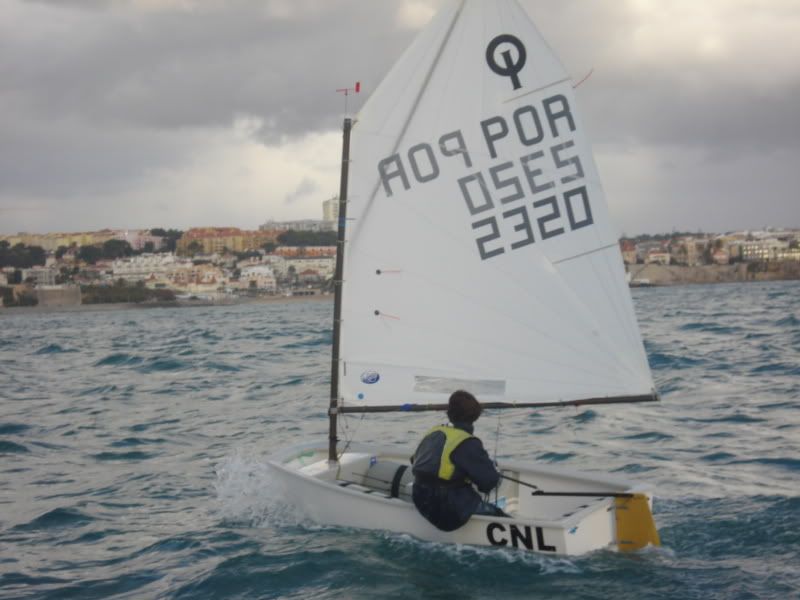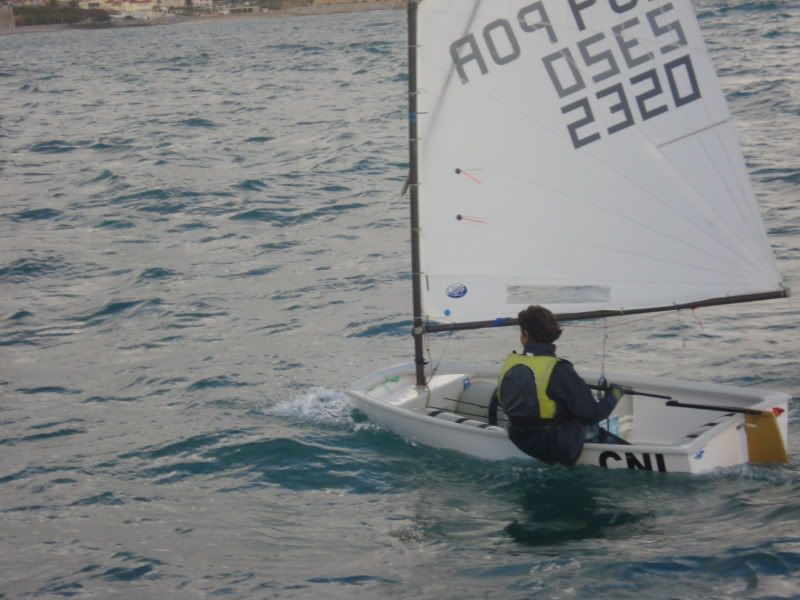 Parabens filho!!! estou muito contente e a mama tambem!!
.