Discussion Starter
•
#1
•
Got out on my boat for the first time today. It was hilarious, ridiculous, and awesome all at the same time. Got there about lunch time, took my time, made sure everything was set up and good to go, then motored out of the marina and up the channel. About halfway to the no wake markers I realized sailing is a lot like golf, in that the first pretty day of the year EVERYBODY is out on the course. I wasn't sure why, but there were 20 plus boats out in the area where our channel enters the lake proper. I realized later that the markers for the local races were above and below said spot and a lot of boats were going up and down, looked like possibly a few race crews practicing too. So my first mission was to get the hell away from there where I could trial and error my way around.
So I'm over by myself (mostly), according to WindFinder it's blowing about 13-15, got the main up, the outboard off, and I was sailing. Technically. Got so pumped I thought I'd be Billy Badass and use the jib too.
Oops.
Between not getting either sail trimmed at the same time, getting rounded up into the wind, and basically just getting blown wherever Mother Nature wanted to take me, it was fairly ridiculous. Bout all I could do was laugh and hope I could get the damn jib down before I got blown anywhere serious. (Note to self: rig up one of those deals in that thread about lashing the jib to the lifelines) I'm quite sure I provided plenty of entertainment for a rather large group of people for a bit.
After that, just had the main up, and it was glorious. Caught some nice wind, and according to my Navionics app hit 4-4.5 knots for a bit. Then got to moving around some islands and the wind got a little weird, but that's ok. A little lighter air was good at the time. I got to looking and thinking, "Man, if I had a traveler I could do this to the sail and- wait, hey dumbass, you might wanna be able to use both sails before you start perfecting trim." So I wandered around for a couple hours and headed in. About the time I hit the channel back to the marina, the previous owner called. He was out behind me in his new boat and said he just saw me and was glad to see me out there and was just saying hi. I thought that was cool.
So I got the main down, the outboard cranked, and putted back up to the marina. Started mentally going over my docking moves, which was probably the thing I was dreading most all day. But it went off virtually without a hitch. Was going so slow I stalled and had to kick it back in gear a few feet out, and was a little close and rubbed the edge of the slip coming in just a tad, but stepped right off and got the dock lines hooked right up.
From the cockpit: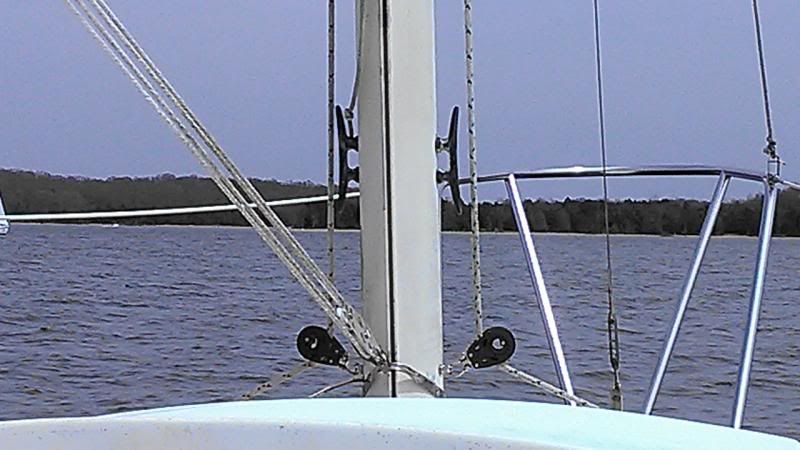 Part of the crowd: