Back during the oil crisis in the 1970's, I actually designed a schooner intended to be used commercially. The intent was to use it for deep long lining in the Atlantic where the winds generally were adequate to allow that to be profitable.
We had looked at perhaps adapting a yacht for that purpose, but generally yachts trended to be too lightly constructed too be able to withstand the forces involved in carrying a significant amount of cargo, and lacked sufficient carrying capacity to make that work. Cargo haulers tend to be 'burdensome', meaning that they can carry a very large amount of weight relative to their dry weight displacement. The reason that the design above worked is that deep long liners do not need to carry all that much weight or volume to be profitable.
If I were trying to do what you are thinking or doing, I would try to find an old Baltic Trader. These were some of the last sailing commercial cargo haulers. They were3 brawny boats that could carry a lot and still get by with pretty small crews. Here is a couple examples of the type. Most were ketches and not schooners.
Baltic Trader Gaff Ketch for sale from Wooden Ships Yacht Brokers. Sturdy sailing ship with gaff ketch rig, 14 berths in total, in need of a refit
woodenships.co.uk
Former Baltic Trader- Gaff Rigged Ketch -Tall Ship Class B Date of construction: 1915 Location: Greece NEW strongly reduced asking Price: 350.000 EUR VAT: not applicable FLAG: British Location: Greece Technical Data: L.o.a/L.w.l: 19.5m/25m Beam: 4.5m Draught: 3.0m Date of construction: 1915...
salyachts.com
Baltic Trader Gaff Ketch for sale | 28.00m | 1914 | 1x diesel 135hp | Wood carvel Construction | Long keel underwater profile | 13 berths | Boat REF# 132172
cornwall.boatshed.com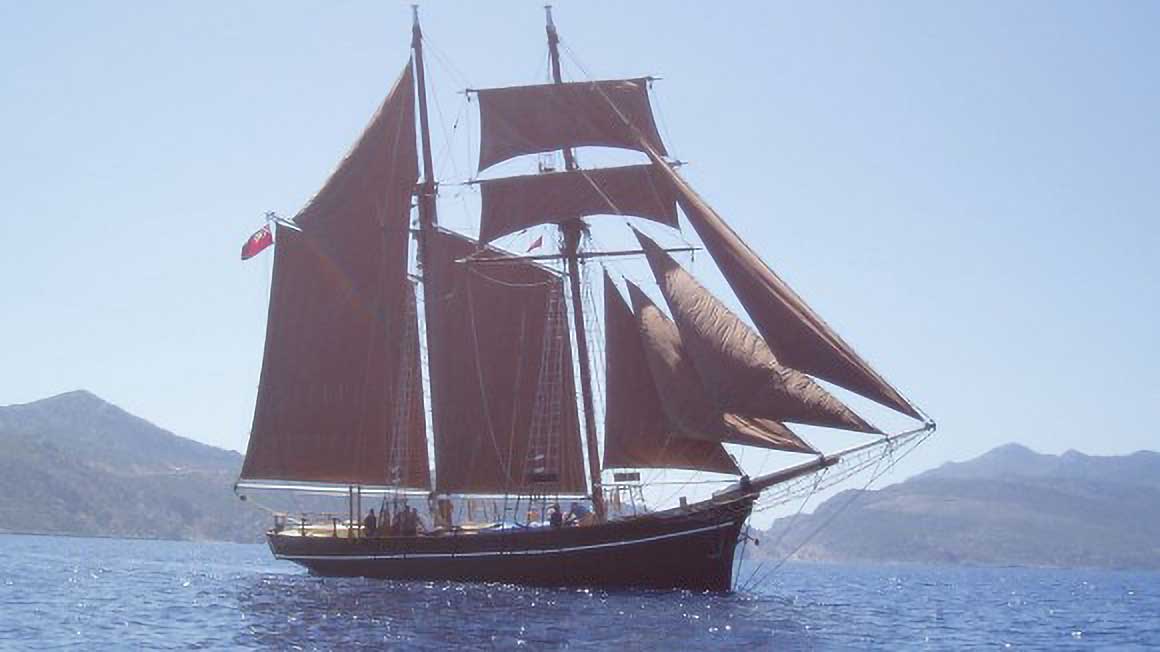 Brokers Comments Rhea of Nyborg is a baltic trader of particularly fine lines. Where-ever she goes she attracts the attention and admiration of all who

www.classic-yachtsforsale.com
In the Mediterranean there are also Gulets and Galettas, but my limited experience with them is that they tend to be very poorly built and poorly designed.
Jeff