·
the pointy end is the bow
Discussion Starter
·
#1
·
We took the boat over to Coupville this weekend. As we pulled up to the dock, we noted 18 feet on the depth sounder. We're in spring tides right now and when we started running the numbers, we determined that we were going to be on the bottom at midnight, lacking somewhere between one and two feet of water. I knew the bottom was smooth with no rocks from the locals and from previous trips. The weather was absolutely calm. We talked about anchoring out after eating in town or just letting the boat settle on the bottom and see how things go. I figured this would be as good as time and spot as any to see how the boat behaved with not enough water. We let it sit.
2330 hrs., Sandy woke me up and said "we're on the bottom, I hear the fenders creaking against the float". I got up and confirmed her suspicion. The dock lines were getting a little tight, so I loosened them a bit. Sandy was down below. I watched the boat for a bit and decided that I'd rather have the boat leaning away from the dock than into it, so I gave the boat a big push. It tipped over. Sandy let me know in no uncertain terms that a heads up would have been appreciated before tipping her over. Anyway, it was another two hours before we were level again and it was interesting trying to go back to sleep in the V-berth at a 10 degree heel.
Just after I tipped the boat over: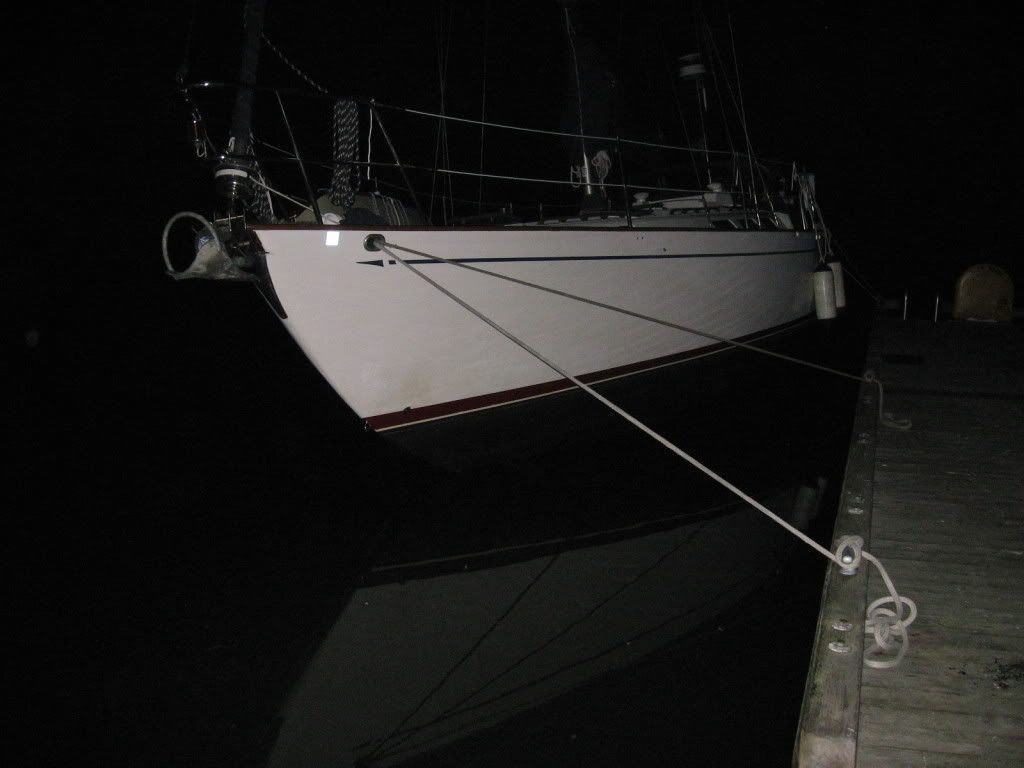 headed back to bed with a 10 degree tilt.