·
Anything-Sailing Founder
Discussion Starter
·
#1
·
Well this weekend my wife and I test sailed the 2009 Hunter 27 Edge. Since I figured there wasn't a whole lot of people on here who has sailed it I figured I'd give my 2 cents. Of course I should say that, when it comes to sailing, my opinion is pretty much only worth about 2 cents.
First off I'd like to say thanks to 'Crazy Dave' from American Marine and Sail Supply in Zebulon, NC. His knowledge of the boat and sailing in general made for a very enjoyable sail. The boat we sailed also had several of Dave's suggested improvments incorporated.
First Impression: Well I gotta admit, it isn't the worst looking boat I've seen but it isn't the best. It's pretty plain, not a whole lot of flair. It's also a bit small of course that could be due to the fact that it was moored next to a Beneteau 50
. The cockpit is a little tight in my opinion.
Starting from the stern: This particular boat was fitted with an Evinrude 75 HP 2 stroke though it is rated for up to an 85. There is a rather small swim step on the port side with a telescoping ladder which should make for easy reboarding after a nice swim. Just be careful as it's in very close proximity to the outboard. Just to port of the outboard is the valve for the water ballast. Another option on this boat was the stern rail seats complete with cup holders. I should note that these are the only cupholders in sight. Not extremely important but it would be nice to have some place a little closer to put your drink. The helm is nothing special. A wheel, a compass, an RPM guage and the outboard controls. The main sheet attachment point is also here. No traveler I'm afraid. Pretty basic. There is a storage area below both the port and starboard benches. One side houses the outboard's fuel tank while the other can be used for an addition fuel tank or a cooler. A depth and speed guage were installed on the port bulkhead and is quite easy to read from the helm. The cockpit was also equipped with a bimini but since the day was gorgeous there was no need to use it. On deck is pretty simple. The main halyard is easily reached as are the jib sheets and the furler line. Also accessible is the line for raising and lowering the centerboard.
Below deck: The first thing that comes to mind is "sterile". There is absolutely no warmth or character below deck. Below the cockpit is a king sized berth with very little headroom. I can see it being a hassle if one has to get up in the middle of the night to hit the head. Speaking of the head, this boat was fitted with a simple porta potty though it can be fitted with a standard marnie toilet. Not quite sure where the holding tank would be installed if it even will accept one. Across from the head is the galley which has a sink and a one burner stove (optional). Along the centerline is the dinette table which folds down to allow passage on either side. Finally, the v-berth pretty small and non-descript. Again, no real styling to speak of but probably fairly comfy. We didn't spend a whole lot of time below deck so there's not much more to say about it.
On the Water: Getting underway was pretty simple. Since the previous day saw 30 knot winds we had to take some time to unreef the main before getting under way. Winds today, however, were only about 10 kts and sometime not even that. It took about 5 minutes to un reef although it did appear to be quite cumbersome as the reefing lines are not run back to the cockpit but rather cleated on the mast. All in all it took took roughly 15 minutes from the time we stepped aboard until we dropped the lines and started motoring out. The evinrude 75 was fairly quiet at idle and low RPMs but it did get quite noisy in the higher RPM range. One thing we found a bit unnerving was the extremely loud rattles we encountered towards the upper end of the throttle range. Come to find out this was due to vibration of the rudder. I guess the "proper" way to motor in this boat is to raise the rudder when under power as there are two sets of stering cables. One for the rudder and one for the outboard. Heading out the performance wasn't very good supposedly due to the fact that we still had about 1200 lbs of water ballast. More on this later. After several minutes of motoring at about 12 knots we killed the engine and hoisted the main. Surprisingly the main raised quite easy and using the winch wasn't necessary. The jib (a 110%) was on a CDI furler and was unfurled in a matter of seconds. It took a while to find some wind but eventually we found it and started on our way. Over all the boat performed fairly well under sail. I was even surprised that it we were able to overtake one of the other test boats (a Catalina 309) even though it had a longer waterline. As I said, Dave's experience helped. The biggest concern I have is the helm. I don't know if it was the dual cables or what but the help seemed to be very unpredictable. Some times it was easy to turn while other times it was very stiff and almost seem to fight me. The best speed we saw was about 5.4 kts on a close reach.
Heading in: After several hours we started to head in. It is only a test sail after all and others need a chance. About 3/4 of the way in we headed into the wind and dropped the sails, fired up the outboard and opened the ballast release valve to demo the top motoring speed. Here is where I was probably the most disappointed. Being primarily a powerboater I was expecting quite a bit more. We hit a max of 16 kts before hitting the entrance to the marina. One thing I was impressed with, however, was the maneuverability under power. since the outboard turns with the steering it was exceptionally easy to back the boat into it's slip.
Conclusion: The Hunter 27 Edge was actually somewhat fun to sail. It's motoring performance was pretty lackluster though. There is not a whole lot of aesthetics ot styling inside or out and it give you the feel of a stripped down, bare bones model even though it wasn't. It also gave you the feeling that it was cheap with lots of odd rattles and lack of other "niceties". It's sailing performance (in my modest opinion) was fairly decent in light air. I wish I had also sailed it the previous day for comparison in heavier air but that was not possible this time.
Did we have fun? YES. Would we buy one? With a $50,000 price tag, probably not. I don't think it's worth it.
And for those who say "no pics, it didn't happen!!" Here's the pics
Heading out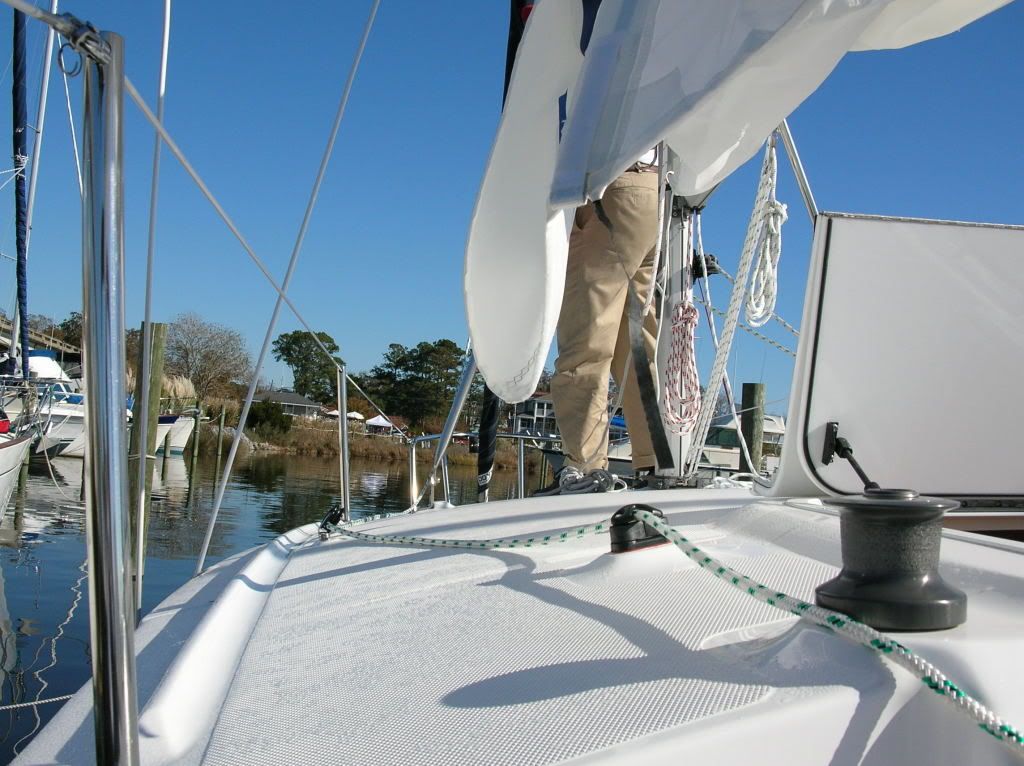 Under Power: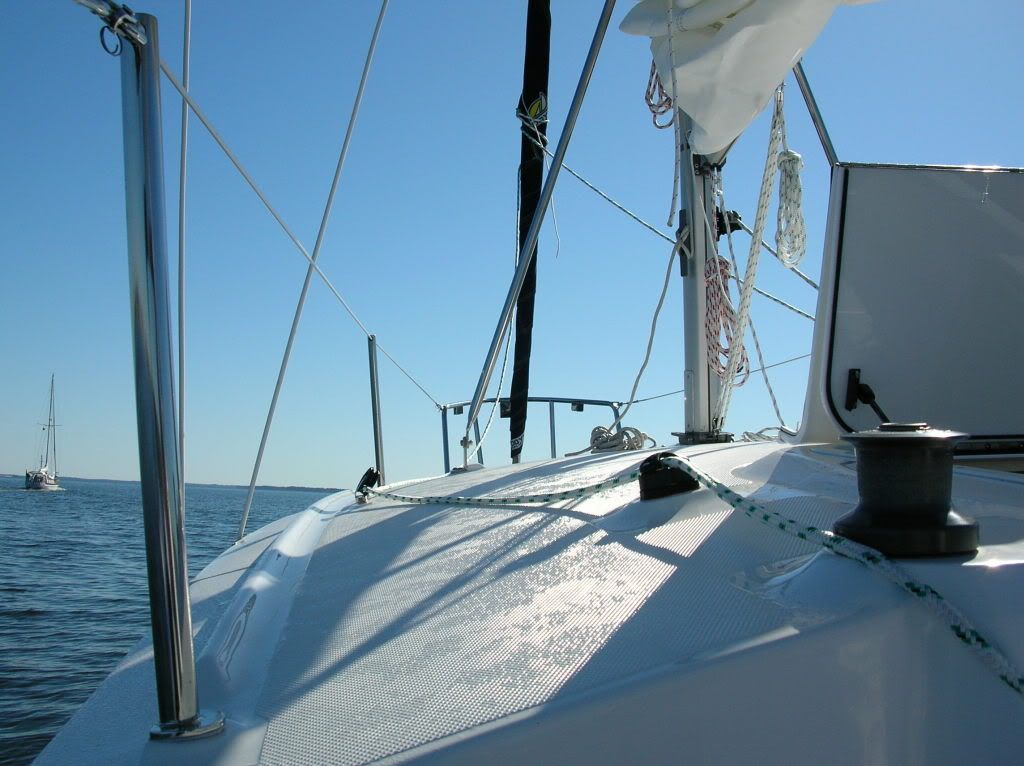 Under Sail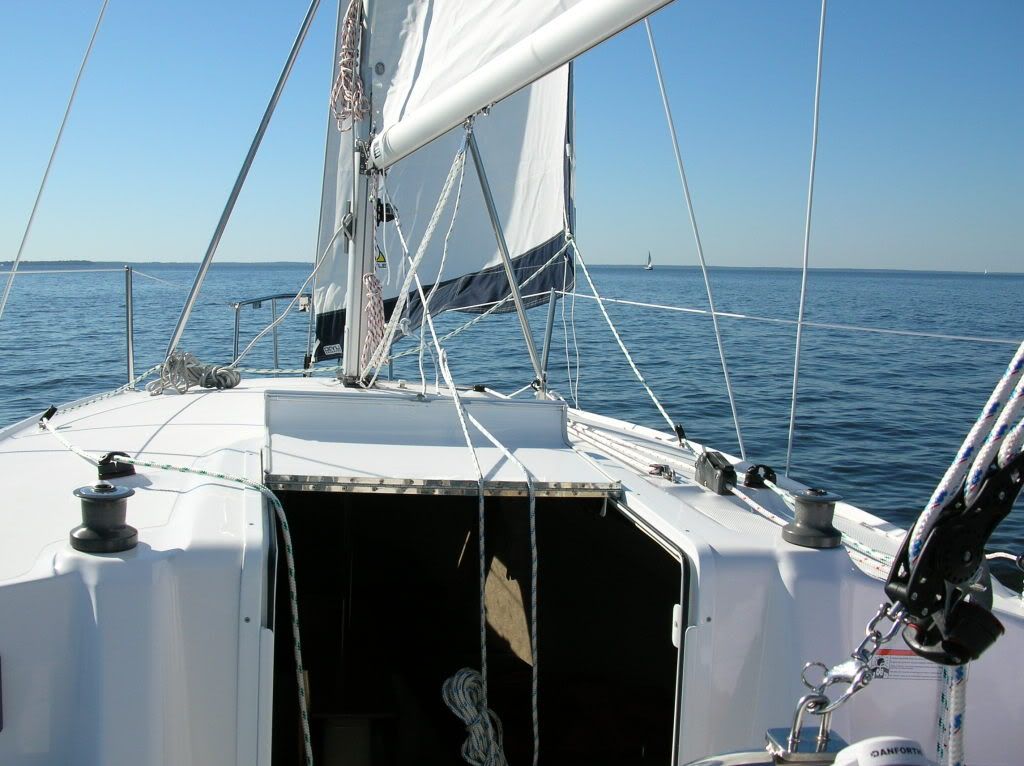 MAN I look good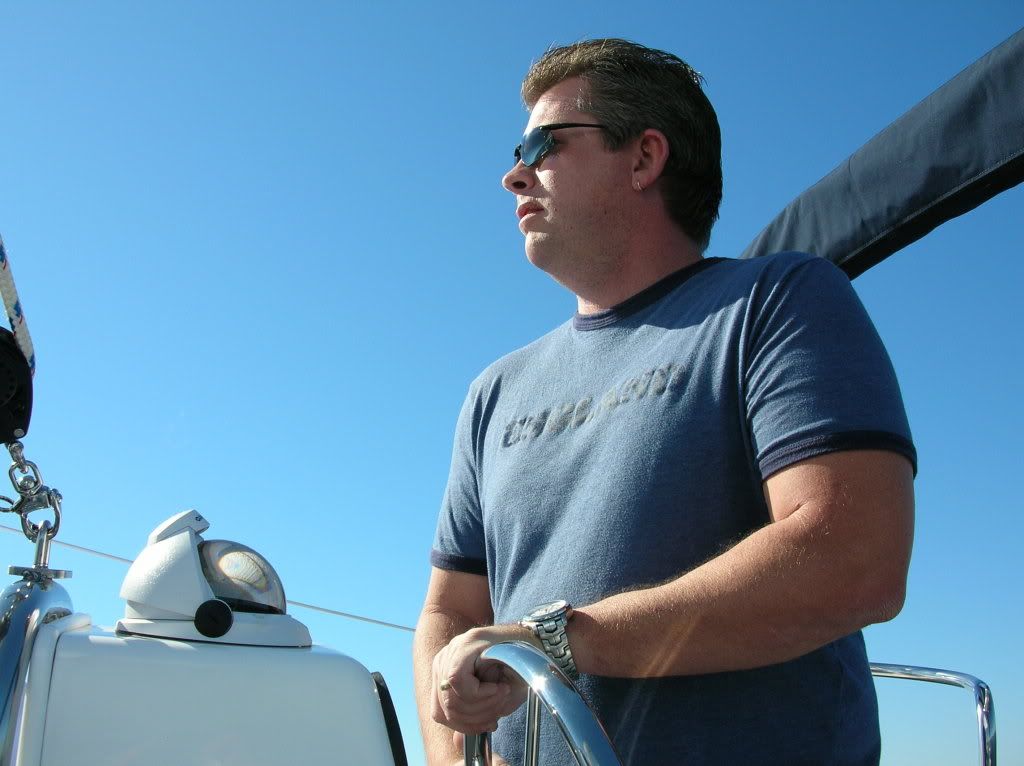 And so does the Admiral
Yes it really is a 27e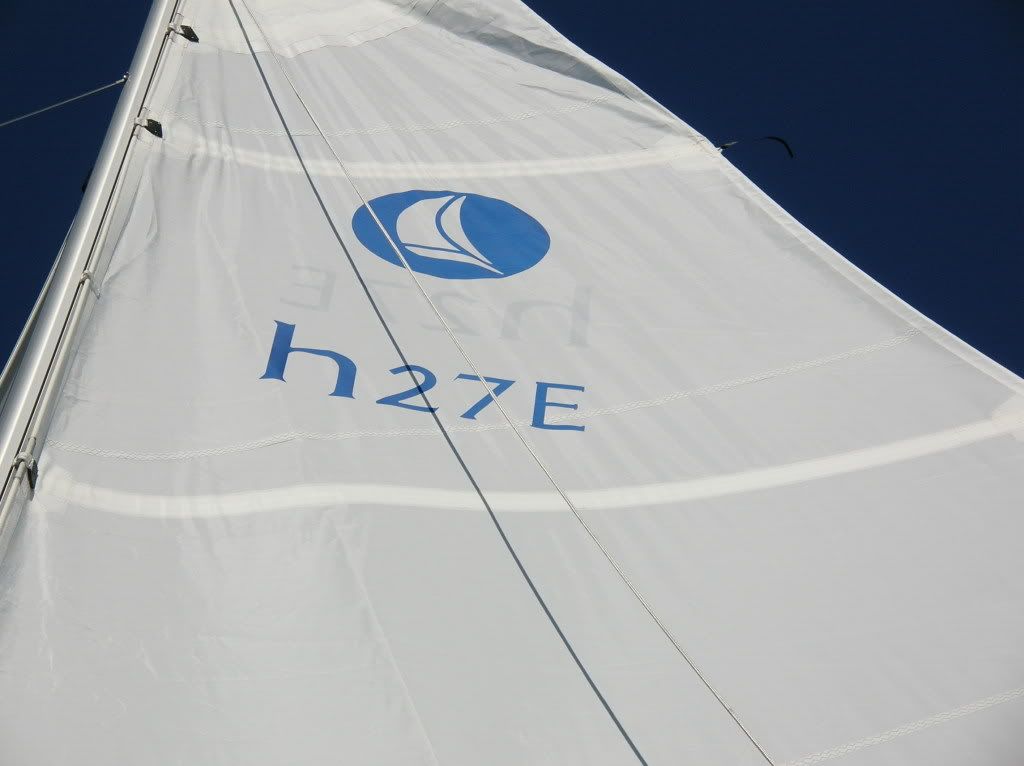 Ok, Ya I had a good time.